How Does Minoxidil Work For Hair?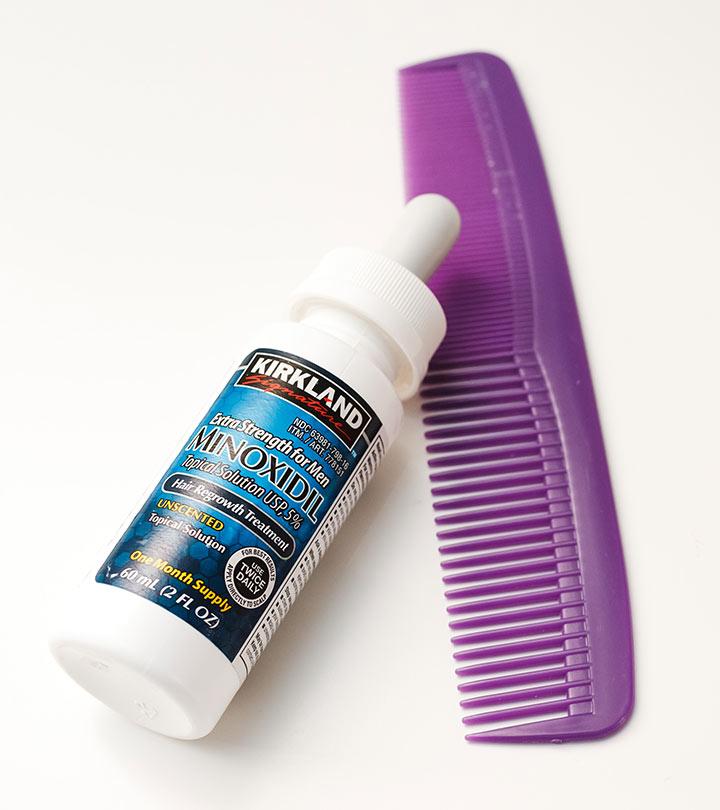 Minoxidil – the name is familiar to anyone looking for any remedy for hair growth. Most doctors and hair care professionals often recommend it. If you are intrigued by how popular this medication is and want to learn more about it, you are at the right place. Here, we will take an in-depth look at the medication, its research, and how it works. Keep reading.
What Is Minoxidil?
Minoxidil, which commonly goes by the trade name Rogaine, was developed by Upjohn Company in the late 1950s to treat ulcers. But today, the medication is used as an oral vasodilator to treat blood pressure (1). This over-the-counter medication is also used to treat male pattern baldness. However, it is believed to work best on those less than 40 years of age.
Minoxidil is available as a tablet, ointment, or foam. It can be taken orally or applied topically to the affected area. Let us look at the research concerning minoxidil.
What Does Research Say About Minoxidil And Hair Regrowth?
Minoxidil was found to be quite effective when used to reverse hair loss due to chemotherapy. In the study, using minoxidil regularly had decreased the duration of hair loss (2).
In another study, the participants (men) were categorized into three groups. While the first two groups were given 5% minoxidil and 2% minoxidil, the third was given a placebo. The study found that men who used 5% topical minoxidil showed more effective hair growth than those in the other two groups (3).
Topical minoxidil used along with finasteride was found to be more effective in treating hair loss than using either of the medication alone (4). However, finasteride is not recommended for pregnant women due to its potential teratogenic effects on the fetus (physical malformations) (5).
In another study, using 5% topical minoxidil and low-level light therapy (a red light device used on the scalp) showed an increased improvement from alopecia (6).
Much of the research does state that minoxidil may help with hair regrowth. But how does it work?
How Does Minoxidil Work For Hait?
Minoxidil is a vasodilator and is used to treat blood pressure. It helps expand the blood vessels, leading to an increase in blood flow in the body. It is believed that this property of minoxidil may help increase the blood flow to the hair follicles, encouraging hair growth (7). However, more information on the mechanism of minoxidil in hair growth is warranted.
How long does the medication take to show results? Keep reading.
How Long Does Minoxidil Take To Work On Hair?
Those who used 5% topical minoxidil showed fasters results than those who used 3% topical minoxidil (3). Based on the type of minoxidil used, one may observe results in 4 to 6 months.
Note: Certain individuals may not see changes right away. Some may even experience hair loss after using minoxidil. In such cases, one must consult their doctor. There could be an underlying condition causing hair loss.
Minoxidil may also cause certain adverse effects you must be aware of.
Side Effects Of Minoxidil On Hair
Anecdotal evidence suggests that topical minoxidil may cause the following side effects:
Itching
Skin rashes
Acne
Burning sensation on the scalp
Facial hair growth
Swelling of face
Oral minoxidil may harm the fetus in pregnant women. Research is limited in this regard. Stay safe and avoid use.
Conclusion
Minoxidil is often recommended by experts and for a reason. It has shown to have hair-stimulating effects in various studies. Though it takes time to show results, it is often effective. However, be wary of the adverse effects. Speak to your doctor if you experience any. More importantly, tweak your diet and lifestyle habits as these alone can support long-term hair health.
Frequently Asked Questions
Does minoxidil work on a receding hairline?
No, there is no scientific evidence suggesting that minoxidil works on a receding hairline.
How often should you use minoxidil?
Doctors suggest using minoxidil regularly to see results. Speak to your doctor for the right dosage.
Does minoxidil work on frontal baldness?
There is less research in this regard.
Recommended Articles
Sources
Articles on StyleCraze are backed by verified information from peer-reviewed and academic research papers, reputed organizations, research institutions, and medical associations to ensure accuracy and relevance. Read our editorial policy to learn more.
The following two tabs change content below.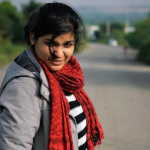 Anjali Sayee is a writer and an introvert. From studying Aeronautical Engineering and wanting to design her own airplane to writing articles on hairstyles, she has been on quite a journey. She believes that hair is one of the key factors that define a woman's personality. To quote her, "What's the first thing they do in the movies to show a personality change? Change the hair – because it has a life of its own." She's here to help you find the hairstyle you need. This bookworm is a self-professed Wholocker, a talented drummer, and an amateur photographer.