Top 15 Dove Shampoos Available In India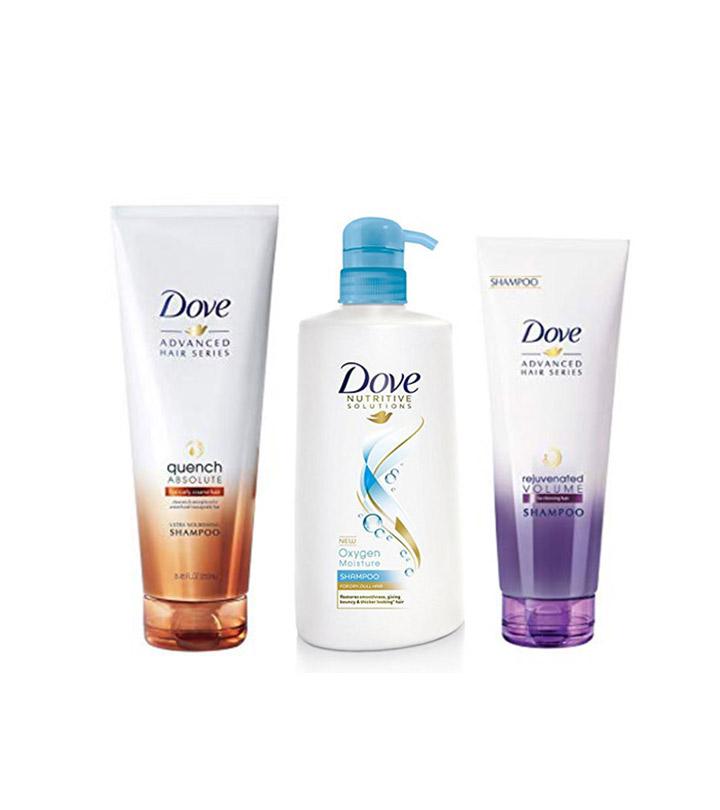 Finding the right shampoo is like stumbling upon a treasure vault in your backyard. Brands like Dove understand that we all are made differently, have specific needs, and that one shampoo cannot be 'the fix' for all kinds of hair.
While hair fall seems to be the most common woe for women everywhere, most of us have a combination of other issues, and that's why we need shampoos that tackle our respective needs. Whether you have colored hair that needs extra attention, dry scalp that needs extra care, or an oily scalp that is an attention seeker, Dove has an answer to all of these, and how! We have a list of their bestsellers and highly rated shampoos that their big customer base loves. Let's see what they are.
Top 15 Dove Shampoos Available In India
We all need a rescue ranger to pull us out of the bottomless hair fall pit. If you have been on the lookout too, you probably need to give this one a shot. It has silicon and triazole actives that work to nourish your hair from the root to the tip, which is the kind of treatment your hair needs if you are suffering from excess hair fall. You will see a visible difference in the volume because it reduces breakage to a large extent.
Pros
Smells great
Makes your hair look shinier and silkier
Reduces breakage and makes your hair voluptuous
Cons
Hair might feel a little dry for some people
Might not be suitable for curly hair
[ Read – Dove Hair Fall Rescue Shampoo Review ]
Whether you shampoo daily or every other day, you need something that can protect your hair from wear and tear and retain the natural oils and fiber layers. The micro moisture serum does just that – it cleanses your hair from deep within and sweeps out the dust and pollution that settle down on the scalp and the surface. The shampoo adds sheen to your hair and leaves it fully shining.
Pros
Has a mild fragrance
Makes your hair soft and manageable
Very soft and perfect for everyday use
Cons
Packaging issues
Needs a conditioner to go with it
The intense repair shampoo helps restore your hair strength and rebuilds the roots. The shampoo also contains keratin that seeps into your hair scalp and nourishes it at a cellular level, making your hair healthier from the inside out. It prevents hair breakage and also works on surface damage. For best results, combine it with a conditioner.
Pros
Contains keratin actives
Prevents breakage
Strengthens your hair
Cons
None
[ Read – Dove Intense Repair Shampoo Review ]
Managing curly hair is a little more laborious than managing straight or wavy hair, but it's great and worth all the extra effort. If you find the right shampoo, everything else is a breeze. And here's a shampoo that is close to that. The Quench Absolute is from its Advanced Hair Care series – it contains natural Omega-9, Buriti oils, and other rare nutrients that strengthen your hair, make it soft, combat dryness, and enhance the natural definition of your curls. You can go out and now confidently say, "Curly hair?  Don't care!"
Pros
Detangles your curly hair and makes it soft
Moisturizes your hair by keeping your natural curls intact
Inexpensive and effective
Cons
None
A big issue for women with poker straight hair face is their shampoo taking away the hair volume and making it go flat. You need something that adds volume while keeping it soft and fluffy. So, if you are looking for something on those lines, Dove Oxygen Moisture helps you tackle just that. The Oxyfusion Technology moisturizes your hair and untangles it without weighing it down.
Pros
Perfect for everyday use
Gel-like, light, and refreshing
Nourishes and adds volume
Cons
Need to use a conditioner to go with it for best results
Contains sulfates
[ Also Try – Dove Oxygen Moisture Shampoo Review ]
There's nothing more unpleasant than having a blob of dry and frizzy hair at the end of a hair wash cycle. A lot of us struggle with frizz and dryness, so you need a bottle of shampoo that combats frizziness and not make your hair dry while cleansing.
Pros
Smells great and is mild
Economical
Makes your hair soft
Cons
Need to use it more than once to fully clean your hair
Not suitable for extremely dry hair
With age and exposure to pollution of all kinds, your hair starts losing its charm. Which is why it needs extra care and nourishment. Dove Rejuvenated Volume Shampoo fortifies your hair with its unique formulation and restores lost nutrients. It cleanses your scalp, roots, and your hair and leaves you smelling great. It adds volume and gloss too.
Pros
Adds twice as much volume
Deeply nourishes your hair and locks the nutrients
Hair feels great after the wash
Cons
Contains sulfates
Some might see an increase in hairfall
We take our hair for granted and allow it to go through a lot of stress with styling tools, chemicals, hair sprays, and pollution and hardly let it breathe. You need products that help restore hair health by offering it the required hydration, nutrients, and moisture it needs. The Dove Regenerative Repair Shampoo is from the Advanced Repair series, and it contains red algae cells that are composed of high levels of polysaccharides that help retain and restore hair moisture.
Pros
Hair becomes visibly healthy
Retains volume
Smoothens out your hair and detangles it
Cons
Has alcohol and silicon
Effects might be temporary
Looking for a shampoo that smells nice, works best for daily use, leaves your hair silky, and does everything else you look for in your everyday essentials? Look no further than the Dove Nutritive Therapy with Micro Moisture Daily Shine Shampoo that is a step up from your Daily Shine. Forget bad hair days and all your woes with this one.
Pros
Works great even without a conditioner
Controls frizz to a great extent
Adds a little shine to your hair
Cons
The biggest challenges for most of us are hair fall and breakage. Environmental and lifestyle changes are big contributors, and that's why you need products that give you protection from all of those. The Dove Environmental Defence Shampoo is infused with lotus essence and other essential nutrients your hair needs to repair the damage. It cleanses your hair from deep within by getting rid of the build-up of oil and grease on the surface of your scalp.
Pros
Combats dryness and makes hair smoother
Contains lotus essence and many other essential nutrients
Controls breakage and split ends
Cons
Is a little too runny for a shampoo
Needs a conditioner that goes well with it
Dove Nourishing Oil Care Shampoo contains oils that supplement the natural oils in your hair while deeply cleansing off the dirt, dust, and grime. The shampoo adds moisture to your hair and leaves it feeling soft, light, and fluffy. With a combination of essential oils and fiber actives, it makes your hair look healthy, lustrous, and shining for the longest time. It suits all hair types and is a one-stop shop for all.
Pros
Delivers what it promises
Non-greasy and easy to work with
Smoothes your hair because of the essential oils
Cons
This shampoo, which is not only clinically approved but also something that its customers swear by, is what you need to go to for treating your dandruff. It is formulated to clear up dandruff from the very first use, without making your scalp too dry and sore. The micro moisture serum in the shampoo has a soothing effect and relieves you from the uncomfortable itching – all of this while deeply cleansing your hair.
Pros
No parabens
Relieves from itchy scalp
Cons
Not for people with chronic dandruff problems
Hair feels slightly frizzy
Find relief from the painful split ends that make your hair look awful and unhealthy. The Dove Split End Rescue Shampoo is formulated with fiber-active technology that reconstructs damaged hair, giving it the nourishment it needs and making it stronger than ever. A tiny pump can lather up and is enough to clean it all, so one bottle comes a long way – quite literally.
Pros
Best for everyday use
A little product is enough
Leaves your hair soft and lustrous
Cons
Contains silicone and chemicals
Not as effective as it claims
Colored hair needs extra care, and this applies to highlights as well. Your generic shampoos just do not cut it anymore. The Dove Advanced Care Color Repair Therapy protects your hair from all the chemicals you've been exposed to because of the color and also controls any further damage to your hair. It controls hair dryness by balancing out the moisture, which is a very common case with highlights or color.
Pros
Smoothes your hair
Balances moisture and fights frizz
Cons
Contains sulfates
Weighs down fine hair
Just like our body, our hair needs detox too – from all the pollution and dust we expose it to on a daily basis. But let's face it – we do not have the time to wash it as often as we should, so we need something that makes up for it. This is where Dove Detox and Purify Dry Shampoo comes to the rescue. It lifts your roots and adds volume while removing the oil and build-up.
Pros
Takes away the greasiness
Does not leave a white coat
Inexpensive
Cons
Is not for colored hair
The smell is a little too sweet and strong
Leaves a mild build-up the next day
When you start using shampoo, be a little more vigilant and observe the changes or the ways your hair is reacting to it – for  the good and the bad. Notice how your hair feels. If you think something is off, it probably is. Having said that, do not shuffle between too many shampoos or brands often.
What is your go-to shampoo from Dove? What do you like about the current product you are using? Let us know by dropping in a text in the comments section below.
Frequently Asked Questions
Are Dove shampoos safe for color-treated hair?
Yes, the Dove Advanced Care Color Repair Therapy Shampoo is safe for color-treated hair. It is gentle, keeps the color vibrant, and maintains longevity.
Can Dove shampoos be used with other hair care products like conditioners and serums?
Yes, you can use Dove shampoos with other hair care products like conditioner, serums, styling products, etc. However, it is best to double-check whether the ingredient combination is safe to use.
Can Dove shampoos be used on chemically straightened hair?
Yes, you can use Dove shampoos on chemically straightened hair. You may select a Dove shampoo that's formulated specifically for specific hair types and conditions to ensure the best results.
Are Dove shampoos effective in removing hair product buildup?
Yes, Dove shampoos effectively remove product buildup. They deeply cleanse your hair to get rid of dirt, sweat, and excess oil along with product buildup.
Recommended Articles:
Best Shampoos For Dry Scalp Available In India
Top Mild Shampoos Available In India
Best Shampoos For Frizzy Hair Available In India
Best Anti-Dandruff Shampoos Available In India
Best Shampoos Available In India