How To Dress To Hide Belly Fat – 7 Easy Tips And Ideas
Be comfortable in your body and step up your fashion game to flaunt your curves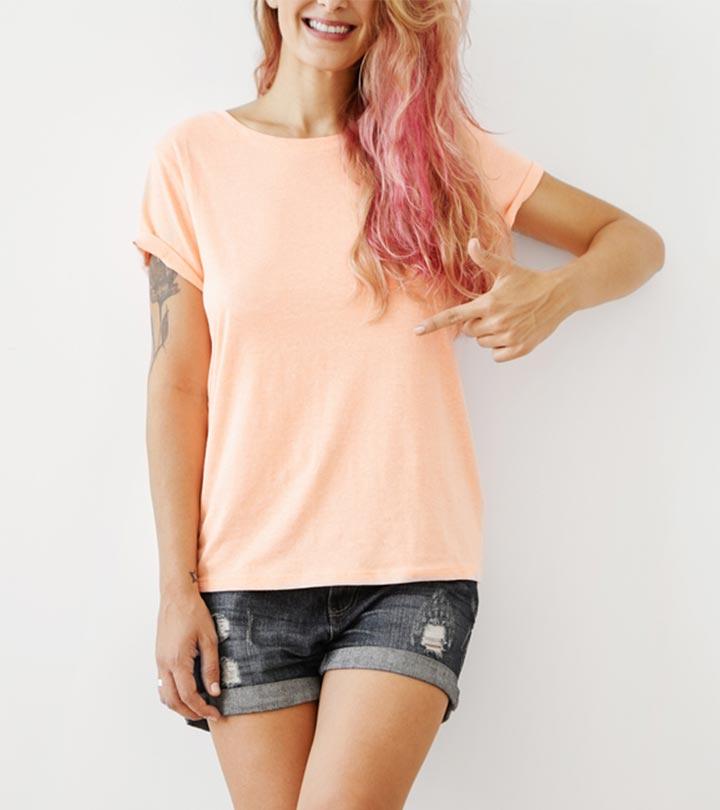 Since body types differ from person to person, finding the right piece of clothing that suits your physique perfectly is essential. And if you have a tummy bulge, a muffin top, or some flabs, then smart shopping should be your thing. Don't worry, we shall introduce you to some fantastic dresses to hide your belly that should do the trick for you like no other. So say "goodbye" to those days when you would spend hours looking for a perfect outfit for yourself but return empty-handed. With the options, tricks, and tips listed below, you will love shopping again, for you would find your dream dress everywhere, and they would make you look like a showstopper too. Embrace your body type, for you are beautiful. Workout and stay healthy, and never give up on looking fabulous. To achieve your goal, all you have to do is scroll down and read this article. Now without any further ado, go ahead and check out what we have in store for you. It is time for you to steal the show wherever you go.
Who says you need to compromise on style just because you do not have flashboard abs? You just need a few tricks up your sleeve, and you're sorted. Follow me and let's do this together!


Ace The Look
Accessories: Pair your outfits with chunky necklaces, minimal studs, and a basic watch with a thick strap for a classy look.
Fabric: Opt for clothes with heavy fabrics such as leather and denim to hide belly fat. For lighter fabrics, make sure they are made for a slim-fit look.
Bottom Wear: Go for palazzos, high-rise pants, or wide-legged jeans to hide your belly fat.
Type Of Shapewear: Opt for waist trimmers/clenchers or shapewear that offers tummy as well as hip coverage for better compression around the waist and for a slimmer look.
What To Wear To Hide Tummy – Tips & Ideas
1. Lingerie And Undergarments—Getting It Right
Wearing the right intimates is a given, but some of us need to pay more attention to a few things than others normally would. It is important that you choose a bra; that is not loose or sagging, but makes you uptight while giving the right definition. Also, consider high-rise underwear's—these help you a great deal in tummy control. We need to get this one right.
2. Shapewear—To Your Rescue
You should try these if you have not already. They are your rescue rangers; I could not wait to get my hands on these. It basically, tucks the unflattering flab and tires back into the tummy, at least it creates the illusion. These soft, comfortable and tight-fitting undergarments come in a lot of variants, taking full control of your tummy area. You can easily get away with those body hugging dresses that were forever part of your wish list. It makes a lot of difference, especially if you make smart choices. I assure that you're going to love it.


Stylecraze Says
There are different types of shapewear, like waist cincher, contouring shaper, bandeau style shaper, or a paneled shaper. They have different compression levels to make your abdomen look flattering.
3. Body Posture—Matters!
We don't pay much attention to our posture, but it's time we all do. Being unaware of your ergonomics while sitting or standing will eventually add up to a lot of other things. Poor posture is proven to sag and loosen the abdomen muscles further and blowing up the bulge, more than what it already is. Not only for wearing great clothes, working on your posture is a healthy practice even otherwise. Make a conscious effort to give it some time; you will see the change for yourself. Remember, a slouchy posture is only going to make it worse.
4. Dress Smart—Knowing The Tricks Of The Trade
Gone are the days when being loud and gaudy was hep. Dressing up classy and carrying it off well is the all new mantra. But, first, you need to get your basics right. Understand your problem areas and your strengths. Wear dresses that steer the attention away from your tummy; it could be just a flowy or ruched dress, a draping-patterned maxi, or a kaftan that does it for you. You can also go for dresses that show the waist, like an empire-waist gown, belted tunic, or wrap dress, to hide the middle area, and jeans with tummy tuck built in. It's also worth mentioning that it's best to stay away from body-hugging clothes, unless you're sure of pulling off a bulgy stomach. Choose what you want to make the center of attraction and dress accordingly.
5. Colors, Patterns, And Fabrics—Know It All
To begin with, fabrics make a lot of difference; every color and pattern look differently with different fabrics. If you are serious about hiding your tummy, then I suggest you go for dark colors, flowy fabrics, and vertical patterns. This is a fail-proof method that generally doesn't go wrong.
6. Layer It Up—And Make-Believe
Layering is another technique that magically hides it all away, shifting the focus anywhere but your tummy. Combinations like the tank top with plaid shirt; knee-length dress and a cape; trousers with a shirt and blazer or shrug etc. work pretty well to your advantage. Layers that are unbuttoned gives it a significant effect making you look taller. Make-believe in the truest sense.
7. Skin Tight Dresses—Might Not Be A Great Idea
For me, it's not very difficult to stay away from these because I'm not a fan of anything body-hugging, not that my body permits it. Either way, it's best to go with something that has a flow, bounce, and definition to it. If you're comfortable in your skin and whatever you're wearing, go ahead—there's no stopping you!
Had I known any of these, my shopping experiences would have been less challenging. Take a minute to understand the in and out of each of them. Let's use these tips to build the blocks and look at dresses that will not just camouflage the unflattering fat but also make you look stylish and confident.
How To Dress To Hide Belly Fat – Outfit Ideas
Are you ready to have a look at the dresses that hide belly and love handles? Scroll through and see what defines you the most.
1. Ruffle Or Peplum Tops
Peplum tops or dresses cinch at the narrow part of your upper waist and lift up as they train down to the belly button. Best for your curves. Ruffle tops shift the focus and conceal those bulges. It's all about the illusion and creating it the way you like it.
2. Vertical Pattern Shirts Or Dresses
Vertical dresses are for women with frailties like ours. Unlike the horizontal patterns, these make your body look taller; so you appear slimmer than your usual self. This way you can fully enjoy what you're wearing without having to worry too much about the flabby stomach.
3. Pleated Skirt And Plain Tops
It is a general assumption that people with a protruding tummy cannot wear skirts. I thought so too for a very long time. Yes, if you opt for denim or a small waist skirt, it ought to happen. Try pairing your plain T-shirts or A-line shirts with pleated skirts; it makes a lot of difference. These skirts start right at the tip of your belly button, so go with a top that is soft and airy. If you can pull off a high-waist skirt, nothing like it, either!
4. Tops With Pom Poms Or Frayed Edges
Pom-poms are a rage right now, and they work to our advantage. So do ruffled tops. Those frayed edges and pom-poms absorb the attention masking the painfully wobbly areas. These are both stylish and figure-flattering. We just need to learn to hover around our pain areas.


Stylecraze Says
You can also wear tops with embellished necklines or V-neck tops to draw attention towards the neck and shoulder instead of the waist area.
5. Dark Colored Flowing Dresses
Wearing dark colored dresses to hide belly will always work. If you loved an outfit and are not sure if it goes with your figure? Or apprehensive that it will sit well on the tummy, go with a dark color. Even better, if it is either flowing or wavy.
6. Oversized Tops With Trousers
This ensemble is not just fool-proof but also gives you a chic and classy look. Pick up at least one size more than your regular size and team it up with a pair of slim-fit trousers, jeggings or leggings. You can also wear a top with a waist band to hide the belly fat. Accessorize to finish the look, and you're ready to go!
Infographic: Dressing Tips To Hide Your Belly
As long as you know your body type and what you feel comfortable in, it is easy to figure out clothing options that smartly cover your belly. It's important to understand that what looks great on another body type may not necessarily look flattering on you. But a few tips can help you dress your body type to perfection without you worrying about your belly.
Here is an infographic you can use as a quick reference on dressing tips to hide your belly.



Isn't it amazing how there are dresses to hide the belly too? It sure is. So, do not budge on your style or your confidence! These dresses will make you feel confident and help cover your belly. You do not need to compromise on your style quotient just because you do not have toned abs. Embrace your natural beauty and if you wish to get rid of the belly permanently, adopting a healthy lifestyle is a must. So, take inspiration from our list while concentrating on your diet and exercise.
Frequently Asked Questions
Are high-waisted dresses good for hiding belly fat?
Yes, high-waisted dresses are good for hiding belly fat. You can also try A-line, banded waistlines, and thicker fabrics for a more flattering look.
What materials should I look for in a dress to hide belly fat?
Opt for denim, cotton, or silk materials to hide belly fat. These tend to look less bulky and fall flatteringly on body shapes.
Should I avoid bodycon dresses if I have belly fat?
No, you should not completely avoid bodycon dresses if you have belly fat. Instead, look for dark colors or bold patterns to hide the belly pooch. And wear it with confidence.
Key Takeaways
Go with an A-line cut, flowy fabrics, ruffles, or tops that do not cling to your tummy.
Wearing darker clothing provides a slimming effect.
Wear high-waisted dresses to smooth out the midsection.
Wear a skirt and flowy clothes that are wider than your waistline at the bottom.
Find out how to hide your tummy with the best and stylish clothing options. Check this video exploring amazing dos and don'ts to dress well and hide that paunch.
The following two tabs change content below.