Dry Conditioner: Advantages, Drawbacks, Working, & How To Use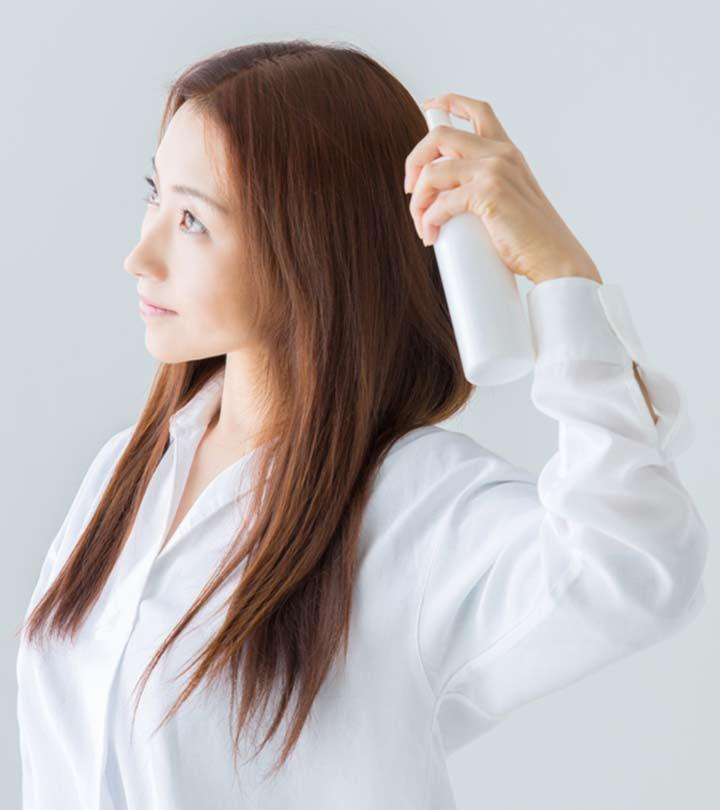 Dry conditioners are your saviors on hectic days. They can revive the look of your dry and frizzy locks and give your hair a fresh look. These hair care products are loaded with nourishing ingredients that help condition your dry and frizzy hair without leaving a greasy feel. They also are lightweight, have a quick-absorbing formula, and can keep your hair silky and soft.
This article explores how dry conditioners work, how you can use them, and why you should include them in your hair care routine in the first place. Keep reading.
What Is Dry Conditioner?
Unlike traditional conditioners, dry conditioners have a dry formula that is lightweight and directly sprayed onto the hair. They nourish and moisturize the hair without a sticky residue. Dry conditioner sprays have a mist-like formula that does the job and evaporates! Here is the science behind it.
How Do Dry Conditioners Work?
Regular hair conditioners contain silicones and nourishing oils that coat the hair to reduce static and seal moisture in the strands, making the hair smooth.
Dry conditioners do the same job without water! Most of them contain ingredients similar to regular conditioners, except that they come in aerosol formulations. When sprayed onto your hair, dry conditioners instantly smoothen and moisturize the hair without weighing it down.
The ease of use makes dry conditioners versatile hair care products, suitable for all hair types. There are multiple benefits of using a dry conditioner.
Advantages Of Using A Dry Conditioner
Depending on the formulation, dry conditioners may have the following advantages:
1. Makes The Hair Manageable
Dry conditioners contain silicones to minimize frizz, smoothen the strands, and prevent heat damage. Silicones add shine to your locks and keep them manageable.
2. Better Heat Styling
You can use dry conditioners to prep your hair before heat styling. The nourishing ingredients and the silicones help minimize heat damage and impart a healthy shine to your tresses.
3. Hydrates Dry Hair
A dry conditioner is a quick fix for dry and damaged hair. The nourishing formula of the conditioner can instantly deliver moisture to the dry strands – minus the oily residue. You can use it whenever you feel your hair is getting dry. However, this is not a permanent solution. You need to follow a proper hair care regimen to prevent dry hair.
Compared to regular conditioners, dry conditioners are convenient to use. If you are still debating whether or not you need to add a dry conditioner spray to your hair care collection, here are some reasons you should use one.
Are Dry Conditioners Fit For You?
Dry conditioners can help if:
1. You Are Always In A Hurry
If you often find yourself traveling and barely have time for a structured hair care routine, a dry conditioner can be your BFF. Keep a dry conditioner handy for surprise events or to keep your hair looking great on the go.
2. You Have Curly Hair
Curly hair is fragile and requires more moisture and protection. A dry conditioner can keep the strands hydrated, reduce frizz, and improve manageability without stickiness. It is a great way to nourish your hair between washes.
3. You Have Dry Or Damaged Hair
Dry or damaged hair lacks moisture and requires extra care. Luckily, a dry conditioner spray between washes can provide extra nourishment and moisturization to the hair and keep it smooth.
4. You Constantly Style Your Hair
A dry conditioner can prolong your hairstyle and help maintain the look for long events or even during holidays. When using a dry conditioner, you can skip washing your hair for a few days, thus maintaining your hairstyle.
Read on to know how you should use a dry conditioner on your hair.
How To Use A Dry Conditioner
You can use dry conditioners based on your wash cycle and how often your hair feels dry. Follow these three simple steps to use them:
1. Prep Your Hair
Prep your hair with a dry shampoo to clean any grease that could have gathered between washes. Brush or comb your hair to remove knots and tangles.
2. Spray The Conditioner
Spray the dry conditioner from the middle of your hair length until the ends. Do not spray it on your roots as it could weigh your hair down.
3. Style Your Hair
Comb your hair to ensure even application and style your hair.
Using a dry conditioner is easy. Here are a few nifty tips that can make it easier.
Tips For Dry Conditioner Users
Check the ingredients in your dry conditioner before buying. Avoid products that contain parabens, polyethylene glycol, fragrances, and any ingredient you are allergic to.
Go easy on conditioners to avoid weighing down your hair. However, each hair type differs in the way it absorbs moisture and how much it can absorb. If you have dry hair, feel free to use more product, and if you have relatively oily hair, a few spritzes are fine.
Dry conditioners are a quick fix for dry hair and emergencies when you do not have an option to wash your hair. Do not depend on them or overuse them. To maintain healthy hair, you will still need your regular conditioner, hair masks, a thorough hair care routine, and a healthy diet.
Excessive use of dry conditioners can affect your scalp and hair health.  Here are some cons you should watch out for.
The Drawbacks Of Dry Conditioners
Aerosol Effects: Aerosols can be toxic to the environment. The chemicals in the product may contaminate the water, soil, and other natural elements.
Buildup: Dry conditioners can lead to buildup, catching grime and dust on the scalp and hair. This may make the hair dull and frizzy and cause hair fall.
Key Takeaways
Dry conditioners come in aerosol formulations that help smoothen and moisturize the hair without water.
The silicones in dry conditioners help reduce the frizz, minimize heat damage, and add shine to your hair.
Overusing dry conditioners may affect your scalp and hair health, leading to issues like hair fall.
In summary, dry conditioners have a mist-like consistency that moisturizes and replenishes your hair without leaving any sticky residue. It is a life-saver for those days when you cannot wash your hair but need to. These dry conditioners make your hair manageable, smooth, and easy to style. While it can be used as a stand-in conditioner, it cannot replace a regular conditioner. So, you should wash and condition your hair regularly. However, if you have curly or dry and damaged hair that you can't wash too often, then a dry conditioner is your best friend.
Frequently Asked Questions
When should you use a dry conditioner?
You can use a dry conditioner when you are in a hurry, want to maintain your hairstyle for a long time, or have curly, dry, or damaged hair.
What is Waterless dry conditioner?
Waterless is a brand that manufactures dry conditioners and other hair care products.
What is the difference between a dry conditioner and a leave-in conditioner?
Dry conditioners come in a spray form, whereas leave-in conditioners have a creamy texture.
Is a dry conditioner bad for the hair?
No, dry conditioners are not bad for your hair or scalp as long as they do not contain allergy-causing ingredients.
The following two tabs change content below.