Dry Brushing Face: Benefits, How To Do It, And More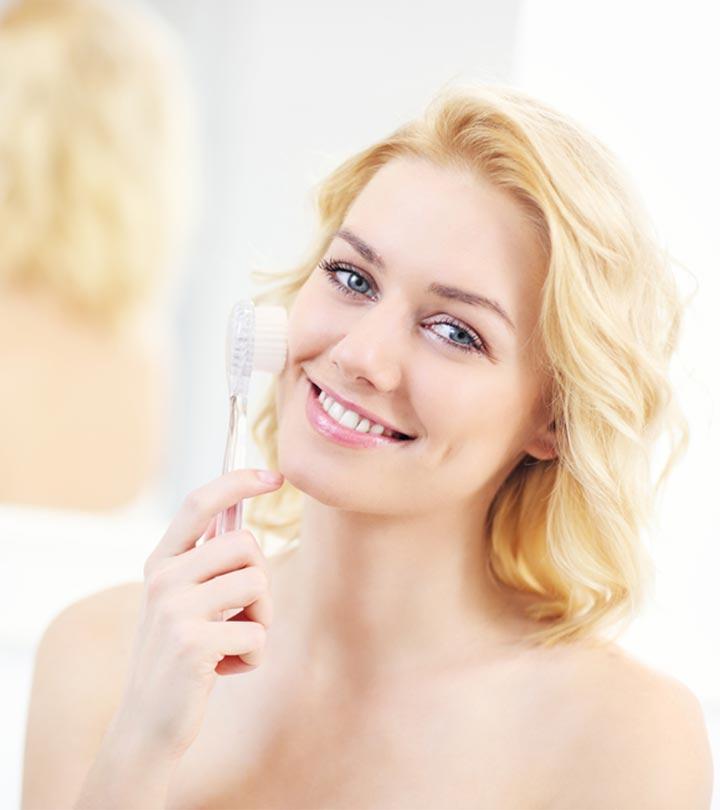 Are you looking for an inexpensive yet effective way to exfoliate your facial skin naturally? Try dry face brushing. It is one of the ancient skincare rituals that can exfoliate the facial skin and restore its firmness. This method helps remove dead skin cells and improves blood circulation to your skin. In this article, we have discussed everything you need to know about dry face brushing – benefits, steps, and the risks involved. Scroll down to take a look.
What Is Dry Face Brushing?
As you age, it gets difficult for your skin to shed the dead skin cells on its own. This leaves it looking dull and unhealthy, making your skincare products less effective. Dry brushing is a chemical-free way to exfoliate your skin with a brush after cleansing. It helps remove dead cells and toxins, boosts blood circulation (maximize oxygen intake), restores skin firmness, and improves lymphatic drainage. Dry brushing helps delay the signs of premature aging, prevents fine lines and wrinkles, and makes your skin smooth. You can use any natural soft-bristled brush to eliminate the dry, flaky skin on your face.
Check out the following section to explore how dry face brushing is beneficial for you.
Benefits Of Dry Face Brushing
1. Exfoliates Your Skin
Dry brushing involves physical exfoliation that helps remove dead skin cells, dirt, and flakes. When you dry brush your skin, friction is produced, which helps unclog your pores and allows your skin to breathe.  It improves skin health, reduces the risk of acne breakouts, and makes your skin smooth and radiant.
This process stimulates blood circulation that makes your skin look youthful. It prepares your skin to absorb moisture and nutrients from skin care products. Dry brushing your face helps stimulate the sensory nerves and improves the skin renewal process.
2. Improves Lymphatic drainage
Did you know that stimulating your lymphatic system can remove waste and toxins from the body? And dry brushing does exactly that. Many proponents claimed that dry brushing helps detoxify your skin. This technique speeds up blood circulation and maintains your immunity. Weak functioning of the lymphatic system can lead to the formation of cellulite, clumpy or dimpled-looking skin.
3. Reduces The Appearance Of Wrinkles And Fine Lines
Gentle brush strokes on your face can stimulate the skin's natural regeneration process, which speeds up cell turnover. This minimizes the appearance of aging signs like wrinkles and fine lines. Also, the increased blood circulation helps make your skin supple and plump.
You should dry brush your face the right way to reap its maximum benefits. Scroll down to explore the steps involved in dry face brushing.
How To Dry Brush Your Face – A Step-By-Step Process
Step 1: Start with the collarbone area. Brush with 5-10 short strokes towards the heart on each side.
Step 2: Stretch the neck and lift the chin. Give 6 gentle brush strokes in a downward motion, from the jawline to wards the collarbone.
Step 3: Brush the bottom portion of your face – upper and lower lip areas. Start from your lips and move outwards until the corner of your jaws.
Step 4: Buff the nose gently in the direction of the cheek hollows in inverted U-shaped strokes 6-8 times.
Step 5: Move your brush from the inner portion of the eyebrows towards the temples.
Step 6: Brush the forehead going up and over the temples.
Check out this video tutorial to know more about the process in detail:
Tip: Rinse your face with water after dry brushing to remove any dead skin cells and flakes. Apply a moisturizer to keep your skin protected and prevent dryness.
Note: Avoid brushing the delicate under-eye area. Never be in a hurry or get rigorous while dry brushing your face. Always use gentle strokes to prevent redness and inflammation.
Now that you know how to dry brush your face, the immediate question is how often you should be doing it? Let's find out in the next section.
How Often Should You Dry Brush Your Face?
You should dry brush your face not more than once or twice a week. Dry brush only when you are not using any exfoliating products on your face. For sensitive skin types, dry brushing once every two weeks is recommended. If you have an oily skin type, you can dry brush your face even thrice a week.
Is dry face brushing safe? Are there any side effects of this technique? Scroll down for the answer.
Risks Associated With Dry Face Brushing
Dry brushing is not suitable for people with dry skin conditions, such as eczema, psoriasis, and rosacea. Avoid dry face brushing if you have inflamed or cracked skin as it can aggravate the sensitivity. Do not dry brush open wound areas, bruises, or braised skin.
Note: If you have breakouts and acne-prone skin, consult your dermatologist before proceeding with this method.
Dry brushing your face can be tricky. Here are a few guidelines to keep in mind for the safe and successful completion of the process.
Do's And Dont's Of Dry Face Brushing
Dos
Dry brush your face only when your skin is dry. Otherwise, it can get irritated, stretched, and tight, leading to damage.
Use a soft-bristled brush that is specifically designed for dry face brushing.
Use smooth and gentle strokes to dry brush your face. Remember, the key is to guide your skin's essential fluids so that it appears healthy and youthful.
Always apply a moisturizer post dry brushing to prevent dryness and soothe the skin.
Don'ts
Never brush your face if you have skin conditions like psoriasis, eczema, and rosacea.
Do not use the same brush that you use on your body for dry brushing.
Do not brush your face harshly and regularly. Overdoing it may cause micro-abrasions, flare-ups, and chapped skin.
Conclusion
Dry brushing helps exfoliate your skin and remove dead skin cells that clog your pores and cause acne. It is easy to incorporate into your routine and makes your skin look smooth and clear skin. It keeps your skin healthy and bright and preps it for the skin care products to work effectively.  However, do not dry brush your face roughly and too often. Avoid this technique if you have psoriasis, eczema, or any other skin sensitivity.
Frequently Asked Questions
What kind of brush should I use for dry face brushing?
Go for a soft-bristled brush made of natural fiber and designed specifically for dry brushing the face.
What is the best time to dry brushing my face?
Dry brushing your face in the morning before a shower offers the best results. As this process stimulates the sensory nerves, incorporating it into your morning routine makes you alert.
Can dry brushing reduce the appearance of cellulite?
Yes, proponents claim that dry brushing may reduce the appearance of cellulite. However, there is no scientific evidence to support this fact.
Recommended Articles
The following two tabs change content below.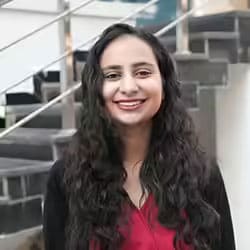 Arshiya Syeda is an editor and certified counselor. Ever the lover of the written word, she served on the editorial boards of her school and college newsletters. Writing articles on hairstyles, hair care, and nutrition helped her combine her love for reading, writing, and research. As an editor, she helps her team members deliver polished and meticulously researched content. Arshiya is fluent in English, Urdu, and Hindi and aims to become a multilinguist by learning German and teaching herself American Sign Language (ASL).