8 Best Dry Shampoos Available In India – 2023
Get an instant refresh for your tresses with these fuss-free hair cleansing products.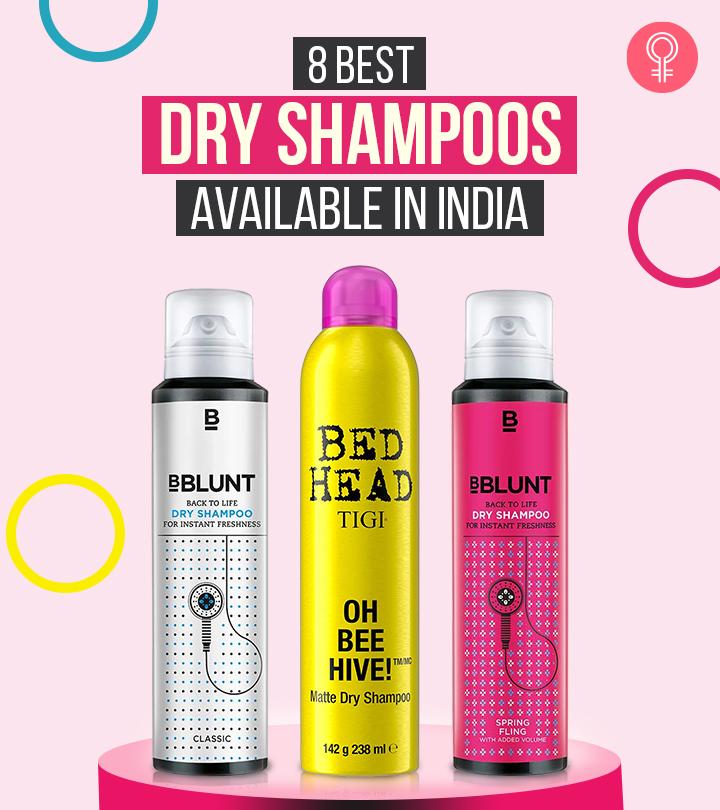 If you are in a pinch and need an instant pick-me-up for your hair, dry shampoo is your go-to. Whether you are in a hurry for a meeting or want to skip washing your hair, dry shampoo can help you pull your look together. It refreshes your hair between washes, leaving it clean with added body and texture. This article lists the 8 best dry shampoos available in India that instantly revamp your hair. Check them out to achieve that instant freshness for your hair!
8 Best Dry Shampoos In India
The Batiste Dry Shampoo is designed to be used between washes to give instant volume to your hair. The natural starches in the formula add grit and volume to your tresses by removing excess sebum from the roots and scalp. This no-water formula eliminates oil from the roots and gives a complete makeover to your hair. It adds body and texture to your tresses, making your hairstyle look fabulous. This dry shampoo is suitable for color-treated or bleached hair.
Pros
Easy to use
Paraben-free
Sulfate-free
Ammonia-free
Copper-free
Aluminum-free
Cons
Overpowering scent
Leaves residue
Price at the time of publication: ₹11.56
This dry shampoo from Dove makes your hair look thick and glossy in just a few sprays. It saves your day and time from grilling washing schedules. The lightweight formula absorbs excess oil and sebum from the hair strands to give you a refreshed look. It gives your dull, flat, and lifeless hair a radiant finish. This dry shampoo does not weigh down fine or thin hair.
Pros
Lightweight
Adds volume
Affordable
Cons
Price at the time of publication: ₹20.97
Tresemme's Volumizing Dry Shampoo is formulated with mineral clay and citrus extracts that absorb excess oil, impurities, and odor from the hair and leave it smelling nice and refreshed. It redefines your hair and leaves your tresses looking fresh and gorgeous by adding body and movement.
Pros
Lightweight
Easy to use
Nice fragrance
No residue
Cons
Price at the time of publication: ₹14.99
The CoLab Dry Shampoo is suitable for all hair types and does not leave any residue on application. The oil-absorbing formula revitalizes your hair by removing excess oil and grease. Its no-water formula adds body and instant volume while cleaning every strand to give you strong and beautiful hair. The unicorn fragrance keeps your hair refreshed for a long time.
Pros
No residue
Refreshing fragrance
Cruelty-free
Cons
The Bblunt Dry Shampoo revitalizes your hair by removing excess grime and grease. This no-water formula protects your hair against hard water and pollution. It gives your hair a soft and silky texture by absorbing excess oil and sebum from the shafts while adding instant texture to your hair. The formula blends seamlessly with all types of colored hair without letting them fade.
Pros
Lightweight
Easy to use
Nice fragrance
Cons
This dry shampoo from Batiste is an instant hair refresher that removes oil and impurities from the roots of your hair. The refreshing formula can be used between washes to add body and texture and volumize the hair. The fruity smell of cherry, wild berries, cucumber, soft lilies, and rosebuds refreshes the senses.
Pros
Long-lasting
Pleasant fragrance
Vegan
Sulfate-free
Cons
May leave a white residue.
This is another dry shampoo from Bblunt that cleans your hair and leaves it with a refreshing fragrance. It protects your strands against hard water and pollution. The micro-crystalline starch in the formula completely mattifies your oily and greasy scalp, while the floral fragrance adds instant freshness to your hair. This no-wash formula volumizes your tresses without leaving any white cast.
Pros
Color-safe
Cruelty-free
Paraben-free
SLS-free
Travel-friendly
Cons
None
This dry shampoo from Tigi is designed to absorb oil from greasy roots. The superfine powder helps absorb excess oil and sebum while refining the texture of your hair. The oil-absorbing formula gives a mattifying finish and works on all kinds of hair with any length. The vanilla fragrance gives your hair a refreshed feeling.
Pros
Lightweight
Long-lasting
Adds volume
Nice fragrance
Cons
Dry shampoos instantly get rid of dirt and grime from the scalp. Let us learn more about them in the following sections.
What Is Dry Shampoo? What Are Its Benefits?
Dry shampoo absorbs dirt, oil, and grease from the hair and scalp without getting the hair wet. It has a no-water formula that uses alcohol- and starch-based active ingredients to soak up all the sebum from your hair, leaving it feeling clean and fresh in no time.
Benefits Of Dry Shampoo
Dry shampoo puts off your hair wash for a few days while keeping your scalp oil-free.
It extends the life of hair color.
With dry shampoos, you do not need to wet your hair. Hence. no blow drying is required, which saves your time.
It prevents your hair from becoming very dry.
Dry shampoo adds volume to your hair.
Here is a simple guide on how to use dry shampoo.
How To Use Dry Shampoos
Follow these steps to apply dry shampoo:
1. Prepare And Partition
Shake the bottle well so that the formula is evenly distributed before application. Partition your hair in sections with a comb.
2. Aim And Apply
Hold the bottle one foot away from your roots and aim. Spritz the spray on the problem areas instead of going overboard. This way, you do not end up wasting the product.
3. Leave And Massage
For best results, allow the dry shampoo to rest in your hair for some time. This allows your hair to soak the ingredients properly. Later, run a comb through your hair from your root to tip to get rid of excess buildup.
Things To Consider Before Buying Dry Shampoo
Buy a dry shampoo based on your hair type. If you have oily hair and scalp, go for a dry shampoo that is highly absorbent to keep your tresses feeling clean and refreshed. If you have fine hair, a powder-based dry shampoo works better.
The natural hair color is an important factor while choosing a dry shampoo. The shampoo might leave a white powdery residue if your natural hair is black or brown. There are different options specially-curated for light or dark-colored tresses. Choose one based on your requirements.
Ensure the product does not contain any harmful chemicals like butane, isobutane, propane, sulfates, parabens, or allergens.
Most dry shampoos contain refreshing fragrances that make your hair feel good. Before you buy one, spritz a bit on your hair to check if the scent suits you or not.
Dry shampoos provide instant relief from oily and sticky hair without having to wash your tresses. They save time and extend the life of your blowouts. Pick any of the products listed above for instant freshness. Have a good hair day!
Frequently Asked Questions
Are there any side effects of using dry shampoo?
Excess use of dry shampoo can damage your hair and lead to scalp problems.
Is dry shampoo safe for color-treated hair?
Dry shampoo gives your hair a washed feeling by absorbing excess oil. Hence, it is perfect for color-treated hair.
How often should I use dry shampoo?
You can use the dry shampoo once or twice a week.
Recommended Articles
The following two tabs change content below.