Benefits Of Duck Eggs, Nutrition, Side Effects, And Recipes
Experience the power and goodness of eating your egg sunny side up every day!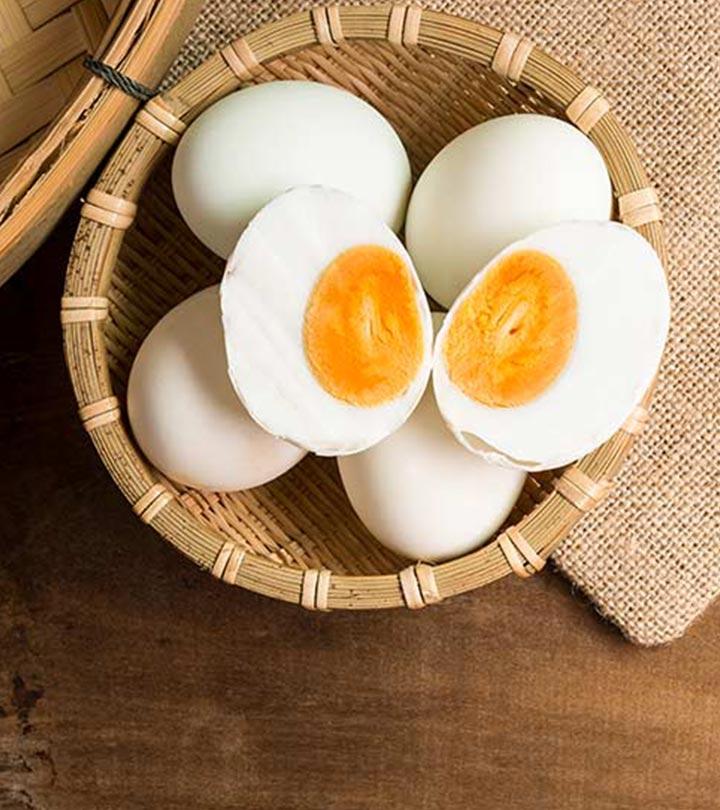 Duck eggs have a creamy yolk with high protein content and are popular in Southeast Asian cuisine. They are larger than chicken poultry eggs, and are a great alternative to them. The benefits of duck eggs are numerous and are mainly attributed to their dietary protein values and essential vitamins and minerals. You can find these eggs in many restaurants and food stores. This article explores the health benefits of duck eggs, their nutrition profile, possible side effects, and the ways you can include them in your diet. Keep reading.

Know Your Ingredient: Duck Eggs
What Is It?
The reproductive product of a duck with a crackable outer covering and soft gooey inner edible fluid (that develops into a chick).
What Are Its Benefits?
May fight bacteria and cancer, aid bone health, and boost the antioxidant activity in the body.
Who can consume it?
Anyone can consume it, except those who are allergic to it or have high cholesterol levels, a weakened immune system, or underlying undiagnosed health conditions.
How Often?
2 eggs per day is fine. Avoid eating it in excess.
Caution
People with diabetes and cardiovascular diseases should avoid it due to high fat and cholesterol content.
Nutritional Information Of Duck Eggs
Duck eggs are an excellent source of food because they have a richer yolk compared to chicken eggs. If you are looking for something to give you the right amount of energy in the morning, just devour one duck egg. These are good sources of omega-3, vitamins, and minerals. With 156 calories in 1 duck egg, these make for a convenient breakfast option every day. Along with that, a single duck egg also contains the following nutrients(1).
| Nutrient | Amount |
| --- | --- |
| Calcium | 42 mg |
| Phosphorus | 144 mg |
| Potassium | 146 mg |
| Sodium | 186 mg |
| Choline | 138 mg |
| Vitamin A, RAE | 144ug |
| Retinol | 141 ug |
| Lutein and Zeaxanthin | 300 ug |
In the next section, we will look at the different ways that duck egg benefits us.
Health Benefits Of Duck Eggs
Duck eggs are becoming a popular choice of food for people of all ages due to their high nutritional value. Let's delve deeper into the benefits of duck eggs.
May Play A Role Against Fighting Bacteria
A laboratory study was conducted where ovomucin, a protein found in duck egg whites, was isolated and studied. Through observation, they found out that ovomucin displayed significant antibacterial activity against four types of select bacteria (2). While the results seem promising, further research is needed to establish the antibacterial properties of duck eggs.
May Help Fight Against Cancer
A study was conducted to see the effect of red yolk extracted from duck eggs on the growth and spreading of human cancer cells. Mice were given an extract from the red yolk of duck eggs for 34 days. The result of the study showed that duck egg extract had inhibited the growth and movement of cancer cells, thus suggesting that duck eggs may play an important role in the fight against cancer (3).
May Play A Role In Bone Health
One of the nutrients essential for the formation of healthy bones is calcium. As seen from the above section, duck eggs contain a higher source of calcium than chicken eggs. This was seen in a study where Wistar rats were administered desalted duck white eggs for three weeks. The results showed the rats that were administered duck egg whites demonstrated a higher rate of calcium absorption, indicating that duck eggs may play a role in bone health (4).
May Have Antioxidant Properties
Duck eggs contain amino acids and carotenoids that are said to contribute to their antioxidant capacity. A study was conducted to examine the effect of salting on antioxidant activity of duck eggs (5). The researchers saw that salting the eggs increased their antioxidant activity significantly, thus suggesting that duck eggs may have antioxidant properties.


Trivia
Duck eggs are common in Europe and have been a staple diet for generations. Also, the consumption of duck eggs can be traced back to the Roman era.
While we have seen the different benefits of duck eggs, let us look at duck eggs and their side effects and potential allergies.
Side Effects & Allergies Of Duck Eggs
While eggs, in general, are beneficial, they are one of the most common allergens, especially for infants and children (6). Does this mean duck eggs might cause any possible side effects? Let's have a look at some of the side effects reported from around the globe.
Just like chicken eggs, duck eggs can also cause allergies. If you develop symptoms such as vomiting, diarrhea from eating duck eggs, chances are you may have developed an allergic reaction to duck eggs (7). In such cases, visit a doctor immediately.

A study was conducted to see the levels of metals such as lead and copper in two hundred duck eggs taken from farms in Thailand. The researchers found that the egg yolks had high levels of copper and lead, suggesting that metal contamination may pose a problem for consumers (8).
Salmonella is a type of bacterial infection commonly found in chicken and eggs that can cause diarrhea and fever. England and Ireland saw a large outbreak of salmonella in 2010 which was directly linked to the consumption of duck eggs (9). It is highly recommended that you clean and cook your eggs properly before consumption.
Word Of Caution: Duck eggs are much bigger in size in comparison to chicken eggs. The bigger the size, the higher the yolk content. This means, duck eggs have more fat and cholesterol than chicken eggs. Individuals with diabetes or cardiovascular disease should limit their intake to 3 duck eggs per week.
Now, let's dive into the debate of duck eggs vs. chicken eggs.
Duck Vs. Chicken Eggs
What is better, duck eggs or chicken eggs? Before you decide which one is better, let us compare the nutritional value of the two eggs as cited by the USDA (1), (10).
| | | |
| --- | --- | --- |
| Nutrition | Duck Eggs | Chicken Eggs |
| Calcium | 42 mg | 40.3 mg |
| Phosphorus | 144 mg | 101 mg |
| Potassium | 146 mg | 80.5 mg |
| Sodium | 186 mg | 88.4 mg |
| Choline | 138 mg | 135 mg |
| Vitamin A, RAE | 144 ug | 98.2 ug |
| Retinol | 141 ug | 97 ug |
| Lutein and Zeaxanthin | 300 ug | 227 ug |
As seen above, duck eggs are more nutritious than chicken eggs. Let's see how duck eggs fare vs chicken eggs in other aspects as well.
Duck eggs have a thicker shell than chicken eggs, so one must be more careful while cracking the duck egg.
Duck eggs are larger with a bigger and creamier yolk inside than an average-sized chicken egg.
The yolk of a chicken egg is pale yellow, but if you look closely at the yolk of a duck egg, they are more orange in color.
Duck eggs are more expensive due to their size while chicken eggs are more pocket-friendly.
Owing to their thick shells, duck eggs have a longer shelf life than chicken eggs.
Many people wonder, "Are duck eggs good to eat?" and the answer is yes! If you are feeling very adventurous and want a change from chicken eggs, then duck eggs might just be the right choice for you. Take a look at some of the ways you can add duck eggs into your daily diet.
What Are The Ways To Use Duck Eggs In Food?
Did you think that poached, fried, or scrambled duck eggs are the only ways to eat them? Certainly not! Asian countries such as Cambodia, Thailand, China, etc. have been known to pickle or salt these eggs. If you are looking to add an extra kick to your eggs, pickling them may not be a bad idea after all!
Due to its creamy texture, high fat, and less water content, duck eggs can make your cakes or pies more moist and yummy. If you are feeling lazy but want to eat something light, a sandwich or a salad with duck eggs can be a perfect choice. Read the next section to find some simple recipes for duck eggs that you can try at home.


Trivia
The so-called thousand-year egg, also known as the century egg, is a preservation method used in China that entails putting duck eggs and other components into an alkaline clay mixture and preserving them for several months.
Duck Egg Recipes
Duck eggs  would make the perfect addition to any salad, dish or just perfect on their own. Let's look at some simple recipes of duck eggs you can practice at home.
Duck Egg Salad
Ingredients
12 hard-boiled and peeled duck eggs
7 tablespoon of mayonnaise
2 stems of celery, finely chopped
2 tablespoons of chopped or relished pickles
2 teaspoons of salt
5 tablespoons of mustard, grounded
1 teaspoon of lemon juice, fresh
¼ teaspoon of dill leaf
¼ teaspoon of paprika
¼ teaspoon of black pepper
Instructions
Pour water in a medium-sized pan and bring it to a boil. Add the eggs to a pan over the stove and boil it for 8 minutes.
Once done, remove the eggs from the heat.
Let sit in the hot water with a closed lid for another 8 minutes.
Strain the hot water and run the eggs under cold water for easy peeling.
Mix celery, mayonnaise, mustard, pickles, lemon juice, salt, and spices in a bowl.
Stir the mixture till it is smooth.
Chop the duck eggs into small pieces.
Combine with the mixture, and mix it until the mayo mixture is evenly distributed.
Store the salad in an airtight container in the fridge for up to a week.
Bacon And Duck Egg Sandwich
Ingredients
slices of sourdough bread
2 tablespoons of aioli or mayonnaise
lettuce leaves
1 thickly sliced large tomato
2 duck eggs
4 rashers of bacon
olive oil
Instructions
Lightly toast the sourdough bread and put a little mayonnaise or aioli on all the slices.
Take some lettuce leaves and put them on top of the bread.
Put two slices of tomato and season with salt and pepper.
Heat a little olive oil in a frying pan and cook bacon until slightly crispy. Remove bacon, reserve the fat, and place on paper towels to drain.
Gently crack the eggs into the pan and fry them in bacon fat until it is done to the desired consistency.
Put the bacon on top of the tomato slices and top it with the fried duck eggs.
Season again with salt and pepper. Top with the remaining slice of toasted bread and enjoy!
With their yellow-orange interior, they add a pop of color to your salad or make your sandwich gooey and yummy.
Infographic: The Health Benefits And Side Effects Of Duck Eggs
Their large size and higher nutritional value make duck eggs safe and tasty as chicken eggs. Changing to duck eggs can add a twist and new flavor to your dishes. Before you go for duck eggs, check out the infographic below to learn more about the benefits and drawbacks of consuming them. Scroll down to know more!


Duck eggs are larger than chicken eggs with a rich nutritional profile. They have a rich flavor and contain antioxidants and high dietary protein values that help treat many ailments. In fact, duck egg protein is considered to be of higher quality and quantity than that of chicken eggs. There are many benefits of duck eggs. They may fight against bacteria and cancer and improve bone health. However, excess consumption of duck eggs may cause allergies and increase the risk of metal contamination and bacterial consumption. Clean the eggs thoroughly before consuming them. Add them to your diet and consume them in moderation to enjoy their health benefits.
Frequently Asked Questions
Do duck eggs raise cholesterol?
While duck eggs have a higher concentration of cholesterol than chicken eggs, there is a lack of studies suggesting that they may raise cholesterol levels.
Is duck egg good for weight gain?
Yes. Duck eggs are nutritious and packed with proteins and healthy fats that may help one gain weight.
Is duck egg good for hair?
Possibly. Anecdotal evidence suggests that the rich protein content of duck eggs may help promote hair growth and boost scalp health.
Is duck egg good for constipation?
Yes. Eggs are rich in digestible proteins that may help boost digestion and relieve constipation (14).
Do duck eggs build muscle?
Yes. Duck eggs are a good source of proteins that may help build and repair muscles.
Are duck eggs dairy-free?
Yes. Eggs (including duck eggs) are often grouped together with dairy products at supermarkets. However, they are obtained from birds and not mammals. Hence, they are dairy-free.
Key Takeaways
Duck eggs have high nutritional content and a richer yolk compared to chicken eggs.
They contain more calcium, phosphorus, potassium, and sodium than chicken eggs.
These eggs may fight bacteria, enhance bone health, and have antioxidant activity.
Duck eggs may cause side effects like diarrhea and salmonella.
Check out this video to learn about the amazing benefits of duck eggs! Discover how they can help improve your overall health and well-being.
Sources
Articles on StyleCraze are backed by verified information from peer-reviewed and academic research papers, reputed organizations, research institutions, and medical associations to ensure accuracy and relevance. Read our editorial policy to learn more.
The following two tabs change content below.