10 Super Cool Ear Tattoo Designs
The ears have always been a favorite part of a woman's body to highlight with jewelry and ornaments. However, with changing trends ear tattoos are quickly replacing earrings as a trendier form of drawing attention to a woman's delicate ears. Check out these trendiest top ten ear tattoo designs, which could very well replace your earrings. If you have a trendy and modern bent of mind, this will surely impress you. Read further to know more.
Top Ten Ear Tattoos:
1. "Love" Ear Tattoo:
Simple precise and yet very ornate, this is mostly just an example of how you can use powerful words for ear tattoos. You could easily experiment with other short words such as faith, hope or strength or also use other foreign scripts such as Hebrew or Chinese.
2. Floral Motif Ear Tattoo:
This tattoo behind ear stands out for its brilliant use of delicate floral motifs. Make a note of this intricate designs and the usage of bold black color.
3. Stars Ear Tattoo:
Strikingly similar to the tattoo that international pop sensation Rihanna sports on the nape of her neck. This behind the ear stars tattoo has become a trendy style statement. If you are looking for some kind of symbolism, what we can say apart from the fact that tattoo points out to you as the star. Replicate it as it is or you can use different colors, the choice is yours.
[ Read: Tattoo ]
4. Feather behind the Ear Tattoo:
Feathers are a standard motif in Native American art and symbolize power and royalty. This ornate feather tattoo strategically inscribed behind the ear works as well as any piece of jewelry for the ears. Keep it as it is depicted here or use a different color. However, seek out the expertise of a seasoned tattoo artist to get this tattoo right.
[ Read: Best Sagittarius Tattoos ]
5. Heart Ear Tattoo:
This simple and subtle heart ear tattoo is a trendy yet not over the top style statement. Keep it simple as it is or fill it up with vibrant colors to bedazzle one and all.
6. Dragon Ear Tattoo:
This intricate dragon tattoo effectively fills up the whole of the inner ear. The Dragon in Chinese culture symbolizes potency and power and also brings good luck to those who are worthy of it. Get an experienced tattoo artist to replicate this piece of art for your ears and keep your fingers crossed for good luck.
[ Read: Aries Tattoos ]
7. Dual Feathers Ear Tattoo:
Two feather tattoos on the same list only because this tattoo deserved the attention it is getting here. This dual feathers tattoo is best replicated as it is. However, its best to use the services of an professional tattoo artist to get inscribed this small tattoos behind ears.
8. Music Notes Ear Tattoo:
Take your love for good music a step further by having this trendy tattoo inscribed on your ears. Keep it simple as depicted here and use a bold shade of black for effective results. As with all tattoos, it is best to seek out the expertise of an experienced tattoo artist so as not to mess up a perfectly good work of art.
[ Read: Small Tattoo ]
9. Sparrow Ear Tattoo:
This Sparrow ear tattoo is bound to get you a lot of envious stares. The Sparrow symbolizes playfulness, joy and the ability to move intelligently and swiftly through life's course. Enough reasons to get this tattoo for a whole lot of admiration and some positive inspiration for yourself.
10. Abstract Skull Ear Tattoo:
If you want an ear tattoo and yet want to keep away from feminine designs and motifs this abstract skull tattoo is just what you need. Make a note of the smudged effect and the diabolical grin the skull depicts. Not easily replicated, this tattoo is best left in the hands of an expert.
[ Read: Rihanna Tattoos ]
These top 10 ear tattoos are fabulous, aren't they? Now you have to decide which tattoo you want to flaunt to make all heads turn. Just don't forget to tell us which one.
Image source: 1 , 2 , 3 , 4 , 5 , 6 , 7 , 8 , 9 , 10

The following two tabs change content below.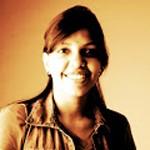 Latest posts by Shruti Goenka (see all)