5 Easy Steps To Blend Eyeshadows Perfectly –A Step By Step Tutorial
Blending is the key to makeup. But, that's nothing less than a riddle for most of us, isn't it? Because not all of us are makeup professionals. We at StyleCraze totally understand that learning the basics is the key when it comes to makeup tricks. So, today, we have decided to dedicate a makeup lesson to eyeshadow blending! All makeup tutorials chant "blend well" as if it's a mantra! So, what exactly does every makeup freak mean by blending? Well, it actually is a makeup mantra we swear by. A well-blended eyeshadow will result in a look where you will not be able to distinguish where the eyeshadow begins and where it ends.
Things You Need
Grab the below mentioned products to blend your eyeshadow perfectly.
Eyeshadows
Eye Primer
Mascara
Brushes
Eyeliner
Step 1
Before applying makeup, it is important to prep your skin. The same principle applies to eye makeup as well. Grab your under eye cream and gently massage the eye area in circular motions. This would moisturize the area and relieve dryness. Even a little dryness can make your makeup appear cakey or unattractive. Use an eye primer over and under the eyes. This works great as a base for the eyeshadow and also makes it last long. In case you have a discoloration around the eye area, even it out by using a concealer that matches your skin tone. Ensure you set the concealer with a loose/pressed powder. This technique also prevents the eyeshadow from creasing.
Step 2
Before you move on to the application of the eyeshadow, it's important to analyze and understand your eye shape. Choose textures and shades that suit your eyes. Let's begin by blending the eyeshadow on the crease. Your crease is where the eye socket of your skull dips in, just above your eyeball.
Step 3
Start the application from the crease. It is best to use an eyeshadow that has a matte finish and is a shade darker than your eyelid color. Load the product onto a fluffy blending brush and start blending it from the outer corner of the eye towards the inner corner in a windshield wiping motion. Continue the back and forth wiping motion until you no longer see any harsh or stark lines on the crease area.
Quick Tip – Ensure you do not blend the eyeshadow above the natural crease as this will look unnatural.
Step 4
Use a flat eyeshadow brush to apply a shade of your choice on the eyelid. Here, I have used a neutral silver shade.
Step 5
Once you are done applying the color on the lid, blend both the eyeshadows using a medium-sized fluffy brush. Use little swirl-like motions to blend away any harsh edges. Start from the outer corner and slowly work towards the inner corner. This step is very important as it will blur out all the prominent or harsh edges.
Step 6
Now, take a matte cream eyeshadow and apply it on the brow bone and the inner corners to complete the eye makeup. Finish the look by applying an eyeliner and coat the lashes with loads of mascara.
Final Look
That wasn't too difficult, was it? A little practice is all you need to blend your makeup perfectly. The main mission of blending eyeshadows is to blur out the prominent and stark edges, so that you get a soft and smokey look. Once you understand the 'art' of blending, you can experiment all you want! So, start practicing!
Do you have any other tips when it comes to blending eyeshadows? Share with us in the comments section below.
Recommended Articles:

The following two tabs change content below.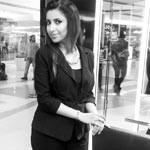 Latest posts by Afsha Rangila (see all)