50 Stunningly Easy Braid Hairstyles
Experiment with these stunning hairstyles that change your overall look instantly.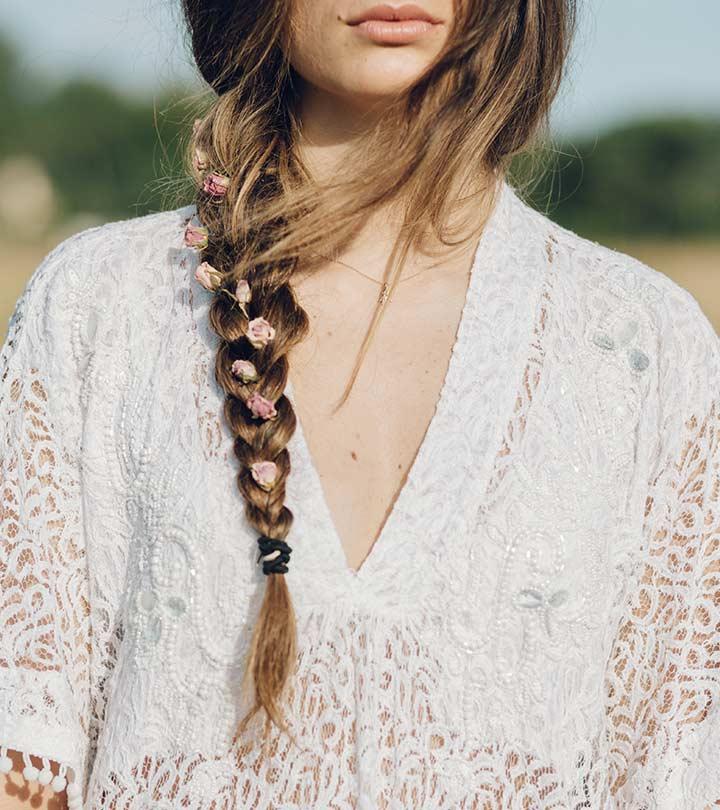 Braids create beautiful and quick hairstyles. They go well with any outfit, be it a gown, a skirt, or leather pants. You can find a braid that matches your personality! There are various easy braided hairstyles to choose from: starting from the regular three-strand braid going all the way to the waterfall braid. And all these braids work on any texture of hair, whether it is curly, wavy, or straight. Let's check out some easy braid styles that you can do in under 10 minutes. Read on!

Before You Get Started
When braiding your hair, it is best to do it on hair that has not been recently washed. Never braid wet hair, as it is more prone to breakage.
Before braiding, divide your hair into smaller sections to easily detangle hair. Use a wide-toothed comb for detangling. And do not aggressively brush your strands as it can lead to heavy hair fall and breakage.
Avoid using hair ties and bands that snag and break hair while securing your braid. Opt for satin or silk scrunchies and easy-to-use hair clips to secure your braid.
Use a leave-in conditioner to help smooth and moisturize the hair before braiding.
Depending on your final look, feel free to curl or straighten your hair. If you wish to keep your braids for more than a day or two or even longer, protect them by using a scarf, a bonnet, or a nightcap.
50 Stunningly Easy Braid Hairstyles
1. Lace Twist With A Fishtail Braid
Two braids in one hairstyle is always a show stealer. You can make this fairy tale look by braiding French rope twist braids along the hairline and fishbone braid in the center. Use a texture spray to aid in creating the braid and finish your look with a setting spray.
2. French Side Braid
.
Braids give fantastic depth to thick hair. The brown shade adds to the depth of this braid. A pull-apart French braid has been weaved starting from one ear and going in a slant towards the nape at the other end. Spritz some setting spray to complete the look.
3. Double Braided Crown
You could never go wrong with a braided crown for a formal event. It is one of those stunning easy braid hairstyles that give a sophisticated air. It is a beautiful variation of the Milkmaid braid, using one thick braided crown followed by a thin one. You can recreate this look for a wedding party.
4. Messy Braid Bun
You do not want to look slick and clean at all times. That is why you can opt for this messy braid bun. This hairstyle is versatile and can be sported as a bridal hairdo or for a regular day at the office.
5. Colored Yarn Braids
You can use this little trick of braiding in colored yarns into your box braids. It is a low-maintenance and protective hairstyle that keeps flyaways in check. Unlike most other thin braids, they can last one to two months with proper care. Add in the colored pieces of yarn as you braid through to create a fun and creative look!
Niah Faye, a college student, wrote about her first and second box braid experiences. The first time, she got her braids done at a salon that gave her 4 hours of pain and discomfort. The second time, her mother did her braids with 100% kanekalon hair extensions, which was painless and comfortable. She added, "With the proper knowledge to install and care for them, this style and styles similar to this one, can be cute, painless, and affordable (i)."
6. Dutch Heart Braid
The stitches of this beautiful Dutch braid look like perfect hearts. All you need to do to achieve this stunning look is pancake your Dutch braid by pulling the hair up instead of out. This is the perfect hairstyle for Valentine's Day.


Did You Know?
Braiding started in Africa with Namibia's indigenous Himba tribe.
7. Crown Braid
Who doesn't love a good crown braid? It is perfect for formal events like prom and homecoming. You can accessorize this crown braid with some leaf design pins to look like a forest nymph. Curly hair expert Casey Simmons says, "A crown braid for wavy and curly haired people is a beautiful accent. It will draw the eyes to your flowing patterns."
8. Defined French Braid
This braid is perfect for work and play! This well-defined French braid requires a bit of an experienced hand. But don't worry, keep practicing, and you'll be doing it perfectly in no time.
9. Double Dutch Braids
Got some new highlights? Flaunt them with these badass double Dutch braids. They will show off the contrast between your natural hair color and the new highlights beautifully. They also look super playful and young.
10. Boho Braided Half 'Do
This braided style looks artistic with a historical background. Every girl I know is going crazy over the boho braids look. Take it to the next level by adding a Viking vibe to your boho braids.
11. Braided Top Knot
One of the most common hairstyles done with protective braids is the top knot. It is a quick-fix hairstyle that looks edgy and fierce. Gather all your braids and wrap them in a top knot at the crown of your head. Use an elastic band to hold it in place.
12. Double-Braided Single Fishtail Braid
This braided style looks complicated but is actually quite easy to do. Let me break it down for you. This hairstyle is a combination of two regular three-strand braids and a fishtail braid. The two regular braids are connected using the waterfall braiding method.
13. Boho Fishtail Braid
This fishtail braid looks perfect for those cold winter nights spent in oversized sweaters and drinking hot cocoa. Before you start braiding, leave out some hair at the sides. After weaving the braid, pass the side hair in small sections through the stitches. Use bobby pins to secure all the hair in place.
14. Pouf Braided Mohawk
Mohawks are definitely badass and edgy. Why not up the ante by adding in a braid? All you need to do is backcomb the hair in the mohawk section. This will give the braided mohawk some height. Neatly comb the top and weave it into a braid. Tie up the rest of your hair in a ponytail.
15. Messy Elegant Braid
This braid looks surreal! To be honest, it is a faux braid. All her hair is curled, and only a small section of it is weaved into a braid. The rest of the hair is pinned in place to make it look like a messy braid.
16. Five Dutch Braid Ponytail
This is a great braid style for workouts or sporty events. It looks uber stylish without your hair being all over the place. Divide your hair vertically into five sections and weave each of them into a scalp-tight Dutch braid. Tie the rest of the hair in a ponytail at the back of your head.
17. Heart Braids
Heart braids look very cute. While you can achieve a beautiful heart braid with a regular braid, the fishtail braid is an elegant addition to the hairstyle. The two braids come together to form this light-hearted hairdo that is perfect for Coachella or a day at the beach.
18. Double Rose Braids
Yes, braids can give you roses! Weave your hair into two four-strand braids. Pancake the braids and roll them up to form the roses. It is as easy as that!
19. Pancaked Side Braid
Pancaking a braid involves pulling the stitches of the braid apart to make it look bigger. It can make the braid look flatter or fuller depending on how you pancake it.
20. Rope Half Braid
This braided hairstyle looks stunning! Ropes, twists, and braids are very similar in some of their patterns. So, why not blend the styles together? This hairstyle is perfect for an outdoorsy wedding.
21. Braided Updo
This one is definitely on my to-do list. It looks contemporary and modern. You can pair it with a gown as well as a leather jacket. Weave French braids on the sides of your head, then gather your hair at the top in a bun.
22. Light Pink Semi-Crown Braid
This is one of the easiest and coolest hairstyles. All you need to do is take some hair from the sides and weave it into an individual braid. Then, join them at the back below the crown. Make sure the braid is loose to create a romantic effect.
23. Quad Dutch Braids
Back when I was a teen, rebellion meant adding a few pink or red streaks to your hair. Now, it's all about showcasing your personality. This trendy quad Dutch braids look is perfect for just that! It oozes style, but no one will want to mess with you!


Trivia
Braided hairstyles became most popular around the globe in the 1900s.
24. Rope Crown Braid
This rope braided half updo is adorable. It has all the comfort of a simple half ponytail, but all the style of a boho hairstyle. The best thing about it is that it is simple and quick to achieve. It is great for college or school-going kids.
25. Messy Twisted Braid
Many women worry about their hairstyles looking too messy. No hairstyle should be so messy that it looks like you don't know what a comb is. But, it can't be too neat either. Try this messy twisted braid, and you won't go wrong!
26. Loose Double Braids
If you are looking for a cool and playful hairstyle, look no further than the loose double braid. It is effective in keeping your hair tied, and its loose reverse French braid also looks chic.
27. Marley Twists High Ponytail
Another common protective braid hairstyle is the high ponytail. It is very easy and convenient to achieve. What makes this braided look even more interesting is its pattern. The Marley twists are done in a cornrow style before being tied up in a ponytail. The twists are manageable with proper scalp care and nourishment and can last up to 6-8 weeks.
28. Braid Tied Updo
Sometimes all you need to beautify your top knot is a simple braid. Gather all your hair up near the crown. Section of a little hair and weave it into a braid. Wrap and pin the braid around the bun to finish off the look.
29. Folded Braided Updo
This is a stunning braided version of the French twist, and I love it! Weave your hair into a French braid from the crown down. Fold the braid below the back hairline, tucking it underneath the braid above it. Use bobby pins to secure the braid in place.
30. Mermaid Side Braid
This is a beauty! We have all wanted to be a mermaid at some point in our lives. You can nail the outfit and the colors, but your mermaid look will be incomplete without the hair. Bonus if you happen to have naturally wavy hair! This charming mermaid braid is easier to do than it looks.
31. Tree Braids
Tree braids are micro braids weaved for about a few inches from the scalp. After that, the hair is left to fall free. This is a great protective style to show off your braids as well as your natural kinky locks.
32. Reverse Braided Buns
For these reverse braided buns, you will need to flip over your hair, then part it down the middle with a rat-tailed comb. Weave each side into reverse French braids and bun them at the top of your head.
33. Loose Historical Braid
This style is a mix of vintage and modern, making it quite an attractive look. These double poofy braids are distinctly vintage and lead into a modern fishtail braid. This adds a stunning contrast to the hairstyle without being over the top.
34. Bridal Crown
Curls and braids go hand in hand – like wine and cheese! They look stunning and make you feel like a Disney Princess. Try out this look for a wedding. You will definitely be the center of attention!
35. Loose Highlighted Half 'Do
I love this braided hairstyle. It looks effortless, elegant, and easy-to-do. Take some hair from both sides and weave it into braids. Keep the braids loose. Wrap the ends in a loose bun and use bobby pins to keep the bun in place.
36. Rolled Roses Braids
This is an artsy twist on the milkmaid braid. Instead of placing the braids across your head, wrap them to form rose buns. Pancake the roses and pin them in place.
37. Greek Goddess Braid
This Greek goddess braid looks intricately beautiful. First, you will need to curl your hair in big curls. Create a pouf at the crown by backcombing your hair. Then, pin your hair in place to form this intricate braid.
38. Loose Pancaked Side Braid
A side braid is not the plain hairstyle that most women it is. They come in many variations. This pancaked braid is loose at the top but tighter at the bottom. Tug the stitches outward to achieve this look.
39. The Waterfall Braid
The waterfall braid has been creating ripples around the world. If you don't know how to do it, check out this article. Add your own twist to this lovely hairstyle by accessorizing it with flowers or beads.
40. Chic Black Braided High Ponytail
This has to be one of the coolest protective braids high ponytail looks. Gather all your braids at the crown, then push it a bit forward. This will make your hair fall on each side. Using an elastic band to tie your hair in a high ponytail. Take two or three braids and wrap them around the base to cover the elastic band from view.
41. Knotted Braided Updo
This knotted braid updo is perfect for short to medium hair. While this might look like a simple knotted updo, it is actually braided. Divide your hair horizontally into three sections. Gather hair from the top section, weave a braid with it, and secure the ends with an elastic band. Do the same with the other two sections as well, making sure that they are below the first braid. Fold and pin them in place to create this look.
42. Braided Beautiful Updo
This elegant braid is perfect for a wedding or any formal event. It is pretty easy to do as well. Curl your hair in medium to big curls. Weave a French braid at the side and secure it with pins at the back. Wrap your hair in a big bun at the back, making sure to leave out the ends.
43. Four-Strand Braid
The four-strand braid looks intricate and appealing. You might not get it right on your first try, but practice makes perfect. Divide your hair into four sections. Pick up a corner section and pass it over and then under the middle sections. Pick up the other corner section and repeat the same in the opposite direction. Secure the ends with an elastic band.
44 Fishtail Updo
Simple, artistic, and neat – this fishtail updo is a fast and beautiful fix. Gather your hair and weave it into a fishtail braid. Pancake the braid to make it look a little bigger and flatter. Fold it and pin it up to form the updo.
45. Boho Rose Braids
Why accessorize with big decorated clips or barrettes when your hair is the only accessory you need? Gather hair from the top and divide it into five sections. Weave all five sections into braids. Roll the three middle braids into rose buns and pancake them. Tug at the alternate stitches of the corner braids. Use hairspray and bobby pins to set the hairdo in place.
46. Head Wrap
Box braids are a protective hairstyle, but they are also very stylish. Since they are a bit tight, they will gradually create tension on the scalp. So if you have had your braids for more than three weeks, opt for a head wrap. It is a light but fashionable look when paired with braids. And it does not add additional tension on your scalp.
47. Rope And Braid
Rope or braid? Why not both? This rope and braid hairstyle is a quick yet chic way to braid your hair. Gather all your hair and tie it in a ponytail. Divide your ponytail into two sections and twist them. Halfway through, redivide these two sections into three sections and weave them into a braid. Secure the braid at the end with an elastic band.
48. Hippie Braid Headband
Pick up some hair from the back (from below the crown), weave it into a braid, and secure it with an elastic band. Part the front of your hair in a messy middle parting. Wrap the braid around your head to form the headband and pin it at the back. Fold some hair at the front over and through the braided headband. Spritz hairspray all over the hairstyle to keep it in place.
49. Braided Crown Rose
This braided crown rose hairstyle is perfect for prom. Weave some hair into a waterfall braid. Once you pass the crown, weave it into a regular braid without adding any hair to it. Wrap the regular braid to form the rose and pin it to the side of your head.
50. Intricate Braided Updo
This hairstyle looks like something out of Atlantis or Greece. It is stunning and intricate. And, in all honesty, it might take you some time to get the hang of it. But once you have perfected the ever-so-easy waterfall method, this hairdo will become a cakewalk. It is a combination of two reverse waterfall braids starting from the hairline and moving up. The braids are weaved around the head.
That's my list of 50 stunning braided styles. Which one is your favorite? Also, is there a gorgeous braided style that you think we missed out on? Comment below and let us know!
Infographic: 5 Fun Facts About Braids
Braids have been around for a really long time and are one of the most popular hairdos across the world. Check out the infographic below for some quick trivia on braids that you can share with your friends at your next sleepover while you braid each other's hair.



Frequently Asked Questions
Is it better to braid wet or dry hair?
It is recommended to braid dry hair to prevent hair damage and hair fall. Wet hair is extremely fragile and may break.
What is the most popular braid?
There are multiple braiding styles popular across the globe. The list includes Dutch, French, protective (like Ghana and box), and boho braids. The type of braid depends on the occasion and outfit.
Is straight hair easier to braid?
It depends on the type of braid you are trying. Regular braid styles like the classic three-strand, French, or Fishtail braid can easily be done on straight hair. But protective braid styles like Box braids or twists are better suited to coily and wavy hair.
Is French or Dutch braiding easier?
Both French and Dutch braids require practice to perfect. They are very similar braids except that the side sections are weaved down for the Dutch braid and up for the French braid.
Is it easier to braid or twist?
A regular braid might be easier than a twist style like Marley or Senegalese twists. But twists are easier compared to protective braid styles like jumbo braids, crochet braids, tree-ins, etc. They require less maintenance compared to protective braids.
Which braids stay the longest?
Traditional box braids can stay the longest up to 3 months.
Does braiding your hair make it thinner?
Yes, tight braiding can make your hair thinner gradually. It is due to high tension and traction on the hair follicles.
Learn how to create beautiful, unique looks with this easy-to-follow tutorial video. These super easy-to-do hairstyles are guaranteed to spruce up your look!
Personal Experience: Source
i. My II Experience with Box Braids: Easy and Painless
https://blackcoffeefactory.wordpress.com/2018/01/26/my-experience-with-box-braids-ii/
The following two tabs change content below.