13 Best Eczema Skin Care Products To Keep Flare-Ups At Bay – 2023
Transform your red and itchy skin to a smooth and hydrated one with the right skincare essentials.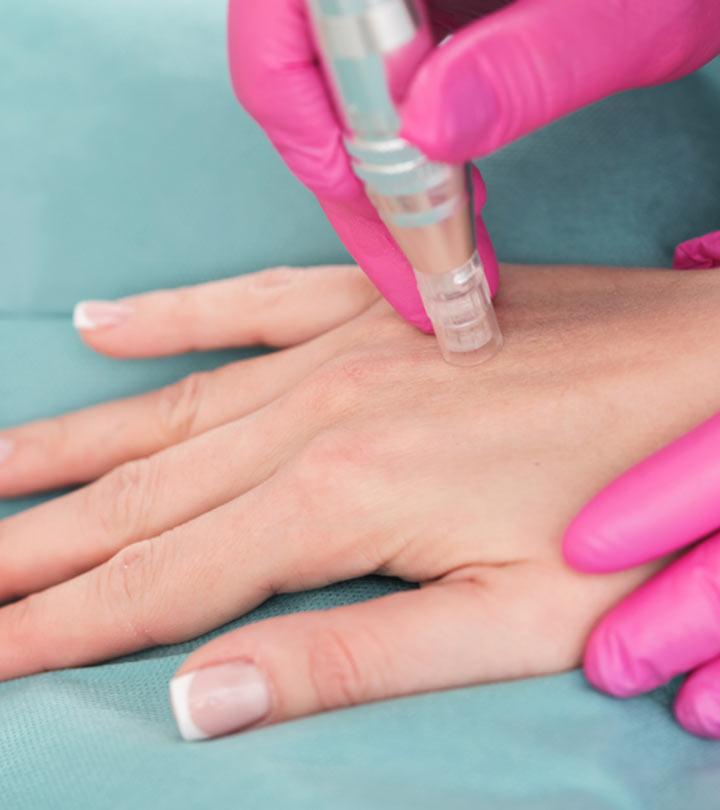 When winter comes, dry skin is our constant companion. While having dry and itchy skin is normal, if you notice dry, red, scaly, pus-filled patches on your skin, chances are you have eczema and need medical attention. Even though eczema has no cure right now, doctors recommend using some of the best eczema skin care products out there to keep it under control. Since eczema is a skin condition that is characterized by the skin's inability to retain moisture, opt for thick lotions and moisturizers. Check for humectants such as glycerin and hyaluronic acid on the label as they provide additional moisture to the skin. Also, look out for ingredients such as petrolatum and colloidal oatmeal as they keep the skin barrier intact and protect it from infections. Avoid products that contain retinol, lactic acid, and salicylic acid because these ingredients irritate and further dry out the skin.
We have carefully curated a list of the top eczema skin care products available on the market that you can opt for. Scroll down to check them out!
13 Eczema Skin Care Products For Women In 2023
Tired of soaps that make your skin drier and itchier? This body wash for eczema skin is made using traditional European techniques with plant based, organic and natural extracts that are rich in skin conditioning ingredients. Infused with 100% pure and natural tea tree essential oil, sea buckthorn oil, and peppermint oil, it helps wash away impurities from skin and is also great for body odor, athletes foot, ringworm, toenail issues, and skin irritation. Follow up with a moisturizer after using this product and watch your skin get that ethereal glow. Multiple reviewers have noticed that this product helps to clear up their skin, leaving it soft and smooth.
Pros
Cruelty-free
Paraben-free
Anti-itch formula
No harmful chemicals
No artificial colors
Cons
May not spread well
Not suitable for sensitive skin
Scratching oneself in public can be really embarrassing, so soothe your itchy, dry skin with this balm that features colloidal oatmeal and ceramide. This non-greasy formula provides immediate, long-lasting relief and is suitable for daily use in eczema skin care. This product can be used both as a spot treatment or all over wherever your skin needs it the most. Multiple reviewers love this balm's unique formula that intensely moisturizes your skin and helps strengthen your skin's natural moisture barrier while soothing and protecting your skin for up to 6 hours. Awarded approval by the National Eczema Association, this eczema relief balm balances science and nature to keep your skin looking and feeling healthy and smooth. Go ahead and check out this YouTuber's video to know about the tester's experience and learn more details about the product.
Pros
Allergy-tested
Steroid-free
Paraben-free
Fragrance-free
Dermatologist-recommended
Cons
May not be suitable for extremely sensitive skin
Experience the highest potency of aloe vera enriched with vitamins, minerals, proteins, and enzymes for healthy, hydrated skin and lustrous hair. Freshly grown, harvested, and produced, this aloe vera gel is organic and cold pressed and is not loaded with preservatives, thickeners, or chemicals. It's great for all skin types, is absorbed quickly, boosts collagen and elastin production, and promotes exfoliation. Reviewers love how this product gives them soft and supple skin without any greasy residue. This gel is also ideal for soothing sunburn, insect bites, chapped skin, minor cuts, scrapes, and scratches. It's also good for eczema, psoriasis, rashes, and other skin irritations. An amazing hair conditioner, styling gel, and treatment for dandruff, you can either leave it in or rinse it out.
Pros
Not tested on animals
75% organic
No harmful chemicals
Suitable for all skin types
Cons

Some may find its consistency a bit watery
Has glowing, radiant skin always been a distant dream? This facial cleanser for eczema has a polyglycerin formula that binds dirt and oil to water, and gently removes impurities while helping to preserve the skin barrier. This cleanser is ideal for the most dry and sensitive skin, including skin with eczema, acne, or rosacea. It can be used to cleanse your skin of makeup, dirt, bacteria and oil, making your skin look brighter and more radiant. This dermatologist developed daily face wash that is made with minimal ingredients and is both hypoallergenic and non-comedogenic, so it's very gentle on skin and doesn't clog your pores. It makes a great addition to your collection of daily eczema skin care products. To get a better understanding of the product, you can check out this video on YouTube. for the reviewer's experience.
Pros
Hypoallergenic
Fragrance-free
Paraben-free
Oil-free
Soap-free
Non-comedogenic
Dermatologist-developed
Cons
May not work for super sensitive skin
If dry, itchy skin has been the bane of your life, we may just have the answer for you. One of the best skin care products for eczema, this cream delivers 24-hour hydration and relieves minor irritation and dryness due to eczema. Its fast-absorbing formula is enriched with colloidal oatmeal that relieves dry, itchy, eczema-prone skin, ceramide 3 that helps strengthen the skin's protective barrier, and licorice root extract which helps to soothe red, irritated skin. It is clinically proven to reduce eczema flare ups for 6 months. It's appropriate for use on infants as young as 3 months as well as adults. Check out the review of a tester's experience of using this product for more information.
Pros
Fragrance-free
Lightweight
Steroid-free
Non-greasy
No dyes
Cons
Some feel the cream doesn't get absorbed well.
We are often judged by our skin and hair and what better product than one that caters to both! One of the best oils for eczema skin, it not only promises healthier skin, but also softer hair. Rosehip oil moisturizes and hydrates your skin and its unique anti-inflammatory properties reduce stretch marks, eczema, acne marks, dermatitis, fine lines, and wrinkles. It works really well as a natural anti-aging solution by tightening the skin and keeping  your face, lips, and body hydrated and supple. This is because rosehip oil is rich in omega-3, omega-6, omega fatty acids, and vitamin E. It's great both as a massage oil and a facial oil under makeup. This eczema-friendly oil comes in an amber glass bottle to protect it from harmful UV rays and also includes a glass dropper. As this rosehip oil is organic, it gets quickly absorbed into your skin without leaving a greasy residue, nor does it clog your pores. It also helps in reducing inflammation and redness.
Pros
Organic
Cruelty-free
Paraben-free
Hexane-free
USDA-certified
Non-greasy
Non-comedogenic
No preservatives
Cons
Some may not find the smell desirable
The holy grail for problem skin, this good cream for eczema skin has been awarded the National Eczema Association Seal of Approval and keeps your skin's moisture levels intact. This clinically-proven product intensely moisturizes your skin and helps to strengthen its natural moisture barrier, thus relieving the annoying symptoms of eczema like itchiness, redness, dryness, and irritation. Apart from colloidal oatmeal, this daily moisturizing cream is also infused with ceramide and essential lipids which are naturally found in the skin that help prevent the recurrence of dry skin. Aveeno balances the use of the goodness of nature and science to keep your skin looking and feeling healthy.
Pros
Fragrance-free
Steroid-free
Non-drying formula
Allergy tested
Dermatologist-recommended
Cons
Some may not find its texture suitable
No products found.
We have all heard of vaseline since childhood and this is because Vaseline petroleum jelly has the distinction of being the original skin protectant and has been used to protect and heal dry skin since 1870. Vaseline Petroleum Jelly goes through triple purification and is hypoallergenic, which makes it an ideal product for dry or sensitive skin. Vaseline has been awarded the U.S. National Eczema Association Seal of Acceptance as effective for use by those with eczema and sensitive skin. By sealing in moisture, Vaseline assists in the skin's natural recovery and is clinically proven to rejuvenate dry skin and reduce fine lines and wrinkles. This dermatologist-recommended product forms a protective barrier that protects skin against environmental factors and heals minor cuts, scrapes, and burns, making it one of the best eczema skin care products.
Pros
Hypoallergenic
Fragrance-free
Non-comedogenic
Dermatologist-recommended
Cons
Some may not find its natural fragrance desirable
If you have been looking for a soothing balm for your irritated skin, your search ends here! One of the best skin care products for eczema prone skin, this tea tree balm is antimicrobial, antibacterial, and antifungal. It is a must for cracked heels, elbows, and hands.
It also moisturizes cuticles and chapped lips and provides immediate relief from acne, insect bites, itchy spots, heat rash, diaper rash, razor burn, folliculitis, baby eczema, psoriasis, and perineal irritations. This completely natural and effective formula contains ingredients like tea tree oil, green tea, peppermint oil, lavender oil, jojoba oil, safflower seed oil, wheatgerm, lemon oil as well as the carrier agents olive oil and beeswax to provide long lasting relief. These clinically proven ingredients provide relief from mild and stubborn skin irritations and can be used by children and adults with sensitive skin.
Pros
Paraben-free
Fragrance-free
Natural ingredients
Non-irritating formula
No harsh chemicals
Cons
May not be absorbed easily by the skin
We all pray for soft, smooth, and supple skin, and our prayers have been heard! This facial moisturizer for eczema is designed to moisturize sensitive skin and contains colloidal oatmeal to soothe dry, itchy, irritated skin caused by eczema. It improves the skin's ability to retain moisture, helping to keep the skin hydrated and nourished. This moisturizer contains vitamins B3, B5, E, and a unique ceramide and filaggrin complex that restore the skin's natural moisture barrier and offer proper eczema care. This soothing, creamy lotion has received the seal of acceptance from the National Eczema Association and is clinically proven to be suitable for dry, sensitive skin and causes fewer eczema flare ups. It is clinically proven to improve the skin's moisture levels in as little as 2 hours and continues to hydrate it for up to 24 hours. Its non-greasy and calming formula is quickly absorbed by the skin, leaving it soft and smooth.
Pros
Fragrance-free
Paraben-free
Steroid-free
Hypoallergenic
Non-greasy formula
Dermatologist-tested
Cons
It's so difficult to find the perfect soap that suits our requirements in every possible way. This charcoal soap is one of the best eczema skin care products and this company plants 1 tree for every soap you buy. Keika Naturals prides itself on using only the best ingredients to ensure your skin's health. This versatile soap can be used as a face soap, body wash, or shaving soap and is suitable for men, women, and teens. It works great as a skin detox or natural treatment for troubled, sensitive skin. This black soap is bigger and longer lasting than most soaps. It contains no artificial fragrances and is very lightly scented with a blend of therapeutic grade tea tree and peppermint essential oil. 
Pros
Vegan
Hand made
Cruelty-free
Non-GMO
Chemical-free
100% natural
No artificial fragrances
Cons
Some feel it's too oily and leaves a film on the skin
This cleanser is a great eczema skin care product as it removes bacteria which is the cause of 70% of chronic eczema. This gentle cleansing product has been awarded the highest rating of 5 stars from the National Eczema Association, and not only does it stop itching but it also soothes raw, inflamed skin. Made with hypochlorous— one of the best germ fighters, it's safe for all skin, including the scalp, eyelids, and the delicate skin around the mouth, and is also safe for all ages, including infants. Since it is 100% hypoallergenic, it won't irritate dry or cracked skin. This prescription strength cleanser spray is very useful for treating eczema, atopic dermatitis, stubborn wounds, acne, and toenail fungus. The product is ideal for effective scalp treatment as well and helps soothe itchy skin in the scalp caused by eczema.
Pros
Hypoallergenic
Antimicrobial
100% natural ingredients
No harmful chemicals
Cons
May have a watery consistency
If you're looking for a soothing, all natural cream for your problem skin, this product might just be the answer. This soothing cream contains raw New Zealand manuka honey, colloidal oats, arnica montana extract, lavender essential oil, aloe vera, chamomile extract, helichrysum flower, and MCT oil and can be used as an essential part of an eczema skin care routine. Manuka honey has unmatched healing properties and nourishes damaged, irritated, dry, and cracked skin. It is a nutrient-rich cream that is ideal for soothing skin affected by eczema, dermatitis, rashes, acne, psoriasis, shingles, and rosacea. It gives lasting relief and moisturization to damaged skin and its organic ingredients are proven to provide safe, effective relief to your skin.
Pros
All natural ingredients
Non-GMO
Child and infant friendly
No artificial fragrances
Suitable for sensitive skin
Repairs damaged skin
FDA-registered
GMP-certified
Cons
Now that you have been through the 13 best eczema skin care products, we will give you a few pointers on what to look for while choosing products for your skin care routine that will soothe your eczema and treat your dry, flaky skin.
How Do I Select Best Eczema Skin Care Product For Skin
Shea butter, glycerin, and lanolin are moisturizing ingredients that repair your skin and keep it healthy. These ingredients should be listed first, second, or third on the ingredient list. Hyaluronic acid helps draw moisture from the air to your skin and gives an extra boost of hydration to soothe flaky, dry skin. Niacinamide can reduce redness from eczema by strengthening your skin's natural barrier.
Glycolic acid, salicylic acid, and retinol tend to dry out or irritate skin. Eczema is partly caused by a weak skin barrier, which allows irritating chemicals to enter the skin more easily, and lets more water evaporate. So it's best to avoid ingredients that make the problem worse. You should choose products with a low water content, like ointments, if you have mild eczema, as they usually contain no preservatives. Pick cosmetics that are especially formulated for sensitive skin and always go for products that say "fragrance-free" rather than "unscented" on the label.
Avoid skin care products containing these formaldehyde releasers— quaternium-15, imidazolidinyl urea, DMDM hydantoin, 2-bromo-2-nitropropane-1,3-diol, and diazolidinyl urea. Paraben preservatives, such as methyl, ethyl, propyl, and butyl paraben, usually do not cause any allergic reaction in people with eczema. 
Why Trust StyleCraze?
Skincare enthusiast Krati Darak loves to stay updated on the most effective skincare solutions. She went on a hunt for eczema skincare products and compiled a comprehensive list of the best ones by reading many product details and customer reviews. These items that are listed down can keep your eczema in control, and they are also gentle on the skin.
Frequently Asked Questions
Can skin care products cause eczema?
The skin on the face is thinner than other parts of the body and so is more sensitive. According to the National Eczema Society, skin care products can trigger eczema as a result of that. Any skin care product that contains harsh chemicals, soaps, fragrances, detergents, or foaming agents can trigger it.
Can aveeno eczema therapy be used on the face?
Aveeno eczema therapy can be used on the face thanks to the soothing oatmeal it contains which helps to restore the skin's natural barrier, therefore preventing dryness. It is 100% non-comedogenic and does not clog your skin pores, and should not cause any problems.
Does exfoliating help eczema?
Exfoliation is only suitable for dry or thick, eczema affected areas. If your skin is oozing or wet, you should not exfoliate, and instead just wash it with a gentle soap designed for sensitive skin.
Is vitamin C serum good for eczema?
Yes, vitamin C helps reduce symptoms of eczema as it increases collagen synthesis, aiding the healing process.
What should I wash my face with if I have eczema?
Avoid harsh cleansers to wash your face if you have eczema. Instead, use a gentle cleanser such as the Neutrogena Ultra Gentle Hydrating Cleanser to clean and wash your face.
Is aloe vera good for eczema?
Yes, aloe vera hydrates and soothes skin flare-ups caused by eczema.
Is it better to keep eczema dry or moist?
Keep your skin moisturized if you have eczema.
Why am I getting eczema on my face?
Eczema is mainly caused by genetics, and people with a family history of eczema are at higher risk of developing it.
Recommended Articles
Best Lotions For Eczema To Soothe Inflamed And Itchy Skin
Best Eczema Creams & Over-the-Counter Treatments
Best Eczema Creams To Heal Itchy Skin And Rashes
Best Products For Sensitive Skin To Add To Your Skin Care List
Best Face Washes For Eczema – Reviews