10 Effective Home Remedies For Eyebrow Re-Growth
The eyebrow is one of the most prominent features that provides a defined and accentuated look to the face. Eyebrows offer uniqueness to the appearance of the person. It's been considered as a vital element of the beauty from ages. Eyebrow with a perfect shape, having full and finer growth adds charm to the personality. Women can obtain their best suited, perfectly shaped eyebrows, when they have thick eyebrows. But there many who do not have thick eyebrows. There are some effective home remedies for eyebrow regrowth.
Top 10 Home Remedies For Eyebrow Regrowth:
Here are some effective remedies that are helpful in growing your eyebrows naturally:
1. Milk:
Milk and its products are full of vitamins and proteins. It can be a beneficial way to deal with the problem. Take some milk and dip a cotton ball in it. Rub this milk dipped cotton ball over the eyebrow at night. The genuine aspects of milk will nurture the roots of the hair of the eyebrow. Daily usage of this remedy will enhance the growth of eyebrow.
[ Read: How To Identify And Prevent Hair Loss On Eyebrows ]
2. Fenugreek Seeds:
Fenugreek seeds, commonly known as methi are useful for this purpose. Soak the seeds in water overnight. Make a paste of it. Apply the paste in the early morning before going for a shower. You can also add a few drops of almond oil in the paste. This will nourish the skin along with helping in eyebrow hair growth.
3. Lemon:
A wedge or slice of lemon massaged over the eyebrow is another effective home remedy for eyebrow growth. Take ¼ cup of coconut oil and add sliced peels of 1 lemon. Let the mixture stay in a dark place overnight. The following day, take the mixture and apply it over the eyebrow with the help of a cotton ball. For precautionary purpose, avoid direct sunlight up to 2 hours of application to get protection from irritation.
4. Onion Juice:
It is a valuable cure for getting fuller eyebrow as onions are rich in sulfur content, which is an important element for eyebrow hair growth. Extract juice from an onion. Apply a cotton ball dipped in onion juice. Keep it for 10-15 minutes and wash it off with cold water.
5. Aloe Vera Pulp:
Take aloe-vera pulp from its leaves. Apply it on the eyebrow and leave it for 30 minutes. Then, rinse off with water. This cure can help in resuming the damage caused because of over plucking of eyebrows. This pulp can also assist in making the skin shiny and soft near the eyebrow region.
[ Read: How To Thicken Scanty Eyebrows ]
6. Shoe Flower:
Shoe flower or hibiscus or China rose can be a good solution for making eyebrow broad. Make a paste of the shoe flower and apply on the eyebrow. Let it seep for some time and then rinse off.
7. Coconut Milk:
Dip a cotton ball in the coconut milk and apply it over the eyebrow area. Leave it overnight as this is an effective solution for re-growth of eyebrow.
8. Egg Yolk:
Take an egg and extract the yolk from it. Beat the egg yolk properly and apply it over the eyebrow. This helps in enhancing the volume of hair in the eyebrow.
9. Oil Massage:
Massage with oils like coconut oil, castor oil, almond oil or olive oil in the eyebrow region. This is effective in getting thicker eyebrow re-growth.
10. Vaseline:
Put vaseline at and near the eyebrows daily for 2-3 times. This will enhance the growth of eyebrow to make them thick. Although these home remedies work in promoting eyebrow re-growth, keeping a check in other measures also help. Firstly, taking a proper diet that is rich in Vitamins C, B, H and E helps. Secondly, consuming 8 – 10 glasses of water every day helps to remove the unwanted toxins from the body. Also, avoid over-plucking of eyebrows or frequent threading of eyebrows. When any lotion or cream is applied on face, eyebrow is also covered. Try to elude it, because lotion or cream has many chemicals, which can affect the hair growth of the eyebrows. Kajal or kohl can be used only to get dark eyebrows, whereas these home remedies can help in the re-growth of the eyebrow.
[ Read: Natural Remedies To Get Thicker Eyebrows ]
Hope these eyebrow growth home remedies available in your pantry will surely help in yielding good results. Feel free to share your views with us in the comment section below.
Recommended Articles:

The following two tabs change content below.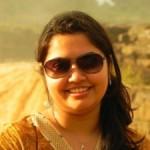 Latest posts by Pubali Mukherjee (see all)