13 Effective Home Remedies To Stop Vomiting And Nausea
Say 'goodbye' to the discomfort associated with vomiting and know easy ways to stop it.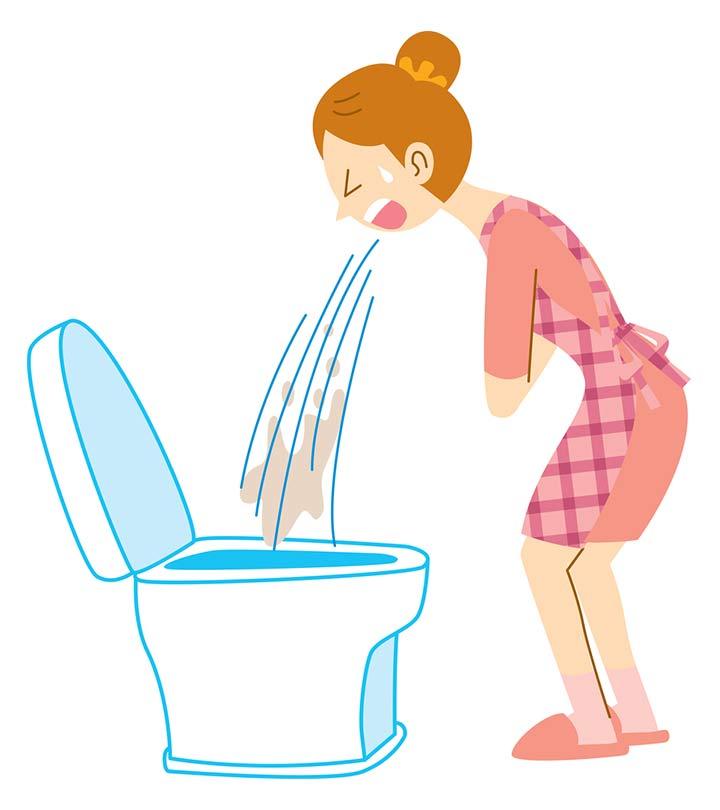 Vomiting can be caused by a variety of factors, the most common of which include food poisoning, a stomach illness, or an alcohol hangover. Vomiting depletes your vitality and makes you miserable, so it is important to know how to stop throwing up. A few home remedies can help you keep food down while reducing regurgitationi  XA condition where people spit food out from the esophagus without nausea or forceful contractions of the abdominal muscles. and spasms. If you are experiencing vomiting, the most important thing to remember is hyderation. Excessive vomiting can dehydrate you, so drink plenty of water all day.
You may cringe or gag just thinking about someone puking. Consider how aggravating and revolting it must be to be the one who is nauseated and vomiting. The loss of fluids from uncontrolled vomiting can cause severe dehydration and health issues. Thus, prompt intervention to stop vomiting can save lives.
Continue reading to learn how to stop vomiting at home with easy and efficient home remedies. Keep scrolling!
What Causes Vomiting?
Vomiting is a symptom of many ailments. It is not a disease in itself. Here are the different reasons you could be experiencing this symptom:
Motion sickness
Being seasick
Pregnancy (especially during the early stages)
A study revealed that every year, almost 1 in 6 Americans, around 48 million people, get sick. Close to 128,000 people are hospitalized and 3,000 die from foodborne diseases. The study indicated that certain people were more prone to food poisoning such as children below the age of 5, seniors 65 years and older, pregnant women, and people with weakened immune systems.
Overeating
Infections, especially of the stomach
Due to some medications
Intense pain
Stress and fear
Gallbladder disease
Ulcers
In response to certain smells
Gastroparesis (slow stomach emptying)
Toxin ingestion
Drinking excessive amounts of alcohol
Heart attack, brain injury, brain tumor, and cancer are the more serious causes of vomiting (1, 2).
Home Remedies To Stop Vomiting
1. Activated Charcoal
You Will Need
Activated charcoal capsules
What You Have To Do
Take two capsules every hour or so with a glass of water.
How Often You Should Do This
Depending on how your body responds, continue taking the capsules throughout the day. Do not exceed the maximum dosage for adults, which is 5g per day.
Why This Works
Activated charcoal can easily bind to the toxins built up in the gastrointestinal system and eliminate them from the body (4). At times, it can also eliminate the infection-causing bacteria that cause vomiting and nausea (5).
Caution
Activated charcoal can interfere with the absorption of nutrients and many medications. In the case of supplements, take them before or after an hour of taking activated charcoal. And if you are on any medication, check with your doctor for medication adjustment before giving this remedy a try.
2. Essential Oil For Vomiting
You Will Need
1-2 drops peppermint essential oil OR lemon essential oil
A tissue or handkerchief
What You Have To Do
Pour a few drops of the essential oil on the tissue and simply inhale the aroma.
Continue inhaling for a few minutes.
How Often You Should Do This
Repeat as and when you feel nauseous.
Why This Works
Both peppermint oil and lemon oil have antiemetic effects, which means that their aromas can alleviate the feeling of nausea and stop vomiting. Studies have proved their efficacy in treating vomiting in different scenarios (6, 7).
3. Ginger Ale For Vomiting
You Will Need
A can of ginger ale (with real ginger extracts)
What You Have To Do
Let the ginger ale sit out until it becomes flat and comes down to room temperature.
Sip on this slowly.
How Often You Should Do This
Continue taking a few sips throughout the day.
Why This Works
Asian cultures discovered the healing properties of ginger centuries ago and have been using it to ease digestive problems. It is a natural antiemetic that contains gingerols and shogaols that enhance gastric emptying and stimulate gastric contractions (6, 8).
Caution
Do not drink ginger ale right after you have vomited. Rest for a while and sip only on some water.
4. Lemon For Vomiting
You Will Need
What You Have To Do
Mix the lemon juice and honey.
Slowly ingest this mixture.
How Often You Should Do This
Use this remedy to bring down nausea and eventually stop the vomiting.
Why This Works
Try this remedy every time you feel queasy. Lemon juice, with its antioxidants, has a cleansing action on the stomach. Its vitamin C can boost the immune system and eliminate the stomach bug that may be causing these symptoms (9).
Kelsey Selene, a mom and self-care Youtuber, shared her experience of managing nausea. One of the remedies that worked best for her was lemon water. She says, "I used to squeeze a whole lemon or at least a half of lemon into a big glass of water and it used to totally cut out my nausea. Whenever I used to feel really uneasy, I used to go and drink some of it and it worked like a miracle drink (i)."

Quick Tip
You can smell a freshly sliced lemon or lemon oil to help reduce nausea.
5. Baking Soda
You Will Need
What You Have To Do
Add baking soda to the water and rinse your mouth with it.
How Often You Should Do This
Use this solution to reduce the after taste in your mouth after vomiting.
Why This Works
Baking soda neutralizes the acids that have risen during vomiting and are present in your mouth. Apart from getting rid of the horrible taste in your mouth, this remedy will also help to protect your teeth from getting damaged (9).
6. Mint Leaves
You Will Need
1 teaspoon dried mint leaves
A cup of boiling water
What You Have To Do
Steep the mint leaves in hot water for half an hour or so.
Strain and sip on it.
Alternatively, you can chew on fresh mint leaves to ease vomiting.
How Often You Should Do This
Have a cup or two of mint tea in a day.
Why This Works
Mint has a relaxing effect on the stomach muscles. It also exerts antimicrobial effects when ingested (6),(11).
7. Vinegar
You Will Need
1 teaspoon apple cider vinegar
½ cup water
What You Have To Do
Dilute the ACV with water.
Use this solution to rinse your mouth.
How Often You Should Do This
Use this remedy as and when required.
Why This Works
This might sound strange, but vinegar can surely ease vomiting. It prevents you from throwing up and also gets rid of that stale taste in your mouth due to its antibacterial nature (12).
Caution
Make sure to avoid smelling it as the overwhelming odor of vinegar will force you to rush to the bathroom to give respite to your heaving stomach.
8. Cinnamon
You Will Need
1 small piece cinnamon stick
A cup of hot water
Honey (as per your taste)
What You Have To Do
Steep the cinnamon stick in a cup of boiling water for about 10 minutes.
Remove the stick and sweeten the cinnamon tea with some honey.
Sip the tea slowly.
How Often You Should Do This
Drink at least three times a day to cure vomiting.
Why This Works
Cinnamon is known to be one of the effective home remedies for vomiting and nausea. That is why it is often given to women who are in their first trimester when morning sickness can hit hard. Ayurveda attributes cinnamon's effectiveness to its antiemetic and stimulating properties (13).
9. Rice Water
You Will Need
1 cup white rice
1 ½ cups water
What You Have To Do
Wash the rice and boil it in the given amount of water.
Once the rice is cooked, strain and preserve the water.
Sip this water slowly, and you will notice your vomiting has stopped almost instantaneously.
How Often You Should Do This
This remedy usually shows instant effects. Repeat if required.
Why This Works
If you are suffering from gastritis or some other stomach infection, your body will lose a lot of water due to vomiting and diarrhea. To replenish the body with essential nutrients, a simple solution like rice water works really well. It also exerts a gastroprotective effect on the irritated stomach lining (14).
10. Onion Juice
You Will Need
1 teaspoon onion juice
½ teaspoon honey
What You Have To Do
Squeeze out the juice from freshly grated onion and mix it with some honey.
Ingest this.
Follow this up with some cold peppermint tea. The onion and peppermint together will soothe your heaving stomach.
How Often You Should Do This
Repeat this once or twice a day.
Why This Works
Turn your nose as much as you want, but this ancient home remedy for vomiting is quite effective. It can stop vomiting and also ease the accompanying nausea (15).
11. Cloves
You Will Need
2-3 cloves
What You Have To Do
Chew on the raw cloves to get relief.
If you cannot stand the pungent taste of cloves, take a spoon of natural honey while munching on them.
There is no harm if you swallow the cloves while chewing.
How Often You Should Do This
Repeat this once or twice a day.
Why This Works
Cloves are renowned for their antiseptic properties that have a positive effect on the digestive system. Their ability to stop vomiting is often employed in Ayurvedic and Chinese medicine (16, 17).
12. Cumin Seeds
You Will Need
1 ½ tablespoons cumin powder
A glass of water
What You Have To Do
Add the cumin powder to the water and stir well.
Drink this.
If possible, grind the cumin seeds and use the fresh cumin powder.
How Often You Should Do This
If you are looking for answer to how to stop vomiting immediately, try this and you will notice the effects instantly and be glad that you opted for this home remedy.
Why This Works
Cumin is often used to treat digestive problems like diarrhea, morning sickness, etc. Its therapeutic effects are because of its stimulant, carminativei  XA substance that prevents or relieves gas in the gastrointestinal tract and helps alleviate bloating. , and astringenti  XA substance or chemical agent that helps shrink tissues and dry up skin secretions to tighten skin pores. properties (18).
13. Fennel Seeds
You Will Need
1 tablespoon crushed fennel seeds
1 cup hot water
What You Have To Do
Brew fennel tea by steeping the crushed seeds in a cup of boiling water for 10 minutes.
Strain and drink it.
How Often You Should Do This
Have 1-2 cups in a day.
Why This Works
Aniseed has many medicinal properties, and one of them is curing vomiting as it is an antiemetic. It stimulates digestion and can also relieve the pain and convulsions that sometimes accompany vomiting (19).


Quick Tip
You can try relaxation techniques like deep breathing to help reduce your nausea. Breathe in deeply through your nose for 3 seconds. Hold your breath for 3 seconds. Exhale through your mouth for 3 seconds.
If the remedies above don't provide relief, seek medical help immediately. Frequent vomiting can cause various health complications. Check them out in the next section.
Complications Of Vomiting
Frequent vomiting may cause the following issues:
Infographic: How To Prevent Nausea And Vomiting
Nausea and vomiting are often symptoms of health conditions and illnesses rather than being medical conditions themselves. However, if not stopped or controlled, vomiting can lead to health emergencies. Therefore, it may be helpful to not only be aware of how to stop puking but also to know how to prevent it in certain circumstances.
Check out the infographic below to learn how you can prevent nausea and vomiting in day-to-day circumstances.



Vomiting can be triggered by multiple conditions, including food poisoning, alcohol hangover, overeating, pregnancy, motion sickness, stress, and anxiety. Vomiting can quickly deplete electrolytes and dehydrate you, so it is important to keep yourself hydrated and know how to control vomiting. To stop vomiting or tackle associated issues, you can use appropriate home remedies like activated charcoal pills, ginger ale, peppermint or lemon essential oil, mint tea, cinnamon tea, apple cider vinegar, and rice water. You can also do acupressure or deep breathing and avoid triggers to lower the risk of nausea and vomiting. However, in case the home remedies don't work for you and your vomiting has not stopped after 24 hours, you need to contact your healthcare provider as dehydration resulting from vomiting can be fatal.
Frequently Asked Questions
What makes vomiting go away?
Drinking cold water and eating bland food may make vomiting go away. However, it may also vary depending on the cause. Dr. Laura Purdy, MD, adds, "If the vomiting is due to motion sickness, it usually persists several hours after the motion ends. If it is due to an intestinal or viral infection, it generally will resolve when the infection does. If it is due to food, or poisoning, the answer is the same. If it's due to stress or other medical conditions, then those underlying medical conditions may need to be treated first before the issue will resolve."
How long should vomiting last?
According to Dr. Purdy, "This depends on the type of vomiting. But if we are talking about a viral infection involving vomiting, it will usually last 2 to 3 days."
What are the stages of vomiting?
The stages of vomiting include the pre-ejection and ejection stages and may have several phases. According to Dr. Purdy, "There are a few phases of the vomiting cycle. The first stage is feeling well. At this time, you do not feel the urge to vomit. The next phase is what we call the prodromal phase, where you may feel weak, and lightheaded, you may have your mouth watering, and this is the point where you feel like you're going to vomit. Then, you have the actual vomiting, which can be quite violent, and occurs repeatedly until the episode finishes. The recovery phase is the last stage."
What to eat after vomiting?
Doctors recommend to not eat anything immediately after vomiting. Sipping on water or sucking on some ice chips every 15 minutes for the next 3-4 hours is recommended. You can also sip on clear liquids, such as clear broth, flat soda, or ginger ale, apple juice or rice water. Once your body can hold these down, you can start with small frequent meals instead of a big one and follow the BRAT diet that includes:
• Bananas
• Rice
• Applesauce
• Dry toast or soda crackers (19)
When to go to the hospital if you have been vomiting?
It is best to seek medical attention if
• you have been vomiting, and there is no improvement in your condition even after 24-48 hours
• you have not been able to keep down any fluids
• you are experiencing severe dehydration (dizziness, passing little or no urine, etc.)
• you experience these bouts of vomiting frequently
• you have lost a lot of weight since the vomiting has started
• your vomit is green (18)
Can salt stop vomiting?
Vomiting can be caused by the imbalance of salt in your body. Therefore, drinking salt water may help stop vomiting.
Is orange juice good for vomiting?
No, orange juice may not be a good option to stop vomiting. The citric acid in it may irritate your stomach and cause more vomiting.
Is chocolate good after vomiting?
No, having chocolate after vomiting may worsen the condition and cause indigestion. Therefore, it is best to avoid chocolates after vomiting.
Vomiting and nausea are not just annoying but can also develop into severe conditions. Thankfully, we have a handful of vomiting home remedies that can ease and help you feel better. Bookmark this article as you never know when this ailment will strike you.
Take care!
Key Takeaways
Sea sickness, gallbladder issues, or stress are some of the causes of vomiting.
Drink lemon water to boost immunity and clean your stomach.
Drink 2 cups of fennel tea daily to stimulate digestion and reduce the risk of vomiting.
Avoid smelling overwhelming odors as they can upset your senses and make you vomit.
Want to avoid feeling nauseous? Check out this video to learn 7 of the best ways to effectively stop nausea from overwhelming you and help feel better fast.
Personal Experience: Source
i. How to Get Rid of Pregnancy Nausea! TOP 5 TIPS!
https://www.youtube.com/watch?v=8nqjxjQw7yk
The following two tabs change content below.