10 Effective Makeup, Beauty & Fitness Secrets Of Princess Letizia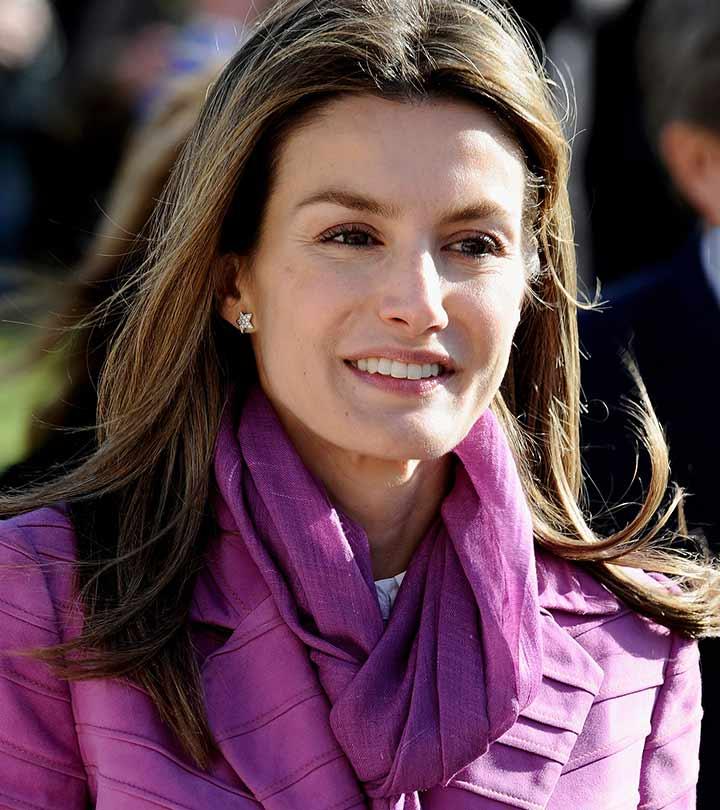 Princess Letizia, a Spanish beauty, portrays the charm of Hollywood divas and probably leaves them behind. Unlike many other royal beauties (captured in palace gowns and royal tiaras), she adopts a perfect modern avatar.
Let's have a look at the 10 effective makeup, beauty and fitness secrets of Princess Letizia:
Beauty Secrets:
If we could just take a leaf out of Princess Letizia's beauty book, we too can look our best. To help you out ad to satisfy all the royal watchers out there, we have compiled this list of the Princess' beauty secret. Check them out!
1. Golden Hair:
Oh yes, this sassy and seductive woman is actually a royal! Confused or amazed? Unlike many other royals, she likes sticking to this century. This Spain Princess Letizia dazzles the world with the sophisticated look of her long brunette hair. She is mostly seen with straight open hair, but likes to keep them curly at some evening events too. Variety, as they say, is the spice of life and Princess Letizia sure knows that!
2. Black And White:
While this beautiful princess (now 41 and a mother of 2) looks stunning in vibrant colors, black and white are her signature colors. Her wardrobe reveals her devotion towards these two colors. She fills life in white, while she fills the world with her magical sparks in black. This Spanish queen looked like a fashion diva on the day of her wedding. Manuel Pertgaz, a famous fashion designer, has designed various dresses for Princess Letizia, including her wedding gown.
Just like us ordinary mortals, the princess too loves brands. Her wedding gown made a splash and was high end couture. It was woven of silk, had high collars, and was made of lace. She is usually spotted in knee length black or white bodycon dresses. At a recent event at the royal palace in Madrid, she looked amazing in an elegant black colored lace gown.
[ Read: Beauty, Makeup And Fitness Secrets Of Princess Mary ]
3. Shoes Everywhere:
Princess Letizia of Spain is known as one of the most fashionable royal heads of modern times. Her love for heels (pumps, ballerinas and stilettos) is not unknown to the world. She keeps it simple. A sequined dress (bodycon as well as gowns) is paired up with simple and plain heels. On the other hand, a plain dress is paired with sequined and sparkling heels. Princess Letizia has her own trademark style that is a rage amongst Spanish women.
4. Style Is All About Taking Risks:
The greatest strength of Princess Letizia as a fashion icon lies in the fact that she is not afraid of experimenting with her looks. She surprised the world by showing up in a blush long gown (by one of her favorite designers, Felipe Varela) in the year 2011 at a high profile wedding. She is one of those royal fashionista's who keep the media and people busy with their latest fashion trends and canny outfits.
Makeup Secrets:
Yes, she is a modern woman who is smart, sexy, elegant and royal. She knows how to make her already fruity and radiant skin shine even more. Did someone tell you that she is 41? Doesn't it look like she probably stopped aging 20 years ago? Her skin is naturally beautiful and she keeps it looking even younger with her makeup tricks.
Princess Letizia is a regular spa goer. Regular facials, toning and de-stress exercises has earned this woman a body of gold. She sparkles her way through public and is noticed easily for her looks, style and even fragrance.
Here are a few of her makeup secrets:
She usually uses a green eyeliner (or brown at times) to increase the radiance of her sparkling green eyes. She is never overdone and her make-up never breaks.
You will always find a hint of very light coral pink (or peach) color filling her cheeks. It looks very natural and the strokes are always perfect.
A touch of mild pink lipstick (or maybe mauve at times) makes her lips look postcard perfect. Though, this royal lady likes to keep it loud on formal meetings.
[ Read: Fitness, Beauty & Makeup Secrets From Princess Charlotte Casiraghi Of Monaco ]
Fitness Secrets:
Would you believe that a mother of two can still rock in a perfect body? Well, you will have to, after looking at Princess Letizia! She displays a perfect body that can embrace every outfit. It seems to be her love for different sports that keeps her body in shape.
She is usually seen trying her hands at tennis, skiing and sailing. This gorgeous woman holds an adventurous outlook towards life and is definitely not a plastic woman.
Princess Letizia is a style icon in every sense of the word. But her wardrobe, makeup and hairstyle alone don't make her a diva! She is a smart and independent woman and that adds to her beauty.
Did you enjoy this article? Share your feedback with us in the comments section below.
Recommended Articles:
The following two tabs change content below.

Latest posts by preeti bhatt (see all)