3 Evidence-Based Massages For Weight Loss
Get rid of those stubborn pounds while releasing tension and strain from your muscles.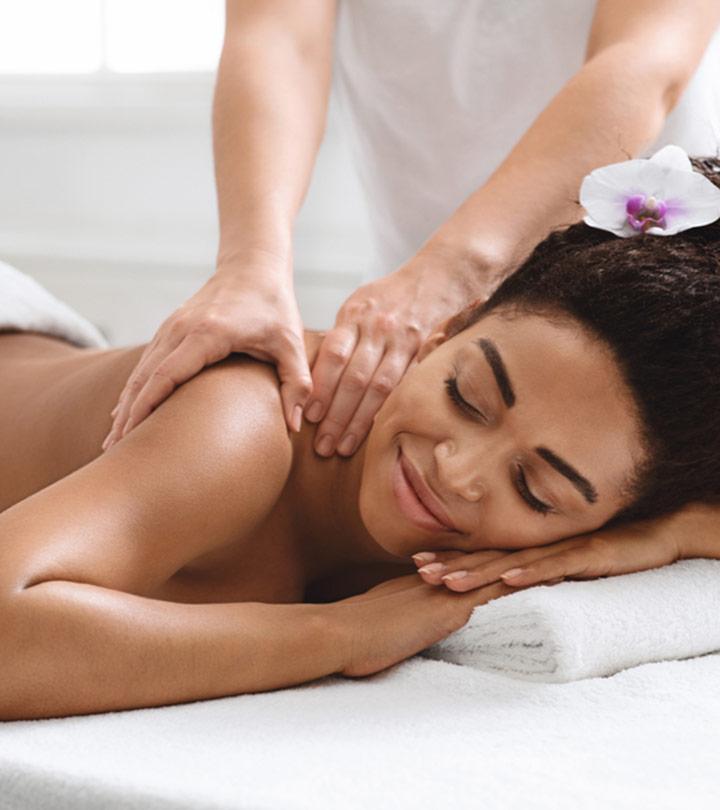 A weight loss massage is a relaxing way to lose weight and reduce cellulitei  XA common skin condition that causes lumps and dimpled flesh on the thighs, hips, buttocks, and abdomen due to the accumulation of fats. (1), (2).Research shows that a balanced diet, exercise, and massage designed for weight loss is an effective strategy to lose weight fast (3), (4). Moreover, you will get long-term weight loss benefits. This method has gained immense popularity as a spa treatment that caters to your overall health and wellness besides aiding weight management. This post tells you how massages work for fat loss and the three scientific ways to massage your body to shed pounds. Read on!
Benefits Of Massaging – Does It Work For Weight Loss?
Massage can stimulate weight loss in many ways. Here's how they work and the benefits you will reap:
Improves Sleep Quality: A full-body massage helps relax the muscles. This, in turn, stimulates good-quality sleep. Since sleep deprivation is linked to weight gain, improved sleep quality through massages can help nullify the effects of poor sleep (11).
Lower Blood Pressure: High blood pressure due to stress or unhealthy food habits can lead to inflammation and water retention. Deep tissue massage and aromatherapy massage can help lower your high blood pressure (12).

Quick Tip
Massages complement exercises. A good massage after an exhausting workout can reduce your muscle tension and stiffness and increase your motion range.
It is clear from these benefits of massaging that it directly or indirectly aids weight loss
. The question is, which massages are best for weight loss? Scroll down to learn all about the three most effective massages for weight loss.
3 Effective Massages For Weight Loss Backed By Science
1. Skin Fold And Vacuum Massage For Weight Loss
Cellulite is mainly found in the thighs, hips, and abdominal area. It makes the skin look dimpled. And, getting rid of it can be a task. Thankfully, a skinfold massage can help get rid of cellulite. A vibrating device is used to massage the affected area.
Research shows that a skinfold massage could help smoothen the skin (13). Sixty minutes of vibration massage five times a week also showed promising results in reducing cellulite (14).
"While skinfold massage is not a one-time solution, it can be an effective tool in conjunction with other healthy lifestyle choices such as a balanced diet and regular exercise," says Personal Trainer Hannah Shine.
Vacuum massage is another non-invasive technique to reduce cellulite. It helps in collageni  XA fibrous protein found in the skin and the connective tissues, which is responsible for improving skin health. restructuring, releases tension in the muscles, improves skin elasticity, reduces skinfold thickness, increases collagen, and decreases muscle pain (15). Go to a professional vacuum therapist to do this massage.
2. Lymphatic Massage For Weight Loss
Lymphatici  XA network of tissues, vessels, and organs that work together to move a colorless, watery fluid called lymph back into your bloodstream massage helps in lymphatic drainage, i.e., flushing out extra fluid from the waist, wrist, ankles, and legs. This method aids detoxification and reduces puffiness and bloating.
A study found that lymphatic drainage massage or manual massage could help reduce thigh and belly fat (16), (17). People who play sports use this massage often to heal injuries (18). For lymphatic massage to be effective for weight loss, you must stop eating unhealthy food and maintain a good nutrition level in your diet. Get a licensed lymphatic massage therapist to get the massage done on a regular basis.
3. Aromatherapy Massage For Weight Loss
Aromatherapy massage is a special type of weight loss massage that cuts down the desire to binge eat. This form of holistic therapy also provides stress relief. Special aromatic oils made from the extracts of flowers, fruits, leaves, barks, and seeds are used to massage the problem areas or the whole body. One hour of aromatherapy massage with grapefruit oil, cypress oili  XEssential oil extracted from cypress tree and is known for its healing properties such as easing muscle pain. , and other oils for six weeks was found to help reduce abdominal fat and waist circumference (1).
People who use this massage have often said that they sleep better and have reduced muscle pain. Aromatherapy massage also helps reduce stress and depression (19), (20). This, in turn, can reduce the desire to binge eat or eat nothing at all (which leads to slow metabolism and weight gain) (21), (22).


Did You Know?
Infographic: How Does Massaging Help Reduce Weight?
Massaging helps improve the functions of your body. It can be one of the best solutions to tone your muscles. And these benefits can ultimately help reduce your weight.
Check out the infographic below to get a simplified idea of how massaging helps reduce weight loss.



Weight loss massages are a great way to reduce excess fat. They may decrease abdominal fat, increase blood circulation, tone muscles, improve digestive functions, support cellulite reduction, assist body contouring, and lower blood pressure levels. Skinfold massage, lymphatic massage, and aromatherapy massage for weight loss are some effective massage therapies backed by science. However, consult a licensed massage therapist and get the right type of massage for weight loss. They can provide the right guidance to maximize the benefits of massage therapies. Also, regular exercise, eating healthy, and making certain lifestyle changes will help prevent gaining that excess fat back.
Frequently Asked Questions
Do massages burn calories?
Massage helps increase circulation and metabolism. It also improves your range of motion, tones your muscles, and helps you feel rejuvenated to remain physically active enabling you to burn more calories.
Is massage better than exercise?
While there is no direct comparison, massages can help relax your sore muscles after exercise.
Does a massage count as exercise?
No, a massage is not considered an exercise, but it can have similar beneficial effects on your mind and metabolism and aid in fat burning.
Is massage every day good for you?
Massage helps you destress, improve your mood, and promote relaxation, So a few minutes of massage every day can be pretty beneficial and can easily be added to your daily self-care routine.
Does massage tone your legs?
Yes, massage helps tone your muscles and can help in sculpting your arms and legs.
Is too much massage harmful?
Yes, it could be harmful if done with the wrong technique, posture, or amount of pressure. You should, therefore, be clear in communicating any discomfort or pain during a massage.
Is it bad to shower after a massage?
It is advisable to give some gap and take a shower after about an hour of the massage.
Can massage help slim thighs?
Yes, lymphatic and deep tissue massage can work on the fat and lymph build-up and help tone your thighs, giving a slimming effect.
Should I wear deodorant to a massage?
While perfumes are not recommended before a massage, deodorants are encouraged.
Key Takeaways
Massages not only help you relax and destress but also aid weight loss when done right.
These massages work on dissolving your cellulite and fat buildup to help you get back in shape.
Vacuum massage, aromatherapy massage, and lymphatic massage are a few of the most effective massages for weight loss.
Discover a quick and effective 5-minute belly massage technique that can help you burn fat, flatten your stomach, and achieve a smaller waist. Say goodbye to cellulite and tighten your midsection with the simple method discussed in the video below.
Sources
Articles on StyleCraze are backed by verified information from peer-reviewed and academic research papers, reputed organizations, research institutions, and medical associations to ensure accuracy and relevance. Read our editorial policy to learn more.
The following two tabs change content below.