15 Effective Tips To Prevent Makeup From Melting In Hot Weather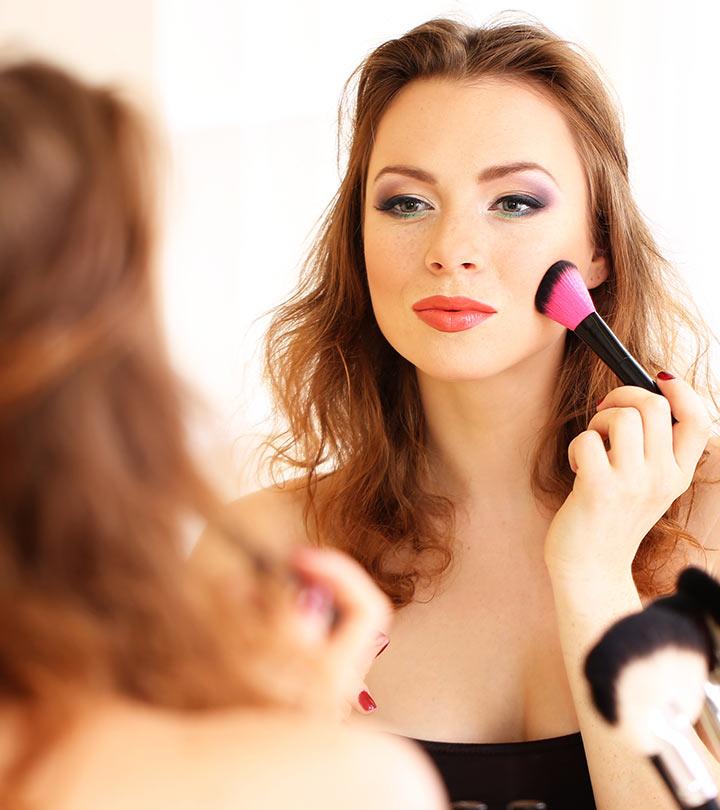 I love makeup, and that is an understatement! If you are anything like me, you must hate summers with a vengeance! Sweat and makeup just don't make good bed-fellows! It feels totally disheartening when all your hard work literally runs down the drain! You spend so much time to conceal your tough blemishes, evening out your natural skin tone, perfecting your makeup depending on your mood and season, and finish it up with a perfect lipstick or lip gloss. Then, to your utter dismay without any reason, all your makeup starts melting!
So, today we have compiled top 15 makeup tips to help you in just these situations. So, the mission to smudge proof your makeup begins right here at StyleCraze!
1. Start Off With An Oil Control Face Wash
Use a gentle face wash that will soak up all the extra oil and give your skin a toned and fresh look. Pat dry with a towel or tissue.
2. Ice It
This trick is loved by many makeup and skin care experts. Grab a fresh ice cube and start gently slathering it on your entire face area, leaving the delicate under eye area. Gently massage the ice cube without putting too much pressure as the coldness of the ice cube might irritate the capillaries in the skin. So, remember to work with a light hand for good 2 seconds and then remove it. Then, take a clean towel, pat dry your skin, and then start applying your favorite makeup. This trick will cool down your skin, closing up your large pores and prevent your makeup melt less outside!
3. Apply A Toner
Dab a good toner all over your face and neck area with cotton. This will rejuvenate your skin.
4. Apply Sunscreen
Apply a gel based sunscreen, or a light lotion based sunscreen and not a cream based one or a heavy cakey one.
5. Never Forget Your Primer
Whether you are going for a subtle daytime look or an intense dramatic makeup look, wearing a primer underneath your makeup will provide you multiple benefits. Wearing face and eye primers are one of the top makeup tips to prevent your makeup from melting off your skin. Don't worry as adding another layer to your skin is not counterproductive. Your primer will create an excellent base for the whole makeup to last long by locking it and preventing melting. It's important to prime your T-zone if your sweat too often or your skin is excessively oily. Apply in a very good fashion, on your T-zone, besides your nose and on your chin the primer and this will help your foundation and concealer to stay on more hours. And the added benefit of applying primer is that it helps your next layer of BB or CC cream to glide on effortlessly. And you would also require only a small amount of the product. While choosing a primer during summers, it is best to pick a formula which doesn't illuminate or make your skin too dewy. Choose something which gives a matte and natural finish.
6. Keep It Light
When the temperature outside is really hot and melting every single thing around you, then adding layers after layers of makeup on your skin is useless! Start by choosing your makeup which is heat-friendly. Concealer and Foundation- Preferably a stick concealer followed by a gel-based lightweight foundation. Lighter formula face products, such as a tinted moisturizer, BB or CC cream, work well instead of foundations as they don't melt off easily due to heat. The secret is to keep it sheer and light! Don't pile on thick, heavy and creamy products but choose something light. Take a light tinted moisturizer with SPF, topped with some compact powder and a light blush on the face. Also, apply a coat of mascara for your eyes and follow it up with a tinted lip balm or a light hydrating lip gloss. All these will give a natural makeup look as well as protect your skin from the harsh sun!
7. Stock Up On Oil Blotting Sheets
How much ever you try to control oil and sweat, I am sure there are days when you just can't prevent the sweat bursting off your skin. That's totally normal with most of us. But, I would say it is totally fine as long as you are prepared for it! Most people make a big mistake of layering compact powder over the sweat to control the oil and shine. But, this is the biggest makeup fail! Applying powder over sweat will crease and blotch your makeup, leaving the skin cakey. Instead, choose smarter options like oil absorbing blotting sheets in your arsenal. They are packed in a very thin and light form but work like magic! Blot your forehead, T-zone, and under eye area to instantly absorb shine and stay matte.
8. Finishing Spray
There is something called the finishing spray which is used by celebrity makeup artists who does the makeup for the red carpet. After all the makeup is done upto the foundation and concealer step before the blush or bronzer, lips, and shadow, this is finely spread to hold the makeup from getting down with perspiration especially the foundation because , it's the first thing which comes off when you sweat or perspire, showing off all the blemishes and spots you were trying to hide. Now how cool is that?!
9. Lose The Liquid
Choose something in a powder form for your blush and eyeshadows. Powder makeup controls oil and sweat much better than liquid formulas, which will start running down and greasing your skin in no time!
Start by wetting your eyeshadow brush with a bit of makeup setting spray or plain water. Then, remove the excess water with a dry tissue paper and then pick your eyeshadows. It helps the eyeshadow stick up to your eyes well at the same time provides a nice glazed eye makeup finish after drying.
10. Try Waterproof Formulas
Whether you choose to wear a kajal, compact powder or mascara, always go in for waterproof formulas as it will smudge proof your makeup from your own sweat for long hours of time! We hate when our kajal or mascara runs down our eyes. So, be smart and choose makeup wisely. All you would have to do for eye makeup is to grab an eyelash curler to lift your eyes and apply generous coats of your favorite mascara. If you feel you are still not done with eye makeup, then go ahead and apply your waterproof eyeliner and you are done.
11. Lips
Now if your lipstick has the tendency to come off easily when the skin below your nose and over your upper lips sweat or your smack your lips too often, as you line your lips, don't forget to even cover and fill in your total lips with the liner.Then apply lipstick and also gloss (optional). The lipstick may come off, but your liner won't from your lips for at least 2-3 hours giving you're the false lipstick effect.
12. Blush
Apply a powder blush, not a cream or stick blush.
13. Bronzer
Dust off some bronzer or just some loose face powder with a big blush brush. Bronzer on the cheek apples, forehead, chin only and if you don't want a bronzer, just to make the makeup stay longer, use the loose face powder to brush it off on your full face.
14. Put Your Antiperspirant At Night
If you want to smell really good the next day morning, apply your favorite antiperspirant the previous night before you get your beauty sleep. This gives the ingredients in the formula the time to start working before your day begins.
15. Increase Lip Makeup Longevity
Even if your whole face makeup is light and subtle, go ahead with the brighter lips to get a fresh look. If you want to seal-proof your lipsticks in the hot sun, then always try long staying formulas. Apply a thin layer of lipstick, then blot it with a clean tissue paper and then reapply another layer of your lipstick. This is one of the best makeup tips for hot, humid weather that will increase the longevity of the lipstick.
With these makeup tips for hot weather, you'll fall in love with summer all over again! Try them! Do you have any secret methods for preventing your makeup from melting? Let us know in the comments section below.
Recommended Articles:
The following two tabs change content below.