10 Home Remedies To Heal Adenomyosis + Causes And Diet
Easy-to-follow and simple natural remedies to relieve heavy period blood flow.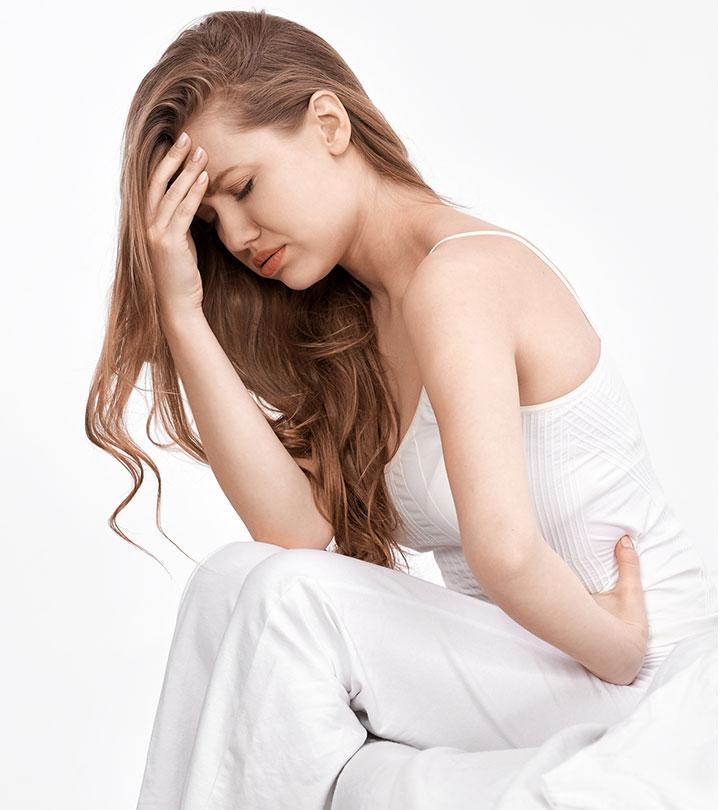 If you are looking for some home remedies to heal adenomyosis, you have come to the right page. Adenomyosis is a medical condition characterized by the endometrial tissue growing into the muscle of the uterus. This makes the uterus thicker, which leads to heavy bleeding and longer periods. Commonly seen in women of reproductive age, factors such as age and having given birth before may put women at a higher risk of developing adenomyosis. Dr. Kimberley Langdon, MD, an obstetrician and gynecologist, says, "Estrogen and pregnancy aggravate it." In this article, we explore the causes of adenomyosis and some holistic therapies natural remedies you can try at home to soothe the pain. Keep reading to know more.
Home Remedies For Adenomyosis
1. Heating Pads
A heat compress may enhance the blood flow to the pelvic area and help with relaxation and relieve the building pressure and pain in the uterus (1).
You Will Need
A heating pad or a hot compress
What You Have To Do
Place a heating pad on your lower abdomen.
Leave it on for 5 minutes.
Remove and repeat thrice.
How Often You Should Do This
Do this 2-3 times a day or whenever the pain strikes.
2. Massage
Aromatherapy massage on the abdomen can stimulate blood flow and relieve menstrual pain (2).
You Will Need
What You Have To Do
Mix six drops of essential oil with a teaspoon of coconut oil.
Massage the mixture onto your abdomen for about 2 minutes.
Leave it on overnight or for at least 30 to 40 minutes before rinsing it off.
How Often You Should Do This
Do this 1-2 times a day, especially when you are menstruating.


Quick Tip
You can use lavender, clary sage, evening primrose oil or rose essential oil for massaging your abdomen. Ensure you dilute it with a carrier oil before application.
3. Castor Oil
Castor oil contains ricinoleic acid, which is a powerful anti-inflammatory agent (3). Using a castor oil pack on the abdomen may help reduce the swelling and pain in the uterus.
You Will Need
Castor oil (as required)
Hot water bottle
What You Have To Do
Apply a little castor oil all over your lower abdomen.
Place a hot water bottle on your abdomen and leave it on for about 15 to 20 minutes.
How Often You Should Do This
Do this 1-2 times a day.
4. Shepherd's Purse
Shepherd's purse improves blood circulation and alleviates the symptoms of inflammation (4). It may help with heavy and irregular periods by providing relief from heavy bleeding.
You Will Need
½ teaspoon of shepherd's purse
1 cup of water
What You Have To Do
Add half a teaspoon of shepherd's purse to a cup of water.
Bring it to a boil in a saucepan.
Simmer and strain.
Consume the tea.
How Often You Should Do This
Do this 3-4 times a day, especially right before and during periods.
5. Ginger
Ginger exhibits strong anti-inflammatory properties (5). Thus, it may offer relief from inflammation and pain associated with adenomyosis.
You Will Need
1 teaspoon of minced ginger
1 cup of water
Honey
What You Have To Do
Add a teaspoon of minced ginger to a cup of water and bring it to a boil in a saucepan.
Simmer and strain.
Allow the tea to cool a little and add some honey to it.
Drink immediately.
How Often You Should Do This
Drink this 3-4 times a day.
6. Turmeric
The curcumin present in turmeric possesses anti-inflammatory and healing properties (6). Thus, turmeric may alleviate pain and swelling caused due to adenomyosis.
You Will Need
• 1 teaspoon of turmeric
• 1 glass of hot milk
What You Have To Do
1. Add a teaspoon of turmeric powder to a glass of hot milk and mix well.
2. Consume this mixture daily.
How Often You Should Do This
Do this at least once a day.


Quick Tip
You can also add a little bit of lemon and honey to your turmeric milk to impart a wonderful flavor to it.
7. Calcium And Magnesium
Both calcium and magnesium may help in relieving the symptoms of adenomyosis by regulating the menstrual cycle (7).
You Will Need
1000-2000 mg calcium
300-320 mg magnesium
What You Have To Do
Consume calcium and magnesium-rich foods, like milk, cheese, yogurt, salmon, sardine, almonds, spinach, quinoa, flaxseeds and cashew nuts.
You can also take supplements for these nutrients after consulting your doctor. You can also start consuming more vitamin D for better calcium absorption.
How Often You Should Do This
It is best to include small amounts of these nutrients in your daily diet.
8. Aloe Vera
Aloe vera possesses soothing and anti-inflammatory properties (8). This may help with stress reduction and adenomyosis symptoms like pain, swelling, and inflammation.
You Will Need
1 cup of fresh aloe vera juice
What You Have To Do
Consume a glass of fresh aloe vera juice daily.
How Often You Should Do This
Do this 2 times a day.
9. Vitamins
Vitamin B complex and vitamin E play a significant role in the treatment of conditions like adenomyosis. Studies have found that vitamins B1, B6, and E can help reduce menstrual pain (9), (10).
You may get the required amounts of these vitamins by consuming eggs, milk, cheese, fish, poultry, almonds, spinach, and kale. Consult a doctor if you wish to take supplements for these vitamins.
10. Apple Cider Vinegar
The external application of apple cider vinegar may help reduce pain (11). Thus, it may help in treating adenomyosis as well as other menstrual problems like bloating and cramps.
You Will Need
2 teaspoons of apple cider vinegar
1 glass of warm water
What You Have To Do
Add two teaspoons of apple cider vinegar to a glass of warm water and mix well.
Drink this mixture.
Alternately, you can also soak a gauze in some apple cider vinegar solution and apply it to your lower abdomen for relief.
How Often You Should Do This
Do this 1-2 times a day.
If these remedies based in naturopathy do not work for you, you can also try acupuncture treatments, chiropractic adjustments, Ayurveda, homeopathic medicine, and traditional chinese medicine to help treat your adenomyosis (12), (13), (14), (15), (16).
It is necessary to pay extra attention to the diet to recover from adenomyosis completely. Given below is a list of certain foods that may help in combating adenomyosis.
Best Diet For Adenomyosis
Grains, like bran cereal, brown rice, oats, and wheat pasta.
Fruits, like apples, berries, grapes, papaya, and pears.
Vegetables, like cabbage, spinach, cucumber, carrots, celery, beans, peas, and potatoes.
Spices and herbs, like mint, turmeric, coriander, cumin, and fennel.
Other foods, like wheatgrass, walnuts, almonds, hazelnuts, sesame, and aloe vera.
Anecdotal evidence suggests that you can also try chasteberry, chamomile, and red raspberry leaf herbal teas, milk thistle, garlic, black cohosh dandelion root, licorice root, wild yam, fenugreek, ginseng, green tea, ashwagandha, rosemary, and foods rich in zinc, probiotics, and omega-3 fatty acids to manage adenomyosis. Consult a doctor before adding these herbs and foods to your diet.
Discussed below are a few lifestyle tips that one can follow to steer clear of adenomyosis in the near future.
Prevention Tips
Practicing meditation and yoga asanas, like Adho Mukha Asana, Supta Baddha Konasana, Bhujangasana, Utthita Anguli Sukhasana, and Setu Bandha Sarvangasana, can help you manage the symptoms of adenomyosis.
Doing regular and pelvic floor exercises.
Avoid processed foods.
Reduce your intake of sugar and meat.
Avoid caffeine.
Although the exact cause of adenomyosis is unknown, some factors may trigger it. The probable causes of adenomyosis are listed below.
Causes And Risk Factors For Adenomyosis
Dr. Langdon says, "The cause of adenomyosis is usually unknown". However, here are some probable factors:
Termination of pregnancy.
Endometriosis – abnormal growth of endometrial tissues outside the uterus.
Estrogen dominance – A condition characterized by excessive production of

estrogen

i

  X

A group of sex hormones that help in the development of the reproductive system and sexual characteristics.

but little or no

progesterone

i

  X

A female sex hormone produced by the ovaries that plays a supportive role in pregnancy and menstruation.

.
Swelling of the uterine lining.
The risk factors for adenomyosis may include:
If you are in your 40s and 50s
Childbirth
History of surgeries on the uterus
Those dealing with adenomyosis may exhibit the following signs and symptoms.
Signs And Symptoms Of Adenomyosis
Heavy and prolonged menstrual bleeding
Spotting between periods
Tenderness in the abdominal area
Pain during sexual intercourse
Blood clots during menstrual bleeding
Severe cramps during menstruation
Abdominal pressure
Infographic: 5 Easy Home Remedies For Adenomyosis
Adenomyosis is a painful condition that results in heavy bleeding and longer periods. If you are looking for natural ways to manage adenomyosis at home, you have come to the right place. We have rounded up the top 5 remedies that will help soothe the pain and swelling associated with adenomyosis. Check out the infographic below to know more!


Adenomyosis is a medical condition where the uterine lining grows into the uterine wall. It causes long, painful periods in women, inflammation, and severe cramping. As this requires life-long treatment, certain alternative remedies for adenomyosis may help relieve your heavy, painful periods. The best remedial options are heating pads and massage with essential oils, castor oil, ginger, turmeric, and aloe vera. In addition, including certain foods like grains, grapes, apples, cabbages, spinach, and spices like mint and cumin may help combat adenomyosis. Hence, incorporate the right diet and try home remedies for better results.
Frequently Asked Questions
Can adenomyosis be cured?
According to Dr. Langdon says, "This condition cannot be cured unless a hysterectomy is performed."
Is it dangerous to have an enlarged uterus?
An enlarged uterus is not of much concern if its cause is determined. However, if the sudden increase in the size of your uterus is because of a critical medical condition, it may have dangerous consequences for your health.
Is adenomyosis cancerous?
There is as little as 1% chance for adenomyosis to turn out to be cancerous. In about 99% of cases, adenomyosis is non-cancerous.
Can adenomyosis cause infertility?
Some studies do hint at adenomyosis being a cause of infertility. However, we need more research to arrive at a conclusion.
Can you get pregnant if you have adenomyosis?
Although the risk of miscarriage doubles in women suffering from adenomyosis, managing the symptoms may help with conception.
What happens if you don't treat adenomyosis?
If left untreated, adenomyosis may lead to infertility or pelvic organ prolapsei  XA condition characterized by the inability of pelvic muscles to support organs in the pelvic area, resulting in a bulge in the vagina. .
Is cinnamon good for adenomyosis?
Anecdotal evidence suggests that cinnamon can help treat adenomyosis effectively. However, limited data is available in this regard.
Can adenomyosis burst?
Yes. A very large cystic adenomyosis can burst (17).
Can I drink coffee with adenomyosis?
No. Coffee is not recommended for people with adenomyosis because it may affect vascular contraction, resulting in abnormal menstruation.
Can I carry a baby with adenomyosis?
There is no scientific evidence that adenomyosis affects the ability to carry a baby.
Key Takeaways
Adenomyosis is a condition where endometrial tissue grows into the uterine muscle, causing painful and longer periods.
Excess estrogen production and a swollen uterine lining cause adenomyosis.
Heat pads, essential oil massage, ginger, turmeric, and aloe vera are some treatments that can help manage this condition.
A rich diet of grains, apples, cabbage, spinach, mint, cumin, and calcium-rich foods helps fight adenomyosis.
Women with this condition should avoid lifting heavy objects, wearing tight clothes, and standing or sitting for a long time.
Sources
Articles on StyleCraze are backed by verified information from peer-reviewed and academic research papers, reputed organizations, research institutions, and medical associations to ensure accuracy and relevance. Check out our
editorial policy
for further details.
Jo, Junyoung, and Sun Haeng Lee. "Heat therapy for primary dysmenorrhea: A systematic review and meta-analysis of its effects on pain relief and quality of life." Scientific reports vol. 8,1 16252.
https://www.ncbi.nlm.nih.gov/pmc/articles/PMC6214933/
Marzouk, Tyseer M F et al. "The effect of aromatherapy abdominal massage on alleviating menstrual pain in nursing students: a prospective randomized cross-over study." Evidence-based complementary and alternative medicine : eCAM vol. 2013 (2013): 742421.
https://www.ncbi.nlm.nih.gov/pmc/articles/PMC3638625/
Vieira, C et al. "Effect of ricinoleic acid in acute and subchronic experimental models of inflammation." Mediators of inflammation vol. 9,5 (2000): 223-8.
https://www.ncbi.nlm.nih.gov/pmc/articles/PMC1781768/
Al-Snafi, Ali Esmail. "The chemical constituents and pharmacological effects of Capsella bursa-pastoris-A review." International Journal of Pharmacology and toxicology 5.2 (2015): 76-81.
https://www.researchgate.net/publication/297715622_The_chemical_constituents_and_pharmacological_effects_of_Capsella_bursa-pastoris_-_A_review
Grzanna. R et al. "Ginger–an herbal medicinal product with broad anti-inflammatory actions." PubMed, 2005 Summer;8(2):125-32.
https://pubmed.ncbi.nlm.nih.gov/16117603/
Jurenka, Julie S. "Anti-inflammatory properties of curcumin, a major constituent of Curcuma longa: a review of preclinical and clinical research." Alternative medicine review : a journal of clinical therapeutic vol. 14,2 (2009): 141-53.
https://pubmed.ncbi.nlm.nih.gov/19594223/
Dullo, Puja, and Neeraj Vedi. "Changes in serum calcium, magnesium and inorganic phosphorus levels during different phases of the menstrual cycle." Journal of human reproductive sciences vol. 1,2 (2008): 77-80.
https://www.ncbi.nlm.nih.gov/pmc/articles/PMC2700668/
Vázquez, B et al. "Antiinflammatory activity of extracts from Aloe vera gel." Journal of ethnopharmacology vol. 55,1 (1996): 69-75.
https://pubmed.ncbi.nlm.nih.gov/9121170/
Proctor, M L, and P A Murphy. "Herbal and dietary therapies for primary and secondary dysmenorrhoea." The Cochrane database of systematic reviews ,3 (2001): CD002124.
https://pubmed.ncbi.nlm.nih.gov/11687013/
Kashanian, Maryam et al. "Evaluation of the effect of vitamin E on pelvic pain reduction in women suffering from primary dysmenorrhea." The Journal of reproductive medicine vol. 58,1-2 (2013): 34-8.
https://pubmed.ncbi.nlm.nih.gov/23447916/
Atik, Derya et al. "The Effect of External Apple Vinegar Application on Varicosity Symptoms, Pain, and Social Appearance Anxiety: A Randomized Controlled Trial." Evidence-based complementary and alternative medicine : eCAM vol. 2016 (2016): 6473678.
https://www.ncbi.nlm.nih.gov/pmc/articles/PMC4735895/
Li-ying TIAN, Zi-xia CHENG, Xiao-man CHENG, Ting NIE. "Acupuncture for dysmenorrhea of adenomyosis: A randomized controlled trial." World Journal of Acupuncture – Moxibustion : Volume 32, Issue 3, July 2022
https://www.sciencedirect.com/science/article/abs/pii/S100352572100101X
Jensen.A.M et al: "Intermittent low back pain referred from a uterine adenomyosis: a case report." PubMed, 2011 Mar;10(1):64-9.
https://pubmed.ncbi.nlm.nih.gov/22027211/
Ponnam, Hima Bindu & Suryanarayana, Y.. (2014). "A Case of Adenomyosis of the Uterus." Homoeopathic Links. 27. 96-99. 10.1055/s-0034-1368341.
https://www.researchgate.net/publication/273806035_A_Case_of_Adenomyosis_of_the_Uterus
: Kowsalya. R. G et al: A Case Study On Adenomyosis. International Ayurvedic Medical Journal {online} 2019 {cited December, 2019}
http://www.iamj.in/posts/2019/images/upload/2341_2345.pdf
Guan YG, Liao JB, Li KY, et al. Potential Mechanisms of an Antiadenomyosis Chinese Herbal Formula Shaoyao-Gancao Decoction in Primary Cell Culture Model. Evidence-Based Complementary and Alternative Medicine. 2014;2014:1-11.
https://www.hindawi.com/journals/ecam/2014/982913/
Li.C et al. "Laparoscopic treatment of a large cystic adenomyosis of the uterus: A case report." ScienceDirect, Volume 71, 2020, Pages 179-182
https://www.sciencedirect.com/science/article/pii/S2210261220302789