What Is Psoriasis – Causes, Symptoms, Types, And Home Treatments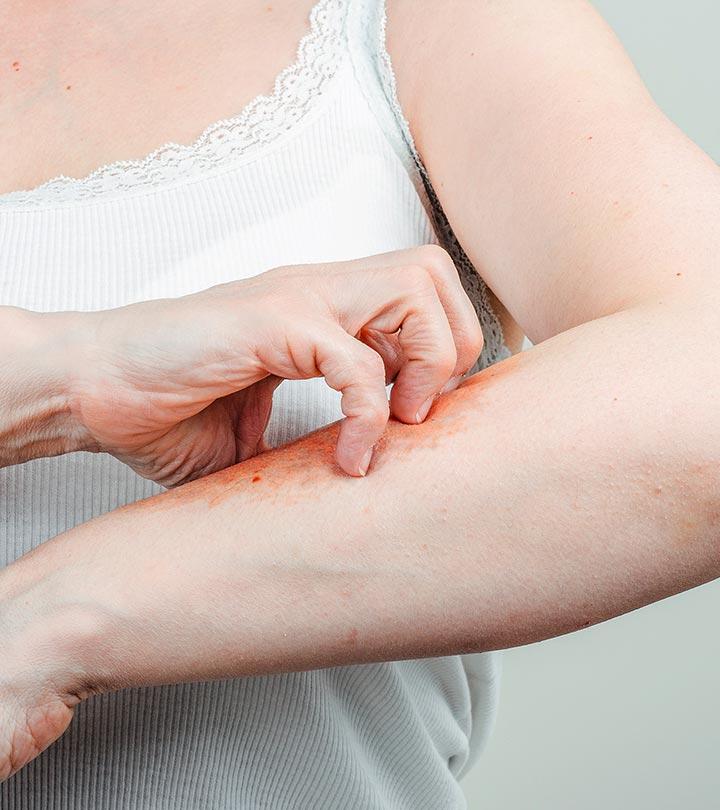 Among the many skin problems that may occur, psoriasis is one of the most common skin diseases. The popular English phrase, 'the seven-year itch', has humorous and sarcastic connotations to it. However, if you stop to imagine literally living with an itch for seven years, the humor quickly fades. Psoriasis is a common ailment of the skin that results in dry, often thick, itchy, and flaky plaques of skin that come and go throughout a person's lifetime (1).
Neither life-threatening nor contagious yet equally traumatizing, as most chronic diseases are, there are many therapeutic options available. Often a variety of topical steroids and vitamin D creams are employed, however, depending on the severity, oral and injectable medications are frequently used. Even if you have psoriasis, do not worry, as it is treatable with the right management. Before you start treating your skin condition, consider the following about psoriasis.
What Is Psoriasis?
Psoriasis is a complex and often recurring skin condition with multifactorial causes. You may have red, flaky plaques on the skin, which seem to show no signs of going away (1). It is better not to ignore them as common skin problems.
Although psoriasis can occur on any part of your body, it generally occurs in the following areas:
Lower back
Knees
Elbows
Finger and toenails
Scalp
Genital area
Navel
Underarms
Between buttocks
Knuckles
Other body folds
If you notice that there are small, red, scaly bumps in the above-mentioned areas, then you might have psoriasis. However there are several other skin conditions to consider, and it is best to seek diagnosis and treatment by a qualified professional.
What Causes Psoriasis?
The exact cause behind this skin disease is yet to be known, but there are a few common factors which are attributed to this skin condition. Any immune abnormality that leads to the production of excess skin cells is one of the most recognized causes of psoriasis. A psoriasis outbreak can be triggered by a strep infection, skin damage, or even emotional stress (2). It can occur in sites of trauma and friction. There is a genetic predisposition with psoriasis, so if you have a family history of psoriasis, it is a good idea to take care of your skin and health, as you may be predisposed.
Psoriasis Symptoms
There are a few ways of knowing that the skin disease you have is psoriasis. Here are the common symptoms of psoriasis:
Enlarged red bumps
Scaly skin
Blood spots caused by removal of the dry, scaly areas
Bleeding on removal of scaly skin
Dry, flaky skin
Oil spots near the nail bed
Nail thickening and lifting
Itchiness
Sensitive skin
The symptoms of psoriasis can easily be confused with the symptoms of other kinds of skin diseases, however many other skin diseases share similar treatments as psoriasis (1, 3). Psoriasis is usually treated with topical prescription creams containing corticosteroids and/or vitamin D. However, there are some anecdotal and well-studied home remedies that may be helpful.
Home Remedies For Psoriasis
Effective Remedies To Cure Psoriasis
1. Apple Cider Vinegar For Psoriasis
You Will Need
1 part apple cider vinegar
3 parts lukewarm water
Washcloth or cotton ball
What You Have To Do
Add the vinegar to the water and mix it well.
Depending on the size of the area that you want to cover, either use the cotton ball or the washcloth.
Soak either of them in the ACV solution and wring out the excess.
Place this on the affected area for a minute or so and then remove.
How Often You Should Do This
Repeat this several times a day, as and when required, to control the itching.
Why This Works
he light acidity of the apple cider vinegar balances the pH of the skin and reduces the itching sensation and irritation. It also exfoliates the dry and dead skin cells and acts as an astringent (4, 5). Be careful though, as it may be too drying. It is best to follow it up with a thick cream, ointment, or one of the oils listed below.
2. Oils For Psoriasis
(a) Olive Oil For Psoriasis
You Will Need
Extra virgin olive oil
What You Have To Do
Apply the oil over the patches that develop on the skin as a result of psoriasis.
How Often You Should Do This
Reapply the oil every few hours.
Why This Works
Olive oil is the magic trick that many of us forget about. It works as an emollient to hydrate the skin. It is excellent both inside and outside the body. Its regular application will not only help in healing patchy skin but will also keep your skin supple and glowing for ages (6, 7). This oil works best when it comes to managing psoriasis on the scalp.
(b) Rosehip Oil For Psoriasis
You Will Need
Rosehip oil
What You Have To Do
Apply this oil on the affected area and leave it on.
How Often You Should Do This
Apply a couple of times during the day.
Why This Works
Rosehip oil contains omega fatty acids, vitamins A and E, and antioxidants. These will nourish the skin, eliminate the dryness and itching, and also heal the damaged and inflamed cells (8, 9).
(c) Flaxseed Oil For Psoriasis
You Will Need
Flaxseed oil
What You Have To Do
Place a few drops of this oil on the affected area and massage it for a few minutes.
How Often You Should Do This
Use this oil three to four times a day.
Why This Works
Flaxseed oil is a rich source of alpha-linolenic acid (ALA), omega-3 fatty acids, and antioxidants like tocopherol and beta-carotene. It balances the pH of the skin and keeps it hydrated. These effects will give relief from psoriasis symptoms (10).
(d) Black Seed Oil For Psoriasis
You Will Need
1 teaspoon black seed oil
2-3 teaspoons olive or coconut oil
What You Have To Do
Mix the black seed oil and carrier oil together.
Apply a few drops on the psoriasis patches and leave it on.
How Often You Should Do This
Reapply this oil combination thrice a day.
Why This Works
Black seed oil is called Kalonji oil in India and Middle Eastern countries. It is also known as black cumin seed oil. It soothes and moisturizes the skin. It also has anti-inflammatory and antioxidant properties (11).
(e) Coconut Oil For Psoriasis
You Will Need
Virgin coconut oil
What You Have To Do
Apply coconut oil liberally on your body, preferably after taking a bath.
How Often You Should Do This
Do this every day for healthy skin.
Why This Works
The anti-inflammatory properties of coconut oil will ease the pain experienced due to psoriasis (12). Its antibacterial properties will keep the skin infection-free, and its emollient properties will keep it hydrated, although it does not work for all (13). Symptoms of scalp psoriasis can be easily controlled with this remedy, as it helps to loosen any adherent scale.
(f) Tea Tree Oil For Psoriasis
You Will Need
3-4 drops tea tree oil
1 tablespoon olive oil
What You Have To Do
Dilute the essential oil in the carrier oil and apply on the affected area.
How Often You Should Do This
Apply this oil a few times in the day, especially when you suspect that an infection can occur.
Why This Works
This oil is beneficial to prevent any infections that can develop in the cracks of your skin that have formed due to psoriasis or because of you scratching the itchy skin. Tea tree oil also reduces inflammation (14).
Caution
Do a patch test before using tea tree oil. If it doesn't suit your skin type, it can aggravate the psoriasis symptoms on application.
[ Read: How To Use Tea Tree Oil For Psoriasis ]
(g) Neem Oil For Psoriasis
You Will Need
Neem oil
What You Have To Do
Apply neem oil on the affected areas either using your finger or with a cotton ball.
How Often You Should Do This
Reapply the oil twice a day.
Why This Works
The benefits of neem oil for the skin are extensive. Its anti-inflammatory and healing properties reduce the itchiness and irritation. It contains essential fats that nourish the skin and eliminate the scales and flakiness to a great extent. It also a strong antimicrobial agent and will protect the skin from infections (15, 16).
(h) Evening Primrose Oil For Psoriasis
You Will Need
Evening primrose oil capsules (1000mg)
What You Have To Do
Consume a capsule every day.
How Often You Should Do This
Continue taking these capsules for at least three months to notice results.
Why This Works
Psoriasis patients usually suffer from a deficiency in GLA, an essential fatty acid that keeps the skin healthy and hydrated. Evening primrose oil will take care of this deficiency. When ingested, the fatty acids present in it are broken down to supply the body with GLA (17).
(i) Fish Oil For Psoriasis
You Will Need
Fish oil capsules
What You Have To Do
Pierce the capsule to extract the oil present inside.
Apply it directly to the skin to get momentary relief from the discomfort caused by psoriasis.
Also, consume fish oil capsules on a daily basis.
How Often You Should Do This
Include fish oil in your daily diet.
Why This Works
Fish oil is very helpful when it comes to psoriasis, and has been well-studied. The omega-3 and omega-6 fatty acids present exert an anti-inflammatory effect on the skin and relieve the irritation. Upon regular ingestion, these fatty acids keep the skin healthy and supple (18, 19).
3. Bath For Psoriasis
(a) Oatmeal Bath For Psoriasis
You Will Need
1-1 1/2 cup colloidal oatmeal
Warm water
A bathtub
What You Have To Do
Add colloidal oatmeal to the warm water in the bathtub and mix it in. It should stay suspended with very little settling down.
If you cannot find colloidal oatmeal, grind whole oatmeal until it is a grainy powder. Do not overdo the grinding.
Soak in this oatmeal bath for 15 to 20 minutes.
How Often You Should Do This
Repeat this every day, once or twice a day.
Why This Works
Colloidal oatmeal is widely used for its soothing properties for skin ailments like psoriasis and eczema. It heals the dryness of the skin while cleansing it (20).
(b) Dead Sea Salt Psoriasis Treatment
You Will Need
1 cup Dead Sea salt
Warm water
Bathtub
What You Have To Do
Add the sea salt to the warm water and soak in its goodness for 15 to 30 minutes.
Rinse your body with clean water after.
How Often You Should Do This
Soak in this relaxing bath every other day.
Why This Works
The Dead Sea is enriched with minerals such as sodium, magnesium, and bromide that work on the inflamed and irritated skin and heal it. It reduces the dryness and hydrates the skin, leaving it soft like butter (21).
(c) Baking Soda
You Will Need
1/3 cup baking soda
1 gallon lukewarm water
A basin
What You Have To Do
Pour the warm water into the basin and add the baking soda to it. Mix well.
Soak the affected area in this for about 15 minutes.
Rinse the area with regular water.
You can also add baking soda to a bathtub full of water and soak in it.
How Often You Should Do This
Baking soda soak done daily for at least three weeks will alleviate psoriasis symptoms.
Why This Works
Baking soda or sodium bicarbonate is slightly alkaline in nature. It regulates the pH of the skin and increases the flow of electrolytes to the skin surface. It soothes the skin, reduces inflammation, and also removes the dead and dry skin cells (22, 23).
(d) Epsom Salt
You Will Need
1-2 cups Epsom salt
Warm water
Bathtub
What You Have To Do
Mix the salt in the water.
Soak in this water for 15 to 20 minutes.
Then, rinse your body with normal water.
How Often You Should Do This
Repeat this once or twice a day.
Why This Works
Epsom salt is excellent for detoxification of the body and exfoliation of the skin. Its magnesium content is responsible for its detoxification ability. It also softens the skin and relieves pain and itchiness (24, 25).
4. Vitamins For Psoriasis
(a) Vitamin D For Psoriasis
Psoriasis results from an imbalance in the immune system. This overactivity can be regulated with the use of vitamin D. Food products and supplements that contain vitamin D can help ease the itchiness and discomfort induced by psoriasis. Vitamin D alters the functioning of the immune system in such a way that the symptoms of psoriasis are alleviated (26).
Include foods rich in vitamin D in your diet such as fish, eggs, dairy and its products, and vitamin D-fortified food like orange juice and cereal in your diet. You can also consume vitamin D supplements. An alternate way to use vitamin D for psoriasis treatment is to use ointments that contain it and apply it topically on the affected area. Follow the instructions on the package to know how often to apply these ointments
(b) Vitamin E For Psoriasis
Vitamin E protects the skin from the harmful UV rays and also keeps it nourished and soft (27, 28). When it is not naturally produced by the body in enough quantities, it can cause psoriasis. To balance this deficiency, vitamin E supplements can be taken daily. Vitamin E oil can also be applied topically to further ease the itching and reduce the dryness.
5. Psoriasis Diet
Treatment of psoriasis can be short-lived if there are no changes in the diet and lifestyle. For long-term relief from the symptoms, it is essential to make these changes. Some common diets recommended by specialists are mentioned below.
(a) Pagano Diet For Psoriasis
Prescribed by Dr. John Pagano, this eponymous diet focuses on maintaining the balance between alkaline and acidic foods. Organic fruits and vegetables such as green leafy vegetables, broccoli, carrots, cucumber, celery, apples, ripe papaya, etc. should be consumed a lot. About 20-30% of your diet should include protein-rich food such as poultry, fish, and tofu. Dairy products should be consumed in limited quantities. Exclude red meat, fried food, white sugar, white flour, tomatoes, eggplant, white potato, chili, cayenne pepper, capsicum, and paprika from your diet. Do not drink alcohol and caffeinated drinks. Also, stay away from smoking (29).
(b) Alkaline Diet Psoriasis
The alkaline diet is very similar to the Pagano diet for psoriasis. In the Pagano diet, the ratio of alkaline food to acidic food is 70:30. In the alkaline diet, this ratio is 80:20. The basis of this diet is to eliminate the acid that has built up inside the body and is causing psoriasis. Food and drink recommendations in the alkaline diet are the same as the Pagano diet.
(c) Gluten-Free Diet
The association of gluten with psoriasis has recently been elucidated by scientists. This common allergen that is found in wheat, barley, rye, and all of their derivatives, can help relieve psoriasis symptoms when it is completely eliminated from the diet. The antibodies that are sensitive to gluten are found in a large number of psoriasis patients. By avoiding gluten consumption, the antibody-trigger (gluten), decreases inflammation in the skin (30).
6. Herbal Remedies For Psoriasis
(a) Turmeric For Psoriasis
You Will Need
1 part turmeric powder
2 parts water
What You Have To Do
Mix the turmeric with the water and simmer this on low heat for a few minutes. A thick paste is formed.
Let the paste cool down. Apply it on the affected area. Store the remainder of the paste in the refrigerator.
Let it air dry for 15 to 20 minutes and then rinse it off.
How Often You Should Do This
Apply turmeric paste twice a day.
Why This Works
Turmeric (with curcumin) is a widely used nutraceutical for its antimicrobial, anti-inflammatory, antioxidant, and wound healing properties. It reduces redness and inflammation in psoriasis patients by down-regulating the skin receptors responsible for this (31).
(b) Garlic For Psoriasis
You Will Need
Garlic oil
What You Have To Do
Apply a few drops of garlic oil directly on the affected area. You can also dilute it with a little olive oil in case you have sensitive skin.
How Often You Should Do This
Apply garlic oil twice a day.
Why This Works
Garlic is known for its high content of natural antibiotic properties. You may have added it to your soups when you have a cold, but it is possible that it is great for psoriasis patients as well. Being a great lipoxygenase inhibitor, it stops enzyme activity that can cause inflammation. Garlic is also a wonderful addition to any dish, and it keeps your heart healthy, thus treating psoriasis at the same time (32).
(c) Aloe Vera For Psoriasis
You Will Need
An aloe vera leaf
What You Have To Do
Cut open the leaf and apply the gel present inside it on the affected area.
Massage in a circular motion for a minute or two.
Rinse with cool water after 15 minutes.
How Often You Should Do This
Apply aloe gel thrice a day.
Why This Works
The anti-inflammatory and soothing properties of aloe vera reduce swelling, itchiness, and redness that are seen in psoriasis. Aloe vera also reduces the thickness of the rashes and stimulates fresh cell growth. It hydrates and nourishes the skin to make it soft and healthy (33).
(d) Slippery Elm Bark Tea For Psoriasis
You Will Need
1/2 teaspoon slippery elm bark powder
A cup of warm water
What You Have To Do
Add the powder to the warm water and mix it well.
Drink the herbal tea while it is still warm.
How Often You Should Do This
Drink a cup of this tea, once in the morning and once in the evening.
Why This Works
Slippery elm protects the lining of the digestive tract with its mucilage content and regulates the digestion process. It prevents toxins from leaking out of the digestive system and causing psoriasis rashes on the skin (34, 35).
Caution
Do not let the tea sit for more than 30 minutes. If it has crossed 30 minutes, discard the tea as it has probably gone bad.
7. Juicing For Psoriasis
(a) Carrot Juice For Psoriasis
You Will Need
4 carrots
10 spinach leaves
1 apple
Water
What You Have To Do
Blend all the ingredients with some water and drink this juice.
How Often You Should Do This
Drink carrot juice once daily.
Why This Works
Carrots are rich in beta-carotene and many other nutrients. Beta-carotene is a photo protector and acts as an antioxidant. It protects the skin from UV damage and also maintains the elastin and collagen levels (36).
(b) Lemon Juice For Psoriasis
You Will Need
1 teaspoon lemon juice
A glass of water
What You Have To Do
Mix the lemon juice in the water and drink this 20 minutes before any meal.
Alternatively, you can also apply lemon juice directly on the rashes and lesions. Rinse the lemon juice off using warm water after five to 10 minutes.
How Often You Should Do This
Drink lemon water daily before every meal and apply lemon juice topically every day for three to four weeks.
Why This Works
Lemon regulates digestion and also detoxifies the body. It boosts the immune system and replenishes the skin with its vitamin C and antioxidants (37, 38).
(c) Wheatgrass Juice For Psoriasis
You Will Need
1/2 cup wheatgrass
2-3 cups water
Lemon or orange juice
Sieve
What You Have To Do
Chop the wheatgrass blades with a knife and blend it with water in a blender/grinder.
Strain the juice using a sieve or muslin cloth.
Take 1/4 cup of the juice and add some orange juice or a dash of lemon juice to it. Drink this, preferably on an empty stomach.
Store the rest of the wheatgrass juice in the refrigerator.
How Often You Should Do This
Drink every morning on an empty stomach.
Why This Works
Apart from the high chlorophyll content, wheatgrass juice is rich in vitamins A, B, and C, and minerals like magnesium, potassium, sodium, calcium, and iron. Drinking wheatgrass juice will purify your blood and neutralize toxins. It also promotes new cell growth and detoxifies the digestive system (39).
(d) Bitter Gourd Juice For Psoriasis
You Will Need
1 part bitter gourd juice
2 parts water
Lemon
Honey
What You Have To Do
Blend bitter gourd pieces with some water to get the juice. Do not forget to remove the seeds from the vegetable before cutting it.
Dilute the juice in water and add a dash of lemon and honey so that the juice is not too bitter to drink.
Drink a glass of this juice in the morning on an empty stomach.
How Often You Should Do This
Drink bitter gourd juice every day in the morning for a few months to notice the difference.
Why This Works
Called 'Karela' in Hindi, this vegetable can be easily found in Asian supermarkets. Its medicinal properties help eliminate psoriasis symptoms. It has antibacterial properties and also components that regulate digestion. It is rich in vitamins A, B, and C, and iron (40).
8. Coconut Water For Psoriasis
You Will Need
8 oz. coconut water
What You Have To Do
Drink 240 ml or 8 ounces of coconut water daily.
How Often You Should Do This
An adult can consume this amount of coconut water for a couple of months to treat psoriasis.
Why This Works
Coconut water hydrates and moisturizes the skin and clears out any infections that may be present. It also aids digestion and helps the body to absorb nutrients better (41).
9. Tea For Psoriasis
(a) Green Tea For Psoriasis
You Will Need
 A green tea bag
A cup of hot water
What You Have To Do
Soak the green tea bag in hot water for about five minutes.
Remove the tea bag and drink the tea while it is warm.
How Often You Should Do This
Drink two to three cups of green tea in a day.
Why This Works
Green tea is known for its antioxidant content and can certainly aid your body in dealing with the psoriasis symptoms. It eliminates any triggers or toxins that might aggravate the rashes and itchiness (42).
(b) Saffron Tea For Psoriasis
You Will Need
1/4 teaspoon saffron tea powder
Hot water
A cup
What You Have To Do
Add the saffron tea to the cup and pour the hot water over it.
Mix well and let the water cool down to lukewarm temperature.
Strain and drink this tea before hitting the bed.
How Often You Should Do This
Drink saffron tea before going to bed every night.
Why This Works
This spice is widely used for its color and flavor. It is also beneficial in treating multiple ailments of the skin and body. It contains antioxidants that heal psoriasis from inside the body and its anti-inflammatory properties help in reducing the swelling and rashes (35, 43)
(c) Oolong Tea For Psoriasis
You Will Need
1 oolong tea bag
A cup of boiling water
What You Have To Do
Steep the tea bag for a couple of minutes in hot water and drink it.
How Often You Should Do This
You can drink a cup or two of this tea every day.
Why This Works
Oolong tea is a semi-fermented tea that contains polyphenols, which have antioxidant and anti-inflammatory properties. They also protect the skin cells from UV damage (44).
10. Buttermilk For Psoriasis
You Will Need
Fresh buttermilk
Cotton ball
What You Have To Do
1. Soak the cotton ball in the buttermilk and apply it on the affected areas.
2. Leave it on for a couple of minutes before rinsing it off.
Also, drink two to three glasses of buttermilk every day.
How Often You Should Do This
Apply buttermilk twice a day on the psoriasis rashes and plaques.
Why This Works
Buttermilk soothes inflamed skin and also balances the skin's pH. It is a natural astringent as well (45). It also provides a healthy dose of probiotics to heal the skin.
Psoriasis may not be an easy skin disorder to live with, however many of its symptoms can be alleviated with the use of the remedies listed above. Let's now review the types of psoriasis.
Types Of Psoriasis
With the advance of modern medicine, psoriasis can be accurately diagnosed and classified into its many subtypes. This knowledge has given the ability to relieve the uncomfortable and traumatizing symptoms of psoriasis. Let's take a detailed look at the different types of psoriasis and their treatments.
1. Plaque Psoriasis
The most common type of psoriasis, plaque psoriasis manifests itself as raised, red patches covered with a whitish build-up of dead skin cells resulting in scales. These patches usually appear on the knees, elbows, scalp, lower back, palms, and the soles of the feet. When biopsied, plaque psoriasis skin is thicker and more inflamed in comparison to eczema.
Treatment
Although treatment is individualized, a combination of topical, oral, and/or injectable medications, in addition to phototherapy often helps to bring psoriasis into remission.
2. Guttate Psoriasis
Guttate psoriasis is the second most common psoriasis that often starts in childhood or early adulthood. It is characterized by multiple small red spots all over the body and commonly occurs on the trunk and limbs. The plaques are not as thick as compared to other forms of psoriasis. Guttate psoriasis is often triggered by respiratory infections, tonsillitis, streptococcal infections, stress, and injury to the skin.
Treatment
As with plaque psoriasis, guttate psoriasis is treated with a combination of topical medications, oral medications, and phototherapy.
[ Read: What Causes Psoriasis ]
3. Inverse Psoriasis
Intertriginous psoriasis, commonly known as inverse psoriasis, appears as lesions under the folds of the skin. Commonly found in the groins, armpits, under the breasts, and in other skin folds, inverse psoriasis appears as red, often smooth and shiny lesions. Common to unexposed areas vulnerable to sweat and humidity, it is often very itchy and bothersome. It is more common in overweight people with deep skin folds and is also found in combination with other types of psoriasis.
Treatment
Most commonly treated with topical medications and oral drugs. Phototherapy is only used in extreme cases. Common topical medications for inverse psoriasis are mild topical steroids and steroid-sparing anti-inflammatory topical creams, such as Tacrolimus and Pimecrolimus.
4. Pustular Psoriasis
Characterized by pustules or blisters of noninfectious pus, pustular psoriasis is not very common, and it is a traumatizing of all forms of psoriasis. The pus in the blisters consists of white blood cells that aren't infectious or contagious. Pustular psoriasis is usually found in adults and may be predominant in certain areas of the body, such as the hands and feet. The common triggers for pustular psoriasis are pregnancy, emotional stress, certain medications, overexposure to UV light, among others.
Treatment
Acitretin, cyclosporine, methotrexate, oral PUVA (the light-sensitizing drug, psoralen, plus ultraviolet light A), and TNF-alpha blockers, such as infliximab, are the common means of treating pustular psoriasis.
[ Read: How To Clean Clogged Pores ]
5. Erythrodermic Psoriasis
The rarest type of psoriasis, erythrodermic psoriasis manifests as red and itchy skin over a large area. Unlike other forms of psoriasis, the skin sheds in sheets instead of flakes, and fluid loss can be almost fatal, resulting in dehydration and other systemic symptoms, such as unstable body temperatures and a higher heart rate.
Treatment
Particularly difficult to treat, erythrodermic psoriasis is often initially treated with topical steroids and moisturizers. However, treatment gets more complicated with time, and often, a combination of treatment including oral drugs and topical medications, UV exposure, and oral PUVA is needed.
[ Read: White Spots On Face ]
6. Other Types
Palmoplantar psoriasis occurs on the soles of the feet and palms of the hands
Scalp psoriasis occurs on the scalp and resembles dandruff
Psoriatic arthritis affects the joints and causes joint inflammations
These are the most common types of psoriasis (2, 46). The area affected and the symptoms shown are the best ways of knowing the kind of psoriasis that you are dealing with.
Top Triggers To Avoid Psoriasis
This autoimmune disorder can be triggered by many factors that can stimulate your immune system and cause psoriasis symptoms. Some common triggers have been identified, and it is best to stay away from them to avoid psoriasis.
Alcohol consumption damages the liver and builds up toxins in the body, which can trigger psoriasis.
Like alcohol, smoking can also introduce toxins and harmful chemicals into the body. This can damage the skin and trigger the autoimmune response.
Stress is a common trigger for many skin problems, especially those that involve the immune system. Practice yoga and meditation exercises to relieve some of the stress that you might be experiencing.
Improper diet – People who have psoriasis should avoid red meats and fatty acids from their diet. If you do have a craving for red meat, choose lean cuts of beef instead of the fatty ones. White meat, like chicken and turkey, are great as well since they will help in improving your skin and heart.
Sunlight can damage the skin's top layers, causing sunburns and rashes. These can further trigger the development of psoriasis symptoms.
Injuries, such as cuts, scratches, and bites, in psoriasis patients can cause new psoriatic lesions to develop around the area. Be careful by taking extra precautions such as using gloves and wearing long-sleeved clothes.
When you have any skin disease, it is very important to keep your skin clean and, if possible, sterile. If your skin is dirty, it might lead to more complex skin conditions. The best way to do this is by taking frequent baths. While bathing, try to avoid harsh chemical products. Try herbal shampoos and soaps instead. Even if you do not want to take or do not have time for frequent baths, you can stay clean by washing the affected areas carefully.
Psoriasis Side Effects
Psoriasis, by itself, is a stressful condition to be suffering from. If not managed properly, this skin disorder can cause complications in the functioning of the rest of the body organs. People with psoriasis have higher chances of also suffering from
High blood pressure
High cholesterol
Diabetes
Heart diseases
Depression
Apart from these, psoriasis can also develop into psoriatic arthritis. Pain, swelling, and stiffness in and around the joints and tendons are developed (47).
Do not confuse your psoriasis rashes with rosacea or eczema. If you are unsure about what exactly is ailing you, please consult your doctor.
Although there is no cure for psoriasis, home treatments do exist, which can help ease the pain caused by these skin lesions. Some of these simple home remedies for psoriasis can help treat the acute condition. However, if the condition persists and there is still no cure, consulting a dermatologist is mandatory.
Expert's Answers For Readers' Questions
Is psoriasis hereditary?
A treatable skin disorder, psoriasis has affected thousands of people worldwide. We see that some people are genetically more likely to have the disorder. If someone in your family has psoriasis, the chances are high that you may be affected by it.
Is psoriasis of the skin contagious?
No, psoriasis is not contagious. It does not spread through contact.
Does psoriasis itch when healing?
Itching is one of the main symptoms of psoriasis. When the rashes start healing, the itching sensation should reduce as the treatment progresses.
Does psoriasis rash go away?
With effective treatment, psoriasis rashes fade away to a great extent. However, this may take quite a few months or even a few years.
Can laser treatment help psoriasis go away?
With advances in science, more potent treatments are being developed for psoriasis. Laser treatment is targeted only on the affected tissue and works faster than the traditional light therapy. In just eight to 10 sessions, results are visible (48).
Is psoriasis linked to other autoimmune diseases?
Unfortunately, having one autoimmune disease can easily trigger others. Psoriasis patients have been recorded to have at least one other autoimmune disorder. Some examples of associated autoimmune diseases include psoriatic arthritis, rheumatoid arthritis, type 1 diabetes mellitus, and vitiligo (49).
Each person responds to a specific treatment differently. Do not fret if a treatment that helped your friend does not work for you. Be patient and try the treatments under the guidance of a dermatologist for best results.
Psoriasis is an easily manageable skin disease, but only if it is detected on time. If you are genetically susceptible to it, be cautious. No matter how many dermatologists you visit, the health of your skin is ultimately your responsibility.
It is easy to see that home remedies for psoriasis are safer than the medical remedies. But in the case of severe psoriasis, medical remedies are the only way out. Hence, it is best to recognize the symptoms of psoriasis early and start any kind of treatment before it is too late.
Recommended Articles
The following two tabs change content below.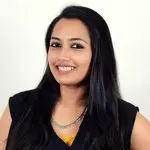 Latest posts by Kushneet Kukreja (see all)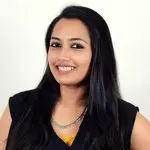 Kushneet Kukreja
She is a Biotechnologist, what we in normal English would call Scientist. While she is an expert in experimenting, she also holds an exceptional talent in juggling words and churning out content with just the right amount of sass added to it. When not saving the world with her articles, she likes to hang around with her Siberian Husky (because, aren't dogs the best?). In her spare time, she likes a little 'jibber-jabber, full of chatter' time with her friends. So, what gives her the energy to do all this? If you ask her, she would say,"My cup of sanity - an extra large mug of coffee!"