5 Effective Yoga Poses To Increase Your Stamina
Some asanas can help you on your path to a stronger, healthier, and fitter you.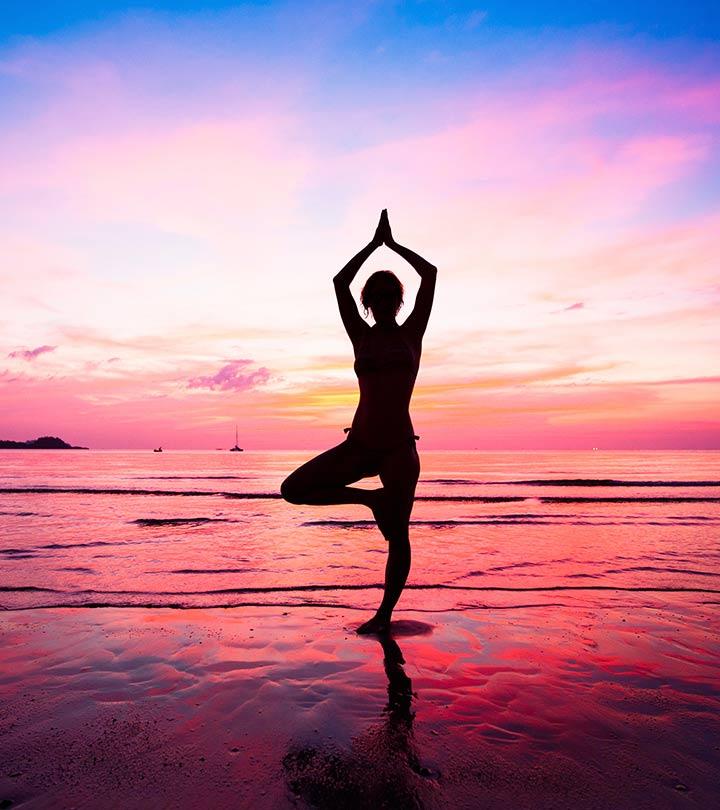 The image that most people get in mind when they think about yoga is of aging monks sitting in deep concentration at a mountaintop. Some people even imagine tough breathing methods and unattainable positions. The truth is, yoga for stamina dispels these misconceptions and shows you an easier way to build endurance and agility. Yoga is a holistic practice that goes far beyond breath control, stretching, and relaxation. The fantastic benefits that come along with this practice will undoubtedly amaze you once you make it a part of your daily life. Yoga is here to expel all the undesirable fat, improve your metabolism, and make you fitter and stronger, regardless of how old you are or how long you have gone without exercising. Keep reading to learn more!
A study investigated the impact of yoga on health in the UK. The cohort included 2434 yoga practitioners, out of which 91% were white, 87% were women, and 71% held a degree. 47% of the respondents reported changing their motivation to practice yoga for wellness, fitness, stress management, and spirituality while 16% of the respondents reported starting yoga to manage a physical or mental health condition.
More and more people are taking up yoga across the world due to its numerous health benefits. This graph from a survey conducted by Statista indicates the percentage of men and women between the age group of 18 and 64 who practiced yoga across the world in 2021-22.

Global Yoga Practice Trends
Source: Statista
5 Yoga Poses To Build Stamina:
Most people who work in offices like to practice yoga since it helps them to de-stress, improve focus, and build strength. When you practice yoga, you will be able to give your hundred percent to your work. Let's learn a few amazing yoga poses that help you gain strength and stamina.
1. Navasana/Boat Pose
The Navasana also known as Naukasana (Boat Pose), is a basic move that helps you get a stronger core. It is also known as the boat pose.
Sit on the floor with your knees bent. Your hands should be placed beside the hip area.
Breathe in and out gently.
Your spine should be straight.
Now lean backwards and pick your feet off the ground.
Your shins should be parallel to the floor.
Now take your arms and bring them forward.
Your spine should be straight now.
Keep the lower belly region firm and flat.
Look at your toes and relax yourself.
Stay like this for about 5 seconds. Hold it for a minute if you can.
Now release and repeat.
Navasana is an effective pose to start off with. Make this pose a habit, and you will have no regrets.


Quick Tip
Avoid this asana during menstruation or pregnancy as it puts pressure on the abdomen and lower back and may increase discomfort.
2. Hanumanasana/Sitting Wide Legged Straddle Pose
This pose is quite famous among all yoga learners. It increases the blood flow in your body and lets it reach the groin area.
Sit straight and flex both your feet.
Spread them apart. You should be feeling comfortable.
Now as you begin to press your legs on the floor, remember to keep your thighs engaged throughout.
Now come downwards towards the ground.
Hold for a couple of seconds and repeat.
Doing this pose five times a day shall help you see great results within a short period of time.
3. Balasana/Child's Pose
Child's Pose is known for relaxing your mind, body and senses. It is one of the best ways to eliminate stress from your body and improve your performance at work.
Kneel down on a mat.
Your back should be arched slightly.
Now bring your arms together and stretch them out in front of you.
The palms should be resting on the floor.
Hold for 10 seconds. Breathe and repeat.
The Child's Pose is known for acting as a stress buster. It is known to heal several dangerous conditions.
4. Utkata Konasana/Goddess Pose
The Goddess Pose not only gives you more strength and stamina, but also ceases pain during menstruation.
Stand straight and keep your feet apart.
Your feet should be facing sideways.
Keep both the legs bent.
Now roll back downwards.
You should be fully lying down by now.
Continue keeping those legs bent.
This pose is quite popular among pregnant women and a favorite among yoga lovers.
5. Setubandhasana/Bridge Pose
The Bridge Pose tones your pelvic muscles and makes you stronger and fitter.
Lie down on the mat.
Keep those knees bent.
Now gently lift those buttocks until both your thighs are parallel to the floor.
This should be successfully forming a bridge.
Hold yourself in this position for about 30 seconds.
You could also go on for a minute if you like.
Repeat.

Fun Fact
The term Setubandhasana is derived from three Sanskrit words, 'setu,' meaning bridge, 'bandha,' meaning bound, and 'asana,' meaning seat or posture.
If you make a point of doing the Bridge Pose daily, positive changes shall certainly occur.
Aleksa Georg, a yoga teacher, shares her experience of practicing yoga and the impact it made on her workout performance and anxiety: "The emotional and health benefits yielded by my regular yoga practice helped me balance my hormonal levels. They also improved my stamina and increased my enjoyment of any other workout that I undertake (i)."
Infographic: Best Yoga Poses To Boost Stamina
Yoga postures can not only improve your flexibility and metabolism and reduce your stress levels, but they can also build physical strength and long-lasting endurance. These powerful postures are meant to empower you, whether you are a fitness lover or just trying to improve your physical fortitude. Check out the infographic below to learn more about the top yoga poses that you can include in your daily routine to improve your stamina.

Doing yoga for stamina and energy is always a great option to explore. The stamina-building yoga poses listed above are excellent for rejuvenation. They help strengthen your core, improve blood circulation, relax the mind and body, eliminate stress, reduce menstrual pain, and tone pelvic muscles. Additionally, they also promote mindfulness, improve balance, and result in vitality, power, and resilience. So, include these yoga poses in your health and wellness regimen to witness a fitter and stronger you in a few weeks. Some of these poses may be difficult to perform for beginners. However, perseverance, patience, and practice will help you do them perfectly.
Frequently Asked Questions
Can Pranayama increase stamina?
Yes. Pranayama, yoga, and meditation can help build endurance and stamina. However, you also must take care of your diet and lead a healthy lifestyle.
Is yoga an anaerobic exercise?
Yes, yoga is an anaerobic exercise. Doing regular yoga can help you lose weight, improve flexibility, and reduce stress.
How long does it take to improve stamina?
With a consistent fitness routine, you may improve your stamina in 12-16 weeks. However, it may vary from person to person.
Key Takeaways
The Navasana pose is a fundamental posture that helps develop a stronger core.
The Hanumanasana pose improves blood flow throughout the body and allows it to reach the groin region.
The Balasana pose helps relieve stress and perform better at work.
The Utkata Konasana pose increases strength and endurance and relieves menstrual pain.
The Setubandhasana pose helps strengthen and tone your pelvic muscles.
Are you ready to enhance your stamina and boost your energy levels? Check out this invigorating yoga session designed to improve endurance and embark on your journey to a stronger, more resilient self.
Personal Experience: Source
i. 7 Ways Yoga Reduced My Anxiety and Improved My Workout Performance
https://aleksageorg.medium.com/7-ways-yoga-reduced-my-anxiety-and-improved-my-workout-performance-e36b8a5b32cd
The following two tabs change content below.