20 Amazing 8-Year-Old Birthday Party Ideas (Themes & Foods)
List of party ideas to help you plan and celebrate your young one's special day grandly.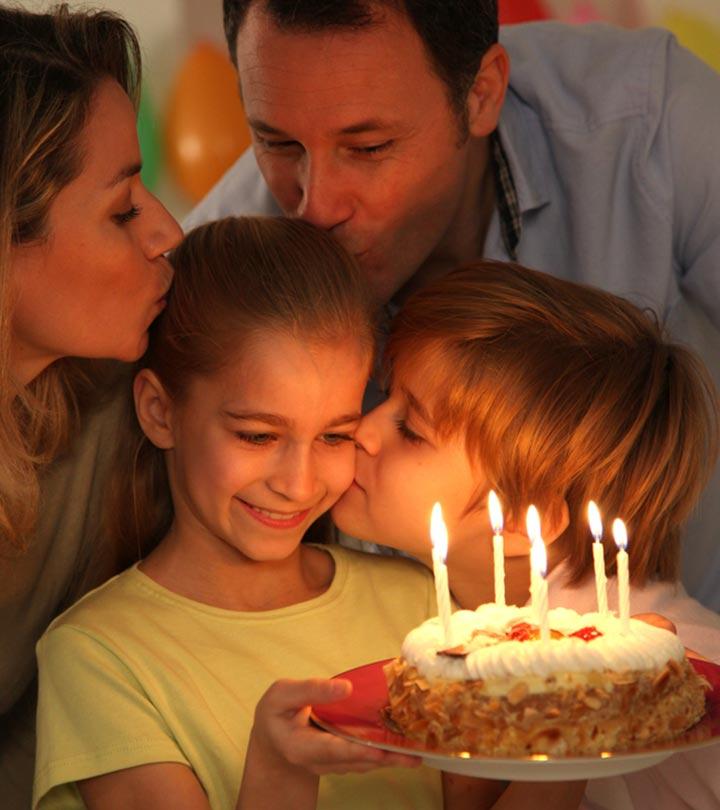 You might struggle to think of eight year old birthday party ideas to make your kids' birthday extra special. You are looking forward to celebrating your child's eighth birthday grandly. After all, this is a great chance to let them know how much they mean to you. So, get them pumped up by adding fun themes, games, and food. They are so enthusiastic and animated at this age. In this article, we have listed all activities so that children can develop their energy, creativity and have fun at the same time. Take a look.
Unique Birthday Party Themes For 8-Year-Olds
Ice skating is one of the favorite activities of kids. It doesn't matter if they have done it before or not, but your kid and their friends are sure to enjoy this party. What's better than making your child learn a new activity on their 8th birthday! Have trainers around to help the kids out. To make it more interesting, you can buy fancy costumes and glittery skates.
A princess party theme for your very own princess. Wow! Sounds wonderful, doesn't it? It doesn't matter whether your daughter is eight or eighteen, she will always be your princess. Ask the guests to dress as Disney characters, decorate your house like one of the Disney sets, and add more glam to your plan with a castle cake. Don't forget the throne and crown of your princess.
There's no doubt that children love Harry Potter. So, why not have a Harry Potter theme birthday party for them? You can make the kids dress themselves as characters from Harry Potter. You can decorate your house and design food items according to the theme. Organize a Harry Potter themed treasure hunt, and watch the kids squeal in delight.
Quick Tip
You can make a Harry Potter-themed birthday party more enchanting with sweet treats such as kid-friendly butterbeer, pumpkin juice, Sorting Hat candy-filled cupcakes, and chocolate frogs.
Plan the most fabulous party with a mad scientist party theme – stock a few gloves, aprons, and safety glasses for the young crazy scientists. The best part about this theme is you can make kids learn a few science experiments while enjoying the party. Yes, you can conduct small harmless science experiments and involve children as volunteers to help you get things done. This way, you can teach them a few things plus keep them entertained all along.
Do you have a spacious backyard? Then, go for a backyard amusement park theme party. Arrange a trampoline, an inflatable pool, and an inflatable castle to design your own amusement park. To add extra fun, you can ask children to organize their stalls and showcase their DIY toys. Stock up on delicious savories and arrange sugary foods, like candies, pastries, and fruit juices.
If your child has a treehouse in the backyard that can accommodate 5-6 kids, bingo! Invite their close friends to the treehouse party. Arrange for cakes and foods inside the treehouse. You can even decorate the treehouse with lights, cushions, and decorative streamers.
Quick Tip
You can also make a tree-house party more fun by decorating it with glow-in-the-dark stickers and installing a slide from the deck to the ground.
The next thing after the party theme is to prepare a list of games to keep the kids engaged and happy. Kids love games and activities. So, make the birthday party even more exciting with a few games and fun activities for the kids to participate in. You can also declare awards for the winners in each game. Here are a few suggestions – check them out.
Fun Games And Activities For 8th Birthday Party
You need a large box filled with toys, candies, and gifts for this game. Get hold of a large bamboo stick that acts like a fishing rod. The end of the stick should have an iron hook or a large magnet. Place the box at a distance so that the kids cannot see what's inside it. Ask them to pull something out of the box using the bamboo fishing rod. Whatever the kid collects, they get to keep it.
This game is both fun and interesting. Make all the kids stand in a line and hold each other's hands. The first kid in the line is the snake's head and the last one is the rattle. Now, the kids have to keep holding hands no matter what happens. The head of the snake will tag the rattle following the line. If they succeed, the rattle becomes the new head of the snake, and it continues.
You will require a target set on the table like a few paper cups or balloons. Children will blow the balloons without tying them and launch them into a target like a rocket. Whoever hits the target first wins.
In this game, you will have to move the water from one bucket to another. The bucket will be kept at a distance, and the children have to move the water either with spoons or cups within a given time. Whoever can move more water without spilling it too much wins.
You need bowls, straws, and sweet little rolly candies for this game. Each child will be given one straw and two bowls. One of the bowls will be filled with candies. The kids have to pull one candy using the straw from one bowl and place it in the other to play this game. Whoever puts maximum sweets in bowl two will win the game.
Kids look forward to the finest food and tasty savories at a party. Here is a list of party dishes that your child and their friends would love on the birthday menu.
Delicious Food Ideas For An 8-Year-Old Birthday Party
Starters
Cupcakes
Chocolate cookies
Milkshakes
French Fries
Main Course
Hamburgers
Hot dogs
Pizza
Spaghetti
Taco bars
Veggie platter
Sandwiches
Desert
Chocolate fountain
Ice creams
Candy buffet
Infographic: Birthday Decor Ideas For 8-Year-Olds
So, the theme, activities, and food ideas for the 8th birthday party are sorted. But there is another major aspect that we need to cover before you plan the party – the decor. Because what's a party without amazing decorations?
We have created an infographic to give you some fun decor ideas for the party. Check it out.


When it comes to shortlisting birthday party ideas for your eight-year-old, you can go ahead and pick any of the many options shared above. It does not always need to be indoors with the regular birthday party decor. You can plan a beach party, a camping trip, or even a backyard barbeque party. You can also go for a themed party based on something that your kid loves. These fun, exciting, and engaging ideas will not only make the birthday party memorable for your child but also help everyone bond over fun, food, and celebrations!
Frequently Asked Questions
What is the best game for an 8th birthday party?
Games like balloon stomp, limbo, obstacle course, and treasure hunt are great for an 8th birthday party to engage the high-energy kids.
How long should a birthday party last?
A birthday party for an eight-year-old can extend for 2-3 hours, giving everyone enough time to play, enjoy delicious food, and socialize.
How can I make an 8th birthday special with no money?
You can organize no-investment games, host a potluck, and use handmade decorations to organize a memorable 8th birthday party with no money.
What should I do for an 8th birthday at the last minute?
You can go for ideas that don't need planning, such as hosting a movie night, surprise sleepover, pool party, or a game night for fun last-minute 8th birthday celebrations.
Key Takeaways
Nothing excites your kid more than a theme-based party for his eighth birthday.
Make the occasion more special and entertaining by organizing fun games, arranging musical parties, and more.
Carefully plan the menu, which sounds attractive to your kid and the guests (obviously, the birthday kid's friends).