Best Electric Toothbrush For Kids in 2020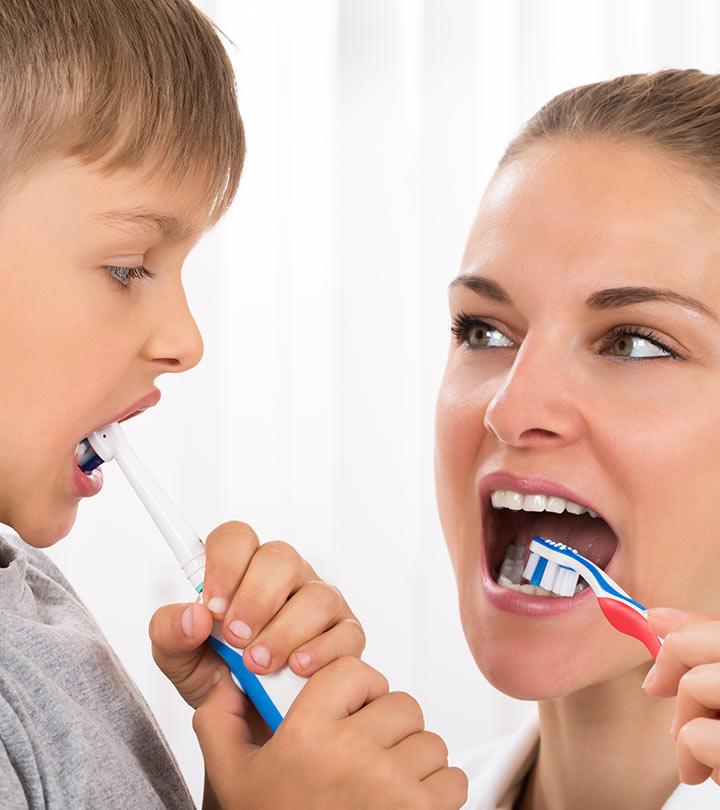 It is important to start your kids on good dental habits as early as possible. Let's face it, dragging them to the dentist while they thrash around and scream is no cakewalk. Nor is getting them to brush diligently for 2 minutes. But as with all modern problems, technology has a neat solution. Electric toothbrushes.
For kids, these come with a playfulness that makes them eager for brush time, rather than dread it. But even here, the market offers a mind-boggling variety of options. Which one do you pick? Don't worry; we've done the hard work for you. At the end of this buying guide, you will be able to select the best electric toothbrush for your child without any fuss.
Let's take a look at these toothbrushes in detail to help you make an informed decision for your child.
7 Best Electric Toothbrush For Kids in 2020
Product Claims
Oral-B Pro-Health Jr Rechargeable Toothbrush has a Sensitive Clean toothbrush head brushes your little one's teeth gently. It also has a distinct head shape that surrounds the tooth for better individual cleaning.
Disney's Frozen magic timer app is compatible with this toothbrush. Turn on the app when your child is brushing and watch the mundane activity turn into 2 minutes of fun and play as your child brushes their teeth along with their favorite characters from Frozen.
The electric toothbrush is rechargeable with a small, soft head and high-quality bristles. It also has a larger grip, which makes it comfortable for your kids to hold and use. As for the oscillating, round head motion, it is worth admitting that this is a more pleasant option for younger and sensitive kids as the higher-pitched sonic waves from sonic toothbrushes may scare them off brushing.
The Oral-B rechargeable toothbrush does an excellent job of removing plaque, keeping your kids' teeth healthy enough to enjoy their sweet treats without any worries.
Pros
Waterproof handle
Rechargeable
Built-in 2 minute timer
Available with 2 brush heads
Compatible smartphone app
Sensitive Clean head for gentle brushing
Bristles fade halfway to indicate the time for a replacement
The larger grip on the handle
Replacement heads are easily available
Cons
No indicator light for battery level
Product Claims
The Philips Sonicare for Kids (Bluetooth Connected) Rechargeable Sonic Toothbrush comes designed with many impressive features to make brushing both enjoyable and effective for little ones of all ages. There's a complimentary interactive app – Philips Sonicare For Kids – which helps you keep track of your children's brushing habits, so you know where they need help.
The most popular feature of the Sonicare is the character in the interactive app. Sparkly is immensely lovable and motivates kids to brush regularly. Kids use their brushing habits to care for Sparkly, who gets happier with each successful cleaning session and rewards the kids with in-app accessories and food for the character. These rewards can also be placed on the app as chosen by parents.
The app is synchronized with the sonic toothbrush before using and teaches young one's lessons about oral care through play. The brushing coach within the app uses challenges to motivate your kids to learn to brush correctly and for longer. There are clear visual directions about the correct way to brush, and the progress monitor within the app tracks the total performance.
This toothbrush is ideal for slightly older children, probably ages 7 and up, who can handle a toothbrush without supervision and enjoy the interactive features on the app.
Pros
Sonic brushing technology (up to 31,000 strokes per minute)
Gentle rubber-backed brush heads
Available with 1 compact and 1 standard brush head
28 stickers to personalize the brush
Child-friendly app interface
Excellent grip on the handle
Built-in timer
Brush powers off automatically after 2 mins
Long battery life up to 3 weeks
Easy-start mode for first-time users
Cons
Product Claims
While Brusheez isn't a household name yet, the brand has managed a sizeable fan following among kids and parents across the US. Brusheez Children's Electric Toothbrush Set is a cute and colorful animal-themed set, perfectly designed to make brushing easy and fun for little brushers aged 3 and up.
It is available in 7 attractive animal themes in beautiful colors for you to choose from. The colorful pets include Jovie the Giraffe, Snappy the Croc, Prancy the Pony, Buddy the Bear, Ollie the Elephant, Sparkle the Unicorn, and Pepper the Dino.
The set contains a fun 2-minute sand timer that encourages children to brush long enough to clean their teeth and gums thoroughly. This battery-powered toothbrush removes up to two times more plaque than a manual toothbrush. The versatile stand allows you to easily place it on the sink countertop or mount it on the wall.
Here's what the full set includes apart from the toothbrush: an animal-themed brush cover, rinse cup, replacement brush head, 2-minute sand timer, printed brushing chart, and countertop stand.
Pros
7 attractive animal themes to delight children
A fun sand timer to ensure 2-minute brushing
Rinse cup encourages thorough rinsing after brushing
Replacement brush head to maintain hygiene
The stand helps keep the different parts organized together.
Weekly brushing chart to track and maintain regular brushing habits
BPA-free
Certified kid-safe
5-year warranty included
Cons
Product Claims
Oral-B Star Wars Battery Powered Electric Toothbrush for kids features Disney Star Wars characters who encourage your little Jedi Masters to develop thorough brushing habits. This advanced children's toothbrush comes with the added benefits of battery power to help them get the most out of their brushing routine.
There's a rotating brush head that can reach many surfaces and surround them for thorough cleaning. The brush head also contains interdental tips that help you clean between teeth. The extra-soft bristles will be very gentle on kids' sensitive teeth. You can clean the chewing surfaces of your child's teeth thoroughly with the help of raised bristles in the center row. The shape of the brush head aligns with your child's mouth, giving them the ability to brush properly on their own.
It is compatible with the interactive Disney Magic Timer App by Oral-B to help kids brush for a dentist-recommended 2 minutes. Designed for smaller hands, this brush is lighter and smaller than other models. The force is with the bright colors of green and red with Star Wars characters Yoda, Darth Vader, and an Imperial Stormtrooper emblazoned on the handle.
This brush is not equipped with replacement tips or heads. The simple design is just right for a short time use or the first time user.
Pros
Extra soft bristles to protect gums
Attractive Star Wars-themed design
1 AA battery included
Compatible smartphone app
Suitable for ages 3+
Lightweight
The child-friendly grip on the handle
Affordable
Disposable
Cons
The battery is not rechargeable.
The brush head is not replaceable.
Product Claims
Brush-Baby BabySonic Electric Toothbrush is your best bet when it comes to caring for your newborn's gums and developing teeth. It is meant to be used by parents on their infants' gums. This can also be an excellent gift for a newborn baby and first-time parents.
It just needs one AAA battery to operate. It comes with one additional brush head, and a bright built-in LED light for inspecting the teeth for problems. The brush has two timers built-in: one for 30 seconds to indicate when to move to a different part of the mouth, and one for 2 minutes to suggest when brushing is done.
For kids under the age of 5, it is recommended that parents brush their teeth until they develop enough dexterity to maneuver a toothbrush independently. The Babysonic helps parents teach their kids regular brushing habits for proper dental care. It also guides parents about being proactive in caring for their child's dental health as soon as the first tooth makes an appearance.
To make this purchase a little more long-lasting, the BabySonic has 2 brush heads – 1 for babies up to 18 months old, and another one to use between 18-36 months. With soft sonic vibrations, tiny brush heads, and soft bristles, the BabySonic is ideal for keeping your baby's teeth and gums clean.
Pros
Suitable for babies up to 3 years old
Provides better cleaning than a manual toothbrush
Suction base for stable storage
Small baby and toddler brush heads to fit little mouths
Built-in 30-second pacer and a 2-minute timer
Automatic power off
Battery included
Mouth and teeth torch
Cons
Toothbrush head may be prone to breaking.
All babies may not enjoy the sound and sensation.
Product Claims
Colgate Kids Battery Powered Interactive Talking Toothbrush makes brushing fun for your kids. This talking toothbrush uses the voices of characters from Teenage Mutant Ninja Turtles – Leonardo and Raphael – to coach your child on developing better brushing habits. There is no need for third-party apps or cellular devices to help engage your child when this toothbrush is yours.
This interactive talking toothbrush has a small oscillating head with extra soft bristles that cleans teeth and gently sweeps away plaque. The soft bristle oscillating action cleans well, and battery operation makes it easy to take this brush anywhere. These features help it to clean your little one's teeth thoroughly while protecting new teeth.
Character voices coach little users when to brush each quadrant of the mouth and congratulate them after 2 minutes of brushing. Parents can rest assured that their kids are getting fuss-free dental care without compromising on budget or quality. The toothbrush is also available in different designs to encourage kids to take care of their teeth.
Pros
Built-in 30-second pacer and a 2-minute timer
Soft bristles for sensitive teeth
No need for smartphone apps
Travel-friendly design
Built-in talking brush coach
Dentist-recommended brand
Affordable
BPA-free
Cons
Non-rechargeable batteries
Non-replaceable brush heads
Short battery life
Product Claims
Brush Buddies My First Soniclean Baby Teething Toothbrush is the perfect introductory sonic toothbrush for your toddlers, and it makes brushing fun! My First Soniclean solves the problem of using chemicals and anesthesia to soothe your baby's aching gums.
It has extra soft Dupont nylon, rounded bristles that help protect the enamel on your child's sensitive teeth. The gentle vibrations on this sonic toothbrush carefully massage their teeth and gums to relieve discomfort caused by teething pains. There are a mouth and teeth torch on the brush head, which lights up while brushing, so you can see inside your kid's mouth.
Dentists recommend that you should brush your baby's teeth for 2 minutes twice daily, as soon as the first tooth appears. With the Soniclean Teething Toothbrush, you can attend to your child's dental health without any hassle. Changing your toddler's toothbrush every 3 months and after they have been sick will help fight bacteria.
Pros
Suitable for toddlers 6 months or older
Replaceable battery included
BPA-free
Perfect for teething toddlers
Massages gums to relieve discomfort
Ergonomic on/off button
The closed waterproof battery cover
Non-toxic plastic
Cons
Replacement brush heads not available
Battery not rechargeable
Not very sturdy
Battery life not long enough
Buying Guide
Why Choose An Electric Toothbrush
Children are impressionable by default – they love doing things they've seen their parents and other adults do. So, if you're using an electric toothbrush, your child will naturally be excited about something they've seen grown-ups use. That'll make it easier to introduce regular brushing habits. Kids don't – strictly speaking – need an electric toothbrush. But these have some essential advantages that you cannot ignore.
The speed, power, and movements of the brush help achieve a much more thorough and precise cleaning than anything your little one can manage without supervision. Electric toothbrushes are a lot less technique sensitive because they do a lot of the hard work for your child.
Also, most of these brushes come with built-in timers that encourage your kid to brush diligently for the dentist-recommended full 2 minutes – which you know is a feat in itself if you've been there.
The best feature of electric toothbrushes for kids is the interactivity. Some have companion apps with attractive interfaces, which appeal psychologically to your child. Others play music or even talk. And just like that, 2 minutes no longer seem as long or boring.
When To Start Using An Electric Toothbrush
The American Academy of Pediatric Dentistry recommends that you should start brushing your child's teeth as soon as they appear. Electric toothbrushes can be introduced any time after your child turns 2. A lot of families prefer to wait until the child is at least 6 years old. But as long as both parents and children are comfortable, the age doesn't matter too much. What's important is that you don't force your child to take up habits they are not ready for – this could leave a lasting negative impact on brushing.
What To Look For Before Buying An Electric Toothbrush
Okay, so now that you know the when and why of electric toothbrushes, the only thing that remains is choosing the toothbrush best suited to your child's requirements. You would be surprised to learn about the sheer variety of electric toothbrushes that the market has to offer. To engage young minds of today, modern electric toothbrushes are chock-full of features that delight your little one while cleaning their pearly whites.
Design And Size – For an ideal kids' toothbrush, keep in mind that a smaller brush size with a rubber grip on a larger handle would be preferable. The child needs to be comfortable holding as well as using the toothbrush. As for the design, remember – the brighter, the better. Kids are attracted to fun, bold colors that add an element of playfulness and stimulate their imagination. Some toothbrushes even come with additional stickers that kids can use to personalize their toothbrushes according to their tastes.
Power Source – Although it can be costly to replace heads, it is worth investing in a rechargeable toothbrush rather than a battery-operated one. Toothbrushes with batteries lose their effectiveness as the charge runs out, which, in turn, compromises the thoroughness of the cleaning.
Timer/Quadpacer – Dental professionals everywhere suggest 2 minutes of brushing twice a day is what children and adults alike should be aiming for. Brushes with built-in timers make it easier for kids to learn how long they have been brushing for and when they can stop. A quad pacer counts 30-second intervals to help them pace their brushing and focus 30 seconds of brushing to each quadrant: top right, top left, bottom right, and bottom left.
Bluetooth/App – With many electric toothbrushes, there are apps for kids that make brushing more interactive and enjoyable. Most are reward-based, meaning the longer the child brushes for in time and regularity, the more things are unlocked or achieved within the app. The best experience is gained via those brushes that have Bluetooth built-in and pair with a smartphone app. These real-time transfer data and can better tell if a child is still brushing.
Getting your kids to be excited about brushing is an arduous task indeed. No wonder mornings and bedtime are the most difficult times of the day for most parents. If your child is a true angel and does brush their teeth regularly and without fuss, count yourself among the lucky few. But for the rest of us, it is undeniable that electric toothbrushes have made our lives a lot easier. Take your pick from any of the options mentioned by us and see your kid looking forward to brushing their teeth like never before. Dental care has never been more fun!
Have you tried any of these toothbrushes for your kids? What was your experience? Are there others you would like to see added to this list? Let us know your thoughts in the comments section below.
Frequently Asked Questions
Can my child use an adult electric toothbrush?
They could, yes, but it would not be the ideal choice. Electric toothbrushes for adults usually have larger brush heads and more powerful motors. Both these factors could overwhelm a child, especially smaller kids. Between the ages of 8 and 10, children's teeth and mouth are developed well enough to accommodate adult-sized brush heads and can handle the additional power more comfortably. Once they hit teenage, adult toothbrushes are perfectly acceptable. But until then, a softer and gentler, the age-appropriate toothbrush is better.
What toothpaste is best for an electric toothbrush?
Any toothpaste with fluoride that's child-friendly, with flavors and colors that appeal to kids, would work with their electric toothbrushes. Some kinds of toothpaste are more appropriate to adult needs, so you might find yourself purchasing more than one type of toothpaste.
Do electric toothbrushes make teeth whiter?
The short answer is no. But using an electric toothbrush can make your teeth appear whiter by removing existing stains. Electric toothbrushes cannot make your teeth overall whiter in the same way that professional bleaching will.
Are electric toothbrushes okay for toddlers?
Most toddlers find electric toothbrushes fun. So, if it makes your life as a parent easier, there's no reason you shouldn't use one on your toddler's teeth. Electric toothbrushes are also good at removing plaque. Just see to it that toddlers are warned against biting or chewing on the brush head during use. Cracked brush heads may cause electric shock or small pieces of plastic to come off and cause a choking hazard.
Research Process
If we are to advise you on choosing the best electric toothbrushes confidently, we need to put in the research to back us up. For these 7 recommendations, our writer put in over 10 hours exploring the different kids' toothbrushes available on the market. To compile the list, we looked at 13 different electric toothbrushes altogether. These included various options from 10 different brands and manufacturers. We also looked into over 100 reviews of each toothbrush (both negative and positive). These are recommendations you can trust and are backed by exhaustive research.
Recommended Articles: