10 Elegant Halo Hairstyles To Inspire You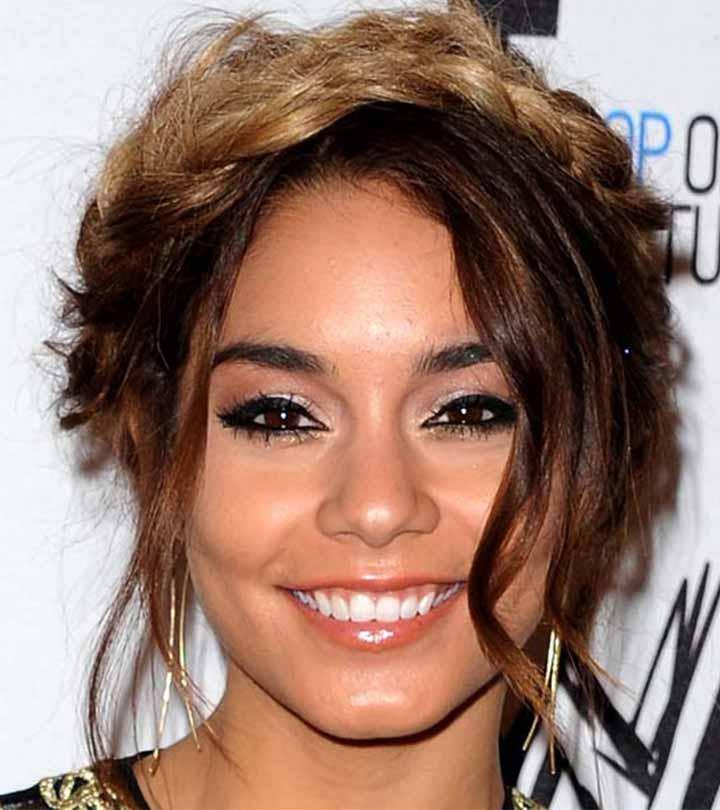 From putting bad hair days out of your look to a perfect hairstyle for your wedding gown, we've been going gaga over the versatile halo braids for days now.
As we've rounded up the ten chicest halo hairstyles, read ahead and learn how to recreate them from our list of A-listers…
1. A Double Halo Braid:
American actress, journalist, and television host Maria Menounos oozes sex appeal with her thick double halo braid. This is a great take on the classic double braid. Firstly, gather your hair into a ponytail. Now, separate your ponytail and braid it all the way to the tips and secure with hair ties. Wrap the braid twice to give extra height to the top of the head. Set the look with hairspray, and you're good to go.
2. Thick Braids With Wispy Tendrils:
We love a classic halo braid, and this gorgeous wraparound detailed on Rachel Brosnahan is one red carpet hairdo that could be copied anywhere. To achieve this look, separate hair into two pigtails, braid them, and secure with pins. Next, pull one braid up over your head at the back of your head and pin it again. Repeat on the opposite side, positioning it behind the first braid.
[ Read: Rope Braid Hairstyles ]
3. Side Halo Braid With Plaited Ponytail:
Plain but powerful, the model's side, crown braids and plaited ponytail, which she wore with flawless makeup and a peachy lipstick, are perfect for a romantic summer wedding. Sporting this classy braided halo hairstyle, the model demonstrates how the two-toned tresses can be both amazingly versatile and stylish.
4. Messy Milkmaid Braid:
We just love Kelli Goss's romantic messy milkmaid braid at the 42nd Annual Daytime Emmy Awards starlet. The strong contrast between her messy hair, her refined makeup, her subtle eye makeup as well as her small studs gives her look a bit of subtle glamour.
5. Half Up Crown Braid:
The model vamps up the classic halo braid by wearing hers like a crown on her head and leaving the rest of the hair loose. Perfect for a night in the town or for a hot date, to recreate this stylish look, create a thick braid at the crown and pin it at the back or the sides. Now use some light hairspray to keep the rest of your tresses smooth and sleek for a stunning contrast.
[ Read: Fishtail Braid Hairstyles ]
6. Halo Braid With Bangs:
After her NME Awards debut, we are constantly looking to jack the rad elegant and ultra-feminine appeal of Laura Jackson's halo braid. To copy this look, begin by spritzing texturizing spray all over your hair. Now, leave apart your fringe and grab the rest of your hair for a ponytail. Next, braid the ponytail and pin them at the top section of your head.
7. Halo Braid With Ponytail:
Recording artist Iggy Azalea looks stunning with her blonde mane done in a halo braid and a ponytail. This modern take on halo braid is chic yet edgy. Perfect for long, straight, and thick hair, as the look gives straight locks some definition, Iggy's hairstyle is a great way to keep cool in summers.
8. Centre-Parted Double Braid:
No stranger to beauty, actress Jamie King accentuated her Valentino Resort 2015 colour-block dress with a deep red pout and neat, centre parted double side braid updo.
Perfect for thin, medium-to-long hair, to achieve this look: Create an inch side part and smooth them down till the ears with pomade, and pin it behind the ear. Create a thin French braid of the bangs starting from the crown going behind the head and finally, secure it by discreet pin. Now, repeat it to the other side and wrap them behind to create a bun.
[ Read: Bun Braid Updos ]
9. Messy Milkmaid Braids With Waves:
Vanessa Hudgens' messy up'do with her thick French braid crown is absolutely perfect for stunning autumnal affairs or winter weddings.
To mimic this halo updo, divide your hair equally into three sections, and braid each section separately. Pull the two sections forward above the ear and across the crown, and secure them with pins to form a halo. Once done, mist with a little hairspray for a unique and romantic touch.
10. Straight Hair With Halo Braids:
Another way to stick to a halo braid look without the extra volume is to braid the front bangs like television personality Angel Porrino did. To recreate the simple hairstyle, pull the front bangs and braid them before securing them behind your head. Now, for the rest of your hair, take a flat iron and smooth out the hair, and use some hairspray to keep them defined.
Take a look at our picks for celebrity halo braid hairstyles above, and tell us which updos you'll be trying out! Type in the comment box below!
Recommended Articles:
The following two tabs change content below.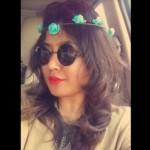 Latest posts by Anisha Pradhan (see all)