Emo Makeup Tutorial And Tips
These simple makeup tips will help bring out the creative and inner punk rock diva in you.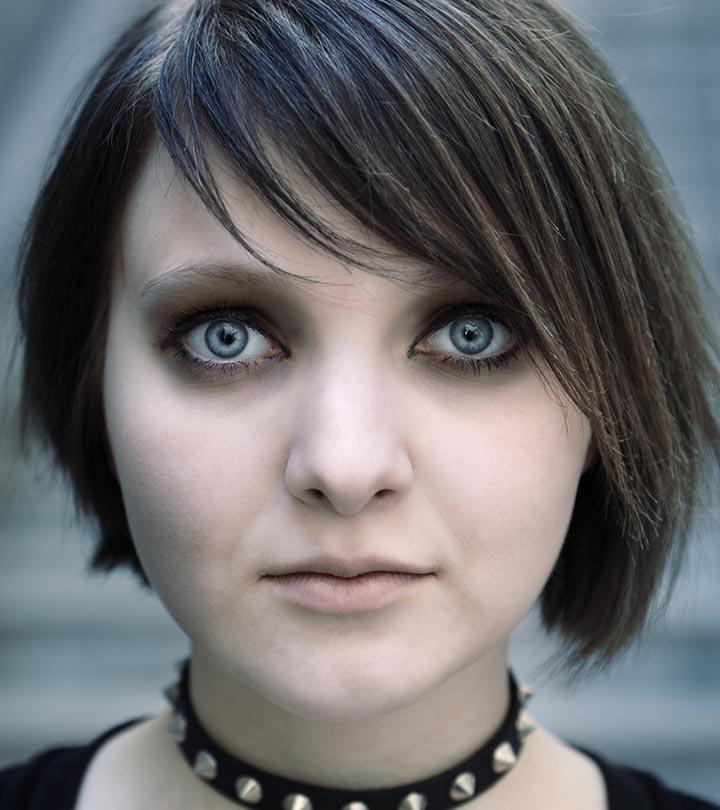 Emo makeup is a throwback beauty trend, and it is one of the most searched trends even today. Many people, especially youngsters, love the emo makeup look. But, are you wondering what Emo is? It is a form of punk rock music, also popularly known as emotional hardcore or emocore.
Emo makeup requires you to master a few signature makeup techniques, like a cat eyeliner look with smokey eyes. This makeup look is specially meant for those who want to experiment and try something unusual with their makeup look. If you are looking forward to trying this out, keep reading to find a detailed guide to creating this look. Scroll down!
Via Pinterest
Emo Hairstyles:
Regardless of what hairstyle you choose, it has to be in unison with the Emo makeup. You can keep it short to medium bob haircuts or medium length hair, which needs to be sleek and straight. Sometimes it can be made totally dark for people having brown or blonde hair or can be jazzed up with funky colours like pink, dark green or even reds. Alternatively, asymmetrical front bangs are common; you can either go for the short or long bangs covering one eye or both in some cases. Remember, Emo is all about experimenting.
StyleCraze Says
If straight hair is not your thing, you can try crimping your hair as it also goes well with the Emo look.
Via Pinterest
Emo Makeup Tips For Girls
Emo Makeup: Base
As always, start makeup on fresh and clean skin. Wash your face well, pat it dry and apply a good primer, as this will hold your foundation base properly. Apply a concealer, preferably in stick form, so as to hide all spots and blemishes. Next, apply your foundation and blend well.
Via Pinterest
Emo Makeup: Blush
This is a gothic pale look, so keep blush only slightly more pinkish than your skin tone. Do not go for bronzers or dark peachy blushes. Apply on cheekbones in circular fashion while avoiding the contours or cheek hollows.
Via Pinterest
Emo Eye Makeup Tips:
Eyes are very important in this form of makeup. If you go wrong with eyes, then your whole look is destroyed. Since you have already primed you eyes and blended the foundation on them, it's time for some shadow.
Apply a matte finish slate eye shadow on the lids, add a little touch of black shadow at the outer 1/3 edge corner of the lids for a smokey eye look.
Next, take a liner pencil and apply it on the lash line. Extend a little bit on to edges on both sides, inner and outer corner to form a 2 way jacketed wing.
Using a sponge applicator, smudge the black lining of the top lashes for the Gothic look. Apply a liquid liner over the lash lining for a smoother look with the previously created smudge effect of pencil liner and end it with a dark lining on the lower lash line either with your pencil liner or liquid liner.
StyleCraze Says
Contour your eyes and define the crease by applying the deepest charcoal shade to your crease and blending the color.
Emo Lip Makeup:
This is a hard punk makeup look where lips need to be natural without much boldness. Line your lips slightly with a pale liner preferably pinkish or light mauve and go for a nude or light pink gloss. For deeper skin tones you can use a rose or neutral pink liner then add a light pink or pale nude gloss.
This is a funky look and goes well with hooded sweatshirts in winters. Hope you found these emo makeup tips quite helpful!
Emo makeup is one of the most popular beauty trends making a comeback. Traditionally characterized by pale skin, black makeup, and colored hair, today there are several creative variations reflective of an individual's personality. Make sure you clean and moisturize your face before applying makeup. Use a liner pencil and sponge applicator to create a smudged effect. Apply liquid liner over the smudged makeup and the lower lash line for a smooth finish. Lastly, line your lips with a lighter shade to complete your emo look!