How Emu Oil Helps With Hair Growth, Thickness, And Shine
A lost and found remedy to help you achieve the length and volume of hair that you desire. Emu oil is getting popular for the array of benefits it offers. Many people claim that emu oil helps with hair growth. Research also suggests that emu oil has wound-healing properties, may combat inflammation, and treat burns (1), (2). This oil is obtained from Australia's second-largest bird Emu. It is extracted from the fat deposits of the bird.
It has been proven that emu oil can also stimulate hair growth (3). But can it treat baldness? What are the other hair problems emu oil can manage? Learn more about it from the article. Scroll down.
What Is Emu Oil?
Emu oil is a natural oil made from the fat of emu birds. This flightless bird is native to Australia and is raised for its medicinal oil and nutritious meat and to make leather. The bright yellow-colored oil is collected from fat deposits below the skin of the bird. The oil is often touted for its medicinal properties and is commonly used as a natural remedy to soothe pain. It is also rich in essential fats and has anti-inflammatory properties that may help improve certain scalp conditions.
Now that you know how emu oil is obtained, let's learn if it can be used as a hair oil. Scroll down to learn more.
Does Emu Oil Help In Hair Growth?
Yes, emu oil can stimulate hair growth. Here is how:
The following graph from the book Antioxidants depicts the anti-inflammatory activity of ozonated emu oil in mice. Inflammation was induced in the right leg of an NIH male mouse by administering carrageenan while the left leg was kept under control. 2% and 7% ozonated emu oil was applied on it and the height of inflammation was noted over intervals of 20 mins. The anti-inflammatory activity was in direct proportion to the concentration as 7% ozonated emu oil lowered the inflammation rapidly in comparison to the 2% one.
Comparison Of The Inflammation Height Of Emu Oil At 7% And 2%
Source: Effect of the Ozonization Degree of Emu Oil over Healing: An Emerging Oxidation Treatment
Emu oil contains high levels of linolenic acid: Linolenic acid is a 5-alpha-reductase inhibitor. 5-alpha-reductase is an enzyme that helps convert testosterone to dihydrotestosterone (6). Dihydrotestosterone, at high levels, causes hair loss. Linolenic acid inhibits this action of 5-alpha-reductase and reduces the levels of dihydrotestosterone in the body. This, in turn, helps reduce hair loss (4), (6).
Emu oil reduces oxidative stress on the scalp: Oxidative stress is caused due to over-accumulation of the harmful free oxygen radicals. Emu oil helps reduce oxidative stress and treats conditions like

seborrheic dermatitis

i

  X

A skin condition that occurs mainly on oily areas of the body, like the scalp, and causes scaly patches and redness.

 (7). It also may help relieve scalp infections, prevent hair degradation and loss, and encourage hair regrowth.
Emu oil is a good moisturizer: Moisturizing is essential to keep the roots and hair shaft healthy, soft, and shiny. Pure emu oil is a good moisturizer for hair and may promote hair growth. However, more research is warranted in this regard.

Emu oil is a good emulsifier: Minoxidil is a hair growth medicine mixed with

propylene glycol

i

  X

A viscous, colorless, and odorless liquid derived from fatty acids that is generally used as an emulsifier.

and

ethanol

i

  X

An organic, volatile, and colorless compound produced from biomass that acts as an emulsifier.

. But this mixture may cause itching, dryness, and poor scalp penetration. Emu oil, which has superior scalp penetration properties, could be a better emulsifier for minoxidil (4).
These scientific studies show that emu oil works well for stimulating hair growth. But is emu oil really effective? Let us take a look at a few reviews from people who have used emu oil.
Emu Oil For Hair Loss – Reviews (Before And After)

Emu oil not only helps regrow hair in bald spots but also seems to add volume and length to hair. A blogger detailed her experience of using emu oil for hair growth, noting significant improvements along her scalp edges after consistently applying it three times a week. She wrote, "I'm really happy with the progress and hopefully it continues to grow this well over the remaining 2 months (i)."
Emu oil can help with hair regrowth. The following section tells you how you can use the oil to achieve the same.
Emu oil can help with hair regrowth. The following section tells you how you can use the oil to achieve the same.
How To Use Emu Oil For Hair Regrowth?
Here are a few ways you can use emu oil for hair regrowth:
Method 1
Take a few drops of emu oil on your palm.
Use your fingers to apply to the roots.
Massage your scalp in a circular motion.
Leave the oil on overnight. Wear a shower cap to protect your pillowcase.
Shampoo the next day, as usual.
You may also rub the oil on your hair strands for a healthy shine.
Method 2
Mix equal parts of emu oil and coconut oil.
Apply the mixture to your hair roots and hair strands.
Massage your scalp in a circular motion.
Leave the oil on overnight. Wear a shower cap to protect your pillowcase.
Shampoo your hair the next day, as usual.
How Much Emu Oil To Apply?
The amount of emu oil you use depends on your scalp and hair type. If you have oily hair or scalp, apply it to only the area where you have hair thinning. If you have dry hair, apply emu oil to your scalp and your hair strands. Curly hair and thicker hair need more oil, while fine hair may require less of it. Long hair may need more emu oil. A little experimentation will help you understand the amount of emu oil that best suits your hair.


Quick Tip
Emu oil is a good carrier oil. You can mix a few drops of lavender, rosemary, peppermint, or tea tree essential oils and apply the mixture to promote hair growth.
The oil may benefit your hair in the following ways.
Benefits Of Using Emu Oil For Hair
It revives hair follicles.
It boosts hair follicle cell division and hair growth.
It penetrates the scalp to stimulate hair growth.
It soothes the scalp as it has anti-inflammatory properties.
It can be used with minoxidil for treating hair loss.
It seals hair moisture and makes hair soft and shiny.
Emu oil sure seems beneficial to hair. But does it have any adverse effects?
Are There Any Side Effects Of Using Emu Oil For Hair?
There are no documented side effects of emu oil. But to be safe, always talk to your doctor before using the oil. Do a patch test before applying it directly to your scalp. Pregnant and breastfeeding women should avoid using it unless prescribed by a doctor.
Where To Buy Emu Oil?
Buy pure emu oil from registered vendors. There is a difference between 'processed' and 'rendered' emu oil. Processed emu oil is free of other body residues of emu, while rendered emu oil may have contaminants.


Trivia
One emu bird can give you about 250 ounces of emu oil.
Infographic: Top Ways To Use Emu Oil For Hair Growth
Emu oil has essential fatty acids that promote hair growth, reduce hair loss, and prevent hair damage. It moisturizes the hair, stimulates hair growth, soothes the scalp, and helps relieve scalp infections. In the below infographic, we have listed a few ways to use emu oil after consulting your dermatologist. Check it out!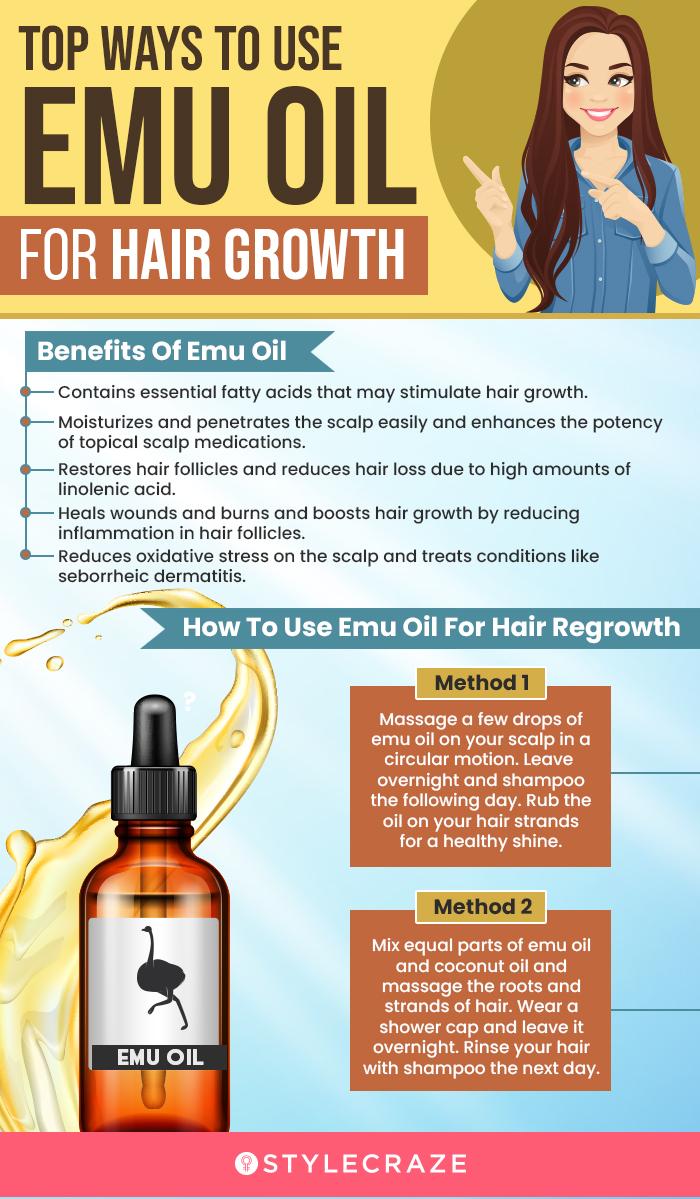 Emu oil is extracted from the fat deposits of the bird. The oil has several benefits that make it ideal for human skin and hair care. Using Emu oil helps with hair growth and prevents hair damage. The presence of essential fatty acids helps make it one of the best solutions to manage hair loss. The oil may help moisturize the hair, stimulate hair growth, soothe the scalp, and help relieve scalp infections. Its regular use helps improve hair and scalp health.
However, consult a doctor before using its natural remedies for hair loss. If you have a sensitive scalp, it is best to do a patch test before applying it to your scalp.
Frequently Asked Questions
Does emu oil thicken skin?
Emu oil may thicken skin upon consistent use due to its moisturizing properties.
Does emu oil clog hair follicles?
If too much emu oil is left on the scalp for too long, it can mix with product residue, buildup, excess sebum, and dirt and clog the hair follicles. This is because it has a thick consistency. That is why it is not recommended for people with oily, sensitive, or acne-prone skin.
Does emu oil expire?
Emu oil can last up to 18 months to two years. You should keep it refrigerated.
Can you mix tea tree oil with emu oil?
Yes, you can mix tea tree oil and emu oil. However, dilute this combination with a carrier oil, like coconut oil or olive oil.
Is emu oil cold-pressed?
Yes, unrefined emu oil is cold-pressed to keep its components and nutrients active.
Key Takeaways
Emu oil is extracted from the fat deposits of the Australian flightless bird, Emu.
Emu oil contains essential fatty acids that penetrate easily into the scalp, keeping your hair healthy and moisturized while protecting it from hair loss.
This oil adds volume and length to the hair naturally, rejuvenates thinning hair, and reduces hair damage.
Does emu oil stimulate hair growth? Find out in this video as we explore the benefits of emu oil for hair health!

Personal Experience: Source
i. Hair growth – growing back edges with emu oil – update 1
https://urbanhaircare.blogspot.com/2009/06/hair-growth-growing-back-edges-with-emu.html
Sources
Articles on StyleCraze are backed by verified information from peer-reviewed and academic research papers, reputed organizations, research institutions, and medical associations to ensure accuracy and relevance. Check out our
editorial policy
for further details.
The following two tabs change content below.