Essential Oils For Eczema: Benefits And How To Use Them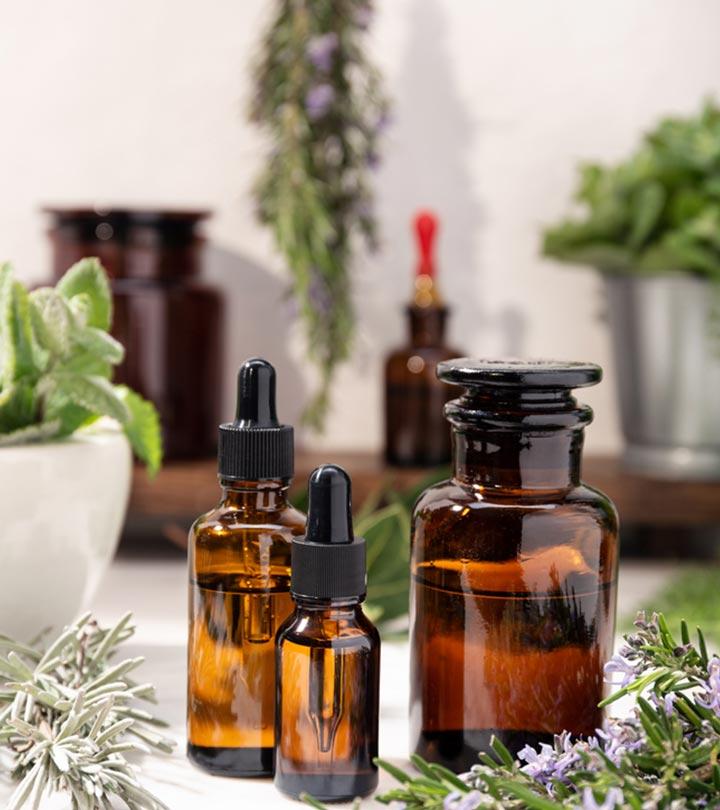 Eczema is an auto-immune skin condition that causes dryness, patchy, irritated, and flaky skin. This non-curable condition can be managed by systemic treatments and medications. However, many people often use alternative therapies, especially essential oils, to manage flare-ups.
This article explores the best essential oils that may help manage eczema, ways to use them, benefits, and associated risks. Keep reading.
Can Essential Oils Help With Eczema? What Are The Benefits?
Essential oils may help in managing atopic dermatitis or eczema symptoms. While there is not enough scientific evidence to prove their efficacy for eczema, a few of them may help soothe the symptoms. These essential oils have anti-inflammatory and antimicrobial properties.
Note: Essential oils are highly concentrated plant oils and are not regulated by the FDA. Many of them can irritate the skin and aggravate your condition. Hence, proceed with caution and always consult a doctor before trying any alternative therapy.
Here are a few benefits of using essential oils for eczema:
1. May Have Antibacterial Effects
Eczema may lead to pathogenic skin infections and make your skin vulnerable to bacteria like S. aureus and Herpes simplex. Essential oils may help eliminate bacterial infection and provide relief (1).
2. May Reduce Inflammation
Many essential oils have anti-inflammatory properties and may help soothe and maintain the skin. These oils also have wound-healing abilities (1). Hence, using essential oils may help minimize flare-ups by calming inflammation and promoting skin healing.
While essential oils may ease a few eczema symptoms, they may also aggravate the flare-ups and cause sensitivity. Let's take a look at the associated risks.
Risks Of Using Essential Oils For Eczema
1. May Cause Skin Irritation
Essential oils may cause allergic reactions and contact dermatitis. The skin barrier in people with eczema is already compromised. Using essential oils (particularly citrus oils) may cause redness, itching, and burning sensations.
2. Hormonal Changes
Essential oils are endocrine disruptors (2). If you have any endocrine disorders, using essential oils may lead to eczematous dermatitis and pruritis (itchiness)(3). If you have both, the oils may worsen your condition.
3. May Cause Toxic Reactions
Exposure to essential oils (inhaling, topical application, ingesting) can cause serious toxic reactions and lead to abortions, pregnancy abnormalities, and neurotoxicity (2).
Avoid using essential oils if you are pregnant. Moreover, always consult a doctor before using essential oils for any skin issue. In the next section, let's look at the essential oils that may help soothe eczema symptoms.
Best Essential Oils That Are Safe And Effective
1. German Chamomile Oil
The topical application of German chamomile oil lowers the serum histamine level and reduces the frequency of scratching. It repairs the skin barrier and has anti-inflammatory effects (4). It may help ease itchiness associated with atopic dermatitis (eczema) and soothe the skin.
2. Tea Tree Oil
People with eczema are vulnerable to infections caused by S. aureus. Tea tree oil has antiseptic and anti-inflammatory properties and helps inhibit the growth of S. aureus (5). It also soothes the symptoms of contact dermatitis (6). It may help soothe itching and irritation caused by atopic dermatitis.
3. Pomegranate Seed Oil
Pomegranate seed oil contains a high concentration of phenolic compounds and has excellent antioxidant and anti-inflammatory properties. It contains linoleic and oleic acids that protect the skin (4). It may help soothe eczema flare-ups.
The use of essential oils for eczema needs further detailed scientific evaluation and trials. Be cautious when using essential oils. Always dilute them with carrier oils.
You may use the following vegetable oils for diluting the essential oils (4):
Argan Oil: It hydrates the skin, improves elasticity, and restores the barrier function.
Oat Oil: This oil is used in traditional recipes for soothing skin conditions like rashes, erythema, burns, itching, and eczema. It has anti-inflammatory and antioxidant properties and can repair the skin's barrier.
Rose Hip Seed Oil: It is abundant in fatty acids and has antioxidant and anti-inflammatory properties that may help relieve skin inflammation.
Avocado Oil:Â This oil can reduce skin dryness and restore moisture levels. Avocado oil has wound-healing abilities and helps reduce inflammation.
Apricot Oil:Â Apricot oil is often used for managing psoriasis. It is suitable for sensitive skin and can be used as moisturizing base oil.
Borage Oil: This oil has high levels of fatty acids and can normalize skin barrier function in those who have seborrheic or atopic dermatitis (AD).
Coconut Oil: Coconut oil is chock-full of essential fatty acids that can soothe mild to moderate dry skin conditions and atopic dermatitis. It also prevents UV damage.
Jojoba Oil: It contains wax esters and can soothe psoriasis, seborrheic dermatitis, eczematous dermatitis, and acne. It has anti-inflammatory properties and mimics the natural oils (sebum), making it suitable for dry skin conditions.
Grapeseed Oil:Â This oil is rich in phenolic compounds, free fatty acids, and vitamins and may promote wound healing.
Olive Oil: It exhibits potent anti-inflammatory activities, making it useful for dry skin conditions. However, it cannot repair and restore the damaged skin barrier.
Sunflower Seed Oil: It contains linoleic acid and may keep the skin hydrated and repair the skin barrier.
You can use any of the carrier oils to dilute the essential oils. Here are a few things to keep in mind when buying essential oils.
How To Choose High-Quality Essential Oils For Eczema
Tip 1: Opt for certified organic therapeutic grade essential oils.
Tip 2: Check if the oil has undergone GC-MS (Gas Chromatography and Mass Spectrometry) analysis. This test identifies additives in the oil.
Tip 3: Do your homework and see if the company is reliable. Go for brands that disclose the oil sources.
Tip 4: Check for the following things on the label:
A "Certified Organic" seal
The scientific name of the essential oil
Whether it is of therapeutic grade or not
The expiration date of the essential oil
The ingredients list
Tip 5: Check if it is competitively priced. Typically, high-quality oils have a more premium price.
Now that you know how to choose high-quality essential oils let us look at how to use them correctly.
Ways To Use Essential Oils For Eczema
You can use essential oils in the following six ways:
1. As Cooling Compresses
Add 2-3 drops of any essential oil to a bowl of water. Stir it once to disperse the oil and soak a soft cotton towel in it. Squeeze the excess water off and pat the affected areas with it.
2. As A DIY Eczema Cream
Mix ¼ cup of coconut oil, ¼ cup of shea butter, and 15-20 drops of essential oil in a large bowl and whip to get a creamy texture. Store the mixture in an airtight jar and use it as required.
3. As A Nourishing And Healing Bath
Dilute 5-6 drops of essential oil in 3 tablespoons of any carrier oil. You may use a mix of different essential and carrier oils and add the mixture to your bath soak. Add 2-3 drops of natural liquid soap to the soak so that the oil mixes properly. You may also add Epsom salt and soak it in the water for 20-30 minutes.
4. As A Massage Oil
Dilute 2-3 drops of the essential oil with a tablespoon of any carrier oil from the list. You may adjust the quantity in this proportion and mix more oils. Massage the affected area with the oil blend.
Since essential oils are not a proven alternative therapy for eczema, proceed with caution. Keep the following pointers in mind before using them.
Precautions To Follow Before Using Essential Oils
Expert Guidance: Always consult your dermatologist before using essential oils.
Patch Test: Do a patch test on a smaller area. Wait for at least 24-48 hours. In case you notice skin irritation or any other symptom, stop using it and consult a doctor.
Always Dilute The Essential Oil: Essential oils are potent and can burn your skin. Hence, always dilute the essential oil with a carrier oil before using it. Carrier oils contain beneficial fatty acids that can repair the skin's barrier and hydrate it.
Know Your Triggers: Maintain a diary and note down the possible triggers that may worsen your condition. Pay attention to food allergens like gluten and dairy.
Final Thoughts
Eczema is an auto-immune condition. Although essential oils are not a proven method of easing eczema symptoms, they may work in a few cases. However, essential oils may also irritate the skin. Hence, never use any alternative therapy without consulting the doctor. The best way to manage the flare-ups is to listen to your skin. Talk to your doctor, use topical medication, know what can trigger a flare-up, and avoid them. This may help improve the symptoms.
Expert's Answers For Readers' Questions
Can essential oils make eczema worse?
Yes, essential oils can worsen eczema symptoms.
What clears up eczema?
Eczema cannot be cured. You can manage the flare-ups with topical medicine and ointments. Consult your doctor for treatment.
What is the fastest natural cure for eczema?
There is no overnight cure for eczema. The treatment depends on the severity and your general skin condition.
Recommended Articles
6 Sources
The following two tabs change content below.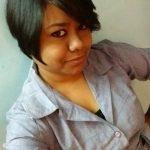 Ramona is a journalist-turned-content writer. She holds a Master's degree in English Literature and has been writing for the digital world for over five years. She specializes in writing for Skin Care. She has done a certificate course titled 'Dermatology: Trip To The Skin', offered by Novosibirsk State University. She believes that beauty begins with a good skin care regimen and is on a mission to eliminate all toxins from her routine. She helps and guides readers in selecting products and ingredients specific to their skin type/issue. When Ramona is not working, her books and passion for music, good food, and traveling keep her busy.