13 Best Essential Oils For Scars To Reduce And Heal Them
Nourishing natural oils are here to soothe scarred skin and give you an even texture.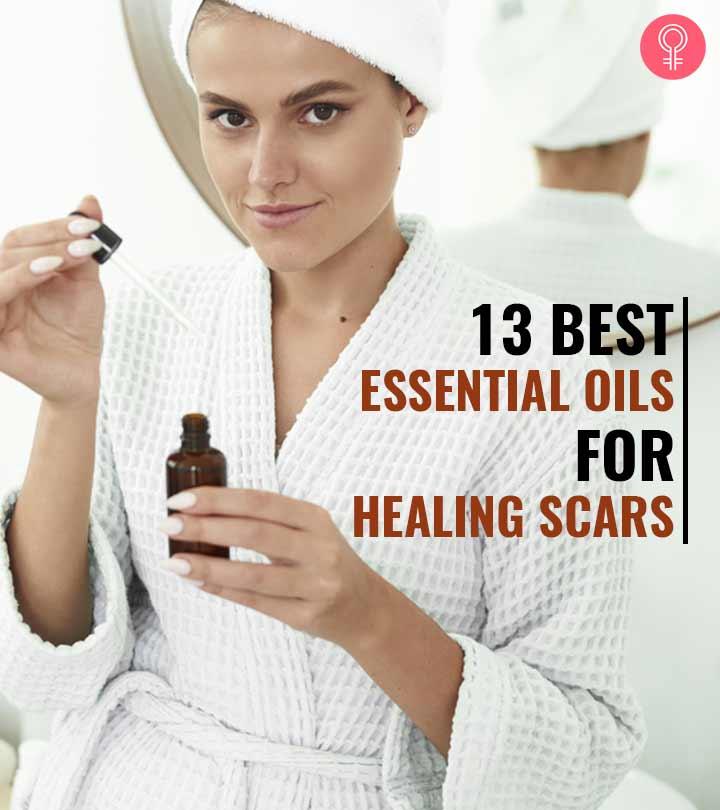 Looking for the best essential oils for scars? We have just what you need. Essential oils have made a difference on our skincare, hair care, and health since ancient times, and now we use them as an ingredient in moisturizers and body oils. The blend of these oils with carriers heal scar tissues and evens out your skin tone. It works by regenerating collagen tissues and attending to the damaged cells. Antifungal, antimicrobial, and anti-inflammatory properties seal the skin against further damage. Here are the 13 highest-rated essential oils to keep your skin scar-free.
13 Best Essential Oils For Healing Scars
Helichrysum Essential Oils
Helichrysum italicum essential oil has anti-inflammatory, antibacterial, antiseptic, and antioxidative properties that heal the skin (1). A laboratory study showed that H. italicum exhibits anti-inflammatory action that may heal skin inflammation (2). The products rich in H. italicum are mentioned below:
The Essence-Lux Helichrysum Therapeutic Grade Essential Oil provides a pure, natural aroma. The oil can be applied topically to reduce inflammation. It is gentle and non-toxic. Reviews on e-commerce platforms have suggested that a few drops in the diffuser, shower, or bath can provide a luxurious aromatherapy experience.
Pros
Pure and natural
Anti-inflammatory
Provides therapeutic-grade relaxation
Long-lasting
Cons
Fragrance could be too mild
The Immortelle Living Essential oil is among the more popular aromatherapy oils that rejuvenate the skin and heal scars. It works best when applied topically with any carrier oil. It is ethically sourced and heals skin, masks the signs of aging, and offers a youthful radiance. Mix it with a carrier oil like coconut or jojoba oils and use. You may also add it to face creams, lotions, or serums.
Pros
Pure and natural
Hand-harvested
Pesticide-free
Eco-friendly
Heals skin
Boosts mood too
Cons
None
The Majestic Pure Cosmeceuticals Therapeutic-Grade Essential Oil is made with pure, natural, steam-distilled Helichrysum italicum. It is a non-toxic, unfiltered essential oil that is a pale yellow to red. It has a warm, slightly honey-like, rich, and buttery aroma and can be used as an aromatherapy massage for a luxurious experience. It blends with rose, clary sage, geranium, lavender, or other citrus oils. Reviewers on e-commerce websites have lauded the essential oil for reducing aging signs and moisturizing the skin.
Pros
Pure and natural
Free from additives
Non-toxic
Unfiltered and undiluted
Rich, buttery aroma
Blurs aging signs
Moisturizes skin
Cons
None
Lavender Essential Oils
The soothing aroma of lavender oil uplifts your mood. When topically applied, it helps heal acne scars. The lavender essential oil has many therapeutic and biological benefits (3). It has anti-inflammatory, anxiolytic, and antibacterial properties.
A study in the Journal of Biomedical Central Complementary Medicine and Therapies showed that topical application of lavender essential oil promotes collagen synthesis and promotes wound healing in rats (4).
Another 2016 study showed that topical application of lavender ointment may enhance wound healing by 98% and repair skin tissue for rapid recovery (5).
The Cliganic Lavender Essential Oil is often used in aromatherapy for its calming effect. The oil can also prevent scarring. It is made of 100% pure, natural lavender flower with no dilution or filtration. This therapeutic-grade lavender essential oil can be used in aromatherapy massage and skin-healing. One can also make a DIY face or hair moisturizer using it. The scarring treatment oil also helps reduce anxiety.
Pros
USDA-certified organic lavender oil
100% pure and natural
No added fragrances or additives
Alcohol-free
Unfiltered oil
Non-GMO certified
100% vegan
Perfect for DIY recipes
Provides relief from pain
Cons
May smell like pine that some may not like
The Plant Therapy Lavender Essential Oil helps calm the mind, body, and soul. This high-quality, affordable oil, when applied topically, promotes collagen synthesis and heals wounds or acne scars. The 100% pure Lavendula angustifolia at a dilution rate of 2-5% with a carrier oil also helps blur fine lines and wrinkles. Skin care reviewers with extremely dry lips have noted that the formula is a boon to chapped lips. It even helps stimulate hair growth and reduces dandruff.
Pros
100% natural and pure oil
Non-GMO
USDA-organic certified
Kid-safe
Cruelty-free
Calming and relaxing
Cons
None
The Maple Holistics Lavender Essential Oil boasts many aromatherapy and beauty benefits. This therapeutic-grade essential oil is loaded with vitamins that nourish the skin and stimulate hair growth. The expert-recommended oil also boosts circulation, promotes better focus, and improves sleep. The antibacterial properties help fight acne and acne scars, reduce minor irritations, and relieve muscle tension. This hypoallergenic formula moisturizes the skin, and soothes minor cuts and burns. It is a chemical- and paraben-free formula.
Pros
Relieves stress
Hypoallergenic
Tames hair frizz
Safe and effective
100% natural
Gentle on the skin
Undiluted and unfiltered
Cruelty-free
Chemical-free
Paraben-free
Antibacterial properties
Cons
May not smell like pure lavender
Geranium Essential Oils
The geranium essential oil has numerous benefits. It helps heal acne, scars, rashes, eczema, fungal infections, etc (3). The anti-inflammatory properties of geranium oil also help treat eczema, dermatitis, and psoriasis (6). Besides the antibacterial properties, the topical application of the geranium oil also heals skin and fights against skin infections.
The Plant Therapy Geranium Egyptian Essential Oil is a magical remedy to ease tension and stress. It is extracted from 100% certified fresh, natural, pure Geranium plant. Topical application of the oil blended with a carrier oil blurs acne scars and burn scars, and rejuvenates the skin. This results-driven, high-quality essential oil is also kid-friendly. Its sweet rose fragrance boosts your mood and eases tension. It is also a popular DIY ingredient in skincare products.
Pros
Pure and original
Free from additives
Enhances mood
USDA-certified organic
Non-GMO
Cruelty-free
Kid-safe
Cost-effective
Cons
Tea Tree Oils
Tea tree oil is a well-known antibacterial, antimicrobial, and anti-inflammatory essential oil with antioxidative properties. It also accelerates the wound healing process (7). The anti-inflammatory properties of tea tree oil work best on hypertrophic scars. These thickened, raised scars are often developed due to severe injury. They are characterized by an excessive synthesis of collagen that tries to mend the damage.
A 2015 study showed that topical application of nanocapsules and nanoemulsions containing tea tree oil help treat inflammation and accelerate wound healing (8).
The Maple Holistics Tea Tree Essential Oil has nourishing and cleansing benefits for the scalp, skin, and the senses. The purifying essential oil is steam-distilled from the botanical extract of Melaleuca alternifolia. The antimicrobial, antibacterial, antifungal, and antioxidant properties of tea tree essential oil help fade scars and heal wounds, cuts, and burns with just a few applications.
Massaging the oil on the scalp also helps reduce the appearance of dandruff. This essential oil for raised scar has a decent camphor fragrance to boost one's mood.
Pros
Undiluted
Cruelty-free
Therapeutic-grade oil
100% pure and natural
Contains cleansing and purifying properties
An aromatherapy massage oil
Cons
The Healing Solutions Tea Tree Essential Oil comes with a camphoraceous aroma. It acts as an antibacterial, antiviral, and antimicrobial ingredient. It also assists respiratory issues and strengthens the immune system. Massaging with this essential oil for injury scar helps uplift one's mood. Topical application of the oil blurs acne scars.
Pros
100% organic
Extracted from a pure, natural source
Used in aromatherapy massage
Non-GMO
Assured quality
Cons
The Beyond Fuji Organic Tea Tree Oil is an excellent essential oil to purify the air and environment. When diffused, it promotes calmness and relaxation. The topical application offers relief from acne scars and other skin problems. The natural disinfecting properties of this scar fading oil can offer sanitizing and home disinfecting solutions.
Pros
USDA-certified organic
Naturally sourced
Purifies indoor air
Provides relief from acne inflammation
Can be used for household disinfection
Cons
None
Frankincense Essential Oil
Frankincense oil has many benefits. It is primarily used in aromatherapy. This fragrant oil is extracted from the Boswellia sacra tree or Boswellia carterii. This essential oil helps soothe the skin, blurs scars, evens out skin tone, and hinders bacterial growth. Frankincense essential oil exhibits anti-inflammatory properties that provide relief from acne, dermatitis, and fungal and bacterial infections (3).
The Healing Solutions Frankincense Essential Oil is a high-quality, therapeutic-grade essential oil. It has a slightly spicy or fruity aroma that rejuvenates the mind and body. It can be blended with any carrier oil like bergamot, cedarwood, lemongrass, or lavender oils to heal acne or wound scars.
Pros
Non-GMO
Pure and natural
Assured quality testing
FDA-registered
Chemical- and pesticide-free
Cons
Comes in a plastic bottle that may degrade oil quality
The Plant Therapy Frankincense Organic Essential Oil is used for relaxing the body and the mind. It is extracted from the original Boswellia carteri plant and is of 100% certified therapeutic-grade quality. It heals skin and also boosts immunity. The topical application of the oil, along with a carrier oil, offers relief from scars and eczema and also helps soothe body aches.
Pros
USDA-organic
Non-GMO
Made of pure, natural ingredients
Boosts immune system
Cruelty-free
Kid-safe
Affordable
Undiluted and unfiltered
Cons
The Rocky Mountain Oils Sacred Frankincense Essential Oil is a medium-strength oil. It is a rich, warm, slightly spicy, sweet, and woody aromatic oil that is meant for massage therapy. It helps rejuvenate mood, removes scars, and tightens the skin. Add 1 to 3 drops of essential oil per ½ a teaspoon of carrier oil to improve skin appearance.
Pros
100% natural and pure
No filtration, no dilution
Refreshing aroma
Balance emotions and eases stress
A natural household cleaner
Cons
None
These are the 13 best effective essential oils for scar healing and pain relief. Using essential oils may not lead to immediate results. One needs to be consistent and patient to witness visible results.
There is a specific way of using essential oils on the skin. You cannot use them like regular oils. We have discussed the same in the following section.
How To Use Essential Oils For Treating Scars
Essential oils should be diluted before applying to the skin. It is also recommended to conduct a patch test before committing to a product. The oils that are used to dilute essential oils are called carrier oils. You may choose a carrier oil based on your preferences. Here are the most popular options to choose from:
Jojoba oil (best for oily skin)
Olive oil
Coconut oil (avoid if you have oily and acne-prone skin)
Sweet almond oil (suits all skin types)
Avocado oil
Rosehip seed oil (has excellent skin-healing properties)
Hazelnut oil
Apricot kernel oil
To use essential oils on your skin,
Pick any carrier oil.
Mix 2 tablespoons of the carrier oil with 2 to 3 drops of the essential oil.
Combine well and massage on the affected area.
Do not wash it immediately. Let the mixture stay for at least an hour before washing.
Apply the oil on the affected area 2 to 3 times a day.
For best results, continue using it for at least 2 to 3 months.
While buying essential oils, make sure you are choosing 100% therapeutic-grade oils. Such oils do not contain any additives and are highly effective.
Also, there are certain precautions you need to take before or while using essential oils.
Precautions To Take While Using Essential Oils
Essential oils may cause minor side effects if you are not careful while using them. If you are allergic to an essential oil, you may experience
Redness
Irritation
Rashes
Itching
Any other allergic reaction
Keep these tips in mind before using essential oils:
Do a patch test before using the oil on your skin. Take a drop of the diluted oil and rub it on your skin. Let it stay for 24 hours. If your skin doesn't react to it, you can use it. However, if irritation occurs, discontinue use.
If you have an inflammatory skin issue or an allergic skin condition, such as eczema, dermatitis, or rosacea, consult a doctor before using essential oils.
If you are pregnant or lactating, avoid using essential oils. Check with your doctor before using any oil.
If you are undergoing treatment for a skin issue or any other medical condition, or are on any medication, check with your doctor before using essential oils.
You must be curious to know whether essential oils can really help reduce scars. The next section can help you understand.
Can Essential Oils Help Reduce Scars?
A scar usually forms when an injury affects the upper layer of the skin, also called the dermis. Our body repairs the tissue, regenerates it, and synthesizes collagen to overcome the damage. This results in scarring (9). Essential oils are anti-inflammatory. They repair the wound and help minimize scar formation by healing the scar tissue.
The best way to prevent scarring is by starting treatment immediately. This increases the chances of healing. Though fading old scars is tough, the topical application of essential oils can reduce further damage.
The following buying guide can help you make a better purchase decision.
Choosing The Right Essential Oil – A Buying Guide
Choose an essential oil that is 100% natural, pure, and does not contain blends of other vegetable oils.
Choose a brand that mentions both the Latin name and the common name of the oil on the label, along with the country of origin. This marks the product's authenticity.
The oil must be packaged in a dark amber or dark blue glass bottle. Packaging the oil in a lighter bottle or a plastic bottle may damage the oil as it can expose the oil to unfiltered light.
Choose an oil that has a pure, unfiltered fragrance.
Why Trust StyleCraze?
Oyendrila Kanjilal is a certified skincare coach who is always on the lookout for the best skincare products on the market. She has tried out a wide variety of essential oils available in the market and gone through reviews online to create this list of the best essential oils for scars. These oils contain antimicrobial properties and anti-inflammatory properties that prevent your skin from further damage.
Frequently Asked Questions
Which vitamins are good for healing scars?
Vitamins C and E are good for healing scars.
How do you reduce old scars?
Reducing old scars needs long-term treatment, and essential oils alone may not be enough. Consult a dermatologist.
Can coconut oil remove old scars?
Coconut oil, when mixed with any essential oil, can help reduce old scars. But it may not fade a scar permanently.
Is aloe vera good for healing scars?
Yes, aloe vera is a versatile plant that is effective in reducing scars. It achieves this by moisturizing the skin.
How do you tell if a scar is still healing?
When a scar heals, it appears pink and stretched. You may understand that a scar is still healing if you feel some tightness around the area and the scar itches from time to time.
How long does it take for a scar to fade?
Scars usually fade in three to four months. Intense scars may take over a year to fade.
When can you put oil on a scar?
Put oil on a scar as soon as you spot one. Essential oils for improving scar appearance also help regenerate skin cells to minimize damage.
Recommended Articles