Eucalyptus Oil For Hair – How To Use It And Side Effects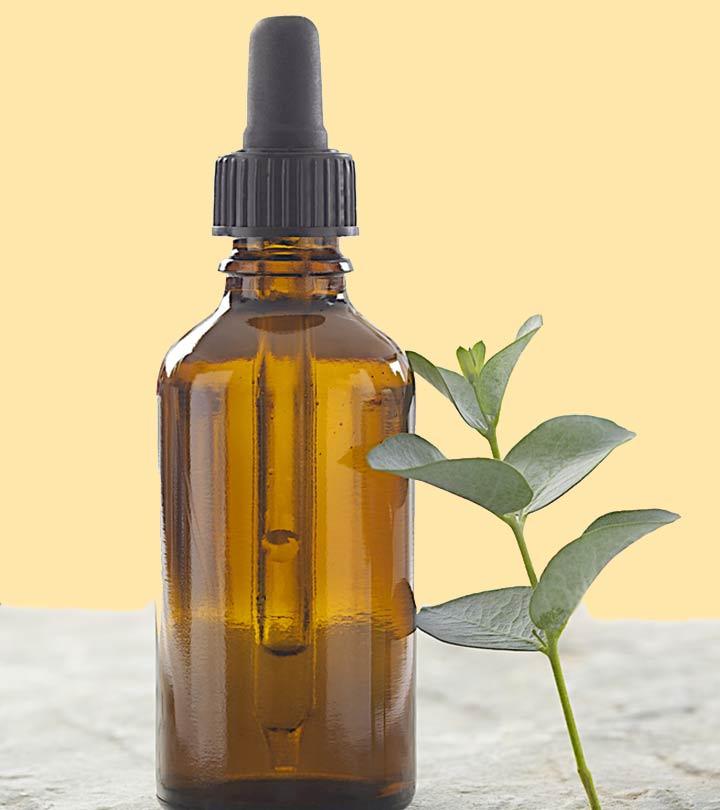 Eucalyptus oil is a prominent essential oil extracted from eucalyptus leaves. The leaves are dried, crushed, and distilled to create the eucalyptus oil. This oil could be useful in promoting and maintaining a healthy scalp and hair. In this article, we list the many benefits of eucalyptus oil for hair care. Keep reading to know more.
How Is Eucalyptus Oil Good For Hair
We have briefly discussed how eucalyptus oil can be good for your hair.
Improves Cortex Growth: Eucalyptus extracts boost growth in the hair cortex. They also increase beta-sheets (a form of hair protein structure) in the hair (1).
Increases Hair Gloss: Eucalyptus extracts, with regular use, also improve hair shine and bounce (2).
Helps Treat Dandruff: A 2012 study showed that eucalyptus has anti-fungal properties and can be used as an anti-dandruff agent (3). The study diluted eucalyptus oil with coconut oil and used the mixture to treat dandruff.
Has Antioxidant And Anti-inflammatory Properties: Eucalyptus oil contains antioxidant and anti-inflammatory properties (2). The oil may fight free radical damage and premature hair graying. It also may help soothe scalp irritation and inflammation.
Improves Hair Quality: In another study, eucalyptus oil was used in shampoo as an anti-fungal agent. The oil was found to nourish hair (4).
Helps Prevent Piedra: Eucalyptus oil acts against the fungus Trichosporon ovoides that causes piedra, a fungal hair infection characterized by nodules on the hair shaft (9).
Improves Hair Elasticity: Eucalyptus oil can increase hair elasticity and prevent hair from splitting at the ends (2). It prevents hair from breaking easily.
May Prevent Scalp Disorders: Eucalyptus oil may help treat scalp disorders like psoriasis, scalp pimples, and dry scalp. However, more research is warranted in this regard.
May Increase Blood Circulation: Eucalyptus oil may improve blood circulation and stimulate hair growth. However, research is limited in this regard.
May Boost Ceramide Production: Eucalyptus oil may also increase the production of ceramides. These may prevent protein loss in the hair strands. However, more research is warranted in this aspect.
Eucalyptus Oil Can Be Used For Hair Growth: In a study, a formulation containing eucalyptus oil stimulated hair growth (2). The oil may also prevent dandruff and improve blood flow. Another study showed that aromatherapy using essential oils like eucalyptus might prevent hair loss, stimulate hair growth, and improve overall scalp and hair health (10).
These are the various ways eucalyptus oil may help promote hair health. The following section highlights the procedure to use the oil to achieve the same.
How To Use Eucalyptus Oil For Hair Growth
You Will Need
Eucalyptus oil: 2 to 4 drops
Coconut oil 2 tablespoons
Procedure
Warm the coconut oil a little. Ensure it is not hot.
Mix the warm coconut oil with the eucalyptus oil.
Apply the mixture to your hair and scalp.
Massage it into the scalp with your fingers for about 5 to 10 minutes.
Use a comb to spread the oil evenly over the scalp. The motion of the comb on the scalp also has a massaging effect.
Leave the oil blend on your hair for 45 minutes to an hour.
Wash it with warm water and shampoo.
Prep Time
2 minutes
Processing Time
45 minutes to an hour
How Often
Once a week until hair improvement is noticed. You can then use it once every two weeks. 
Why It Works
Coconut oil can help stimulate hair growth and improve hair texture while also protecting the hair from damage and protein loss (11). It also prevents dandruff and lice (12). Eucalyptus oil also can stimulate hair growth and improve overall scalp health (10). A mixture of these two oils may enhance long-term hair health.
We saw how to use eucalyptus oil for boosting hair health. But the oil may also cause certain adverse effects. It is better to be aware of them before you start using the oil.
Side Effects Of Eucalyptus Oil For Hair
Eucalyptus oil may cause poisoning and show symptoms like vomiting, CNS depression, epigastric pain, nausea, contact dermatitis, hypotension, and tachycardia (13). This oil cannot be used in its concentrated form. It has to be diluted for correct usage. Inhaling eucalyptus oil may lead to seizures. It may also cause allergic reactions and skin inflammation symptoms like redness, burning sensation, bumps, and itching.
Perform a patch test before using the oil. Dilute a drop of eucalyptus oil with a teaspoon of coconut oil. Apply the mixture to a part of the forearm or behind the neck. Check for any redness, swelling, or other reactions.
You can also dilute eucalyptus oil in other ways before using it on your hair. 
How To Dilute Eucalyptus Oil For Hair
Eucalyptus oil cannot be used directly on the hair and scalp. It needs to be diluted with a base/carrier oil. You may also use jojoba oil, castor oil, almond oil, argan oil, or olive oil. Most of these oils can penetrate the hair fibers and enhance the absorption and effectiveness of eucalyptus oil.
You may also add a few drops of eucalyptus oil to your conditioner or shampoo. Such a combination may also help treat dandruff.
Conclusion
Eucalyptus oil can help improve scalp health and keep dandruff at bay. You may incorporate it into your regular hair care regimen to nourish and protect your hair. However, ensure you perform a patch test prior. Consult a doctor if you experience any adverse symptoms.
Frequently Asked Questions
Can I leave eucalyptus oil on my hair overnight?
No, it is better to dilute eucalyptus oil with a carrier oil and leave it on the scalp and hair for 2-3 hours to avoid adverse effects.
Sources
Articles on StyleCraze are backed by verified information from peer-reviewed and academic research papers, reputed organizations, research institutions, and medical associations to ensure accuracy and relevance. Check out our
editorial policy
for further details.
Recommended Articles
The following two tabs change content below.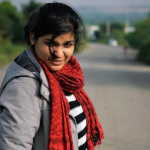 Anjali Sayee is a writer and an introvert. From studying Aeronautical Engineering and wanting to design her own airplane to writing articles on hairstyles, she has been on quite a journey. She believes that hair is one of the key factors that define a woman's personality. To quote her, "What's the first thing they do in the movies to show a personality change? Change the hair – because it has a life of its own." She's here to help you find the hairstyle you need. This bookworm is a self-professed Wholocker, a talented drummer, and an amateur photographer.