8 Eye Makeup Tips For Close-Set Eyes
Tried and tested tricks to help you get those perfectly shaped, attention-drawing eyes.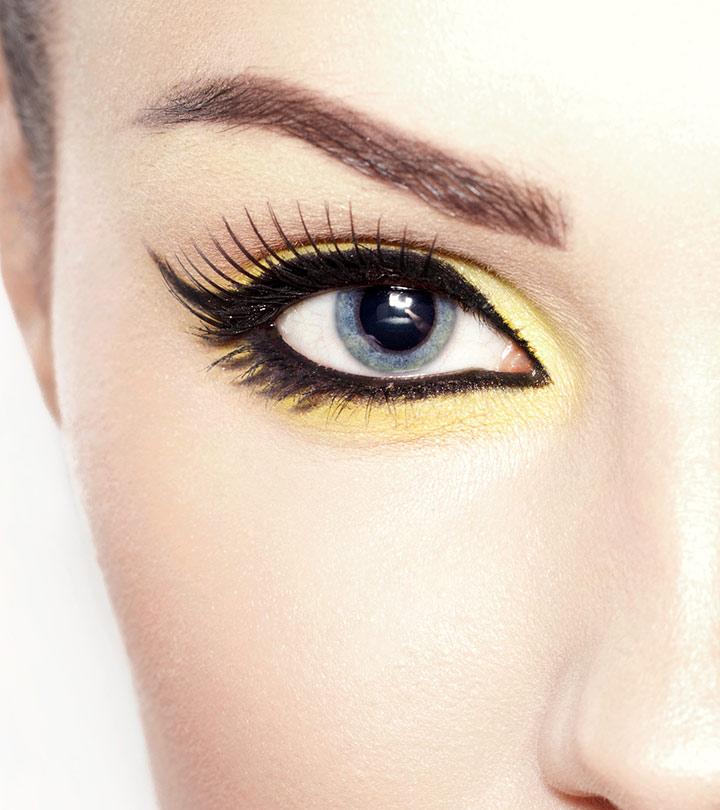 If you need eye makeup tips for close-set eyes, we are here to help. Eyes are of different shapes – hooded, almond, downturned or upturned, and many more. Since every shape provides a different and unique face, the makeup styles also vary accordingly. You can determine your eye shape by measuring the space between the eyes. If there's a lot of space, your eyes are wide-set. If not, they are close-set.
Hollywood celebs like Jennifer Aniston, Sarah Paulson, and many others have close-set eyes and they have always accentuated them to perfection with makeup. You can achieve a striking look with the tips and tricks shared in our post.
But remember, eye makeup can make or break your look. Therefore, follow our tutorial closely and pay attention while trying makeup at home. Swipe up for the details!
Important Tips Before Going For Close Set Eye Makeup
There are various techniques involved in cosmetics application that can significantly impact your overall appearance, from blending and smudging to contouring and highlighting. You can balance and brighten your features by creating the illusion of fuller brows that draw focus to your eye makeup, resulting in a more flattering look. However, before you venture out to create your look, there are a few tips you should keep in mind:
Always use a reflective or light eye shadow on the inner corner of your eye.
Try and accentuate the natural part of your eye. Smokey eyes may be just the right thing for you.
And most importantly, STAY AWAY from dark shades on the inner corner of your eye and limit the smokey effect on the outer corners instead.

Quick Tip
Applying dark shades will make your eyes look closer together and congested. Lighter shades will help your eyes look brighter and open them up.
There are many celebrities like Rachel Bilson, Miley Cyrus, Nicole Kidman, Hilary Duff and Kate Winslet who have close-set eyes and their eye makeup invariably looks gorgeous.
Eye Makeup For Close-Set Eyes
Below are the tips that you have been waiting for!
1. Prime your eyes using a primer. You can use an Urban Decay primer potion or NYX jumbo pencil in milk.
2. Take a highlighter shade and apply it to the inner corner of your eyes to widen them. You can use NYX jumbo pencil in milk for this purpose also.

3. Use a light-colored shimmery shade in gray or beige shades and apply it to your eyelids. This will give your eyes a lifted look. Also, make sure there are no creases on your eyes.
4. A very important tip on makeup for close-set eyes is to make them smokey. Yup smokey is the way to go here. Apply a dark eye shadow like shades of black or brown and if you don't want to go too dark, you could use a dark purple or blue on the outer corner of your eyes to give your eyes a wider look. Use a fluffy brush to blend away all the harsh edges.
5. Apply a medium-toned eye shade on the lower lash line and to the outer third of the lower lid.
6. Contour your eyes. This will make your eyes look wider.

7. Apply black eyeliner onto your upper and lower lash line; this will create a huge difference on your eyes.


Quick Tip
You may also go for winged eyeliner that is thicker on the outer eye. Start with a thin line and make it a thick wing as it branches out. It will make your eyes look wider.
8.
Apply mascara
on your upper and lower lashes. You could use Maybelline mascara, as it elongates your eyelashes and gives a dramatic look to the eyes.
Infographic: 6 Awesome Eye Makeup Tips For Close-Set Eyes
As we all are built differently, we also have different features, and there is beauty in every shape and form out there. That being said, knowing what makes your features pop out more never hurts.
If you have close-set eyes, check out the infographic below to learn how to make them appear wide with a few eye makeup hacks. Scroll down.

Smokey eyes are your go-to look. Not that you cannot experiment with different eye makeup looks, but dark eyeshadows will give you the most dramatic vibe. So, get your primer, contour the eyes and follow all the eye makeup tips for close-set eyes and prep yourself for countless compliments that will come your way. It is time to flaunt those beautiful eyes that always wonder! So, roll up your sleeves and get started without any further delay! Because it's show time, girl!
Frequently Asked Questions
Can close-set eyes be attractive?
Yes, close-set eyes can be attractive. The gorgeous Sarah Jessica Parker and the beautiful Tracee Ellis Ross are a few celebs with close-set eyes.
Key Takeaways
For close-set eyes, always use a lighter shade on the inner corners and a darker shade outwards to make the eyes look wide.
Smokey eyes are the best for people with close-set eyes as they enhance the look of eyes.
Use light color shimmery shade to give your eyes a lifted look.
Always apply mascara on the upper and lower lashes to give them an elongated and dramatic look.