Top 10 Eyebrow Stencils Available In India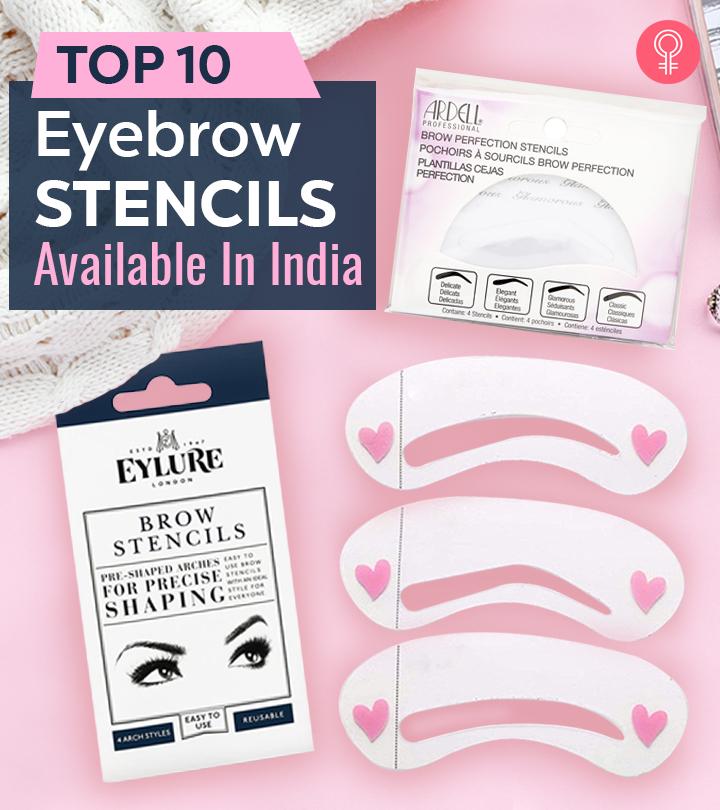 Your eyebrows frame your face. You can transform your face and look groomed within a few seconds by filling in your eyebrows. But, doing your eyebrows is complicated as it requires a lot of trial and error. If you are looking to perfect your eyebrows with lesser mistakes, you should invest in eyebrow stencils.
What Are Eyebrow Stencils?
Eyebrow stencils are eyebrow-shaped patterns made from a flexible, transparent plastic material. You can choose your preferred eyebrow stencil design from simple to bold looks. The eyebrow stencil is placed over your natural brows and filled in using a brow gel or pencil. You can then clean the area around the eyebrows by tweezing, waxing, plucking, or threading.
These stencils provide the frame to measure the width and length of each eyebrow and to match the two together. If you are looking to get the shape of your eyebrows just right, you can try these fantastic stencils.
Here is a list of the top 10 eyebrow stencils available in India right now. Check them out!
10 Best Eyebrow Stencils Available In India
E.L.F. Cosmetics Eyebrow Stencil Kit consists of 4 types of stencils – curved arch, soft arch, structured arch, and full arch. These eyebrow stencils can be used multiple times and are suitable for all eyebrow and face shapes. The stencil should be aligned with the eyebrows and filled in with a brow pencil or brow powder. Use the same stencil for both brows by just flipping and repeating the process.
Pros
Multiple eyebrow shapes
Suitable for all face shapes
Reusable
Cons
Not suitable for long eyebrows
Eylure Brow Stencils come in a set of 12 disposable strips. Each eyebrow strip has an adhesive back that keeps the stencil firmly in place while you fill or pluck your brows. These stencils are super easy to use, which makes them a real winner! Sculpt your brows to perfection and get that clean eyebrow shape with these brow stencils from Eylure. With 4 different shapes in each pack, there is a perfect style meant for everyone. Simply choose your shape and fill them in for polished, arched brows!
Pros
Reusable
Easy to use
Adhesive back
Comes in 4 arch styles
Suitable for beginners
Cons
None
Delicate, elegant, glamorous, or classic ─ choose the style that suits you the best. These easy to use and hassle-free eyebrow stencils come in a set of 4. Using these stencils does not require much practice. The templates are designed to reduce the amount of time needed to get those precise and elegant brows that you have always wanted.
Pros
Easy to use
Comes in 4 different styles
Inexpensive
Cons
None
This eyebrow shaping kit consists of 24 sets of eyebrow stencils with 24 distinct styles to match your exact requirements. It is a hands-free eyebrow stencil set. Stick the stencils on your brows, draw the outlines in the exact shape, and peel off the stickers. Fill your brows in with your favorite brow pencil to get those thick, arched eyebrows. You can include this set in your regular makeup routine as they are time-saving. They are made of a material produced by medical non-woven cloth which is not only comfortable to use but also eco-friendly. The glue on these stencils is also not harmful to your skin.
Pros
24 different styles
Hands-free
Easy to use
Eco-friendly
Adhesive back
Not harmful to your skin
Suitable for beginners
Cons
None
DALUCI Eyebrow Grooming Stencil Set has 24 pairs of stencils to help you with trendy eyebrow styles. The stencils are soft and easy to use, and they are not harmful to your skin. The long-lasting ABS plastic used in making these stencils is highly durable. Use these stencils to achieve that precise brow shape. Imagine the creative looks you can create with 24 different styles! Pick your favorite stencils pair, trace your brows, fill them in, and you're done!
Pros
24 different styles
Soft
Easy to use
Lightweight
Travel-friendly
Durable
Reusable
Cons
None
This kit comes with 3 pairs of eyebrow stencils. If you want your eyebrows to look stunning and gorgeous, simply go for this easy-to-use kit. It is hassle-free, reusable, and the 3 different pairs with different shapes add versatility to your brows.
Pros
Easy to use
Reusable
Comes in 3 different styles
Cons
None
In this particular eyebrow stencil kit, you will find 12 different styles to experiment with. The stencils are safe to use and made of high-quality ABS plastic. They are comfortable and skin-friendly. These stencils are ideal for beginners. All you have to do is use them to trace your eyebrows and fill them in.
This brow shaping kit also includes some essential tools. The eyebrow shaper stencils have a fixed elastic strap that allows you to use both your hands to style your eyebrows without worrying about the stencil falling off.
Pros
Comes in 12 different styles
Skin-friendly
Reusable
Affordable
Suitable for beginners
Cons
None
This stencil kit comes in a pack of 4. It is an imported product that you can purchase online. The stencils come packaged in a sleek case with a magnetic closure. It includes stencils for very fine, fine, natural, and full brows. These options allow you to create and maintain the brows that best compliment your face. The kit also contains a travel-size, angled brush for filling in and grooming your brows on the go.
Pros
Comes in 4 different styles
High quality
Comes with a brush
Travel-friendly
Cons
None
Chella offers 4 stencils to achieve the perfect eyebrow shape with precision. Pick from Alluring, Sassy, Confident, or Timeless Chella Stencils. The stencil can be used to fill in the gaps where the brow looks sparse or to thicken the brows using a brow pencil. The cutout guide makes it easy to hold the stencil up to your eyebrow and shape it accordingly.
Pros
Comes in 4 different styles
User-friendly
Comes with a cutout guide
Cons
None
Define your eyebrows with the utmost efficiency using the Digital Shoppy Lameila Eyebrow Stencils. You get to choose from 3 different eyebrow shapes. The material of the stencils is highly durable, and the package includes a waterproof and smudge-proof brow pencil. Use the stencils to shape and fill in your brows. Your brows will look super-expressive like never before.
Pros
Comes in 4 different styles
Highly durable
Easy to use
Comes with a brow pencil
Waterproof
Smudge-proof
Cons
None
Now, let's check out some more things that you need to remember about eyebrow stencils.
Do Eyebrow Stencils Really Work?
Eyebrow stencils may sound fancy, but if you love doing your eyebrows, these brow shapers will be your best friends. Before you start using them, you should know how to use them properly:
There are many types of eyebrow stencils available online and in stores. They come in different shapes, so before purchasing, keep in mind the kind of shape that you'd like to have.
Pick an eyebrow stencil kit.
If you're a beginner, go through articles or watch online tutorials to figure out the right way of using them.
Hold the stencils gently with your thumb and index fingers.
Shape your brows and fill in the gaps with your favorite eyebrow pencil.
Repeat the same with the opposite side.
How To Choose Eyebrow Stencils
Choosing the right shape of eyebrow stencil is essential as it helps in framing your face.
Look at the mirror and analyze the shape of your eyebrows. Every individual has a different eyebrow shape. The shape can be flat, curved, angled, round, or softly angled.
Now, choose the eyebrow stencils based on the shape.
The next step is to understand the thickness you want to create. Your eyebrows can be thin, medium, or thick.
The last step is to select an eyebrow stencil. The eyebrow stencil should approximately match the natural length of your eyebrows.
Types Of Eyebrow Stencils
Let's have a look at the various types of eyebrow stencils available in the market.
Celebrity-Inspired Eyebrow Stencils: Celebrity-inspired eyebrow stencils mimic the eyebrows of various celebrities. You just need to make sure that the eyebrow stencil works in harmony with your natural facial structure. You can find eyebrow stencils inspired by celebrities like Angelina Jolie, Charlize Theron, Beyonce Knowles, Pamela Anderson, Catherine Zeta-Jones, Niki Taylor, Jessica Simpson, Jennifer Aniston, and many others.
Plastic Eyebrow Stencils: Plastic eyebrow stencils are readily available today. These eyebrow stencils are made from flexible plastic and can be reused several times. The eyebrow pattern is printed and laser-cut, which leaves a hollow eyebrow shapein the plastic material. You place the stencil over your natural eyebrow and fill it in with an eyebrow gel or pencil.
Pre-waxed Eyebrow Stencils: Pre-waxed eyebrow stencils have brow wax applied to their surface, as the name suggests. You need to press them around your eyebrow and remove them firmly. They remove all the unwanted eyebrow hairs, thereby leaving you with the perfect eyebrow shape. This method will save you time as you don't have to pluck your extra eyebrow hairs afterwards.
Let's check out how to use an eyebrow stencil the right way.
How To Use Eyebrow Stencils
Start with clean and groomed eyebrows. If your eyebrows are extra long, you should trim and brush them in the direction they grow.
Now, take an eyebrow stencil of your choice. Carefully align it with your natural eyebrows. Check whether it covers up your desired eyebrow length and firmly holds it. Do not let it slip or move.
Take a good eyebrow pencil in your eyebrows' natural color. Then, trace the outline of the eyebrow stencil design.
Carefully and gently remove the eyebrow stencil. Make sure to remove it without smudging the eyebrow shape you have drawn.
Remove any extra eyebrow hairs that are around the eyebrow stencil pattern. You can use any technique of grooming your eyebrows, like waxing, threading, tweezing, or plucking.
The last step is to reapply the stencil to check the shape.
Now you don't have an excuse for unkempt eyebrows! Just keep one of these best eyebrow stencils in your makeup kit and make sure your brows are always in top shape!
Expert's Answers For Readers' Questions
Are eyebrow stencils worth it?
If you have very fine brow hair, eyebrow stencils are worth a try. You may find it challenging to fill in your brows according to your desired shape, and that's when you'll discover brow stencils to be helpful for you. You can find them in different shapes, and you can pick the pair that suits you best.
How do beginners use eyebrow stencils?
Beginners need to follow specific instructions before using a stencil:
Find a pair of stencils that matches your natural brow shape.
Hold the stencil up around your brows.
Fill in the stencil with an eyebrow pencil. Make sure you focus on the gaps.
Fill in the opposite side the same way.
Remove the stencils and brush your brows with an eyebrow brush.
Set your brows with an eyebrow gel if you wish.
What eyebrow shape is most attractive?
Arched eyebrows are considered to be the most attractive eyebrow shape.
Recommended Articles:
The following two tabs change content below.

Latest posts by Oyendrila Kanjilal (see all)

Oyendrila Kanjilal
Oyendrila Kanjilal has a Master's Degree in English Literature. As a Beauty and Lifestyle writer, she writes about everything that the modern woman needs to know about grooming and self-care. She also reviews makeup, skin care, and lifestyle products to help readers make the best purchase. She is a trained classical dancer and loves binge-watching web series of different genres.