Top 10 Eyebrow Tattoo Designs You Can Try Right Now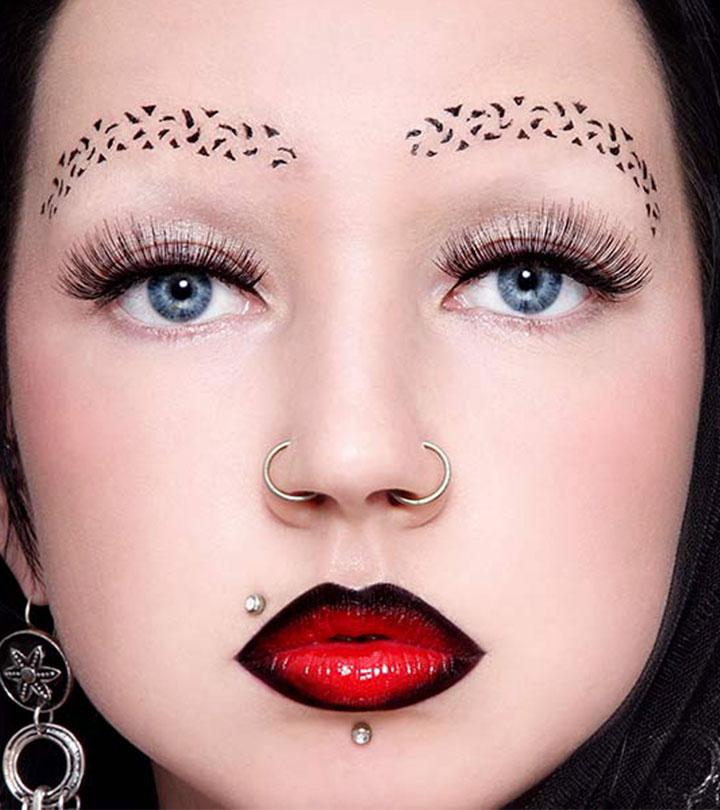 Tattoos are very normal and are very much in demand. They can provide an individual with a dainty or a fierce look and can make a person look appealing. A tattoo is a sketch drawn by the ink on the upper epidermis with the help of an instrument. Tattoos in the historic times were utilized for holy purposes, but today they have become a sign of an art. Having a tattooed eyebrow is for the same reason. An individual tends to get a tattoo to derive a meaning and what they are attached to. There are various types of designs which depict and hold different significances in their own way.
Eyebrow Tattoo Designs:
Eyebrow tattooing is something that is mainly carried off well by women and adds a delicate look to them. For a proper change over look, or in a way to enhance their look there are few designs one can consider. They are:
1. A Halloween Look:
A Halloween tattoo look towards the eyebrows can make a person look very malicious and horrifying. The dark smoky look of the demons, the pearl white glossy moon and the bare barks of the tree can enhance the aura of a fiery night. This is an apt sketch for a Halloween's party.
2. The Pussy Look:
A cute sleeping cat tattoo when drawn towards the eyebrow region can make a person look cute and adorable. The sleeping cat symbolizes adjustment of the sleeping habits and fondness of spending time with loved ones. This abstract design tends to appeal everyone and may be apt for a family gathering as well.
[Read:20 Amazing Tattoo Designs]
3. A Rugged View:
An individual with few wordings towards the eyebrow region can attain a smart, rugged and a hunky look. The words sketched as a tattoo defines an individual's personality and the character. They tend to get the tattoos engraved, to which they can closely narrate to.
4. An Abstract Sketch:
An individual with an abstract design does not believe in the concept of concreteness in their lives. Abstract designs are a form of an art which speaks out the meaning for itself. The abstract tattoos are loved by many people as today it is considered as a symbol of modern art.
5. A Consummate Behold:
Tattoos are meant for people who tend to experience the disappearing of eyebrows or permanently hold sleek eyebrows. These individuals tend to get sketches or tattoos done over their eyebrow regions to in a way to make them look thick and noticeable. The color of the ink can be chosen accordingly and then applied.
[Read:Geisha Tattoos]
6. The Metallic Look:
The tattoo of a metallic design can make an individual attain a look of a harsh and a daring fellow. These tattoos can be sketched by people of a very daring and an enduring character. These tattoos can be sketched all over the face to enhance the look of an individual.
7. Colorful Eyebrow Look:
Women or young girls can have their eyebrows colored into the colors they wish to. The colorful eyebrows define the individual's lively and cheerful character. An individual with colored eyebrows signifies the love for colors, since each and every color has its own significance.
8. Temporary or Provisional Tattoos:
Few eyebrow tattoos are temporary by nature and they are also available in form of stickers in the markets. These tattoos can be applied and removed comfortably without any grief and discomfort. Since they are stickers that can be applied and removed instantly, it becomes very convenient and gives a fascinating look in no time.
[Read:The Best Kanji Tattoo Designs]
9. The Batbrow Look:
The sketch of bat wings towards the eyebrows region makes a person look fierce and is not mainly appreciated by all people. This type of tattoo can be drawn all over the face to derive an exact look.
10. The Logo Tattoo:
The sketch of a logo signifies the meaning, as the picture attached has a Nike logo drawn. It simply means "just do it". People who get logo tattoos done are determined people or have a craze for such a brand.
Hope this article on eyebrow tattoo designs was interesting. So what are you waiting for choose your design and get it done by a professional. Please drop in your comments below.
Image source: 1 , 2 , 3 , 4 , 5 , 6 , 7 , 8 , 9 , 10
The following two tabs change content below.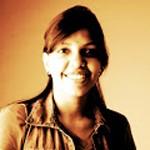 Hi I am very passionate about makeup, fashion and health related topics, I always had a soft corner for makeup and beauty. I believe makeup has the power to enhance features and can turn flaws into strengths. Makeup keeps me busy and yet it gives me the opportunity to follow my passion.