Ezekiel Bread: Health Benefits & Nutritional Facts
Swap out your boring white bread for this nutritious variety to boost your well-being.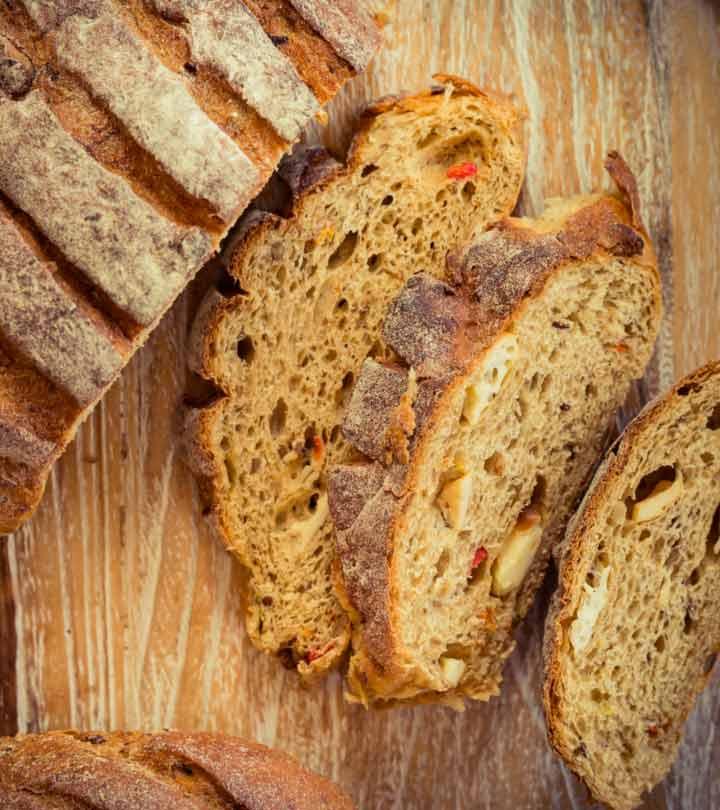 Ezekiel bread is a sprouted bread with a rich nutritional profile. It is made of organic whole grains and not refined flour (as is the case with most varieties of bread, despite descriptions such as "wheat" and "multigrain"). The benefits of Ezekiel bread are due to its impressive nutritional profile. It is a healthful alternative to traditional bread and is prepared by using the traditional processes of soaking and sprouting the ingredients before baking the bread. This article explores the nutrition facts, health benefits, and potentially adverse effects of the Ezekiel bread. Keep reading to know more.

Know Your Ingredient: Ezekiel Bread
What Is It?
A type of bread that is made of sprouted whole grains, such as wheat, barley, and millet.
What Are Its Benefits?
Regulates blood sugar levels, improves digestion, and aids in nutrient absorption.
Who Can Consume It?
Especially vegans.
How Often?
Twice a week.
Caution
People who are allergic to wheat and soy should not eat it.
What Is Ezekiel Bread?
Ezekiel bread is made from sprouted whole grains and legumes. While most commercial loaves of bread are made with refined flour, sugar, and additives, Ezekiel bread contains whole cereal grains – like wheat, barley, millet, and spelt – and nutrient-rich legumes – like soybeans and lentils. All of these are grown organically and sprouted before being combined for bread preparation. The sprouting process enhances the nutrient composition of the bread (1).
Since it is made from sprouted grains and legumes, Ezekiel bread is dense and sturdier than whole-wheat bread, making it a good base for sandwiches and toasts.
Ezekiel Bread Ingredients
Ezekiel bread has very simple, wholesome, and non-GMO ingredients. Unlike other store-bought loaves of bread, Ezekiel bread is made from 100% whole grains and legumes and is free from any added sugars or preservatives.
The ingredients of this bread include:
 Sprouted wheat
 Sprouted millet
 Malted barley
 Sprouted spelt
 Sprouted soybeans
 Sprouted lentils
 Wheat gluten
 Fresh yeast
 Sea salt

Did You Know?
Ezekiel bread is named after the verse Ezekiel 4:9 (in the Old Testament) that mentions the instructions for making this bread.
As you can see, this bread is made from some highly nutritious ingredients. Learn more about its nutrition profile in the next section.
Ezekiel Bread Nutrition Facts
According to the US Department of Agriculture, one serving (38 g) of Ezekiel 4:9 Bread contains the following nutrients (2):
 Calories: 90.1 kcal
 Fat: 0.5 g
 Sodium: 105 mg
 Calcium: 20.1 mg
 Carbohydrates: 16 g
 Fiber: 6 g
 Sugars: 0 g
 Protein: 4 g
This nutrient-dense bread is a good source of fiber protein, and healthy carbohydrates. Most importantly, unlike white bread, it is completely free of sugar and lower in calories as well.


Trivia
Sprouted grain bread is 47% lower in gluten than regular flour bread.
Keeping these nutrition facts in mind, let's check out the health benefits offered by Ezekiel bread.
Health Benefits Of Ezekiel Bread
Besides the health benefits of whole grains and legumes, Ezekiel bread is extra nutritious as it is made of sprouted grains. The sprouting process enhances the nutritional attributes of the seeds and grains while decreasing the effects of anti-nutrients like phytic acid (3). Let's have a look at the potential health benefits of Ezekiel bread:
1. Aids Nutrient Absorption
Sprouting grains and legumes help decrease phytates and phytic acids, the anti-nutrients found in these seeds. These phytates bind to important minerals like zinc, calcium, iron, and magnesium in the body, thereby hampering their absorption. However, sprouting breaks these bonds and makes the minerals available for absorption in the body (3).
2. Improves Blood Sugar Regulation
Ezekiel bread is made of whole grains. Including whole grains in your diet helps regulate your blood sugar levels. Research has indicated that whole grains have low glycemic index, which may help in the prevention and management of type 2 diabetes (4).
A study conducted on obese and overweight men found that sprouted grain bread has a more positive impact on blood glucose levels than sourdough or whole-grain bread (5).
3. Helps Regulate Digestion
Ezekiel bread is made of sprouted grains and legumes. Sprouting makes the digestion of grains easier, as the enzymatic process has already started (3). Also, Ezekiel bread is rich in fiber due to its high-fiber ingredients like whole barley, whole wheat, millet, spelt, lentils, and soybeans. Fiber helps reduce constipation and improves digestion (6).
4. Good Source Of Plant Protein
Since Ezekiel bread contains no animal-derived ingredients like milk or eggs, it is suitable for vegan and vegetarian diets. With its unique combination of grains and legumes, it is a good source of protein and essential amino acids (7).
Now that you know all the health benefits of Ezekiel bread, let's look at some delicious recipes you can try!
Ezekiel Bread Recipes
1. The Ultimate Vegan BLT
Ingredients
 Ezekiel bread: 8 slices
 Firm tofu: ¼ inch slices
For the marinade:
 Maple syrup: 2 tablespoons
 Mustard: 1 tablespoon
 Paprika: 1 teaspoon
 Pepper: ¼ teaspoons
 Soy sauce: ¼ cup
For the avocado aioli:
 Avocado: 1 large
 Tahini: 2 tablespoons
 Lemon juice: 2 tablespoons
 Olive oil: 2 tablespoons
 Cilantro: ¼ cup
 Lettuce
 Sliced tomatoes
Instructions
Preheat the oven to 350°F.
Mixed the ingredients for the marinade in a bowl.
 Dip and flip the tofu slices in the marinade such that both sides are covered.
 Bake the tofu at 350°F for 15 minutes.
 Add all the ingredients for the avocado aioli to a blender. Blend until well-combined, smooth, and creamy.
 Layer a piece of Ezekiel bread with a leaf of lettuce, one sliced tomato, and one slice of baked tofu.
 Spread the avocado aioli on another piece of Ezekiel bread.
 Assemble both the slices into a sandwich.
 Cut the sandwich in half and serve.
2. Open Kimchi Egg Toast
Ingredients
 Ezekiel bread: 1 slice
 Kimchi: 2 oz
 Egg: 1
 Butter: 1/2 tablespoon
 Spring onion (finely chopped): 1 tablespoon
 Sesame seed oil: 1 tablespoon
Instructions
 Heat the sesame oil in a frying pan.
 Sauté the kimchi until fragrant (about 5 minutes) and set aside.
 Scramble the egg in butter.
 Toast a slice of Ezekiel bread.
 Layer it with the cooked kimchi, followed by the scrambled egg on top.
 Garnish with the chopped spring onions and serve.
It is quite easy to add Ezekiel bread to your daily diet. Learn how to do it below.
Easy Ways To Add Ezekiel Bread To Your Diet
You can use Ezekiel sprouted bread in any recipe that calls for whole wheat bread. Here are some ways to include this bread in your diet:
Croutons for soups and salads
Peanut butter and jelly sandwich
Avocado toast
French toast
Au gratin
Pizza
Wondering what this bread tastes like? Find out below.
What Does Ezekiel Bread Taste Like?
Ezekiel sprouted grain bread is dense and chewy in texture and might not appeal to everyone's taste buds. It has a nutty flavor from the whole grains and does not feel like a loaf of freshly baked white bread. It does not have a crisp texture unless warmed up or toasted.
Note: Online delivery might result in the delivery of mildewy bread. It is recommended to buy Ezekiel bread from a grocery store.
Though Ezekiel bread is highly nutritious, it comes with its set of side effects. Check them out below.
Possible Side Effects And Allergies Of Ezekiel Bread
People allergic to soy or wheat products should not eat Ezekiel bread as it contains soybeans and other ingredients containing wheat. People allergic to tree nuts or yeast should also avoid this bread, as these could be used in the manufacturing process or at the facilities that produce this bread.
 High Carbohydrate Content
Ezekiel bread is high in carbohydrates. Therefore, it might not be suitable for people following low-carb weight-loss diets like the ketogenic diet (8).
Although Ezekiel bread is flourless, it is not gluten-free. People with celiac disease or any kind of gluten sensitivity should avoid sprouted Ezekiel bread. They can opt for the other gluten-free Ezekiel breads available in the market.
Sprouted bread, like many healthy foods, is more expensive than traditional store-bought bread. The nutritional benefits might not match up to its cost for some people.
Ezekiel bread's benefits can be attributed to its nutritional profile. If included as a part of the diet, Ezekiel bread aids in nutrient absorption, helps regulate blood sugar levels, improves digestive health, and is a good source of plant protein. You can replace wheat bread with Ezekiel bread. You also can add it to soups, salads, or even pizza. However, this bread may trigger side effects like allergies and may not be suitable for people with diabetes and celiac disease. That said, individuals with no health complications can include this bread in their diet and reap its benefits.
Frequently Asked Questions
Is Ezekiel bread healthier than whole wheat bread?
No, both kinds of bread have a similar nutritional profile. However, Ezekiel bread is a richer source of dietary fiber and offers a diverse range of health benefits as it is a multi-grain bread (9).
Is Ezekiel bread made of healthy carbs?
Yes. Ezekiel bread is a carbohydrate-rich food and these carbs come from different grains and lentils. It helps promote one's digestive and overall health.
Is Ezekiel bread anti-inflammatory?
Possibly. Ezekiel bread is made from whole grains that are rich in anti-inflammatory properties. The bread may help reduce inflammatory markers like C-reactive proteins (10).
Is Ezekiel bread good for high blood pressure?
Possibly. Whole grain consumption is associated with a lower risk of hypertension. However, there is a lack of scientific evidence to suggest if Ezekiel bread can lower blood pressure levels (11).
Key Takeaways
Ezekiel bread is a flourless bread made with organic, sprouted whole grains.
Consuming this high fiber bread may help in the management of type 2 diabetes and can reduce constipation.
You can use Ezekiel bread in any of your favorite recipes, such as French toast and pizza.
Ezekiel bread is not gluten-free, and people who are allergic to wheat and soy products should avoid eating it.
Discover the wholesome wonders of Ezekiel bread! Packed with nutrients, this ancient grain gem nourishes your body, boosts digestion, and fuels your day naturally. Learn how it can help you stay healthy and fit with this video.

Sources
Articles on StyleCraze are backed by verified information from peer-reviewed and academic research papers, reputed organizations, research institutions, and medical associations to ensure accuracy and relevance. Read our editorial policy to learn more.
The following two tabs change content below.