10 Fabulous Short Layered Haircuts You Should Try Today
Looking for an on-trend short haircut that screams HOTNESS? Ah! You've found us at the right time. Try out one of the many shag looks, complete with the volume, beachy flips and texture that drive men wild and you dreamy.
Here are some of the hottest short layered haircuts! Read on and master the art of looking artfully disheveled!
1. Asymmetrical Bob:
Actress Jennifer Lawrence shows us how to keep things sassy while staying chic and classy. Rarely settling for straight locks, Jenni's asymmetrical shaggy bob hairstyle is to die for. We love how the cut gives her hair volume, dimension and a trendy look while the messy wave gives her the sexy I-just-woke-up style every woman loves. So, if you're opting for a shag hairstyle, try the one by the Hunger Games actress. Dip your tresses in some serious honey blonde color for a really refined and sexy look, and voila, you're ready to go!
2. Layered Pixie:
Let's face it: actress Ginnifer Goodwin is known for her sexy pixie cut shag, making the effortless trend one of the most sought after styles. Once Upon a Time's actress makes this short hairstyle look easy-to-manage and bold, but that doesn't mean this layered pixie isn't versatile. A simple look to rock with no harmful products to pull off this hairstyle, the layered hairstyle is perfect for just about anything, from formal to casual occasions.
So, try this bold style and put some blonde-ness in your hair to pull off this lovely look from Ginnifer Goodwin.
[ Read: Straight Layered Hairstyles ]
3. Loose Curls:
Vanessa Hudgens is known for her simple, effortless and refined beauty. Here we have the singer and actress sporting one of her best looks: loose curls with a hint of layers. This curly hairstyle is perfect for short hair, and you can copy this lovely style by blow-drying your locks in big rollers. Make sure you keep your curls in place with a hairspray and you have your soft, voluminous curls, which you can pair with a subtle eye makeup and nude lips for a bit of edginess. An absolutely stunning look for a romantic date or special night out.
4. Dreamy Layered Curls:
Are you looking for chic short layered hairstyles? Then here you are! Actress Cate Blanchett looks gorgeous with her soft asymmetrical short hairstyle and wispy curls. Rocking every hair color possible, we think that she looks particularly striking as a blonde. Ideal for short, thin hair, to get Cate's layered undone curls, use a curling iron on a few sections of hair for dreamy, romantic curls.
Be sure to use light-touch hairspray to keep it in place and if recreating the look, keep your eye-makeup minimal and go all out with a lighter lipstick. The look is eye-catching and fascinating – something every woman dreams to rock with!
5. Shaggy Bob With Curls:
There's beauty, and then there's radiant Chloe Moretz, a young fashionista doing everything right with this whimsical look. Right on trend with her layered, honey-blonde, short bob hairstyle, the Hugo actress keeps her curls loose and wavy for a toned-down yet chic look.
Recreate her sophisticated hairstyle with curls by twisting sections of locks around a curling tong, making sure the curls don't fall in your face. You can also use some maximum-strength hairspray to keep your perfect curls in place and defined. So, if you wish to try something sweet, sexy and messy, give this style a whirl.
[ Read: Thick Layered Hairstyles ]
6. Short, Flirty Curls:
Whimsical? Yes. Adorable? Oh, yes. Plenty of layers? Absolutely! Needless to say, we adore Kelly Osbourne's short-length hairstyle complete with obvious waves. The singer added some serious volume and texture to her hair, giving her that rocker-chic look. In addition, Kelly looks like a natural beauty with her side-parting hair, shine and flips; plus we love how she has combined her blonde style and refined makeup together to pull off this lovely look. An ideal hairstyle for people who love to turn heads and make people talk. Yikes!
7. Wavy Shag:
There's something about flips and curls that gives a woman so much feminine appeal – not to mention that perfect shine and texture. Here we see the charming Meg Ryan sporting a short and choppy blonde lock with an assortment of undone flips, for a seriously trendy shag hairstyle. For this haircut, take Meg's picture to a trustworthy hairdresser!
8. Sassy Razor-Cut:
Wrapped up in all kinds of femininity and sexuality, Dianna Agron looks absolutely gorgeous in her layered, crazy short shag hairstyle. The easy-to-create hairstyle takes a classic short bob and adds tons of razor-cut internal layers to give a bouncy, breezy and shabby finish to the look. Now the actress just messes her head of hair a bit and applies a firm hairspray, and the result? An edgy style that is a perfect shag hairstyle for the spring and summer and can be worn literally anywhere! Definitely an easy haircut to try, isn't it?
[ Read: Layered Hairstyles For Shoulder Length Hair ]
9. Shabby Pixie:
Yes, it's true: this crazy messy hairstyle really is as simple as it looks. The Grand Budapest Hotel actress' graduated, shorter cut is perfect for pixie newbies. This short haircut flatters Tilda's perfect face, allowing her to pull off a glamorous yet classy style. To recreate her mussed up look, apply a voluminizing mousse to damp hair, twist in sections, leave to dry, apply light-touch hairspray et voila – soft, shabby waves.
10. Crazy Short Hair:
If you are a believer of all things crazy and fun, then you will probably love this hairstyle from recording artist Mc Lyte. The singer sports a flattering pixie with tons of layers to give her hair some obvious edge. Not to mention the shaggy hair falling towards her face, that is fierce and stylish. Perfect for casual outings or to a dinner party, the hairstyles take, what, five minutes to set together? That's a winning hairstyle in our books.
Try out these simple-yet-edgy short layered haircuts today! Also, let us know how you liked this post! There is a comment box below.
Recommended Articles:

The following two tabs change content below.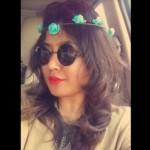 Latest posts by Anisha Pradhan (see all)