27 Cute And Easy Short Layered Hairstyles That Are Trending
Short layered hairstyles accentuate your facial features and add dimension to your hair.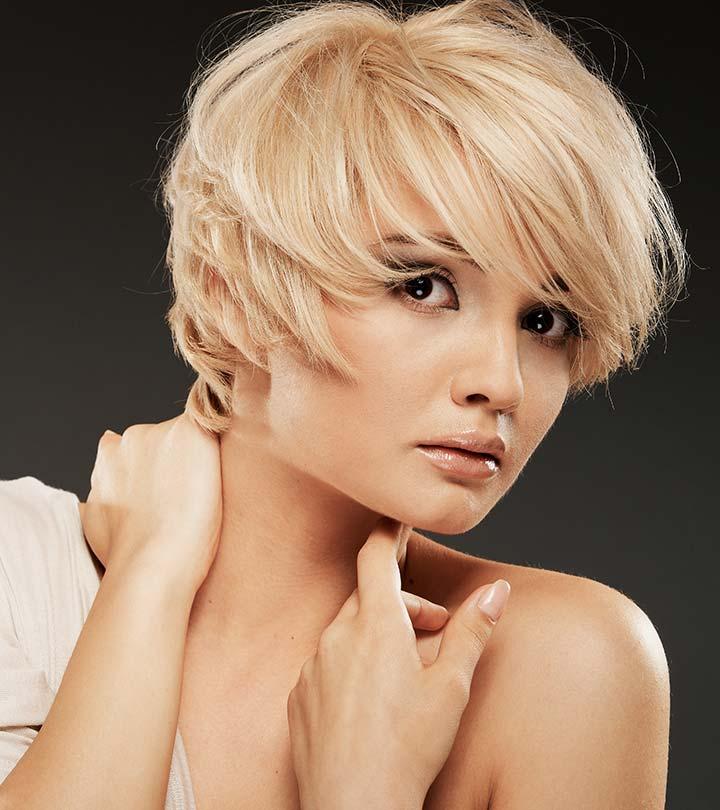 Layers are stylish, and short hair is very edgy! If you want a dramatic hair makeover, we have some cool short layered hairstyles listed below.
Short lengths make taking care of your hair easy breezy. Having long hair means spending hours detangling and styling. On the other hand, short hair reduces the risk of hair fall, split ends, breakage, and damage. Throw in some layers, and you have got a bomb of a hairstyle.
In this article, we share 27 of the coolest short and layered hairstyles that you can try.
But first, learn how to cut your hair in layers on your own! Scroll down.
Before You Get Started
Short layered hairstyles are suitable for all face shapes and with so many styles you can find the right one for you.
While short hair requires less maintenance, styling can require more of an effort.
Licensed celebrity hairstylist Andrea Claire says, "Curly hair in a short pixie can be super cool but can also look like a cotton-bud. Make sure that you have enough layers and use waxes or pomades to help with styling."
Moisturizing shampoos and conditioners are a must for maintaining short layers.
How To Cut Your Hair In Layers
Generally, cutting layers requires a lot of practice, even for experts. If you want layers all over your head, it is better to get it done professionally. However, you can add a few layers in the front by yourself with the help of the following tutorial.
What You Need
Comb
Scissors
Hand-held mirror
Stationary mirror
Elastic bands
How To Do
Comb your hair to ensure it is free from knots and tangles.
Hold all your hair with one hand straight up over the top of your head and tie an elastic band where you want to cut it. Stand in front of the stationary mirror and hold the hand-held mirror behind your head to see the back of your head.
Still holding your hair up, slide the band a little higher. Cut your hair above the elastic band. The closer the band is to your scalp the shorter the layers will be. If you're not careful you might end up with a mullet!
Remove the elastic band and shake your hair to check if the outcome is desirable.
For the next part, use the mirrors to check your hair at every snip. You can also ask a trusted friend to help you.
Take the hair at the front and comb it down towards your face. Hold this hair between your index and middle fingers and cut it at the length you want. Be careful to not cut with too much tension as the hair will shrink once you let go.
Using the point-cut method (holding your scissors pointing upwards), add layers to your hair at the sides.
There you have it, your own front layers! Now, let's get to the fun part! Here are 27 incredible short layered hairstyles that you will definitely want to try!
27 Stellar Short Layered Hairstyles
1. Messy Choppy Layered Pixie
Choppy layers add dimension, depth, and texture to fine hair. The tousled layers at the crown make the hair appear voluminous and add an edgy softness to the overall look. You can use a pomade to enhance the layers and rake them with your fingers to get this classic bedhead look.
2. Graduated Bob
Inverted or graduated bobs have been the epitome of chic for ages. The asymmetrical layers with tapered ends make it easier to style and complement all hair textures. The front layers highlight the jawline, enhancing the face shape. Coloring the layers in shades of blonde and brown adds depth to the hairstyle. Andrea Claire, a licensed celebrity hairstylist, says, "Just avoid a deep angle with a graduated bob which can irreversibly ruin the look for you."
3. Wavy A-line Shag 'Do
When I was a teenager, this hairdo was on every show I watched. I was completely enamored by it. These shaggy layers elongate the face, making it look sharp. For an added edge, if you have dark hair you can add some navy highlights or for lighter hair try a pastel shade to accentuate your layers.
4. Layered Lob
Wavy hair brings layers into focus. This layered wavy bob adds volume to your hair and makes it look thick. Adding some highlights a few shades lighter than your natural hair color will add dimension and texture to your hair.
5. Classic Layered French Bob
The classic bob is always chic. Add some layers to give it a classy twist. It will make your hair look fuller. Keep the front simple while adding multiple layers at the back. To make it look even more voluminous, add slight curls to the layers at the back.
Quick Tip
You may also add side-swept bangs to these layers for some flattering dimension if you have a long or oval face shape. It will help make your face appear smaller.
6. French Lob
Thin hair has its perks. For instance, you can sport chic haircuts like this lovely French lob. The layers are well-defined and add dimension to the hair. For an added edge opt for baby bangs with this shag
7. Curly Layers
If you have thin hair, the best way to make it look bouncy and thick is to curl your hair. Andrea Claire adds, "Use a heat protectant and a 1.5-inch curling iron to style your hair in these beachy curls." You can add more texture and dimension to these curls with the help of a texturizing spray.
8. Shaggy Bob
Want a bob with a shaggy edge? This hair look is for all the women who are confused between getting a bob and a shag haircut. The layers accentuate the bob and make it playful! You can add a splash of color on the side to jazz it up.
9. Multiple Layers Bob
If you're blessed with thicker hair but your bob lacks movement then layers are your answer! Blow dry with a paddle brush to avoid it looking too round and soccer-mom style.
10. The Classic Shag 'Do
Meg Ryan was the poster child for this kind of hairstyle back in the '90s. Remember You've Got Mail and Addicted To Love? She sported short shaggy hairstyles like these, with the ends flicked out. This haircut is perfect for the 'I woke up like this' vibe. Effortless! It streamlines your face and makes it look slender.
11. Layered Graduated Bob
The graduated bob is one of those looks that never goes out of style. Spice it up by getting some layers, and it almost looks like a new hairstyle! Some partial highlights add a nice contrast to naturally dark hair.
12. Lightly Layered Bob
Less is better, and less can be a lot when done right. The perimeter of the haircut is layered giving some added face-framing movement while the ends all around have added texture. A great haircut option for those who don't want to commit to too many layers.
Quick Tip
Lightly-layered bobs look good on straight hair. If you have thin hair, it is best to get this hairstyle to make it appear thicker.
13. Gradual Layers Pixie
This haircut starts out short while gradually getting longer at the back. This cut works really well for movement, think Justin Bieber hair flip. If you have a round face, consider getting bangs and a deep side parting.
14. Highlighted Layers With An Undercut
This skater vibe undercut layered bob keeps your neck cool in the summer months. Add some highlights to your layers for some added movement to the cut.
15. Layered Bangs Pixie
If you're an emo girl, this hairdo has your name written all over it. Cutting layers in your bangs can add a nice twist to your pixie. It also makes way for you to style your pixie in many other hairstyles, like a killer mohawk.
16. Underside Layered Lob
A stark layered contrast with short, dark hair undercut on one side and layered hair on the other looks effortlessly cool. Try darker roots with blonde hair. If you do not want an undercut, pin one side up to give it the undercut look. Style your hair in curls to take this hairstyle to a whole different level!
17. Back Layered Pixie
The perfect textured pixie is created with layers. This haircut lends itself to an edgy personality. The contrast between the layered hair and the sheared hair is absolutely mind-blowing. All you need to pull off this hairdo is attitude!
18. Platinum Pixie
Silver who? Gold what? Hello, platinum! All things platinum seems to be taking over the world – platinum albums, platinum rings, and now, platinum hair. But no one's complaining because it looks killer.
19. Choppy Layers
Choppy layers are a great way to give an edge to your bob. They can also highlight other facial features like your eyebrows and eyes. The zig-zag parting that's making a comeback adds oomph to the entire hairdo.
20. Waterfall Layers
These waterfall layers will add height to your face and give it a longer appearance. The blonde layers also add texture to your tresses.
21. Layered Pixie
The layered pixie cut has to be one of the coolest hairdos of all time. It looks edgy and modern while still being a classic cut. Pixies are surprisingly versatile too. Play with the side that you wear your hair to or even slick back with some statement earrings!
22. Diva Pixie
Not everyone can pull off this diva pixie. It takes a great amount of attitude and the right amount of hair color. The contrasting hair colors and the slick waves at the top make for a modern queen-licious hairdo.
23. Layers From The Back
You want layers but everyone has them? Try this! Layers that start at the back and head to the front. It's the ideal messy but clean hairstyle. The layers join at the front to form deep side-swept bangs, which makes this hairstyle perfect for all face shapes.
24. The Asymmetrical Bob
This asymmetrical bob is a layered cut. It starts short on one side and gradually increases in length as it moves towards the other side. It takes great precision to cut the perfect asymmetrical bob, so go to a hair stylist instead of cutting it on your own.
25. Layered Undercut Pixie
The only way to amp up the undercut pixie is to add layers to it. It makes the classic pixie edgier and more badass. Throw in a nice blend of hair colors and brush your hair to one side to create an effortlessly cool look.
26. Layered Faux-Hawk
Many women want short hair but worry about it looking too passe or that they won't be able to style it right. You can never go wrong with a faux-hawk, especially if you have a grungy sense of style. A layered faux-hawk with a dark lip shade is all you need to brighten your day.
27. Messy Pixie
Who doesn't love an intentionally messy 'do? Well, with short hair, you can have the best messy look! Add layers to your pixie, take some mousse or foam on your fingers, and rumple up your tresses to perfection!
We women love to flaunt our hair. That means we want our hair to look stunning 24/7, 365 days a year. Your hair needs love and care to be perfect. Here are some maintenance tips so that your short locks look their very best at all times.
How To Maintain Your Short Tresses
Get regular trims every 4-6 weeks to maintain the style! Short hair tends to lose its shape faster.
Find a hairstylist who does amazing cropped cuts. It takes a lot of practice to do a perfect haircut, and short hair does not leave room for multiple tries.
Wash your hair thrice a week. Short hair that is naturally oily can get greasy every other day. This makes your hair look like it's thinning. Let's not forget the hygiene aspect as well. Leaving greasy hair unwashed for long can aggravate flakiness and lead to buildup.
If you use a lot of wax or pomade in your hair you may find that you get some buildup. Once every 2 weeks, use a detoxifying or clarifying shampoo.
Deep condition your tresses once every two weeks. Apply some conditioner to your hair and cover it with a shower cap. The heat and steam from your bath will deep condition your locks, leaving you with healthy, clean, and nourished hair.
Infographic: Reasons To Get A Short Layered Haircut
Short layered hair needs minimal styling and suits any occasion. It is a versatile haircut style that you can adjust to suit your appearance. You might love your long hair, and therefore, your hesitation to chop those locks off is understandable. However, if you are looking for a statement-making hair makeover, a short layered haircut is the best bet. If you still aren't convinced, check out the fun infographic below to know more reasons to get it done.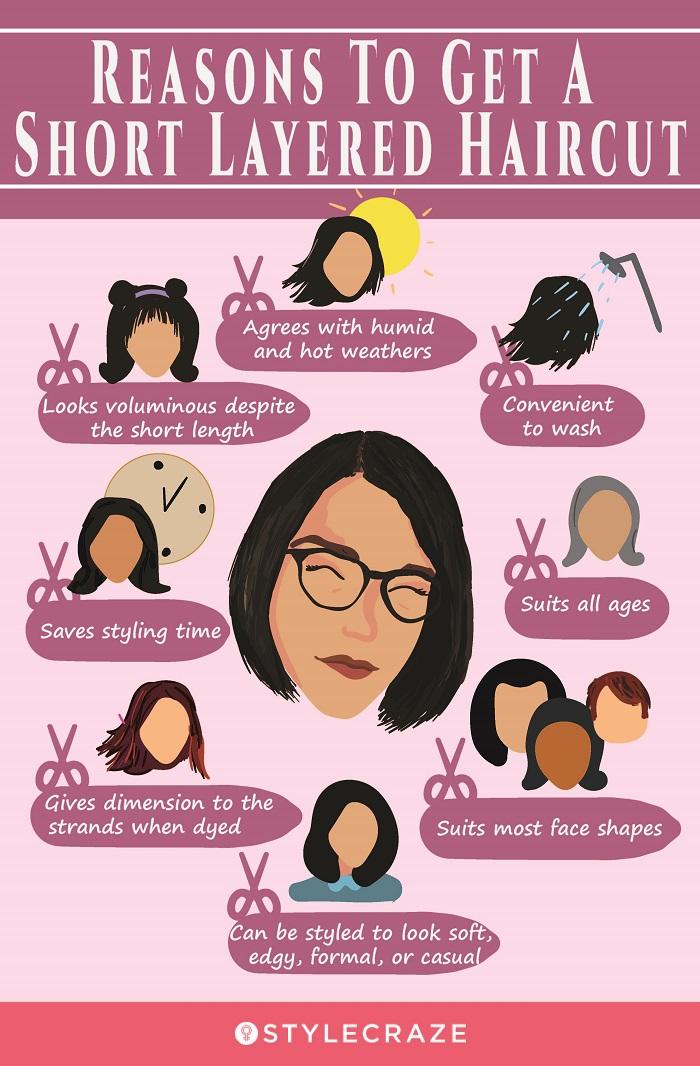 Short hair is undoubtedly low maintenance and stylish. But sometimes, it might get a bit drab or boring not being able to style your hair in multiple hairstyles. This is where layers come into play. Layers add depth and dimension to your short tresses. They also help frame your face shape and highlight specific facial features. For example, if you have a short face, adding layers to the top (at the crown) can give you the appearance of a longer and leaner face shape. So, if you are looking for a chic and stylish new look this season, we recommend these timeless short-layered hairstyles for you to try out!
Frequently Asked Questions
How do you fix short layered hair?
You can let your short hair grow out before getting all the layers recut. If you do not want to wait for it to grow out, your best bet is to approach a hairstylist who can make adjustments to your cut.
How short should my layers be?
It depends on your preference. Shorter hairstyles definitely look better when cut with more texture and multiple layer lengths versus layers of the same length.