Top 5 Fabulous Eggless Pudding Recipes To Try Out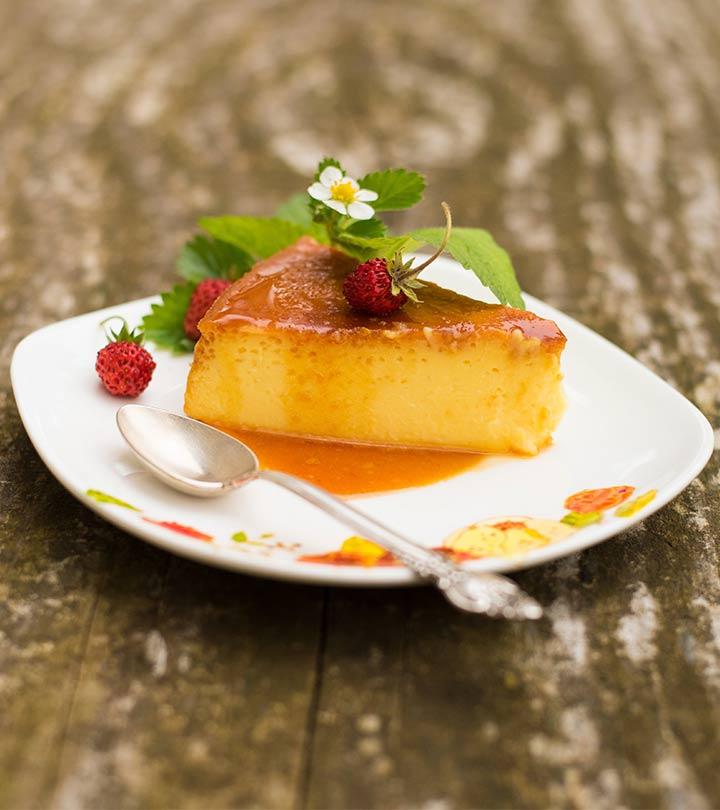 Pudding, in general, uses egg in its basic mixture. However, there are countless recipes, which do not use egg. They are moist and tasty, and make ideal dessert items for those who are vegetarians and vegans. I have put together 5 such recipes here. These recipes are prepared by using various ingredients, such as chocolate, mango etc. The simple recipes have used Marie biscuit for the pudding. Each recipe is versatile in its own way. These recipes offer you the flexibility to mix in ingredients of your choice to manipulate the flavor to meet your needs.
5 Must Try Eggless Pudding Recipe Ideas:
Let's have a look at these 5 eggless pudding recipe ideas, which you can prepare to pep up a special occasion coming up.
1. Chocolate Fudge Pudding:
This is a marvelous treat for all the chocolate lovers. Even those who dislike the dusky, dark flavors of chocolate are bound to get addicted to this simple and easy to make pudding. Serve it with a double serving of caramel or butterscotch ice cream. Also serve it with loads of roasted nuts to make this humble baked delicacy the showstopper of your party.
Ingredients:
All purpose flour – 1 ½ cups
Corn four – 3 tbsp
Cocoa powder – ¼ cup
Sugar – 1 ¼ cup, finely powdered
Full cream milk – 1 ½ cups
Boiling hot water – 1 ½ cups
Butter – 2 tsp, unsalted, softened 
For Serving:
Butterscotch ice cream
Roasted nuts 
Directions:
Preheat your oven at 180 degree C.
Grease an eight cup ovenproof pudding bowl lightly with melted butter and keep aside.
Sift the flours with 2 tbsp cocoa powder into the greased cups.
Add half the sugar and milk to the mixture and stir to combine well.
In a small mixing bowl, mix rest of the sugar with 1 tbsp cocoa powder and sprinkle atop the pudding mixture.
Divide water into 8 equal portions and pour over the pudding mixture, using the backside of a large flat spoon.
Sprinkle butter.
Bake in the preheated oven for 45 minute or till a cake tester inserted into the pudding center comes clean.
Remove from the oven and allow it to turn warm.
Serve with ice cream and nuts. 
2. Biscuit Chocolate Pudding:
An easy to cook pudding, this one also is for the chocolate lovers. A base with vanilla flavored custard powder and marie/digestive biscuits, this one needs to be prepared the day before your party. So, refrigerate it overnight. Ensure to have loads of roasted nuts handy to add up the festive value of this chocolaty dessert.
Ingredients:
Digestive biscuits – 12
Heavy cream – ½ cup
Full cream milk – 1 ¾ cup
Sugar – ½ cup + 2 tbsp
Vanilla-flavored custard powder – ¼ cup
Unsweetened cocoa powder – 3 tbsp
Hot water – 1/8 cup 
For Serving:
Chocolate shavings – for garnish
Wafer sticks – for garnish 
Directions:
Dissolve cocoa powder and custard powder in ¼ cup of milk without any lumps.
Boil the rest of the milk.
In the boiled milk, mix in the cream and ½ cup sugar, and cook until sugar melts completely.
Mix in the cocoa mixture. Using a whisk, mix thoroughly to avoid the forming of lumps.
Boil the mixture on medium to high heat for about 5 minutes or until the mixture thickens.
Meanwhile, dissolve 2 tbsp sugar in hot water in a medium saucepan and boil the mixture until it reaches a sticky consistency.
Transfer the sugar mixture to a slightly deep dish and keep aside.
Take 6 scotch glasses.
Fill the base of the glasses with the custard mixture as thin layer.
Dip 6 of the biscuits in the sugar mixture, one after the other, and arrange it on the custard layer in the tray.
Spoon in a generous amount of custard in each of the glass in such a way that it covers the biscuits.
Dip rest of the biscuits and arrange atop the custard to make a layered arrangement.
Tap the bottom of the dish gently to ensure even settling.
Pour rest of the custard mixture atop the biscuit layer, dividing evenly among the glasses.
Keep aside the pudding to allow it to come to room temperature.
Refrigerate overnight and serve garnished with chocolate shavings and wafers. 
3. Eggless Caramel Bread Pudding:
If you have invited some guests for lunch and you have hardly 3 hours left with you, then this one is the right dessert to serve them. All you need is a few slices of bread, milk, and sugar, and of course a handful of nuts and raisins. While you can serve this warm, it tastes best when served cold after refrigerating it for about 2 hours.
Ingredients:
Bread – 8 slices [I use whole wheat/multigrain bread; milk bread would be a tastier choice]
Full cream milk – 1 ½ cups
Vanilla essence – 1 tsp
Sugar – ¾ cup + 3 tbsp
Butter – 1 tbsp, unsalted
 Directions:
Crumble the bread slices roughly, mix with ¾ cup sugar, vanilla, and milk. Using a masher, mix well until it gets a creamy consistency.
Add 3 tbsp sugar with 1 tbsp butter in a pan and place it on medium to high heat.
Without stirring, heat the pan, and allow the sugar to melt and turn golden.
Transfer the caramel into an oven safe soufflé dish and fill the dish with the bread mixture.
Using a fork, prick the pudding mixture, cover with an aluminum wrap and steam for 25 minutes on low to medium flame.
Take out and allow the mixture to come down to room temperature.
Refrigerate for at least 2 hours before serving with additional caramel sauce. 
4. Eggless Mango Pudding:
Ripe, golden mangoes are mouthwatering. And, when they take the form of pudding, they become even more tempting. Top it up with caramelized nuts and serve it cold. Use the ripest of the mangoes available. While my call will be fresh and ripe Alphonso, you can even use dried mangoes available in the supermarkets to make the same.
Ingredients:
Ripe alphonso mangoes – 3, peeled, finely chopped
Milk – 1 ½ cup, boiled and reduced to half, cooled
Vanilla flavored custard powder – 4 ½ tbsp
Sugar – 1/3 cup, powdered [You can adjust as per your taste]
Mango or vanilla essence – a drop 
For Caramelized Nuts: 
Cashews – 15, roasted, roughly crushed
Sugar – 4 tbsp
Butter – 2 tsp
Directions:
Add mangoes to a blender to make a smooth puree.
In a mixing bowl, add the pureed mangoes, custard powder, milk, powdered sugar, and essence and mix well.
Place this mixture on low to medium flame in a thick bottomed vessel. Boil the mixture for 5 minutes or until the mixture thickens and turns smooth.
Take off from the heat and keep aside until cool.
Once warm, transfer to small cups and refrigerate.
For caramelized nuts, add sugar and butter to a non-stick pan and place on medium heat. Without stirring, let sugar and butter melt slowly. Wait until the sugar completely melts and turns golden.
Add roasted, crushed nuts and mix well.
Take out the cooling pudding, top with the nut mixture, and keep back in the refrigerator for cooling.
Serve cold. 
5. Creamy Rice Pudding:
Indians love kheer. And this one is a variation of our own kheer! This one comes with the flavors of cinnamon and vanilla essence. You can prepare it in your own way or as per the recipe mentioned below.
Ingredients:
Rice – 1 cup
Full cream milk – 4 cups
Sugar – ½ cup
Cinnamon powder – ¼ tsp
Vanilla essence – ½ tsp
Directions:
Wash the rice thoroughly under running water and soak it in clean, fresh water for about 20 minutes.
Add milk to a heavy bottomed pan and on medium to high heat to boil.
Lower the flame and add soaked rice to the milk.
Turn the flame to high and let the mixture come to a boil.
Lower the flame to low to medium.
Stirring intermittently, let the mixture simmer for about 30 minutes or until rice is well cooked and the mixture starts thickening.
Mix in sugar and stir it until the sugar dissolves.
Simmer until the mixture thickens completely.
Mix in cinnamon powder and vanilla essence, cook for a minute more.
Turn off the heat and take it from the heat.
Serve warm or allow it to come to room temperature. Refrigerate and serve cold.
Be it the semiya kheer or rice and jaggery pudding or the one prepared with semolina or the ones we borrowed from the international kitchens, there are countless eggless puddings to try your hand at.
What is your choice when it comes to eggless puddings? Be it a fruit based one or a chocolate or bread-based one, why don't you share your choice with us? Just scroll down and start typing in the comments section below.
The following two tabs change content below.