10 Best Facial Kits For Dry Skin In 2023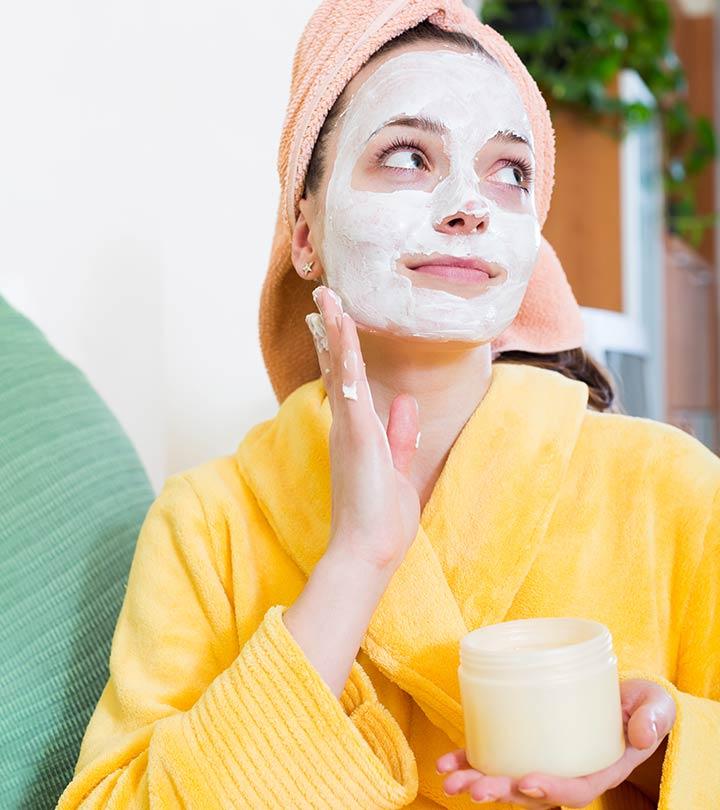 Taking care of dry skin can sometimes feel like a drag. No matter what cream you slather on, the dry patches and flakiness refuse to leave you alone. Apart from moisturizing obsessively, it may seem like there is little you can do to escape this ordeal. Facials sound like a pampering treat, but let's face it, the idea of scrubbing skin that is already dry does seem questionable. Fret not. We have lined up some of the best facial kits for dry skin that you can easily use in the comfort and privacy of your home. Read on!
Top 10 Facial Kits For Dry Skin
Product Claims
VLCC Diamond Facial Kit gives you an indulgent spa facial in the comfort of your home. It leaves your skin polished, cleansed, and feeling fresh with the help of its natural active ingredients. The Diamond Scrub exfoliates dead skin cells and goes deep into your skin to remove blackheads and whiteheads. It contains vitamin E, jojoba, and real diamond bhasma that work together to rejuvenate and purify your skin. It also builds your skin's immunity against damage and pollution. The Diamond Detox Lotion contains leaf extract and olive oil that refresh and regenerate skin tissues. The Diamond Massage Gel, which contains aloe vera and glycerine, combats fine lines and wrinkles, thereby fighting the signs of aging. The Diamond Wash-Off Mask with orange peel, vitamin E, and glycerine helps nourish and moisturize your skin, leaving it soft and glowing.

Pros
Suitable for all skin types
Sufficient quantity for two uses
Exfoliates well
Moisturizes dry skin
Long-lasting effects
Visible results
Travel-friendly size
Hygienic packaging
Pleasant fragrance
Affordable
Cons
Contains parabens and sulfates
Price at the time of publication: ₹264
Product Claims
Blossom Kochhar Aroma Magic Bridal Glow Facial Kit gives you a 7-step facial that enhances your natural glow and gives your complexion a dazzling radiance before your big day. It is every bride's dream to look her most beautiful on her wedding day. This facial kit can make that dream can come true. The unique ingredients of this facial kit counteract the damage caused by pollution and stress and leave your skin revitalized and polished. The seven steps that are part of this indulgent facial include a facial cleanser, exfoliating gel, revitalizing skin serum, nourishing cream, face pack, hydrating gel, and sunscreen. This skin care kit provides intense hydration to dry skin, reduces the appearance of pores, and nourishes your skin from within.

Pros
Suitable for all skin types
Gentle on sensitive skin
Provides intense hydration
Value for money
Pleasant fragrance
Imparts long-lasting glow
Instantly visible results
Travel-friendly packaging
Easy-to-use at home
Cons
Price at the time of publication: ₹799
Product Claims
Shahnaz Husain's Vedic Solution Chocolate Facial Kit is a 3-step skin care system that contains Chocolate Nourishing Cream, Coffee Bean Scrub, and Chocolate Rejuvenating Mask. It is made using ingredients that moisturize and rejuvenate your skin, reducing the visible signs of aging. It adds a glow to your skin and leaves it looking youthful and vibrant. The nourishing cream is a blend of cocoa butter and natural emollients that are formulated to pamper your skin. The other ingredients include aloe vera, rose, grapefruit, olive oil, and almond oil, all of which are known to enhance skin health. The chocolate in it brings about a feeling of well-being. Its regular use restores moisture and hydration to your skin and helps curb dryness.

Pros
Suitable for all skin types
Provides intense hydration
Reduces signs of aging
Helps clear tanned skin
Travel-friendly packaging
Affordable
Pleasant fragrance
Massage cream gets absorbed easily
Cons
May irritate sensitive skin
Price at the time of publication: ₹275.5
Product Claims
Oriflame Love Nature Tropical Fruits Facial Kit is a 4-step facial system that contains extracts of nourishing and hydrating guarana, papaya, and pineapple that soften your skin while restoring its natural radiance. The kit includes a cleanser, a scrub, a face massage cream, and a face mask. The cleanser is gentle yet effectively rids your skin of oil and dirt. The scrub helps exfoliate dead cells, blackheads, and whiteheads without stripping the natural glow and moisture of your skin. The face cream nourishes dry skin intensely without making it feel greasy. Regular facials using this kit help you get a glowing complexion.

Pros
Gentle on sensitive skin
Non-greasy face cream
Scrub exfoliates well
Hydrates dry skin
Hygienic tube packaging
Value for money
Pleasant fragrance
Immediately visible results
Cons
The cleanser is not effective on heavy makeup.
Bulky packaging
Product Claims
O3+ Glow As You Go Facial Kit boosts skin radiance and imparts a glow to your complexion. This 4-step facial purifies and exfoliates your skin to keep it soft and supple. This travel-friendly kit comes with a hydrating and soothing face wash, milk scrub, derma face mask, and aloe derma hydrating gel. This face wash is formulated with soothing and moisturizing properties and helps in hydrating your skin while eliminating impurities. The O3+ Milk Scrub is ideal for normal to dry skin as it is formulated with real milk. It helps moisturize and exfoliate your skin while removing blackheads and whiteheads. The Derma Fresh Mask is enriched with brightening and calming properties to give your skin a boost of freshness. The O3+ Aloe Derma Gel hydrates your skin while soothing, cooling, and reducing any form of redness or rashes.

Pros
Gentle on sensitive skin
Provides intense hydration
Exfoliates well
Soothes inflamed skin
Travel-friendly packaging
Pleasant fragrance
Hygienic tube packaging
Cons
Expensive
Contains parabens
Price at the time of publication: ₹1305
Product Claims
Vaadi Herbals Deep Moisturising Chocolate Spa Facial Kit is a complete skin-conditioning routine that rebalances and revitalizes your skin with every step. The fatty acids of rich cocoa deeply penetrate and hydrate your skin, while the vitamin C of strawberries tones it and keeps the oil under control. It removes the dirt from your pores and gets rid of the dead skin cells, leaving you with a refreshed, rejuvenated, and silky smooth complexion. The 4-step facial kit contains Chocolate-Strawberry Cleansing Cream, Chocolate-Strawberry Face Scrub, Chocolate Strawberry Massage Cream, and Chocolate-Strawberry Face Pack.

Pros
Provides intense hydration
Soothes inflamed skin
Imparts an instant glow
Sufficient quantity for three uses
Pleasant fragrance
Travel-friendly packaging
Affordable
Cons
May cause breakouts
Unhygienic tub packaging
May irritate sensitive skin
Price at the time of publication: ₹330
Product Claims
Jovees Fruit Facial Value Kit is loaded with the herbal power of fruits that offer multiple benefits to your skin. The primary fruit extracts used in this skin-loving facial kit include papaya, apple, banana, and avocado. The enzyme in papaya helps remove dead and flaking skin, and banana helps in moisturizing your skin. This fruit facial also nourishes your skin with essential vitamins and provides antioxidant protection. The 6-step fruit facial consists of a citrus and blackberry cleanser, honey and almond facial scrub, papaya and pineapple massage cream, witch hazel and basil skin toning gel, apple and avocado fruit face pack, and tea tree and witch hazel rejuvenating face cream.

Pros
Gentle on sensitive skin
Provides intense hydration
Sufficient quantity for 2-3 uses
Travel-friendly packaging
Refreshing fragrance
Gives visible results
Cons
Unhygienic tub packaging
Scrub may feel harsh on sensitive skin.
May cause breakouts
Price at the time of publication: ₹600
Product Claims
Shahnaz Husain Shalife Plus Facial Kit is formulated using a blend of plant ingredients and specialized techniques. The products in this facial kit include Shalife Plus Skin Nourishing Program, Shalife Plus Rejuvenating Mask, Shalife Plus Face and Body Scrub, and a complimentary Professional Power Skin Tonic. It nourishes dry skin immensely with its built-in emollient system that enriched with natural antioxidants. Regular facials using this kit can strengthen the supportive tissues of your skin and improve its elasticity. The hydrating products in this facial enhance the vitality and moisture content of your skin. Use this rejuvenating facial kit comfortably at home and uncover a youthful, radiant glow!

Pros
Richly hydrating
Provides visible glow
Travel-friendly packaging
Hygienic tube packaging
Sufficient quantity for 4 uses
Exfoliates well
Cons
Strong fragrance
May cause breakouts
May irritate sensitive skin
Not suitable for all skin types
Price at the time of publication: ₹435
Product Claims
Vedic Line Moroccan Argan Oil Facial Kit uses argan oil as its main ingredient. Argan oil is also known as liquid gold because of its golden color. It is a precious and rare oil that is extracted with utmost care from the kernel of fruits from the Argan trees in Morocco. This facial has many properties like moisturizing, anti-aging, and skin whitening. The products in this nourishing facial kit include Moroccan Argan Oil Cleanser, Moroccan Argan Oil Scrub, Moroccan Argan Oil Firming Cream, Moroccan Argan Oil Firming Gel, Moroccan Argan Oil Serum, and Moroccan Argan Oil Face Mask.

Pros
Paraben-free
Available in travel-friendly sizes
Sufficient quantity for 10 sessions
Richly moisturizing
Imparts a beautiful glow
Cons
Contains SLES
Expensive
Contains alcohol
May irritate sensitive skin
Price at the time of publication: ₹1600
Product Claims
NutriGlow Wine Facial Kit is infused with red grape extract, red rose extract, and patchouli extract that hydrate and nourish the skin. Its soothing properties calm the skin, improving skin elasticity and radiance. It reduces visible signs of aging to reveal glowing, youthful skin. After deep cleaning and exfoliating the skin, it treats and prevents acne and blackheads for a blemish-free appearance. This 6-step facial kit includes Deep Cleanser, Exfoliating Scrub, Nourishing Gel, Whitening Cream, Firming Mask Pack, and Serum.
Pros
Dermatologist-tested
Gentle on skin
Easy-to-use
Travel-friendly
Cons
May not suit certain skin types
Price at the time of publication: ₹420
Listed above are some of the best facial kits for dry skin. But before purchasing any of them, consider checking a few essential things. The guide given below will help you understand what to consider when buying a facial kit.
How To Choose The Most Suitable Facial Kit For Dry Skin
The perfect facial kit for dry skin should have all the required products in it. Check that includes a massaging cream, a toning gel, a face pack, a skin-protecting lotion, and a scrub. It is vital to have all the products in the kit that you want to buy as every product has a different role to perform.
Facial kits are designed to meet different skin needs. Therefore, it's imperative to opt for the most suitable kit based on your skin's requirements. Check out the different types of facial kits below:
Gold Facial Kit: Give a boost of golden glow to your skin with a gold facial kit. The gold particles or ions used in this kit enhance blood circulation to add radiance to the skin.
Diamond Facial Kit: Plump up and rejuvenate dull and dry skin with a diamond facial kit. It adds an immense amount of moisture to the skin to eliminate dryness.
Anti-Tan Facial Kit: Eliminate tan and uneven skin tone with an anti-tan facial kit. It is equipped with the power to rejuvenate the skin and reduce the production of melanin.
Platinum Facial Kit: Say goodbye to signs of aging like blemishes, fine lines, and wrinkles with a platinum facial kit. This facial kit enhances melanin production to promote skin elasticity.
Skin-Whitening Facial Kit: Skin-whitening facial kits pamper dull skin. The whitening agents used in the kit brighten and lighten your skin tone from within.
With these facial kits, you can pamper your skin with love and luxury in the comfort of your home and without having to worry about salon appointments. Just pick a facial kit that suits your needs best and enjoy a relaxing spa experience anytime work stress gets unbearable. And don't forget to share your experiences with us in the comments section below!
Frequently Asked Questions
What are the key ingredients to look for in a facial kit for dry skin?
Opt for a facial kit that contains hyaluronic acid, glycerin, aloe vera, shea butter, and natural oils. These ingredients help to hydrate and nourish dry skin.
What is the ideal frequency for using a facial kit for dry skin?
For dry skin, using a facial kit once every two weeks or once a month is generally sufficient. Overdoing facial treatments can potentially strip the skin of its natural oils and cause irritation.
Are there any specific steps or techniques to follow when using a facial kit for dry skin?
Yes, follow the instructions provided with the facial kit, typically involving cleansing, exfoliation, applying masks or serums, and moisturizing. Gently massage products into the skin using upward and outward motions to avoid pulling or tugging at the skin.
What precautions should be taken while using facial kits for dry skin?
Avoid using hot water while cleansing, as it can further dry out the skin. Additionally, choose products without harsh chemicals or alcohol, as they can be drying and irritating.
Can facial kits for dry skin be used by individuals with other skin types as well?
While facial kits for dry skin are formulated to address dryness, many of the hydrating ingredients can benefit other skin types as well. However, those with oily or acne-prone skin may prefer products with lighter textures and oil-free formulations.
Recommended Articles