35 Eye-Catching Fall Hair Colors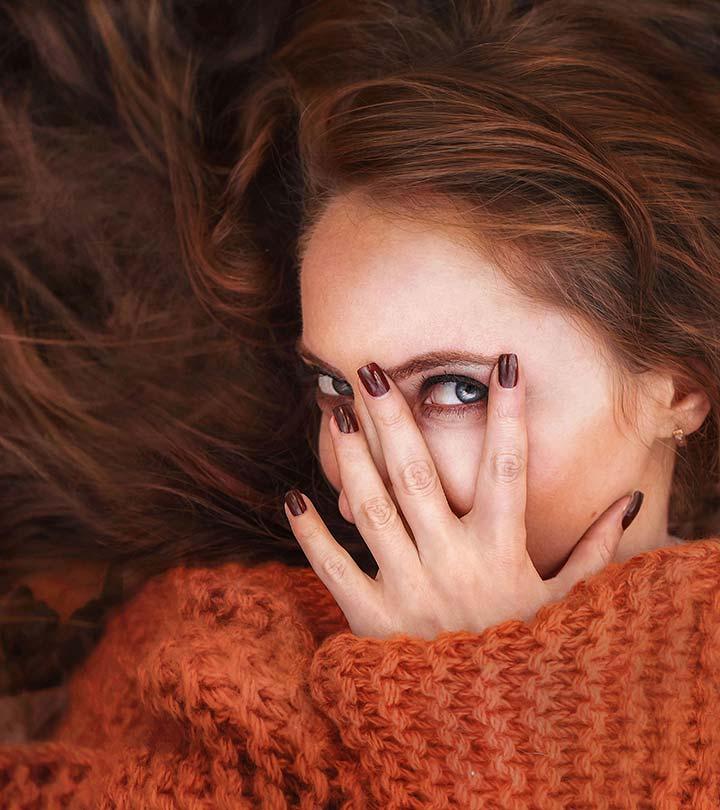 It's that time of year again – the leaves are falling, summer is at its end, and Instagram posts are exploding.
Hold on to your coats and scarves because fall is here. Pumpkin spice lattes, apple pie, bonfires, and coats – do you notice the theme? Planning your hair color to match this theme will certainly make for some picture-perfect moments. As Lauren DeStefano best put it, "The time when everything bursts with its last beauty, as if nature had been saving up all year for the grand finale." Yellow, orange, brown, and red become so much more eye-catching. It's only natural that we'd be enamored with them and want to color our hair to match the autumn theme.
To help you get those Insta-perfect portrait shots, I've compiled the top 35 hair colors to try this autumn. Read on to get your hair fall-ready!
35 Eye-Catching Fall Hair Colors
1. Brown To Blonde Balayage
Earthy colors go well with the autumn theme. This dark brown to strawberry blonde balayage is perfect for those cold autumn nights. If it rains, pair it with an orange umbrella, and you are Instagram feed ready.
2. Blonde Highlights
Warm colors like chocolate brown can be accentuated by adding some blonde highlights. Highlights can also add dimension and texture to your hair. Try this color job on a layered cut to make your hair look voluminous and lovely.
3. Autumn Red Hair
When desert sand is hit by sunlight, it looks reddish. This reddish-brown shade will make you feel warm during the sudden fall showers. Red hair is the perfect fall color because it is earthy, but not fake. It looks natural and flowy.
4. Raspberry Auburn Hair
Who doesn't love raspberry? It's great as a fruit, awesome as a drink, and even better as a hair color. Imagine taking pictures with fall colored leaves, this hair color, and a nice deep colored jacket. Ooh la la!
5. Dark And Light Brown With Light Ends
Have you ever tried a dark chocolate espresso cake? A slice of it makes everything right in the world – if you love dark chocolate and coffee. Take that rich goodness and drape it over your hair. Every day is guaranteed to be a good one after that.
6. Sun-kissed Deep Auburn
If you have dark hair and want to add a little color to it, go for this sun-kissed deep auburn shade. You don't need to color all your hair; a partial balayage will do the trick. You are now ready for autumn! Imagine those vibrant yellows and oranges contrasted with this hair shade!
7. Jewel Tones
Diamonds are a girl's best friend, but so are other gemstones. Fall is the time when all the browns, oranges, reds, and yellows are on display. This is a brilliant way to add some additional color to the autumn palette. With a wide range of gemstone shades to choose from, go for some deep and eye-catching shades.
8. Dirty Blonde Locks
It's hard to believe that a versatile shade like dirty blonde was frowned upon until a decade. Women who had this natural hair color would color their hair to make it lighter or darker because it was called 'dishwater blonde.' But, over the years, this medium blonde shade has really come into its own.
9. The Fall Blend
Go outside your house. What colors do you see? Some nice dark brownish and orange leaves with a slight burgundy hint. The turning of color and the falling of leaves is what gave autumn its nickname – fall. It shouldn't be a shocker that these very shades are the ideal fall mix.
10. Dark To Light Blonde
With so many earthy colors going on display, it's nice to see some beige tones. Color your hair in a beige ombre, put on a gray jacket, and get ready to stand out!
11. Copper Ends
Less is more. In a world where everyone is trying to be loud and bright, less is standing out. Try the same technique with hair colors. Instead of coloring the full length of your hair, color the ends a nice copper shade with hints of pink to add some spice to your locks.
12. Light Ginger Tones
Pumpkins on the porch, glowing lights, and a golden-orange crisp apple pie – who doesn't love Halloween? In the words of Jerry Seinfeld, "They're giving out free candy!" Bring all that candy joy to your hair with this Halloween-ginger hair color.
13. Deep Red Dimensions
Some red hair shades look more natural than others. This bronzed pecan mix with fireball copper is one of them. The subtle differences in colors bring dimension to this hair look. It also makes the hair look more voluminous.
14. Dark Roots
Blond hair really stands out during fall. That's because the yellows we see are all so bright or mustard that blonde appears deeper and lighter. It's a great way to create contrast and highlight your tresses. Leaving your roots dark is a great way to accentuate your blonde locks.
15. Dirty Blonde Ombre
Women are always specific when it comes to shades of dirty blonde. Some want it light with a golden touch, others want it deep like their personality. Why not consider both this fall? A dirty blonde ombre is bound to turn heads and make you feel warm this autumn.
16. Red And Copper
Copper is a hardcore autumn color. It goes well with all things fall. It makes for a great canvas to showcase that deep red shade. Very autumnal!
17. Winter Brown Hair
This is the best way to welcome winter. Autumn is the season before winter. So, it rains, and it is cold. It's time to bring out those winter coats and break out this winter brown hair color. It looks like browning evergreens just before the snow starts falling.
18. Purple Pink Blend
It's a common misconception that colors like pink and purple don't work during autumn. The key is to pick warm tones of pink and purple. They go well with the earthy tones of autumn.
19. Deep Violet Tones
If you have fair or medium-toned skin, this is the perfect shade for you. Violet tones go really well with the oranges and yellows that you see everywhere in fall. They add vibrance to the season and look incredible.
20. The Phoenix Mix
The Phoenix should be the symbol for autumn. Google 'Phoenix,' and you'll see autumn colors pop up. Bring your hair back to life and make it the center of attention with this playful mix of warm colors.
21. Warm Winter
There are some autumn mornings when the sun shines, and it feels warm and cozy. You want a cup of hot chocolate with marshmallows and some bacon with eggs on such mornings. Relive that awesome feeling with these warm winter tones.
22. Rosé
Before you correct me, I know there's no specific season to have Rosé. Going by what my friends tell me, it's great wine. It can instantly make you feel good. Well, take that instant goodness and splash it on your tresses. That way, you'll feel good all the time.
23. Ash And Champagne Blonde Mix
Don't feel like going out? That's fine! Light a small fire and drink some champagne. Take the warmth you feel to your hair. Autumn will be rainy, and you'll need all the warmth you can get.
24. Dark To Light
The best way to bring dimension and texture to your hair is to create a stark contrast. Keeping your roots dark makes your face look longer. The light ends streamline your jawline. The contrast really showcases your natural hair color.
25. Pastel Pink
Cherry blossoms signify the beauty and fragility of life according to the Japanese culture. I think that's what fall does too. We truly notice nature and how beautiful life is during this season. If you want to celebrate life, do it with this lovely pastel pink shade.
26. Rooted Silver
If you want to try some cool contrasting colors, this silver color is brilliant for autumn. Try this silver shade with a mustard sweatshirt and blue jeans to create some Instagram magic.
27. Rose Gold
Rose gold is one of the chicest hair colors. It's the perfect blend of autumn and femininity. It is strong and elegant. Simply lovely!
28. Brown And Pink
I love chocolate ice cream, but sometimes, when I want to mix it up, I add some strawberry ice cream to it. It's delicious. Transfer that awesomeness to your hair. This mix of colors is the perfect blend of warm and earthy colors.
29. Blue Pastel
During autumn, you're going to see a lot of warm colors like yellows, oranges, and browns. Coloring your hair pastel blue can add some coolness to the fall theme. It's a great way to usher winter in while still being in autumn.
30. Deep Blue Balayage
If you have naturally black hair, try this ombre. It looks like spring in a forest. It's very pretty and bright. If your hair is dull, this a great way to liven it up. The deep blue shades will look great with the warm autumn colors.
31. Frosty Hair
This is how you own autumn! While browns look great in autumn, this frosty shade looks incredible. It goes well with the Halloween theme too! It is one of the few pastel shades that look great in autumn.
32. Red And Brown Hair
My hair feels dry and lifeless. I try to style it in waves to give it some volume. You can add more bounce to your hair with this red and brown dimensional hair mix.
33. Icy Blonde
Blonde is unconditionally a warm tone, but it can be frosted. The key is to keep the roots dark. Pair this hair color with a red coat and brown boots, and you are ready to slay.
34. Deep Silver
Silver is a mature and sophisticated color and totally rad! Pair it with a mustard trench coat to make those subtle hints of lavender stand out. You need to try it! I know I will.
35. Platinum Blonde
Bring contrast to all the brown and orange you see with this platinum blonde hair color. It is the perfect blonde shade to say 'bye' to summer, 'hi' to autumn, and 'see you soon' to winter. It's one of those colors that makes you feel good.
There you have it, ladies! Get your hair fall-ready for those incredible pictures you'll be taking. Autumn is the best season for taking pictures, so get to it! Let me know which were your favorite colors from this list in the comments section below.
The following two tabs change content below.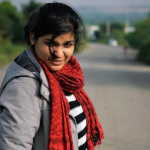 Latest posts by Anjali Sayee (see all)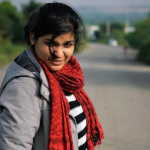 Anjali Sayee
Anjali Sayee is a writer and an introvert. From studying Aeronautical Engineering and wanting to design her own airplane to writing articles on hairstyles, she has been on quite a journey. She believes that hair is one of the key factors that define a woman's personality. To quote her, "What's the first thing they do in the movies to show a personality change? Change the hair – because it has a life of its own." She's here to help you find the hairstyle you need. This bookworm is a self-professed Wholocker, a talented drummer, and an amateur photographer.