Cute Fall Outfits That You Simply Cannot Ignore In 2019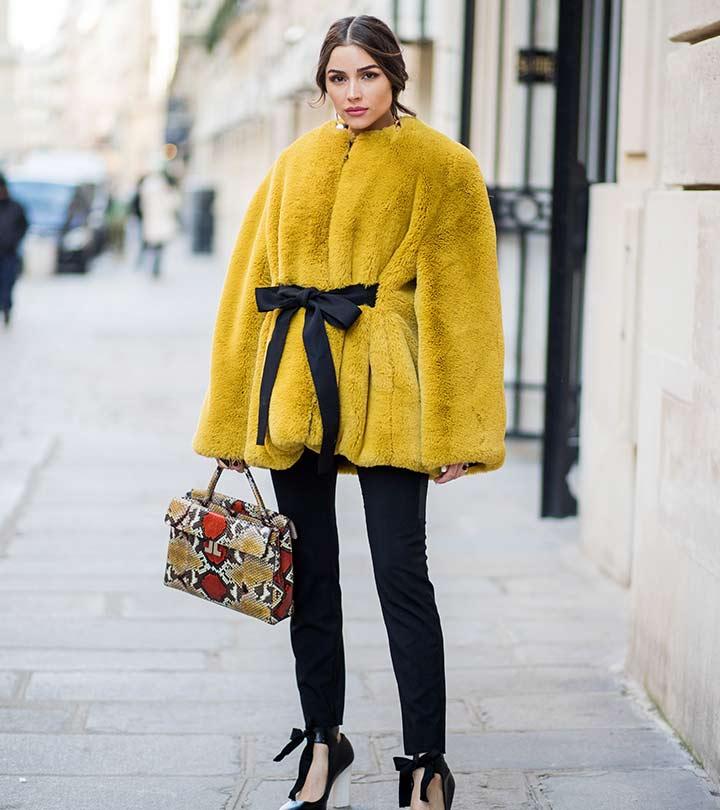 Fall is that time of the year when you want to dress up but still feel cozy and comfortable while doing so. The weather is romantic, and everything seems beautiful. Dressing up during this time of the year is super exciting. Fur coats, cozy sweaters, jackets, turtlenecks, and boots – we love them all! Read on to find out how to style your outfits this fall to look 10/10!
1. Vintage Coat With Wide-Leg Pants
Wide-leg pants are uber fashionable and look great during fall. Shades of brown, black, white, and pastels are great choices when opting for wide-leg pants. Pair them with a turtleneck crop top to create a chic look. Since it's fall, you can go all out and put on an oversized coat. This outfit is warm, feminine, and classy.
2. Velvet Blazer With Palazzos
Velvet blazers look absolutely gorgeous. First, they keep you warm in chilly weather. Second, they look stunning in all colors. Third, you can't not look great in a velvet blazer. A simple velvet jacket can glam up your entire outfit.
Opt for dark colors like bottle green, crimson red, or black. A classic white crop top is just what you need to elevate this look. Finish off the look with printed palazzos and a vintage belt.
3. Fur Coat Over Capris
A fur coat is THE piece of clothing to sport in the fall. It keeps you warm and makes you look classy and stylish. It effortlessly ups your style game. A fur coat can also take a casual t-shirt and capris to a whole new level.
4. High-Waisted Skirt
It does not get chicer than this outfit. When wearing a skirt during fall, it's a great idea to opt for layers. Black, white, pastel shades, and neutral tones look beautiful during this season.
A high-waisted skirt over a crop top looks effortlessly stylish. Put on an overcoat to keep you warm while making a style statement. A pair of elegant ankle-length boots is all you need to finish off this fall look!
5. Boyfriend Jeans With Overcoat And Beanie
Wearing baggy clothes during fall is completely acceptable. Just make sure you keep it classy and not sloppy. Not everyone can pull off boyfriend jeans. But, hey, don't back down from wearing one of the most comfortable pair of jeans for us women out there. They look super trendy and great when you style them right.
A good pair of boyfriend jeans can be worn with a tight-fit crop top. Put on a large overcoat and wear a belt around it. The belt streamlines the silhouette of the outfit, making it look chic. Finish off this urban look with a pair of suede loafers.
6. Oversized Sweater And Biker Shorts
Oversized sweaters are the epitome of comfort. They look cute and can be worn in many different ways. They look great over skirts, shorts, and jeans. You can wear a belt around an oversized sweater and wear it as a sweater dress.
However, we suggest you opt for this contemporary outfit. A bright neon oversized sweater will look really cool over a pair of slick biker shorts. Finish off this look with white sneakers.
7. Denim On Denim
Denim looks flawless in all seasons. A slick denim jacket with a white shirt looks classy yet youthful. Put on skinny jeans that go with your jacket. To glam up your attire, wear pastel wedges or block heels. It will add so much more character to your look.
8. Hoodie With Ripped Jeans
Hoodies are the most underrated pieces of clothing. You can wear them to run errands on a casual day or style them up look super stylish. It's all about how you choose to wear them. This fall, pair an oversized hoodie with ripped jeans.
Put on a pair of black ankle-length boots and add on a beanie if you feel like. This perfect girl-next-door ready to go!
9. Turtleneck Top With Mini Skirt
Turtleneck tops are a classic. During fall, these tops look casual yet effortlessly stunning. If you are heading out to meet up with friends or are going on a date with your boo, put on a turtleneck top. We suggest going for something in dark shades. Since it's quite cold during this time, make sure it keeps you warm.
Pair this turtleneck top with a mini skirt in colors like black or brown. These colors stand out during the fall season. Tie your hair in a messy half-bun and put on a pair of boots.
10. Sweater Dress With Statement Shades 
Sweater dresses are worth gushing over. They look cute and dressy at the same time. They also look great in literally any color. The best kind of outfits are ones that keep you comfortable yet make you look good. Sweater dresses do exactly that.
In fall, it's best to go for pastel shades. A pair of statement shades can quirk up your outfit and add more glam to it. At night, wear a sweater dress in a darker shade. You can opt for Vans or sneakers, but nothing will look as good as boots with this outfit.
11. Floral Mini Dress
Dresses are hard to resist even when it's cold outside. They look pretty and make you stand out in a crowd without trying too hard. Something about them is romantic and almost dreamy. Moreover, fall is the season of love. How could we not add dresses to it?
Floral mini dresses look effortlessly beautiful on a fall day. Pick a dress in a pastel shade. A beige or brown overcoat will look great over it. For shoes, opt for boots. This will complete your outfit and make you look like the pretty girl that you are.
12. Black Blazer With Jeans
A black blazer speaks volumes of confidence, style, and power. Wearing it with a pair of jeans creates a more laid-back look without compromising on style. A black velvet blazer will look utterly gorgeous in fall. Make sure you pick the right kind of jeans to go with the blazer. We suggest skinny jeans as they create a more structured silhouette. You can wear your favorite pair of stilettos to finish off this outfit.
13. Simple White Shirt With Pastel Pants
Pastel shades and fall go hand in hand. A classic white shirt paired with a pair of pastel pants creates quite a style statement. We love the idea of this outfit. Put on a cute pair of strappy heels to round off this look. This outfit is really simple but looks exceptionally classy. Put on a pair of brown or black shades to set some serious #fashiongoals!
14. Striped Pants With Trench Coat
Striped pants are evergreen. They look great during the day and at night. In fall, wear a black and white pair of striped pants with a black mesh top. Now is also a great time to bring out your trench coat.
We suggest something in warm and mellow colors. But, if you feel like dressing up and looking a tad bit extra, opt for pink! It will look adorable over this outfit. You can go for boots or pumps to finish off this look.
15. Baggy Sweater With Leather Leggings
This is one of our favorite outfits. We love how effortlessly stylish it looks. Baggy sweaters are super cozy and so fun to wear during fall. Instead of jeans, go for a pair of leather leggings that add an edgy touch to the outfit. It looks simple and looks classy all the way. A casual pair of white or black sneakers and black sunglasses are all you need to complete this look.
16. Tan Cardigan With Jeans
Tan is a color that represents fall. It looks cozy and mature at the same time. A tan cardigan is a must-have during this season. You can pair it with blue or black jeans, depending on what you like.
Ankle-length and thigh-high boots look super slick with this attire. Since it is fall, you can have some fun and sport a cute beanie or a hat with this look.
17. Tracksuit With Ankle Length Boots
Who would not like staying in pajamas all day? They are so comfortable and almost impossible to get out of during fall. Tracksuits are a blessing for us fashion bugs. You can style them up and look and feel super comfortable in them. However, we suggest you to not go entirely overboard with them. After all, they are still tracksuits.
Stick to playing it safe and simple. Tracks in colors like wine red, black, and velvet green are great options. Wear them with white crop tops and a black jacket. They look stylish and lowkey classy. You can go for ankle-length boots or even casual white sneakers to look ravishing.
18. Deep Blue Velvet Jumpsuit
Deep blue is an exotic color. Everything about it is intense. A jumpsuit in this color looks like a dream. You can wear it on a date or to a fancy gala. The color is super classy, and the velvet fabric makes it look even better.
Don't go overboard with accessories. A simple pair of classic diamonds studs and a metal-strap watch is all you need. A pair of black boots will look gorgeous with this outfit.
19. Hooded Raincoat
Raincoats are not just a necessity, they also make a strong fashion statement. You can wear them on a gloomy fall evening to look your best. Shades of tan, brown, and beige are an excellent choice for this look. You can wear a raincoat over a casual white dress to look elegant. Pair this outfit with a pair of gummy or rubber boots, and you're good to go.
20. Off-Shoulder Dress
We love how off-shoulder dresses look so feminine and pretty. They work for all seasons, day or night. Off-shoulder dresses in shades of pink, blue, and yellow look gorgeous during the day and elegant at night. You can pair them with white sneakers or boots to create a feminine and youthful look.
21. Mini Dress With Strappy Heels
Mini dresses look feminine and lovely. Floral patterns are a great choice for fall. They look almost poetic during this season. Wear a floral mini dress with a pair of boots or strappy sandals before heading out for a Pumpkin Spice Latte with your bae.
22. Pleated Satin Skirt
Pleated skirts are a must-have for every woman who is into fashion. They look exceptional in all colors. You must pick out the right tops for these pretty skirts as they are the highlight of your outfit. White t-shirts or pastel crop tops look stunning with them. White shoes and a pair of shades are all you need to complete this outfit.
23. Kimono Over Jeans
Sometimes, kimonos are all you need to glam up your outfit and look pretty. Something as basic as a black crop top and blue jeans paired with a belt will look stunning with a kimono. In this case, we have picked out a red kimono as it exudes a fall vibe. Put on black boots, and you are good to go!
24. Bodysuit Over Printed Pants
Bodysuits are super trendy and great for flaunting your figure. Pair a black bodysuit leopard-print or leather pants to create an edgy but sophisticated look. Finish off with a pair of pumps to up the glam factor of this look.
25. Checked Blazer With Boyfriend Jeans
Something about checked blazers makes you look classy and mature. They look terrific over boyfriend jeans. This outfit, along with heeled boots, is just perfect for fall.
Those were some of our favorite outfit ideas for fall. Fall is a beautiful season, and dressing up during this time is super exciting. Leave your fall outfit ideas in the comments section below! We would love to get some fashion inspiration from you.
Recommended Articles:
The following two tabs change content below.

Latest posts by Nooraine Firdouse (see all)