Unique Fall Wedding Ideas To Make The Day Memorable
Offbeat concepts and ideas to make your autumn wedding the talk of the town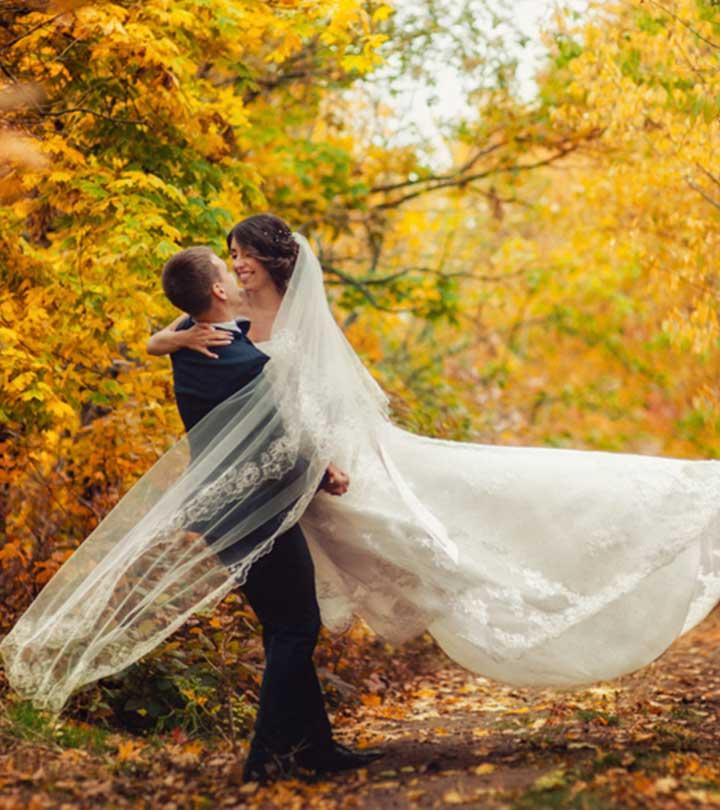 The fall season leaves no stones unturned in making your dream wedding come true. If you are set to exchange your most-awaited vows, those gorgeous rocks, and tie that auspicious knot with your darling would-be during the fall, then a fairytale wedding is guaranteed! And to render you the exemplary service so you can make the best of this blissful season, today, in this article, we shall provide you with a comprehensive guide on beautiful fall wedding ideas you can take all your inspo from. Yes, yes, we know you are already thinking about those beautiful autumnal colors, foliage, and whatnot. So, what are you waiting for? Go ahead and give the piece a nice read and make your wedding not just a ceremony but an event that everyone appreciates for the rest of their lives. Come on!
Incredible Fall Wedding Ideas
Fall is that perfect time when you don't freeze or feel unbearably hot either. And, of course, you wish to feel comfy during the big day, and this season just makes it possible the right way. So, to plan that dreamy wedding, you are now only a few scrolls away. Below we have categorized our best ideas based on different and common requirements. So, please scroll down and find them out.
Fall Wedding Ideas On A Budget
Budget being the essential aspect when it comes to arranging a wedding ceremony, it requires greater significance. It cannot at all be an afterthought. So we have rounded up some budget-friendly ideas below that you must read.
Let us discuss some of the craziest fall wedding food ideas that we have for you. First comes the snack bar. Fill this bar with pretzels, nuts, and other dry fruits. They are super affordable, and your guests will never say "no" to them, given their health benefits and extraordinary taste. Try to display them in separate containers to avoid allergic issues.
Would you like to bring back that Potluck wedding culture where a group of people makes their contributions to the feast? If you're up for it, your guests who have the heart of a chef can take up the responsibility and make it a success. Just make sure to plan it well and allow the people to have a clear understanding of what and how much to order and take care of their supplies. This will undoubtedly top the list of fall wedding food ideas on a budget and fill the day with the immense joy given that the food's made really with love!
Next up are the wedding flowers. Now, fall is mostly about warm colors. So when it comes to deciding on the bridal bouquet and wedding flowers in general, you can go for dahlia, chrysanthemum, marigold, sunflowers, calla lily, and gerbera daisies. Especially for the bouquet, you can have flowers as well as those gorgeous dry leaves in fall tones like yellow, orange, brown, and white. Using the same flowers and foliage for the centerpieces and decorations will add personality to the celebration. So, go for it without hesitation!
Decorate the setting with personalized "thank you" notes meant for your guests. You can use different calligraphy-style letters while writing these cute little notes and display them with some apple favors. Oh, and make sure these favors are fresh.
And if you want an entirely out-of-the-world kinda wedding, of course on a budget, then try square hay bales for seating. You can save a lot of money by not spending a penny on seats if you can arrange those cute hay bales for your guests to sit on. Also, they will give them the perfect fall feel too. Don't worry about them being pokey; cover them with a thick white piece of cloth. Oh, this way you can just make them elegant too!
Outdoor Fall Wedding Ideas
Fall weddings just get better if organized outdoors. With all the fall flowers and autumn leaves around, these outdoor weddings are enjoyable! To help you make an outdoor wedding during fall a success, we have a roundup of amazing and suitable ideas below that you must try. So, go on, check them out!
Trust us when we say this: Vineyards make THE best place for an unforgettable outdoor wedding during the fall season, given that winery hopping and wine tasting are a thing during this season. Oh, and the best part is, you will find most of these wineries and vineyards around the countryside. So, you will definitely not miss out on those pleasing sceneries and rustic weddings. "Perfect" is all we can hear now!
• If you are scouring for fall wedding arch ideas, then let us tell you that an outdoor fall wedding allows you to build the best wedding arch with autumn colors. Go for a rustic look and decorate the frame with garlands and twines. You can also try a sunflower arch, for the color yellow will just add more charm to the frame!
Fall Wedding Decor Ideas
Ahh! This is precisely what we were waiting for: The Fall Wedding Decor! The best part about this is, you can simply chill and let nature shoulder the responsibility of decorating your wedding! Okay, let's dive deep and see how you can do a nature-inspired decor.
If you wanna say "I do" in a total rustic setting, try this super simple yet super chic idea: Arrange benches for seating and have warm blankets on them. The greenery around will give you that natural accent and add more beauty to the event!
For escort cards, try dry leaves that have turned brown now. Ask calligraphers to write on those leaves with white ink to add more charm to the decor. Oh, but make sure to clip those leaf escort cards onto the surfaces, for the wind can otherwise simply blow them away, and you definitely don't want that.
If you want to add a romantic touch, candles and lanterns are the way to go! Arrange a few glass vases with tea lights for the evening. As the sun sets, you will be greeted with a warm and cozy atmosphere. You can set up everything near fireplaces, wearing warm and comforting attire.
And if you are looking for the best fall outdoor wedding decoration ideas, then you must try bouquet bars. Fall offers you an extensive list of gorgeous fall florals and leaves, so get them all and arrange a bouquet bar display, and spread the flowery vibes all around!

Quick Tip
Use accessories to set the mood. Light scarves and autumnal candles complement the breezy, fresh atmosphere of a fall wedding.
Backyard Wedding Ideas For Fall
Backyard weddings are perfect for bringing all your kith and kins together to witness the holy union of two lovers, given that it can be arranged from the comforts of your own crib, and you have complete control over the proceedings too. So, let us check all the fun ideas we have curated for you to make this celebration memorable.
Place a fall welcome table. Add fall accents to it with fall decorative items. This welcome table that sets the fall tone for your guests can have coffees, blankets as well as pashminas to keep the people warm and make them feel at home.
Decorate the aisle with pretty pumpkins to maintain that fall aesthetic. Different shapes and sizes of pumpkins will do just great. There, you have the best "walking down the aisle" picture.
Go for a cocktail lounge in your backyard. Decorate this corner with velvet and some fall flowers and leaves to make it look super natural. Don't forget to add blankets.
For table decorations with fall vibes, how about rust-colored napkins placed against beautiful white tablecloths and plates? A big "Yes"! This also reminds us of the phrase, "Less is more."
Plaid for fall can never go wrong. Play with the pattern. Have its touch on tablescapes and other decorative items.
How about centerpieces that are filled with fall foliage? We know you can't say "no" to them.
Think taupe or copper tones. Perfect fall colors, right? Now request the bridesmaids to dress in those colors and make sure the fabric is velvet. This is a seasonal decor both unique and inspiring.
Arrange a grazing table filled with the fall harvest themes. Food items that are fall-special should find their places on this table to make the cocktail hour unbelievably delicious!
When all the wedding affairs are over, and the "thank you" notes have been sent to the guests, people long to see the wedding photographs. Given that the wedding was in the backyard, make sure to have the crucial photography sessions against the backdrop of fall colors. Fall flowers and leaves make all pictures simply "picture perfect", don't they?

Quick Tip
Include fall-themed flavors for drinks. Go for seasonal punches with apples and peaches, wines, and apple cider cocktails for a truly outdoor cocktail bar.
So friends, now that you have the complete guide on how to make your fall wedding dream-like, get ready and start planning. And, of course, you can add your personal touches to the ideas that we have mentioned above because when you do so, the event gets that perfect opportunity to bring out your personality better. Also, beyond everything else, make sure to have fun, definitely without causing anyone any kind of distress. Weddings are meant to be an occasion filled with boundless joy, jokes, and laughter. With the couple being united in holy matrimony, love is all that everybody should experience this day! And every day!!
Frequently Asked Questions
How can I choose the perfect fall wedding venue that fits my style and budget?
You can host your perfect budget-friendly fall wedding at a public park, public garden, local winery, or even in your own backyard. You can also save money on the venue by having a small courthouse wedding, followed by a fantastic fall reception at a separate low-cost venue.
What are some ideas for fall wedding photography, including locations and props?
You can create alluring photography and make beautiful and inexpensive fall wedding props and locations by upcycling rustic ladders, taking versatile wooden crates to make flower centerpieces, and using paper flowers to create the wedding arch.
Are there any specific types of entertainment or activities that are popular for fall weddings?
For fall weddings, you can arrange apple picking, pumpkin carving, bonfire and smores, rustic-themed photo booth, or play games like cornhole, Live DJ, dance, and arrange hayrides.
How can I incorporate seasonal fruits and vegetables into my fall wedding menu?
You can incorporate seasonal fruits and vegetables in various courses, adding vegetable soups, skewers, and roasted veggies for appetizers. For salads, use fresh fall veggies with seeds, or roasted potatoes. For the main dishes, go for stuffed quash, wild rice with mushrooms, roasted chicken infused with herbs, or a butternut squash risotto. Pick fruit-based desserts like apple pie, pumpkin pie, fruit tarts, or apple cheesecake.
Are there any tips for planning an outdoor fall wedding, considering potential weather challenges?
TO tackle potential weather challenges, it is essential to have a backup plan. Consider weather appropriate lighting, blankets for guests, attire, and food storage and serving space. Have an indoor space ready in case the party has to be moved inside.
Are there any autumn-inspired wedding favors or gifts that I can give to guests?
You can go for fall-based scented candles, miniature pumpkins or guards figurines, miniature jars of honey or maple, or blankets. You can customize your own candles, cards, jars, and glasses as well.
Key Takeaways
Fill the bar with nuts, pretzels, and other dry fruits, host a Potluck feast, and use square hay bales for seating if you want a budget-friendly fall wedding.
For the bridal bouquet, go for dahlias, marigolds, chrysanthemums, calla lilies, sunflowers, and gerbera daisies. You can also add dry fall leaves in yellow, brown, orange, and white.
You can also use dry leaves that have become brown as thank you notes and escort cards.
If you want a unique fall wedding, remember that vineyards are incredibly cozy and intimate venues for outdoor weddings during the fall season because of winery hopping and wine tasting.
Get ready to fall in love with these amazing wedding decorations that won't break the bank. Check out this video to know more!
The following two tabs change content below.