15 Best Family Board Games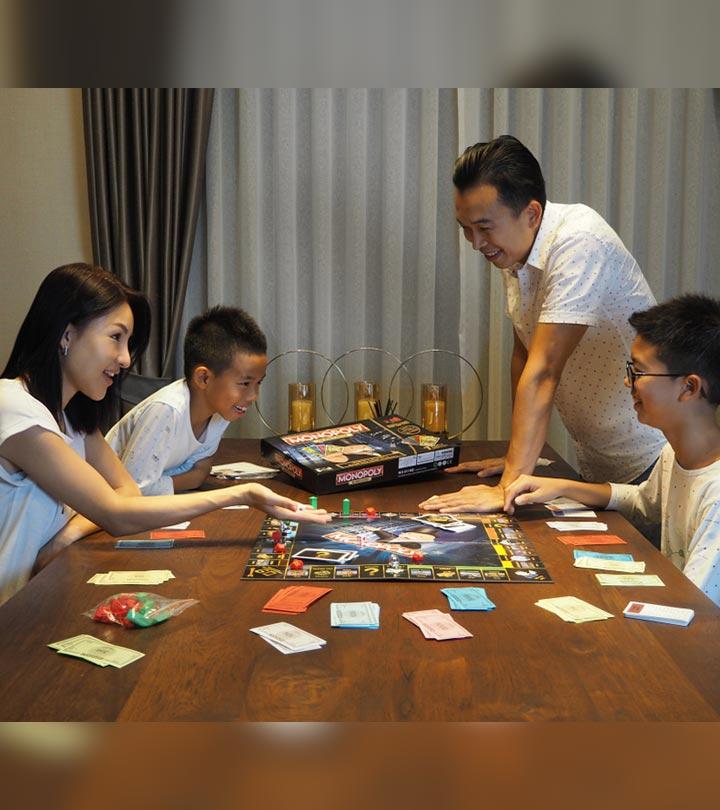 If you are looking for a tried and tested way to bond with your family, board games are a great option. They are an excellent way to spend screen-free time with your loved ones. Board games not only offer a way to pass the time but also help develop social and cognitive skills in children. They help you focus and teach you to work as a team and use management, logical, and planning skills. Keep scrolling to checkout some cool board games that you can enjoy with your fam jam!
15 Best Family Board Games
If your family enjoys investigation, logic, and mysteries, "Clue" is what you need. In this game, the race is always on to be that one player who finds out which character from the game committed the murder, with which weapon, and at what location. Grab the game from the link below and bring out your inner Sherlock Holmes!
Qwirkle is a family board game that anyone, including kids, can play. The game is somewhat similar to dominos and includes no character or storyline. In this game, players are tasked to build rows and columns of the same color and shape without any repetition. The player who gets six same tiles in a row are declared the winner of the game. Every round of the game is about 45 minutes long and provides a great way to spend some quality time with the family.
Cauldron Quest is a game suitable for anyone above six years of age. In this game, everyone plays in a single team to achieve the same goal. The players are supposed to make a magic potion to break the wizard's spell and, at the same time, find the hidden ingredients before the wizard blocks their way. This strategic game allows your kids to acquire planning and problem-solving skills and learn about sharing and teamwork. Each game is played for about 20 minutes and includes fun tokens, such as potion bottles and wizard's hat.
Spontuneous is a fun and engaging game for the entire family and requires everyone to singsongs. In the game, each player creates a hit list of some famous words or triggers from the songs of their choice. When it's their turn, they will speak up one word and flip the timer to begin the game.
When the timer starts, the other players in the game will have to guess the song and sing the first five words from the line that includes the trigger or word. Anyone who guesses the song first and sings it right will get to move ahead in the game and face many challenges along the way. The game is ideal for kids over eight years of age, and each round takes around 30 minutes to complete. Since the game comes with 10 game pieces, you can invite more players and compete in teams.
Trivial Pursuit is a classic board game equipped with over 1400 questions. This multi-generational version of the game is a bit faster than the older editions and allows players to earn pie slices at every step. It also includes showdown challenges for two players to complete at the same time for wedges. You can choose to customize this game as per different age groups and then play by splitting the cards separately for kids and adults from the deck. The game can be played with two to six players and comes with an option to play in different teams.
The Phantom Society is a game suitable for kids over eight years of age. In this game, the players are divided into two teams. One team controls the ghost, and the other controls the ghost hunters. The Scottish mansion style game board is split into two squares, and the rooms are equipped with many tiles and sometimes even a ghost.
The ghost hunters continuously strive to find out ghosts, whereas the ghosts stay hidden and cause damage of property worth £45,000. The game requires a delicate balance to remove the tile and prevent damage – all while looking for hidden ghosts. Each round of the game is about 20 minutes long and includes many challenges and tricks that kids and adults are sure to enjoy.
The Labyrinth is one of the simplest and best family board games that engage the entire family's interest. This maze-based board game includes collecting treasures based on what card you get. The exciting part about it is that you can change the game with a single push of a tile to carve out a route for yourself while blocking other players. This game's playing time is about 20 minutes and involves players over seven years of age.
Exploding Kittens is a family card game that includes many strategies to prevent exploding kitten cards. This game involves some fun components from classic and popular card games with a modern twist. Players can overcome various challenges and complexities with some cute or not-so-cute cats and their special powers. This family game is ideal for parties and involves a maximum of nine players.
The Pandemic game came into existence way before the pandemic. Every player has a different role to play in the game to save the world from four deadly diseases before it's too late. The game includes cooperation, encouragement, and strategies to take advantage of the powers acquired by other players to win in less than an hour. It also consists of some expansions if you and your family like that. This game is suitable for players above 13 years and can be played by two to four people at a time.
Articulate is another fun and engaging game for families. In the game, the players have to describe words to their teams without saying or rhyming while keeping the time limit of 30 seconds in mind. This board game includes multiple categories to involve everyone equally in the game. The game also comes specifically for kids, but you can choose to have some cards to attain the right level of difficulty for everyone during a family game night. The game is suitable for parties and large groups wherein you can enjoy playing in different teams to multiply the fun.
Mysterium is a spooky role-playing game that needs one player to take up the role of a ghost. The other players play the role of psychics who work in a team to find out a vision card from the ghost that reveals when they were murdered, where they were murdered, and what weapon was used to kill them – all before the sunsets. The game gets more interesting as you play and requires lots of setting up. It is played with 2 to 7 players, and the fun doubles if the youngest or eldest member of the family plays a ghost during the game.
Spot It is a perfect game for all age groups and the entire family. This fun and challenging game is easy to play and can go on until you decide to quit. This visual perception game is suitable for 2 to 8 players and involves spotting the common symbols between two cards. The team that spots the difference fast wins the game. The game seems simple but helps develop your child's motor skills, focus, visual perception skills, and language skills.
Ticket To Ride is a fast-paced and adventurous family board game that showcases a combination of history and the modern age. In the game, you need to connect the major American landmarks and construct your train routes to get some points. Match the game cards to claim railway routes across American cities. The game's trick is to earn the best train cards and routes before other players. This cross-country game can be played almost for an hour between 2 to 5 players.
If you are looking for a highly engaging and funny game, Beat That! is what you need. This game includes fun and tricky ways of winning the tasks and challenges along with your family. It features 160 different kinds of challenges, such as stacking a pyramid of cups using only your elbow, racing, bouncing balls into cups with just one hand, and so on. This family-oriented game requires no prior understanding but the skills and abilities to proceed ahead. It is suitable for those over nine years of age and can be played with 2 to 8 players.
If you have a big family with many kids, this board game is the best choice. It is suitable for kids over five years of age and can be played with 2 to 6 players. This easy-to-learn and fun game for every age group includes a race to erect the tallest stack of magnetic discs by rolling the two dice. You need to build the stack based on what color and shape you get. The game requires constant action and no waiting with one player getting to play by turns. The game helps develop attention to detail and speed capabilities in kids.
All age groups can play these games, including kids. Spending time playing such games with your family strengthens bonds and helps develop specific skills in kids. They also make an excellent choice for entertainment at big parties and small get-togethers at your place. So, what are you waiting for? Buy any of them and have fun!