100 Family Feud Questions For Kids And Adults To Play At Home
You may not have Steve Harvey, but at least you have all the right questions to ask!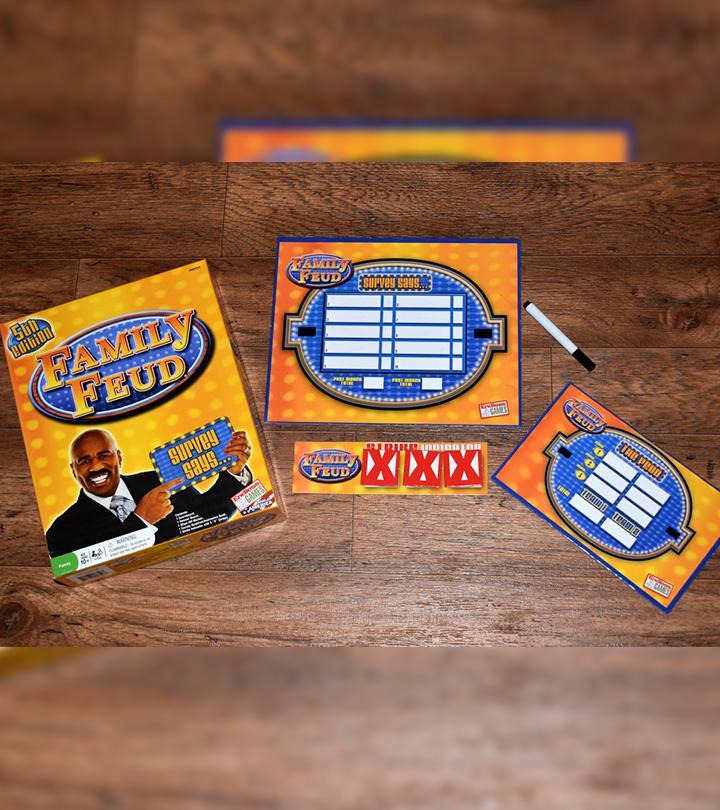 Family Feud is a popular American television game show that has been here for over 40 years. Families watch the show and participate in the comforts of their living rooms by answering the Family Feud questions. This show has become one of the best sources of entertainment for many families. If you are a fan of the show and wish to play a homemade version, you have come to the right place.
The participants are split into two teams, and they have to pick the most popular answers to the simple survey questions. The game is about who knows better what the public has answered instead of who knows more. The contestant with the top answer wins. And the trick lies in selecting the right questions. Here, we have put together 100 Family Feud questions and answers that you can play with everyone during family gatherings. Scroll down to check them out.


Quick Tip
The purpose of the feud game is to encourage critical thinking, empathy and team building spirit.
What You Need?
While the TV show uses a lot of fancy technology, you don't need all the special effects to have a fun game night at home. Here's what you need:
Space: You need a space where the teams of five members can sit in a straight line, facing each other.
Scorecard: You need a scorecard to keep a tally of the points earned by each team.
Buzzer: Each team will need a buzzer. You can download a buzzer app on your phone for the job.
Host: You need a host who will read out the questions and answers.
Family Feud Questions and Answers: You can choose from our list of 100 family feud questions. Give five answers for each question with points for each answer – the highest points to the first option and the lowest to the last option.

Quick Tip
For a buzzer you can either use the free app or you can use a squeaky dog toy as a buzzer.
How To Play The Game?
Step 1. The host reads out the first question to the team captains in a face-off to decide who starts the game.
Step 2. The team that starts the game gets a chance to guess the remaining answers to the first question. Each member gets a turn to answer until all the correct answers are revealed, or they got three wrong.
Step 3. If they get three strikes, the turn is passed to the opposing team, and they get to steal all the points if they guess all the remaining answers correctly.
Step 4. Points are awarded to the team with all the correct answers, and the game continues until all the players have had a turn to come to the front for the face-off.
Step 5. Five rounds can be conducted as there are five members in each team. The team with the highest points is the winner.
Let's now take a look at the questions.
Family Feud Questions For Kids
What would you find at the North Pole? 
Santa Claus
Elves
Snow
Reindeer
Santa's sleigh
A vegetable you dislike eating.
Broccoli
Brussels sprouts
Carrot
Peas
Spinach
What do you love about summer?
Summer vacation
Can go to the beach
The weather
Can eat ice cream
Can go out and play
What are things that come in pairs?
Shoes
Socks
Feet
Hands
Eyes
Which is a kid's favorite snack at the movie theater?
Popcorn
Nachos
French fries
Chips
Tacos
Name a famous wizard.
Harry Potter
Merlin
Gandalf
Dr. Strange
The Wizard of Oz
Which household chores do kids hate doing?
Cleaning their room
Walking the dog
Vacuuming
Mowing the lawn
Raking leaves
What can you find in the kitchen? 
Refrigerator
Stove
Sink
Food
Plates
What is one thing your parents tell you not to waste?
Water
Money
Time
Life
Food
What do parents never allow kids to skip?
Breakfast
Brushing teeth
Bedtime
Homework
Cleaning room
What can you find in outer space? 
The sun
The moon
Stars
Planets
Spaceships
The person who gives you the best advice.
Mom
Dad
Friends
Grandparents
Teachers
Something that is cold.
Ice cream
Snow
Ice
Water
Milk
In which place are you told to use your inside voice?
Library
Movie theater
Hospital
Place of worship
Classroom
Name something many people do just once a week.
Church
Groceries / Shopping
Laundry
Clean house
Sleep in
What's something you might see on the ground in a messy room?
Toys
Clothes
Backpack
Floor/Carpet
Pen/Pencil
Things kids throw at each other.
Toys
Food
Pillows
Balls
Paper
Things you find in a picnic basket.
Sandwiches
Cookies
Napkins
Chips
Juice
What could an astronaut see out of the space station's window?
Earth
Moon
Space
Satellites
Comet
When do kids close their eyes?
Sleep
Prayer
Scary movie
Hide and seek
Making a wish
What are the things you see at the beach? 
The ocean
Sand
Seagulls
Seashells
Seaweed
Reason your teacher wants to talk to your parents.
Bad grades
Misbehaving in class
Not doing homework
Cheating
Bullying
Name a food you can eat with your hands. 
Pizza
Tacos
Burger
Sushi
Fruit
Name something you see at a carnival. 
Ferris wheel
Carousel
Cotton candy
Fried food
Bright lights
Name something you might eat with a hamburger.
French fries
Soup
Salad
Onion rings
Tater tots
What melts when it gets hot?
Snow
Candle
Butter
Cheese
Crayon
What's something teens look forward to? 
Prom
Graduation
Getting a driver's license
College
Freedom
Things found in a park.
Swings
Benches
Flowers
Grass
Trees
What's something you can do that is good for the environment?
Recycle
Don't litter
Use less water/Shorter showers
Reusable containers
Don't water grass
Something you do right before bed.
Brush your teeth
Read
Eat
Drink water
Say prayers
Name a kid's game teens and adults still enjoy playing.
Hide and Seek
Twister
Candyland
Go Fish
Hopscotch
What is your excuse for not doing homework?
Forgot at home
Fever
Left at school
Book got stolen
Dog ate it
Where do kids nowadays spend most of their time?
Room / Bed
School
Internet
Mall
Friend's house
Name something that parents encourage their kids to do. 
Homework
Practice
Clean your room
Listen
Be yourself!
Things kids should not touch in the kitchen.
Stove
Knife
Oven
Garbage Disposal
Firelighter
Name a type of dinosaur.
Tyrannosaurus
Triceratops
Velociraptor
Pterodactyl
Stegosaur
What comes to your mind when you hear the word magic?
Harry Potter
Genie
Fairy godmother
Magic wand
Magic hat
What would you find in a haunted house? 
Ghosts
Cobwebs
Spiders
Mice
Dust
Name something you fill with air.
Balloons
Tires
Diving kit
Beach ball
Raft/inner tubes
Name a fruit you might eat in the morning.
Banana
Grapefruit
Strawberry
Apple
Orange
Things found under your bed.
Shoes
Slippers
Toys
Books
Clothes
First thing done in the morning.
Brush teeth
Shower
Open eyes
Make bed
Check the time
Name something people write with.
Pen
Pencil
Keyboard
Chalk
Dry erase
What's another word for "garbage"?
Trash
Junk
Waste
Rubbish
Litter
Name a place where you might hear music. 
Concert
Restaurant
While on hold on the phone
Elevator
Car
Things cut with scissors.
Paper
Ribbon
Cloth
Hair
Food
What goes into a sandwich?
Bread
Lettuce
Butter
Peanut
Jam
Things kids often lose.
Toys
Books
Pencils
Money
Shoes
Foods kids love that are not good for them.
Candy
Chocolate
Burgers
Ice cream
Chips
Where do kids dislike going the most?
Dentist
Bed
School
Shopping
Relative's house
Family Feud Questions For Adults
Things people donate.
Food
Clothes
Books
Toys
Shoes
Name a beverage some people drink exclusively during breakfast.
Coffee
Orange Juice
Milk
Grapefruit Juice
Water
You would never leave your home without
Mobile phone
Money
House keys
Water bottle
Car keys
Name a type of vehicle you really wouldn't want to hit while driving.
Police car
Firetruck
Ambulance
Train
Hearse
Name a chore that people hate.
Taking out the trash
Folding the laundry
Emptying the dishwasher
Cleaning the bathroom
Vacuuming
Advantages of working from home?
No traveling
Flexible working hours
Spend time with family
No dress code
Save money
Name a food that is recognizable by its smell.
Onions
Fish
Garlic
Pizza
Popcorn
Name something people buy that comes in "stick" form.
Gum
Deodorant
Butter
Lipstick
Glue
Something that makes you feel like a kid again.
Disneyland
Playing with kids
Riding a bicycle
Eating candy
Jumping
Name something people put on salads.
Dressing
Nuts/seeds
Eggs
Cheese
Vegetables
Name something you buy by the roll.
Toilet paper
Paper towel
Coins
Stamps
Wrapping paper
What are the annoying things other drivers do?
Overtake from the wrong side
Blow the horn continuously
Talk on the cell phone
Not using turn signals
Drive too fast
Name a food that frequently goes bad before you get the chance to eat it. 
Avocado
Banana
Fresh berries
Salad greens/lettuce
Mushrooms
Something never to forget to pack on a trip.
Money
Underwear
Toothbrush
Medicines
Camera
Name a fruit that takes time to break into.
Coconut
Pomegranate
Watermelon
Jackfruit
Pineapple
Name a part of your body that you might say has an "ache".
Head
Stomach
Back
Tooth
Muscle
Knee
Name an important number people often memorize.
Phone number
Social security number
Driver's license number
Debit/credit card number
Bank routing number
Name a reason a person might be running.
Exercise
Catch bus/train
Catch another person
Get somewhere
Sport / Game
Escape / being chased
Name something that only happens once every few years. 
Eclipse
Presidential election
Leap Year
Olympics
FIFA World Cup
Name something which you keep on your office desk.
Computer
Notepad
Pen stand
Water bottle
Picture of spouse/ child
Name something at home that people often run out of. 
Milk
Toilet paper
Bread
Eggs
Hand soap
Name a place where people have to use coins.
Vending machine
Laundromat
Bus / Subway
Parking meter
Payphone
You would find this on a man's arm
Watch
Bracelet
Tattoo
Hair
Scar
Name something guests do at a wedding reception. 
Dance
Eat
Drink
Clap
Take pictures
Name Something Women Leave Lipstick Marks On
Napkin
Glass
Significant other
Collar
Wash rag
Pillow
Name something which people often forget to switch off.
Light
Fan
Gas stove
Geyser
Television
Things you don't want to discuss during the holidays. 
Politics
Religion
Your love life
Finances
Parenting advice
Name something you do in front of a mirror
Brush teeth
Do your hair
Try on clothes
Pop a zit
Dance
Name something that comes in a glass bottle.
Milk
Beer
Soda
Ketchup / Condiments
Ship
A reason for people to wake up in the middle of the night.
Need to visit the bathroom
Bad dream
Hunger/thirst
Attend a crying child
Heard a noise
Name one thing you always have in your pantry. 
Beans
Rice
Potatoes
Onions
Flour
Name something a person might knit.
Blanket
Ugly sweater
Hat
Mittens
Socks
The first thing you do after waking up.
Open eyes
Visit the bathroom
Brush teeth
Shower
Turn off the alarm
How long does a typical New Year's Resolution last?
1 month
1 week
10 days
1 year
3 months
Name something you shake before using
Salad dressing
Dice
Ketchup
Liquid medicine
Nail polish
Spilling/dropping this in the kitchen can make a huge mess.
Oil
Milk
Flour
Juice
Eggs
Name a superhero member of the Justice League.
Batman
Superman
Wonder Woman
Aquaman
The Flash
Something you buy that is disposable.
Paper plates
Razors
Paper towels
Garbage bags
Diapers
Other than jewelry, what is the most expensive single item in your home?
TV
Furniture
Appliance
Computer
Collectables
Something that gets tangled
Hair
Earphones
Rope/String
Fishing line
Long chains
Name Something Offered on Airline Flights
Snacks
Cocktails
Uncomfortable seats
Soft drinks/water
Overhead storage
Name something you might wear while driving.
Seatbelt/safety belt
Sunglasses
Eyeglasses
Gloves
Shoes
What would you find in a home medicine cabinet? 
Acetaminophen

i

  X

Medication usually referred to as paracetamol, used to alleviate fevers and light to moderate pain.

/

Ibuprofen

i

  X

A non-steroidal anti-inflammatory (NSAID) medicine used to treat inflammation, fever, and pain.

Thermometer

Neosporin

i

  X

An antibiotic medication used to treat and prevent minor skin infections brought on by scrapes, cuts, and burns.

/antibacterial ointment
Rubbing alcohol
Bandages
Topics discussed at a family get together
Sports
Politics
Food
Travel
Old times
Name Something That Will Exist in 100 Years
Flying cars
Androids
Immortality
Easy space travel
Jet packs
Name a job that requires a lot of education.
Doctor
Lawyer
Teacher
College professor
Nurse
Things people cram in the car when going to the beach
Umbrellas
Beach chairs
Towels
Beach toys
Coolers
Name something you smell before you buy it.
Perfume/cologne
Produce
Deodorant
Soap
Candle
Name a way that people communicated before texting was invented. 
Phone calls
Beeper/pager
Letters
Telegram
Carrier pigeon
Name something in a person's closet that only comes out for special occasions.
Suit/tux
Dress
Tie
Jewelry
Dress shoes
Infographic: Traits Of A Healthy Family
Family game nights are a fun way to spend time and bond with your family. Families that have fun together are generally happier and healthier. However, regular bonding activities are not the only indication of a tight-knit family. Check out the infographic below to learn about the other characteristics that define a healthy family. You can work on fostering these traits with your family and deepen your bond.


The Family Feud game has become a source of entertainment for many viewers as it deals with questions relating to day-to-day life and offers many chances to have a giggle together. However, you do not need all the show's facilities and set-up to conduct a mini version of it at your house. All you need is enough space to seat the participating team across each other, a scoreboard, buzzers, a host, and some interesting questions. In addition, you can have different questions for the kids and the adults to make the game more relatable and exciting.
Frequently Asked Questions
Is there an online version of Family Feud?
Yes, there is an online version of Family Feud, and it is free to play.
Are Family Feud answers rigged?
Family Feud is believed to be unscripted. Therefore, the answers in this American television game show are assumed to be spontaneous and not rigged.
How are the questions on Family Feud generated?
It was reported that Family Feud uses a polling firm to random people and get them to answer the survey questions. Then, the firm would send hundreds of questions from which the producers would shortlist the final ones for the show.
Can I create Family Feud questions?
Yes, you can. Create your own survey of your family members to get an idea of popular answers before playing the game.
How long does a typical game of Family Feud last?
A typical game of Family Feud lasts for 20-25 minutes.
What are some strategies for winning Family Feud?
Some strategies for winning Family Feud include teamwork, listening carefully, thinking on your feet, and buzzing in quickly.
Key Takeaways
This popular 40-year-old American game is a fun way to bond with your family on a weekend night.
The participants are split into two teams, and they have to pick the most popular answers to simple questions.
All you need is a scorecard, buzzer, a host, and our list of questions to get started!
Test your knowledge and see how well you do! Check out this video for fun Family Feud quiz questions and answers for a gala time with your family and friends!