10 Famous Bob Hairstyles Of Jennifer Aniston
A gallery of the most trendy and iconic hairstyles flaunted by this stunning actress.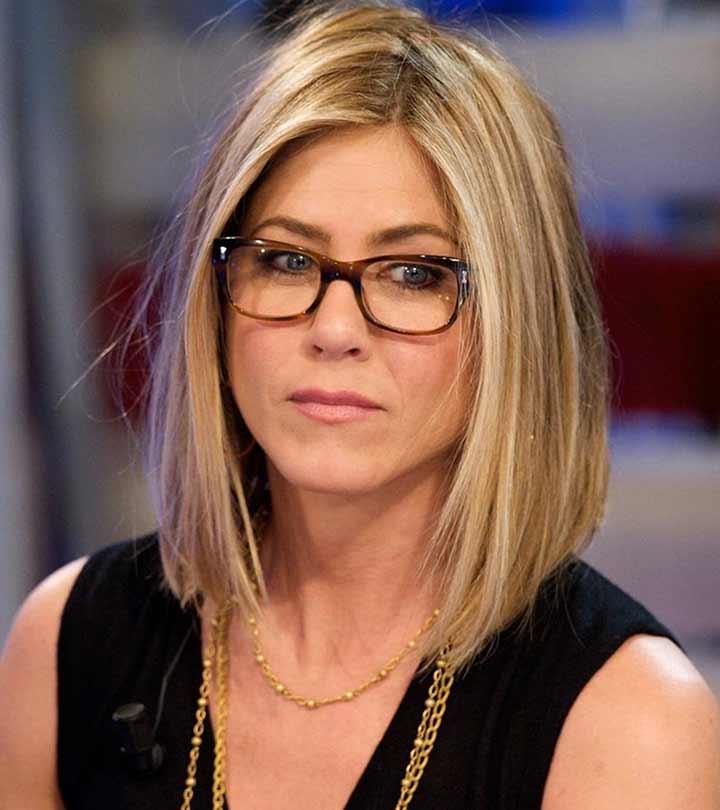 Rachel Green was an iconic part of the 90s and is still rocking the world! The only thing more popular than Ms. Green was her haircut, aptly named "The Rachel." Since then, many of Jennifer Aniston's bob hairstyles have become classics. She experiments with not only her haircuts and styles but also with her hair colors. She keeps going back and forth from blonde to brunette, even trying a mix of both with highlights. Licensed hair stylist Jessica Shults says, "Jennifer Aniston can rock just about any hairstyle! One of my favorite looks on her is the bob. She has a perfect face shape for a bob with a middle or side parting, and it can draw attention to her beautiful features such as her jawline, neck and clavicle." Keep reading to check the 10 bob styles made famous by Jen Aniston. Scroll down now to read more about Jennifer Aniston's haircuts!

Before You Get Started
Jennifer Aniston hairstyles suit pear and oval face shapes with an angular forehead.
People with wavy hair types may benefit from Jennifer Aniston hairstyles as she chooses a lot of wavy sleek and messy looks.
Her hairstyles have a lot of layers and textures which make your tresses look voluminous.
Spray some dry shampoo on your roots before recreating Jennifer Aniston hairstyles to add extra volume.
1. Razor Cut Lob:
This Jennifer Aniston long razor-cut lob (or long bob) from 2014 is stylish and stunning. The cut enhances her face and makes her look youthful and gorgeous. A perfect hairdo for us common folks who do not want to put too much effort into styling our hair.
2. Wavy Mid-Length Bob:
From sleek and straight hair to messy waves, Jennifer Aniston can look fab in anything. This wavy voluminous bob hairstyle from the 2002 Emmy Awards reminds us of a sunny day at the beach. It looks absolutely stunning on Aniston and is perfect for days when your hair is acting rebellious.
Heidi, a YouTuber, recreated Jennifer Anniston's wavy hair look and shared how it makes her feel in one of her vlogs: "I really like this. It is so nice and voluminous! I didn't use that much heat at least in comparison to the amount of heat I use every time I blow dry (i)."
3. Choppy Bob:
This is Jennifer with her latest hairstyle. She was seen sporting this hairstyle at the end of 2013. It looks edgy and sexy for sure but there is a story behind it! She actually chopped her locks up to her chin because of a hair therapy gone horribly wrong. Her hairstylist corrected the problem by chopping it all away. It is short at the back and comes down to her chin in the front. So, the next time you get a bad haircut, remember, you are not the only one!


Trivia
Jennifer Aniston received five Primetime Emmy Award nominations and two Golden Globe Award nominations for her role in 'FRIENDS.'
4. Bob Cut:
A bob cut is a girl's best friend. It is a low maintenance and easy to handle hairstyle that suits women with different shaped faces. A bob cut is good for any event or party and it suits Jennifer perfectly. Her youthful charm and glowing face makes it impossible for us to guess her real age. The humble bob became a rage among women after Jennifer's chop. She is a trendsetter for sure!
5. Side-Swept Bob:
With this bob haircut and side-swept bangs Jennifer looks absolutely innocent, dazzling and cute. This look also makes her appear adventurous and sporty. She was spotted with this hairstyle on the set of Squirrels to the Nuts – shocking the world with her new and chic look!
6. The Short Bob:
The short bob looks amazing on Jennifer. She looks elegant and stylish with this haircut. The cut also brought out the youthfulness of her face. For us common folks, the short bob is a perfect hairstyle as it does not take much time to style it!
7. Shoulder-Grazing Shag:
This picture shows Jennifer Aniston in one of her many stylish avatars. The shoulder grazing shag cut became a hit among women across the world. This hairstyle is meant for straight hair and gives a chic look.
8. Layered Mid-Length Bob:
Mid-length layered bob is actually a hairstyle that has become synonymous with Rachel Green! Jennifer made this hairdo famous during her stint with the famous television series "Friends". Jennifer Aniston's haircut became a rage among women all over the world. In fact, for a long time, girls went to the parlour asking for the 'Rachel cut'!


Did You Know?
Jennifer Aniston disliked the hairstyle she sported during her first two years on 'FRIENDS.'
9. Chin Length Bob:
Late during the year 2001, she was also seen sporting a chin-length blunt bob at an event. This look made her look even more sensuous, and desirable among the men-folk.
10. Wavy Bob:
Faux textured bob was a hairstyle that our "Rachel" tried during 2011. This was a classic hairstyle that did not cut much of her length but gave her hair a bob-look! She looked stunning with this hairstyle.
Infographic: Must-Try Bob Hairstyles Sported By Jennifer Aniston
Want a versatile, low-maintenance look? You can always pick from Jennifer Aniston's iconic bob hairstyles for an effortlessly elegant look. In the following infographic, we have listed some of Jennifer Aniston's most popular bob hairstyles. Check them out!

Jennifer Aniston, one of Hollywood's most brilliant and attractive actors, has experimented with her stunning locks throughout the years. This gorgeous lady can rock any bob hairstyle. She has experimented with several hairstyles, including side-swept golden wavy curls and the classic bob cut. Jennifer Aniston's bob hairstyles have reflected every decade of her acting career and, in a way, carry numerous histories and stories. Take her style as inspiration and try recreating one of her many memorable looks. You may also give it your own spin and create something unique.
Frequently Asked Questions
What is the history of Jennifer Aniston's bob hairstyles?
In the early 90s, she rocked her long, dark brown hair before cutting it short for her role in Friends. Since then, she has experimented with her hair but prefers her signature blonde locks.
Can you describe Jennifer Aniston's iconic "The Rachel" bob hairstyle?
"The Rachel" is one of the most iconic hairstyles of the late 90s. It is a bob haircut with layers to add more volume and some blonde highlights to frame the face.
How has Jennifer Aniston's bob hairstyle evolved over the years?
She has experimented with different bob hairstyles, long and short, brown and blonde. Her experimentation with it began during her Friends era, but over the years, she has played around with it. Recently, she sported a bob hairstyle with layers styled in loose waves to add more volume.
Jenifer Aniston's iconic shoulder-length hair has been the dream of every Friends lover! This video tutorial will guide you through the process of getting a DIY layered bob. Check it out now.
Personal Experience: Source
i. I TRY JENNIFER ANISTON'S SECRET NEW HAIR CARE ROUTINE FOR FRIZZ FREE BEACH WAVES! (7 STEPS!)
https://www.youtube.com/watch?v=vd4wCbQEr1g
The following two tabs change content below.