12 Best Fashion Street Shopping Places In Mumbai
Let the street fashion scene in the city of dreams thoroughly consume you.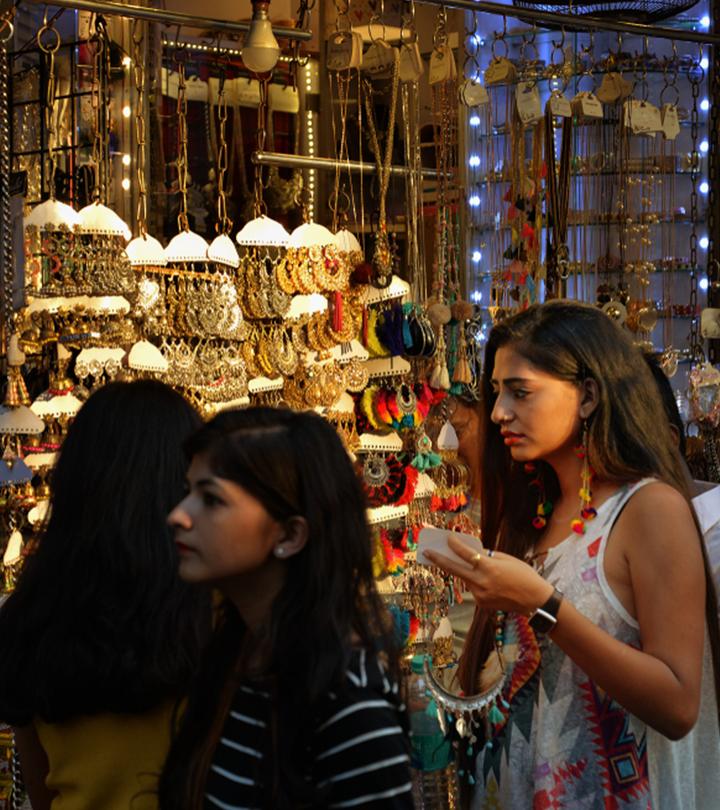 'Mumbai meri jaan'. Mumbai is a city known for its amazing people, the madness of the monsoon, its undying love for vada pav, and redefining the idea of streetside shopping. It has people flocking to it from all walks of life – who want to take in a little of its spirit. If you are planning to take a trip to this 'city of dreams', better get your notepad handy because the Mumbai tourist attractions and to-do list is quite long. From roadside shopping at local markets in Mumbai to club hopping to food tasting, the city has a lot in store for you. But, let's just concentrate on trendy fashion shopping in Mumbai, as that will take up most of your time! To make your roadside shopping experience waaay better, I have made a list of must-visit street shopping places in Mumbai for you – and it's a para para paradise.
Hop right in!
Famous Street Shopping Places In Mumbai
1. Colaba Causeway Market
Colaba Causeway is where the famous 'Leopold Cafe' is, so you must have heard of it. It sits right at the top of this list because your trip will not be complete without making it to Colaba. With the Taj Mahal and Gateway of India at a walking distance, the entire stretch is just filled with small vendors that sell mostly junk jewelry – the options and prices are too good to be true. Plus, there are handbags, shoes, watches, sunglasses, dresses, clothes – you name it, they have it. You must indulge in bargain shopping in Mumbai to get yourself a deal, but in all honesty, it's worth all your money and time. It is one of the best shopping places in Mumbai. If you want to grab a beer or some street food in Mumbai, Leopold and Cafe Mondegar are within an arm's reach – take a break and start round two.
Ms.Thomas, a fashion blogger, shares her experience of visiting the Colaba Causeway Market in her blog. She calls it her third love in Mumbai. She also says, "The stalls over there boast excellent jewellery, unique yet fashionable and amazingly affordable items. (i)."
2. Fashion Street
Fashion Street is probably the oldest and most sought-after for street shopping in Mumbai. Whether you are looking for a pair of expensive-looking-but-inexpensive denims, trousers, sexy footwear, tops, or dresses, Mumbai fashion street offers all that for you. Spread across a few blocks, it opens late morning and has bustling crowds any time of the day. It is part of Old Mumbai and is very beautiful, making it amazing just to walk around too. If you happen to be a book lover as well, there are tiny stores at the end of this road that sell pre-owned books at throwaway prices.
3. Linking Road
Shoes on your mind? It's never a question but always the answer to a lot of things in life. So, I'm assuming that you are a sucker for shoes! I will ask you to head to Linking Road first thing – your jaws will drop at the kind of variety and prices this joint has to offer. Linking road is part of Bandra, which is a hub for shopping, food, pubs, and all things fun.
4. Hill Road
Hill road, aka Elco, again a street full of shopping outlets, is also part of Bandra bazaar. From designer stores and small boutiques to roadside vendors selling makeup, shoes, junk jewelry, clothes, and everything else that you cannot say no to, hill road has everything. While you are there, have the sprouts pani puri from 'Elco' restaurant, which is so legendary that the road takes its name after it. As a first-timer, you want to buy it all, and even if you do, it won't do too much damage to your pockets.
5. Chor Bazar
Just when you thought that Mumbai's streetside shopping is all about clothes and accessories, there's a place that proves otherwise. Chor bazar, which dates back to British ruled India, is one of the busiest and noisiest Mumbai street markets, hence the name 'Shor Bazar.' Over time, because the English couldn't say 'shor,' it became 'Chor.' With cramped streets, dilapidated buildings, and obscure antique stores brimming with objects of yore, the place still retains its old world charm. This Mumbai street shopping place has typewriters, brass statues (of all sizes), artifacts (sometimes, stolen), reeled cameras, tape recorders, and other collector's items even from the relics of pre-independent India.


Fun Fact
Chor Bazar is quite significant in pop culture. From novels like "Such a Long Journey" by Rohinton Mistry to documentaries like "The Spool Man" by Daniel Ifans, the market has had several special mentions.
6. Crawford
They say you can build an aircraft with everything you get in Crawford. It's also one of the oldest markets in the city. One side of the market comprises stores that sell home decor, clothes, accessories, shoes, lingerie, novelty items, etc. The other side has huge Victorian buildings with vast corridors filled with shops that sell fruit, dry fruits, cosmetics, furniture, baking goods, party items, meat, spices, etc. It's a world in itself, and you've got to see it to believe it. But, the hidden treasures are the cosmetic stores that sell beauty products of all ranges at the lowest possible prices.


Trivia
Crawford is officially known as Mahatma Jyotiba Phule Mandai. The market was designed by William Emerson, a British architect.
7. Hindmata Market
Dadar is always bustling with vendors selling fresh fruits, flowers, vegetables, accessories, and clothes at throwaway prices. Unlike the other markets, the Hindmata market in Dadar specializes in Indian dresses. Some say that the quality is not something you can vouch for, but it's value for money. It also has stores that sell materials, dresses, and sarees in different ranges. If you are in this part of Mumbai, you are in for a treat at the Dadar flower market which is also known as "Phool Gully." The place is a beautifully chaotic place with vibrant, colorful flowers.
8. Irla Market
If you are in the suburbs, head to Irla market that is located at the cusp of SV Road, Vile Parle, and Juhu. This place surprises us with just how so many vendors could fit into such a tiny stretch selling apparel, accessories, jewelry, and shoes. Irla market has it all for you.
9. Zaveri Bazar
Zaveri Bazaar at the Kalbadevi market is further ahead of Crawford and is probably the country's biggest jewelry market. It controls about 60% of India's gold trade, apart from diamond and silver stores that contribute a considerable chunk too. As a first timer, you will be taken aback by the size of the store and the value of goods each of them carries – it can happen only in Mumbai. Apart from that, it is also filled with vendors and stores that sell imitation jewelery that is almost impossible to tell apart from the real deal. So, if you are looking for jewelry, both expensive and inexpensive – Mumbai caters to that as well – and that too, at one place.
10. Lokhandwala
Lokhandwala is the Zaveri bazar for knock-offs, but for clothes and accessories. Take a walk around the area, and you can buy stuff from the biggest luxury brands without even hurting your pockets so much (if you know what I mean). Shoes, accessories, handbags, scarves, dresses, etc – are all out there at Lokhandwala Market. Sometimes, shopping in places like this is a lot of fun.
11. Natraj Market, Malad
Natraj Market is a famous marketplace in Malad West area of Mumbai. The market offers a wide variety of products to buy including garments, footwear, accessories, and much more. It is the best place with a wholesale cloth market for retailers and buyers to get all types of attires. One can get top deals on ethnic wear apparel such as Kurtis, lehengas, sarees, and blouses. Also, there is a massive collection of textiles such as readymade garments and fabrics for the buyers to choose from.
12. Dharavi Leather Market
Dharavi is the largest slum area in Mumbai but also a leading hub for the manufacturing and sale of leather products. The marketplace has numerous shops with an attractive collection of leather jackets, bags, wallets, belts, footwear, and more at prices that won't burn a hole in your pocket.
Infographic: Tips To Keep In Mind When Street Shopping In India
Shopping malls may have your favorite brands, but buying items from a local market has its own charm. Whether you are a modern influencer or a boho girl who loves street fashion, these street markets are meant for everyone. But there are some things you need to keep in mind to make the most of your next shopping trip, which you can learn more about in the infographic below. Check it out!

Mumbai is the city that never sleeps. Known for its wide selection of food and monsoons, the street shopping places in Mumbai is paradise for all the shopaholics out there. Be it great shoes, clothes, bags, or jewelry at an affordable price, Mumbai has the answer to them all. If you love expensive-looking clothes without burning a hole in your pocket, take a stroll down fashion street. Do not miss Mangaldas market for the best ethnic wear shopping in Mumbai. If jewelry and accessories are what make your heart soar, make a trip to the bustling Colaba causeway market. If this is your first time in Mumbai, keep your list ready and take a friend who knows these markets inside-out to make the most of your shopping experience.
Frequently Asked Questions
Which is the main market of Mumbai?
The Crawford market (also called the Jotiba Phule market) is famous among all other markets in Mumbai.
Where is Sarojini market in Mumbai?
Sarojini Market is located in Bandra, Mumbai, and is the ultimate shopping destination for clothes!
What is Bhuleshwar market famous for?
Bhuleshwar market is famous for wedding shopping. It is also known as the 'Bride's market' for its rich and wide variety of wedding collections, whatever a bride may need for her D-day.
What is Mangaldas market famous for?
Mangaldas market is one of the oldest markets in South Mumbai and is the ultimate hub for textile fabrics.
What can I buy at Manish market?
You can buy fabric, home decor items, and electronic gadgets at Manish market at an affordable price.
Where is fashion street in Mumbai?
The Mumbai fashion street is located at MG Road near Azad Maidan and is opposite to Bombay Gymkhana.
Banner Image Credits: Instagram
Explore Mumbai's vibrant street shopping scene. Discover the best places to go for unique finds and great bargains. Check out this video to up your closet game.

Personal Experience: Source
i. Colaba Causeway ♥ what a colourful world !
https://elizabethomas.wordpress.com/2012/04/16/colaba-causeway-%e2%99%a5-what-a-colourful-world/