50 Fashion Tips Every Girl Should Know
Stay abreast with the latest trends and know the basics to rock any look.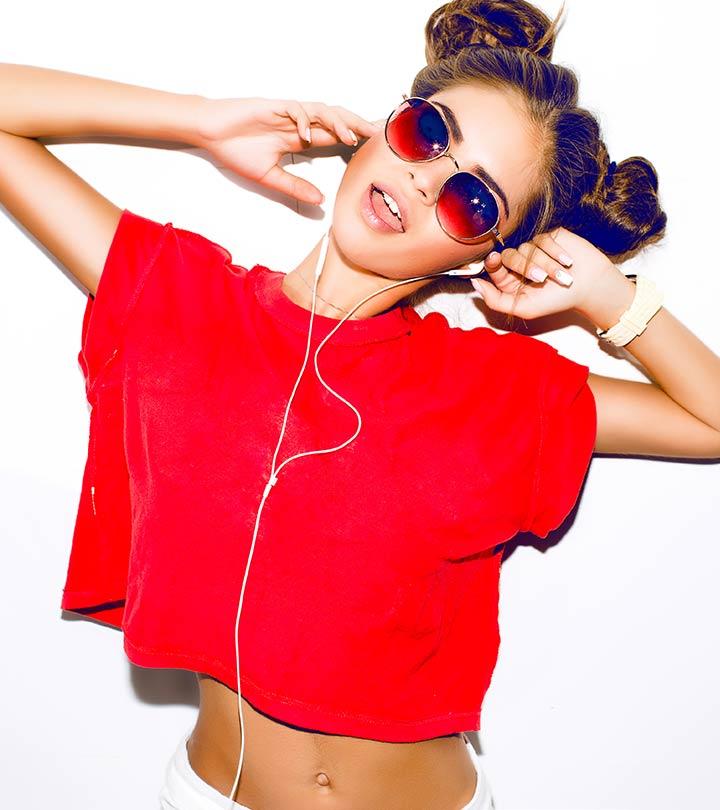 If you are looking for some amazing fashion tips for girls, then you are just in the right place because we are here to rescue you. In this article, we have made a list of some essential tips that you must keep in mind while trying out your looks every day if you are a girl. The very many details and the underlying factors in terms of fashion sense are to be taken care of to look effortlessly cool and gorgeous at the same time. So let us help you do that. All you have to do is scroll down and read more about improving the dressing sense of girls. So before it is too late, go on and find out all the tips we have mentioned below because it is time for you to be the showstopper you have always wanted to be.
1. For Beginners, Know Your Body Type
Knowing your body type is the basic thing to know about yourself. Everything works around this, so this is one of the biggest fashion tips or advice that anyone can give you. You can check your body type by looking at the mirror. Alternatively, you can ask for help from a stylist to get personalized advice.
2. Wear The Right Bra
A girl's dressing style can be improved only if she knows what to wear under what.  Wearing the right intimates is essential for both health and fashion. You need to know your size and when to wear what; basically, you need to know it all.
3. Invest In Good Lingerie
Sometimes it is nice to indulge and treat yourself to good lingerie.
4. Own Classics – Trench, Leather, Denim Jackets
Classics like these are timeless, and every girl needs them in her closet. They come in handy all through the year in one way or another.
5. There's Nothing Red Pumps Cannot Solve
Pumps are great, but red pumps are a legendary fashion statement. The high it gives to strut around in these confidently is of a different level. Every girl needs to experience this chic look.
6. Scarves – Come A Long Way In All Seasons
Woolen, silk, satin, linen, blanket, etc. – you need it all. Some work wonders in winters, while some are for summer and the others are perfect for fall fashion.
7. Denim – Find Your Fit And Save It For Life
High-rise, low-rise, boot cut, boyfriend, baggy, etc. Knowing what suits your body type and size is life-saving. These are everyday essentials, and you can't go wrong with them. Paola Farina, Personal Stylist, says, "Finding the perfect pair of jeans is always very difficult. Look for the types of jeans that enhance your figure the most. Once you lock in the model and a handful of brands, make sure you always buy from them.
8. Understand The Color Wheel
It might seem a little unnecessary, but you will be more than glad you looked this up because it's a game changer and gives you a new perspective when matching up colors. Remember, there cannot be more than three colors in your outfit at one time.
Paola recommends monochromatic or analogous outfits or complementary colors (for example yellow and violet). If you go for more colors, use one color as a base and add the others like accents. For example, you can wear green (coat, skirt, and turtle-neck), add a blue bag, and style it with a pair of violet shoes.
9. Wash Your Clothes The Right Way
Don't mix whites with colors; don't put your bras in the washer; wash delicates in the low heat setting; sweaters need a different detergent – pay attention.
10. When In Doubt, Layer
Layer your outfit to camouflage any unflattering flab, add definition to amp up your look. Be careful if you are plus size or have a large torso, as layers add volume. On the other hand, if you are petite, layers could make you look tiny.
11. Chambray, Plaid, And Denim Shirts Are A Must
Even if you are switching to a capsule wardrobe, you need these.
12. Organize Your Closet Every Three Months
A capsule wardrobe is a concept many women are turning towards and enjoying the benefits of. If you think that it will not work for you, at least organize your closet once in a while. You will slowly start to realize how many things you do not use are there in your wardrobe and will discard them anyway. If in doubt, request the help of an expert.
13. Impulsive Shopping – MAKE IT STOP
A sale should never be a cue to buy something. I mean, not never, but it should not always be (which is the case for most of us). If you have been waiting for a particular product to go on sale, sure, pick it up, but if it's a random dress you want just because it is on discount, ask yourself if you'd buy it if it wasn't on sale. You have your answer.
14. Prepare – Practice The Mantra
If you want to hone a fashionista style, you have to put in the work! If you know that you might go shopping this weekend, do a little research and look up your fashion icons or the latest trends online. See how people are styling outfits, how much you can invest in one piece. This will prevent you from overspending.
15. Accessorize Your Outfits Away
Accessories are an integral part of dressing up. The best part is, with a small investment, you can buy many accessories that can be used to customize different outfits. Keep aside some money just for accessories. Just one chunky piece of jewelry can marry an entire outfit. Wear them as per the occasion – office, party, concert, etc.
16. Every Girl Needs AN LBD – Get One ASAP
This is self-explanatory, every girl needs an LBD before a designer dress!
17. Master The Art Of Tucking
Front tuck, half-tuck, navel tuck or a full tuck – you need to master some or all of them.
18. Always Have A Few Fashion Tips Up Your Sleeve
Learn some basic fashion tips. Like tucking your jeans into the boots, cleaning wine stains, unshrinking clothes, cleaning jewelry, etc. You will save money and sometimes yourself from embarrassment too.
19. Play With Prints And Patterns
Playing with patterns and prints is an art in itself. Some have a natural knack for working with prints, some of us need to learn them. There's nothing Google cannot help you with, so prepare yourself and act like a pro.
20. Don't Mix Too Many Colors Or Prints Or Both
Colorful florals with plain skirts or bottoms, or printed dresses with plain accessories and shoes are good – there's a way to mix them up. You simply cannot afford to mess up.
21. For Long Legs – Match Your Shoes With Trousers
A fashion or a life hack – whatever you call this. You're welcome!
22. Let One Color Pop At One Time
Wear one bright color at a time and let that pop.
23. Own Pieces You Can Use More Than One Way
Like a chambray or plaid shirt, plain black or tank tops, cardigans, T-shirt dresses, etc.
24. Make Fleece Leggings Your BFF (In Winter)
Fleece leggings are Santa's way of saying he exists.
25. Remember – Leggings With Long Tops
If you are wearing leggings – wear long tops, this is almost always non-negotiable.


Quick Tip
Leggings look excellent with low-cut boots, knee-high boots, sandals, and flip-flops. However, make sure your leggings match your shirt, and that they don't tacky if you wear them with heels or pumps.
26. Combat Boots Are A Classic Too
These are, have, and will be a classic forever!


Quick Tip
Combat boots go well with all types of denim, including straight-leg, flares, skinny, and cuffed jeans. Tuck them in if they are a bit too long.
27. Balance Out Loose With Tight
Keep one part of your outfit loose and the rest tight, depending on your body type to look elegant.
28. Athleisure Is Catching Up – You Need Some
Invest in good athleisure wear; wearing sloppy sweatpants to the gym is not cool anymore. It is fashionable, plus it motivates you like nothing ever does.
29. Recycle-Upcycle-Reuse
Should be your mantra for fashion, or otherwise too.
30. Hem Your Pants – Should Ideally Be At The Top Of This List And Yours Too
Always, always, hem your pants – nothing is more unflattering than folded denim or trousers.
31. Master The Art Of Color Blocking
32. Buy Belts – Both Big And Slim
Sometimes, you need chunky belts, and sometimes, the slimmer kinds. So, keep them both handy.
33. Pay Attention To The Details
Pop your outfit with as little details as you can. Listen up people heading to work or college – this is your best bet.
34. Explore Nude Lipsticks And Pumps
These will never let you down and will make you look fashion forward.
35. When Wearing White, Choose Proper Innerwear
If you can carry whites, nothing like it. Also, choose seamless panties and perfect bras.
36. Between Horizontal And Vertical Stripes – Always Choose Vertical
Petite women – vertical stripes make you look taller; plus sized women, these create an illusion and make you look slimmer. It's always the better choice out of the two, but suit yourself.
37. In Winters, Outerwear Is Your Best Bet – Spruce It Up
If you get three to six months of winter, you know how boring dressing up can be and how depressing life can get. So, give it all you have got for outerwear.
38. Have At Least One Interesting Animal Print Piece
It can be a clutch, a cross-body bag, boots or a scarf – one animal printed piece once in a while is a fair risk. You will soon realize it's borderline addictive.
39. Take A Cue From The Seasons
Fall is about the checkered shirts and camel boots, while winters are about woolen scarves and fancy coats (if you are lucky), summers mean shorts, dresses, and life at its beautiful best – so take a cue from them, follow trends, and look pretty anyway.
40. Know The Difference Between A Day And A Night Dress
A sequined dress is for a night party, a floral one is for the day, and anything in between is for the evening – tread cautiously.
41. Don't Buy It Because It's Cheap – Buy Because You Need It
Need I say more? We are all guilty as charged. Let's try and shift gears slowly.
42. Know Your Best Feature – And Show It Off, Always
Be it your curves, booty, legs or an hourglass figure. All your outfits should work towards enhancing your best features like runway models, without being in your face (more like other people's faces).
43. Experiment With Denim – Distressed, Bootcut, Boyfriend
Experiment and see what else might suit your body other than just standard jeans. I'm sure there are more than one kind that suits all of us.
44. Blazer Up, Sometimes
45. Pantsuits, Jumpsuits, And Tracksuits Are Evergreen
It might seem like they are taking a break, but they will always find their way back into the clothing line. But, if they do take a break, it's never considered dated to wear these.
46. Learn A Few Hairstyles That Are Versatile
The messy bun looks nice on all hair types, I'm not arguing that! But you should learn to do a few more hairstyles – you never know when you may need them.
47. Makeup – Know What Works For You
Check out some YouTube tutorials to know what kind of makeup you like, and invest in good products – we all need makeup at some point, if not every day.
48. There's Never A Wrong Time To Wear Red Lipstick
Ruby Woo, Dior's Rouge or Chanel's Pirate – you need these or the deepest shade of red in your cosmetic closet. And don't listen to them – it's always a good time to wear a red lipstick and add that extra glam to your look.
49. Know When To Cinch The Waist, And When Not To
Sometimes, cinching at the waist works like magic, and sometimes, it falls flat on our face. Ask people, ask Google, or maybe, ask yourself.
50. Lastly, Be Confident
Nothing, nothing works as confidence does. And, unfortunately, there's no workaround to this one. Beauty begins the moment you decide to be yourself. Be you, be beautiful.
Infographic: The Most Important Fashion Tips
The Internet is flooded with fashion tips. Be it a tutorial video, fashion blogger, or an Instagram fashion influencer talking about fashion hacks and styling tips, there are so many tips that keep changing according to fashion trends. We have also listed a few such tips above. However, there are some tips that stay evergreen even if the trends change. Check out the infographic to learn which are the most important fashion tips that will make you look like a fashionista.


There are no rules set in stone for fashion. There are only guidelines, tips, and expert advice on improving the dressing style for women and girls. If you would still like to follow a rule, it must be to have the confidence to pull off what you are comfortable wearing. Fashion is self-expression. If you are trying to be someone else, your fashion will not speak for you. Please do not get overwhelmed with all the fashion tips for girls available on the internet. You do not have to tick them all off the list. Pick what feels right and slay it!
Frequently Asked Questions
What is balance in fashion?
In the fashion industry, balance refers to the fact that each feature of a garment has equal visual weight. It can be symmetrical or asymmetrical in nature.
What is the golden mean in fashion?
The golden mean in fashion refers to styling your outfits in a ⅓ or ⅔ proportion with respect to your body to achieve an aesthetically appealing look.
What colors make you look rich?
Several colors, including black, white, and navy blue, can generate stylish looks that provide a luxurious finish.
Key Takeaways
Experiment with accessories to make a boring outfit fun and look stylish.
Focus on your personality and pick clothes that accentuate your personality and body type.
Fashion is ever-changing. Be creative and confident with your look no matter what you wear.
Check out this amazing video featuring 15 clothing hacks that everyone needs to try! Get fashion tips to always look stylish!

The following two tabs change content below.