Fast Metabolism Diet Review – Does It Help Weight Loss?
Detox your body through this metabolism-boosting diet that helps in weight loss.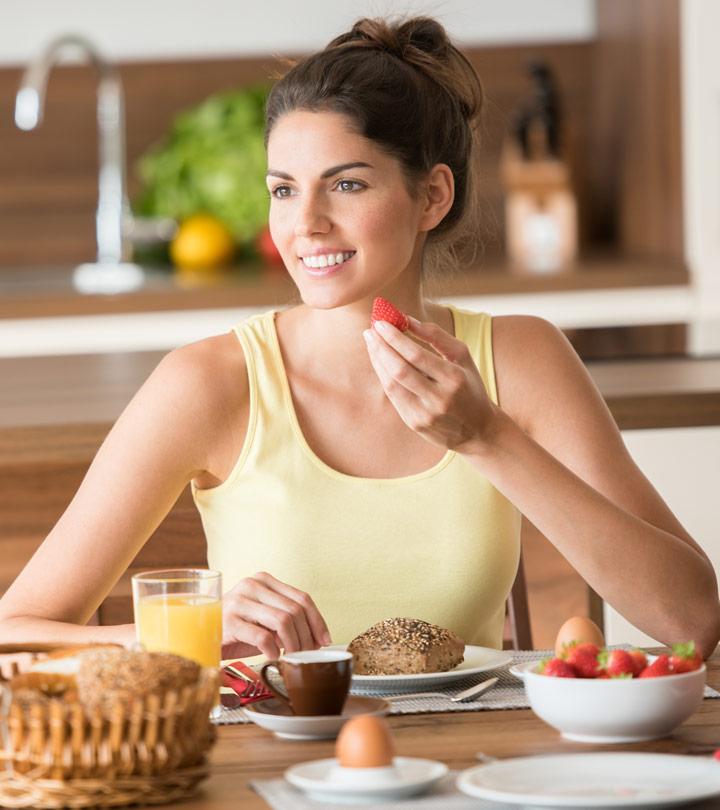 The fast metabolismi  XBiochemical reactions within the body responsible for the sustainability and maintenance of living cells of an organism. diet boosts your metabolism and aids in faster weight loss. It was developed by Hailey Pomroy, a celebrity nutritionist and bestselling author. This diet is meant for anyone struggling to shed off a few pounds.
How does this diet work? Consuming food every 1 to 2 hours keeps your metabolism active. The foods allowed in this diet also aid in good digestion – which, in turn, help you burn more calories quickly.
You will follow this plan in three phases for a week. You will be restricting junk food and consuming only specific foods allowed in the fast metabolism diet to kick-start your metabolism. You may have to repeat it for another week and exercise to get the best results. Read on to get all the details about the fast metabolism diet.
Note: The fast metabolism diet is a fad diet. It is best to avoid being on this diet for more than a week or two. However, it works great for quick weight loss. Consult a registered dietitian to get a long-term weight loss plan.
The Fast Metabolism Diet Plan
The Fast Metabolism Diet Plan consists of three phases:
Phase 1: Carbs and fruits (Monday & Tuesday)
Phase 2: Proteins and veggies (Wednesday & Thursday)
Phase 3: Healthy fats, oils, and all of the above (Friday-Sunday)
Fast Metabolism Diet Phase 1: Carbs And Fruits (Monday & Tuesday)
Phase 1 helps your body destress and relax by allowing you to eat foods that are high in carbs and fruits, moderate in protein, and low in fats. This phase reduces stress levels and anxiety and encourages the adrenal gland to secrete less amount of cortisol, the stress hormone. Foods high in carbs and glycemic indexi  XA rating system that demonstrates how a consumed food containing carbohydrates, affects your sugar(glucose) level. can help regulate satiety and hunger (1). The foods that you will eat during this phase will rescue your body from the "famine alert" state, the first step towards boosting your body's metabolism.
Phase 1 Diet Chart
Early Morning
4 overnight soaked almonds
1 cup green tea with honey
Breakfast
1 cup cornflakes with low-fat milk and fruits (avoid banana in this phase)

OR

1 slice of multigrain bread toast, 1 boiled egg/scrambled tofu, 1 cup fat-free milk

Pre-Lunch
1 whole seasonal fruit or 1 glass unstrained fruit juice
Lunch
Vegetable wrap or cheese sandwich

OR

Fruit and vegetable salad

Evening Snack
Green tea and 1 multigrain biscuit
Dinner
1 medium-sized fillet of grilled fish with veggies

OR

1 small soup bowl of lentil soup with grilled veggies and 1 slice multigrain bread

Bed Time
1 glass unstrained kiwi and black grape juice
Why This Works
A detox drink is a great option to hydrate and rejuvenate your body. You can consume high-carb foods, fruits, and vegetables throughout the day. A small portion of protein is also allowed, according to the book by Hailey Pomroy. This will keep your body active and prepare you for the coming days of rapid weight loss.
The foods listed in the diet chart may not be the best options for you. In that case, here is a list of food substitutes for Phase 1.
Food Substitutes – Phase 1
Green tea – Black tea or black coffee
Honey – Maple syrup
Cornflakes – Oatmeal
Milk – Soy milk
Fruits – 4 almonds
Multigrain bread – Wheat bread or white bread
Boiled egg – 1/2 cup ricotta cheese
Fresh juice – 1 apple or 1 orange
Vegetable wrap – Chicken or tuna open sandwich
Fruit salad – 1 cup buttermilk
Multigrain biscuit – 2 saltine crackers
Fish – Chicken breast or mushrooms
Lentil soup – Kidney bean chili
Kiwi – 1/2 cup watermelon
Black grape – 1 orange
Here is a list of foods that you can eat while in Phase 1.
Foods To Eat & Avoid
Food
Foods To Eat
Foods To avoid
Vegetables
Broccoli, beets, bean sprouts, green leaf lettuce, onions, radish, pumpkin, peppers, tomatoes, winter squash, carrots, celery, cucumber, butternut squash, all kinds of beans, zucchini, and parsnips.
Potato
Fruits
Berries, apple, watermelon, tangerine, pineapple, pomegranate, lime, lemon, mango, orange, papaya, fig, kiwi, cherries, guavas, apricots, and cantaloupe.
Ripe mango, jackfruit, and banana. 
Starch & Grains
Brown rice, rice flour, brown rice crackers, brown rice pasta, brown rice cereal, black barley, quinoa, fusilli, sprouted grain bagels and bread, nut flours, tapioca, rice milk, tapioca flour, triticale, and oats.
Protein
Beef, chicken with or without skin, lamb, fish, tofu, soy, and mushrooms.
Beverages
Water and herbal tea (non-caffeinated)

Aerated

i

  X

Something infused with air or other gasses. Fizzy carbonated drinks such as Soda or Cola are two examples.

drinks, packaged fruit juices, packaged coconut water, and alcohol.
Others
Garlic, ginger, black pepper, white pepper, cinnamon, chili powder, rosemary, sage, thyme, apple cider vinegar, tomato sauce, mustard, chicken broth, vegetable broth, beef broth, pickles, tomato paste, bay leaves, cilantro, mint, chives, oregano, cumin, white vinegar, curry powder, cumin, fennel, nutmeg, and basil.
Tomato ketchup, ranch, tartar sauce, barbecue sauce, and sweet chili sauce.

 
Fast Metabolism Diet Recipe – Phase 1
Vegetable Wrap
Keeps you healthy while you lose weight.
The foods recommended here are easily available in the market.
Helps to heal your body.
It can be followed by anyone.
You are not asked to starve.
Keeps your immune system healthy.
Strengthens your muscles and bones.
It is easy on your pocket.
This diet can also be followed by those who want to gain weight.
Now, let us take a look at some of the side effects of the fast metabolism diet in the next section.
Side Effects Of The Fast Metabolism Diet
There are no reported side effects of this diet. However, you may feel weak and nauseous due to the strict food plan you have to follow.
You may experience mood swings as you may crave for proteins on a carb day or vice versa.
You may find this plan as unsustainable as specific nutrient intake is being focused on instead of a balanced approach.
There is very little evidence linking eating specific foods to boosting metabolism.
Things To Remember
Consult your doctor or dietitian before starting this diet plan.
Do follow this diet for 4 weeks to lose water weight as well as fat.
Follow all the phases in the specified order.
You do not have to count your calories. Eat the recommended foods in each phase.
Avoid eating out. Prepare your lunch the previous night.
Avoid alcohol.
Do not avoid exercising. If you feel weak, do light stretching exercises.
Do not give up.
The fast metabolism diet helps you lose weight faster by increasing your metabolism. Combining this diet with a regular exercise plan, you may attain your weight-loss goals. However, this diet is not research-backed, and there is no evidence proving that eating certain meals can help boost your metabolism. Therefore, this diet is unsustainable. However, you can follow this diet with the help of a dietitian.
Frequently Asked Questions
Does fast metabolism affect sleep?
No, if you balance your diet under the proper guidance of a dietitian, it should not affect your sleep. Drinking lukewarm milk at night can help you attain peaceful sleep.
Can fasting ruin your metabolism?
This fast metabolism plan is not a fasting diet. You will be eating at regular intervals, focusing on particular nutrients. Eating the right foods at the right time will not ruin your metabolism.
Does your metabolism really slow down if you eat less?
Eating less but balanced (in nutrition) foods will not slow down metabolism. Make sure your diet plan is balanced and follow the guidelines given in each phase.
Is the Fast Metabolism Diet healthy?
Yes. It is meant for everyone. Whether you want to lose or gain weight, you can heal your body by following this diet. It is not a very strict, low-calorie diet. Therefore, it does not deprive your body of any vital nutrients. However, people with any medical problems, like diabetes, liver disorders, and thyroid issues, must consult their doctor before going on this diet.
Why am I not losing weight?
There can be various reasons you are not losing weight. Check whether you are following the diet plan properly. If you cheat, make sure that you workout the next day to burn the extra carbs/fats. It can also be that you lost water weight and fat but you have gained muscle mass and bone mass. Do not skip the thyroid-stimulating foods. Chew your food properly and eat slowly. Lastly, do not stop working out.
Is the Fast Metabolism Diet appropriate for new mothers?
Consult your doctor or dietitian before opting for any diet plan.
How important is it to stick to the plan? Can I switch my breakfast and snack? My dinner and afternoon snack?
It is important that you stick to the foods that each phase requires you to eat. Sticking to the phases and eating the recommended foods will help you lose weight faster. You cannot miss breakfast. However, you do not have to follow the diet chart or recipe given here. You can customize it. Make sure to eat from among the listed foods for each phase.
What are the signs of a slow metabolism?
Unexpected weight gain, fatigue, dry skin, and hair thinning are common signs of a slow metabolism.
Can vitamin B12 speed up your metabolism?
Yes, vitamin B12 and other B vitamins can boost metabolism. It may also help reduce body weight by improving energy metabolism (4).
Is there a supplement to boost metabolism?
You may take vitamin B, niacin, and iron supplements to boost metabolism and help activate the stored energy. However, do not self medicate and consult a doctor before taking supplements.
Key Takeaways
The fast metabolism diet maintains your immunity and focuses on losing weight safely.
It is a focused diet plan that strengthens your bones and muscles.
It helps you detoxify and provides ample energy to keep up with your daily workouts.
This diet helps you lose water weight along with fat in 4 weeks.
Consult a dietician beforehand as the diet plan focuses on specific nutrient intake.
Sources
Articles on StyleCraze are backed by verified information from peer-reviewed and academic research papers, reputed organizations, research institutions, and medical associations to ensure accuracy and relevance. Check out our
editorial policy
for further details.