Top 10 Female Celebrity Tattoo Designs
Tattoos are almost synonymous with most celebrities around the world. It makes the most cherished pattern they tend to create their unique style statements. From Angelina Jolie to Jessica Alba, who has not done up a tattoo for flaunting their uniqueness! No wonder, the tattoos they wear become muse for others who follow their style statements boldly. While some of them prefer wearing name tattoos, others have designed trendiest patterns disclosing their faith, love, or passion.
Top 10 Celebrity Tattoo Designs
While you may be planning for doing up a new tattoo pattern this autumn, check out these trendiest female celebrity tattoo designs liked and applied by some of the leading fashion icons of the world. They not only look cool, but also create a bold style statement for the person who flaunts it. Here are some top celebrities with their unique tattoos.
1. Angelina Jolie with her Unique Patterns:
Angelina Jolie is one of the most stylish celebrities we have ever heard about. Her style has always inspired innumerable women on earth. The fabulous poise and grace of her personality enhances more with the unique tattoo patterns she uses to wear. She is the one who is a true tattoo lover, and therefore you would find number of tattoos over her body. From celebrating the birth of her child with a tattoo on her arm, she had designed bold tattoo on her lower back just to depict her unique character.
2. Lindsay Lohan and Her Dragon Tattoo:
Lindsay Lohan may be in the headlines for wrong reasons often, but her style statement is surely admired by many. The dragon tattoo at her under arm is surely gorgeous and depicts her rebellious character perfectly. Her 'la belle vista' tattoo in the lower back is also well liked by all.
[ Read: Dragon Tattoo Designs ]
3. Nicole Richie and Rosary:
Nicole Richie has picked up this simple tattoo, rosary, in spite of her glam doll image. As she claimed that she brought rosary back in fashion, the ankle rosary tattoo rightly depicts her claim.
4. Penelope Cruz and the '883':
Penelope Cruz is one who has come out of the way and has designed an '883' tattoo on her ankle. Though she claims that the number has nothing do with any particular phone number, area code, or even a lucky number, it looks enigmatic on her.
[ Read: Chinese Letter Tattoo ]
5. Cheryl Cole with the Rose:
Cheryl Cole has created almost a sensation so far tattoo designing is concerned. The huge rose tattoo that adores her back has set free a lot of difference of opinion. Still, it looks hot!
6. Jessica Alba and the Name Tattoo:
Jessica Alba is the one who loves to wear simple patterns despite her happening life. Her left arm has a huge collage of rose, and she has a name tattoo too below her right palm.
[ Read: Name tattoos ]
7. Emma Watson Arm Tattoo:
The famous Emma Watson has come out of her Harry Potter image and has been busy to flaunt her cool look lately. The script tattoo on her right arm is colorful superbly matching the heartthrob image.
8. Victoria Beckham Neckline Tattoo:
David and Victoria Beckham are both popular for flaunting coolest patterns of tattoos all over them. Have a look at the above neckline tattoo. Isn't it looking trendy enough?
[ Read: Tribal Tattoos For Women ]
9. Rihanna Star Tattoo:
Rihanna, the famous pop star is a true tattoo lover and doesn't mind having number of tattoos on her. The star tattoos on the right side of her upper back are stylish matching with her image.
10. Lady Gaga and the Thigh Tattoo:
Lady Gaga's tattoos are as colorful as her personality. Besides the tattoo on her lower back, the one that adores her thigh is chic enough flaunting her punk image.
These top 10 female celebrity tattoos are fabulous, aren't they? Now you have to decide which female celebrity tattoo you want to flaunt. Just don't forget to tell us which one.
Find thousands of tattoo ideas for women on the Tattoos For All android app.
Image source: 1 , 2 , 3 , 4 , 5 , 6 , 7 , 8 ,  9

The following two tabs change content below.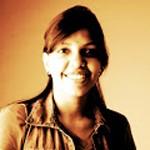 Latest posts by Shruti Goenka (see all)