15 Most Famous Female Sports Celebrities In India
Popular women athletes who have inspired millions of little girls all over the country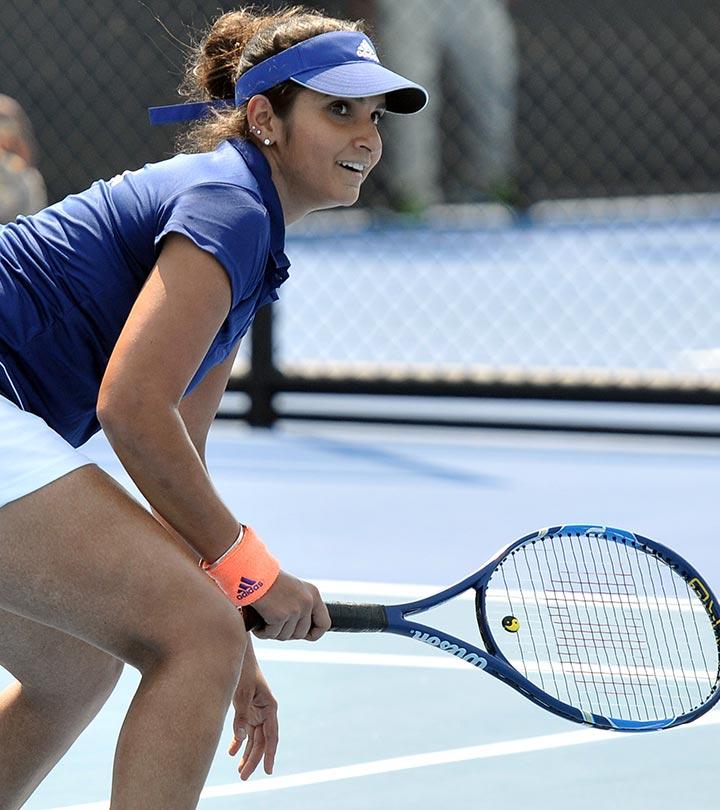 In India, sports have always been linked with men, and women are not motivated to engage in sports in any way. Compared to other countries, the number of women who participate in sports in India is poor. The following is a list of the top 15 female sports celebrities in India who have overcome adversity and made us proud. Scroll down.
1. Saina Nehwal
Saina Nehwal is also known as the golden girl of Indian badminton. She has reached the zenith of sports by making it to the top three badminton players in the world. Her career began in 2012 where she shot to the 5th position in the World Badminton players list. She has won the Swiss Open Grand Prix Gold, Thai Open Grand Prix Gold, and the Indonesian Open Super Series. Her claim to fame was winning a bronze medal at the Olympics!
2. MC Mary Kom
MC Mary Kom is also known as the "Million Rupee Baby" in India. This tough lady is a five-time boxing world champion and also has an Olympic Bronze medal in her kitty. Mary Kom is the first lady boxer to have won the bronze medal at the London Olympics for India.
3. PV Sindhu
PV Sindhu is the rising star in the world of badminton! She has already carved a niche for herself in the world of sports after her performance in the London 2012 Olympics. She defeated Olympic gold medallist Li Xuerui of China during the China Master Super Series Tournament to enter semi-finals. She made it to her maiden finals of the Indian Grand Prix Gold Event where she lost to Yanjiao Jiang of China. PV Sindhu is the national champion in India and has been a semi-finalist at the Malaysian Open. She recently won a silver medal at 2017 BWF World Championships and is the first Indian woman to win 2017 Korean Open Super Series.
4. Bula Choudhury
Bula Choudhury is a swimming champion, the first woman to cross all the seven seas, and recipient of the prestigious Arjuna Award and Padma Shri. She also crossed the English channel twice and is truly the embodiment of women's physical and mental strength. She was also elected as MLA (2006-2011) in West Bengal. She plans to open a  swimming academy in Kolkata to train and sponsor swimmers who otherwise do not get a chance to showcase their potential.
5. Mithali Raj
Captain of Indian Women's cricket team for ODI and Tests, Mithali Dorai Raj is one of the best batters and is the highest run scorer in women's international cricket. She is also the only woman to score more than 6000 runs in ODIs and to score consecutive seven 50s in ODIs. In the year 2003, Mithali Dorai raj received the Arjuna Award and in 2015, she was awarded Padma Shri.
6. Geeta Phogat
Geeta Phogat is an Indian freestyle wrestler who won India's first gold medal in wrestling at Commonwealth Games (2010). She is the first Indian sportswoman to qualify for the Olympic Summer Games. This tough go-getter has won a gold medal in the Wrestling FILA Asian Olympic Qualification Tournament that took place in Almaty, Kazakhstan in 2012. In 2013, Geeta Phogat won a bronze medal in Asian Wrestling Championship in Doha.
7. Sania Mirza
Sania Mirza remains one of the most recognized faces in Indian sports! From 2003 to 2013, Sania Mirza was India's No. 1 tennis player as per Women's Tennis Association. This sports star has been in and out of her game due to serious injuries. Sania made a huge comeback at the French Open with her tennis partner Mahesh Bhupathi. All in all, this lady will always be remembered as a woman who made Indians proud and played some kickass shots that helped her win against former world No.1 tennis player, Martina Hingis.
8. Deepika Kumari
Deepika Kumari, an ace archer, has a rating of World No. 2. This superstar won a gold medal at the 2010 Commonwealth Games in the category of women's individual recurve event. She won another gold medal in the same event in the team's category! Deepika finished at the 8th position during the London Olympics, 2012.
9. Akanksha Singh
Akanksha Singh is the captain of India Women's National Basketball Team. In 2010, Akanksha Singh was recognized as the Most Valuable Player in Professional Basketball League. This A grade player is also known as the small wonder in basketball. She has been playing since her childhood and is the most talented basketball players in the country.
10. Chhanda Gayen
The bold and the beautiful Chhanda Gayen was a mountaineer and was the first civilian woman to climb the summit of Mount Everest in 2013. She was inspired at a very young age by her trekker mother and did a basic rock climbing training from Institute of Exploration followed by a standard course and another basic mountaineering course from Himalayan Mountaineering Institute (Darjeeling). Unfortunately, Chhanda, along with two sherpas died in an avalanche while descending Mount Kangchenjunga in 2014. Chhanda Gayen will continue to be an inspiration for all of us, sportswoman or not.
11. Tanya Sachdeva
Tanya Sachdev is an Indian chess player who holds International Master and Woman Grandmaster titles. She has won several silver and bronze medals in various championships. She is also a chess commentator and presenter.
12. Dipika Pallikal
Dipika Pallikal is the first squash player from India to have climbed into the top 20 positions in the WSA ratings. This girl won 3 WISPA tour titles in the year of 2011. She attained the best ranking at 10th position in 2012. She was also a semi-finalist in Australian Open.
13. Sharmila Nicollet
Sharmila Nicollet is an ace Indo-French golfer from Bangalore. This girl finished in the 17th place at the Lalla Aicha tour school final stage, at the Ladies European Tour. She won a LET card for 2013.
14. Anjali Bhagwat
Anjali Bhagwat is a professional shooter. In 2002, she became world's number one in 10m Air Rifle. In 2003, she won the World Cup Final in Milan and is the only Indian to win ISSF Champion's trophy in Air Rifle. She also represented India in three consecutive Olympics and won 12 gold and 4 silver medals in Commonwealth Games. Anjali Bhagwat was awarded Arjuna Award (2000) and Rajiv Gandhi Khel Ratna (2003).
15. Nameirakpam Kunjarani Devi
Kunjarani Devi is a weightlifter from Imphal, Manipur. She has won numerous gold and silver medals in 44, 46, and 48 kg weightlifting categories. She was awarded Arjuna Award, Rajiv Gandhi Khel Ratna, and Padma Shri.
Infographic: Why We Need More Women In Sports
The achievements of women in sports are incredible, indeed. There are many inspiring and influential sports women all over the world who have proven against all odds that women are capable of accomplishing themselves under intense physically and mentally challenging situations. And yet, we see women in many communities facing gender bias. Sports is a way in which this bias can be challenged and it is an effective way. We need more women in sports in order to normalize the concept of women being physically strong enough to be sports personalities.
Check out the infographic below on why we need more women in sports.



There are many female sports celebrities in India who have proved they are the best in the field and gave a strong answer to those who feel sports are only meant for men. They have proven that women can prove themselves when given equal opportunities. Sania Mirza, Saina Nehwal, MC Mary Com, PV Sindhu, Mithali Raj, Geeta Phogat, Deepika Kumari, and Nameirakpam Kunjarani Devi are a few sportswomen who have proven their talent and inspired many other women to enter the fascination field of sports.
Frequently Asked Questions
Who is the first Indian female to participate in the Olympics?
Nilima Ghose was the first Indian woman to participate in an Olympic event when she was just 17 years old. She competed in the 100-meter sprint and the 80-meter hurdles race in Helsinki in 1952.
Who was the first Indian female to win an Olympic medal?
Karnam Malleswari was the first Indian woman to earn an Olympic medal, taking bronze in weightlifting in the Women's 69 kg division in the 2000 Sydney Olympics.
The following two tabs change content below.