Finasteride For Hair Regrowth – Everything You Must Know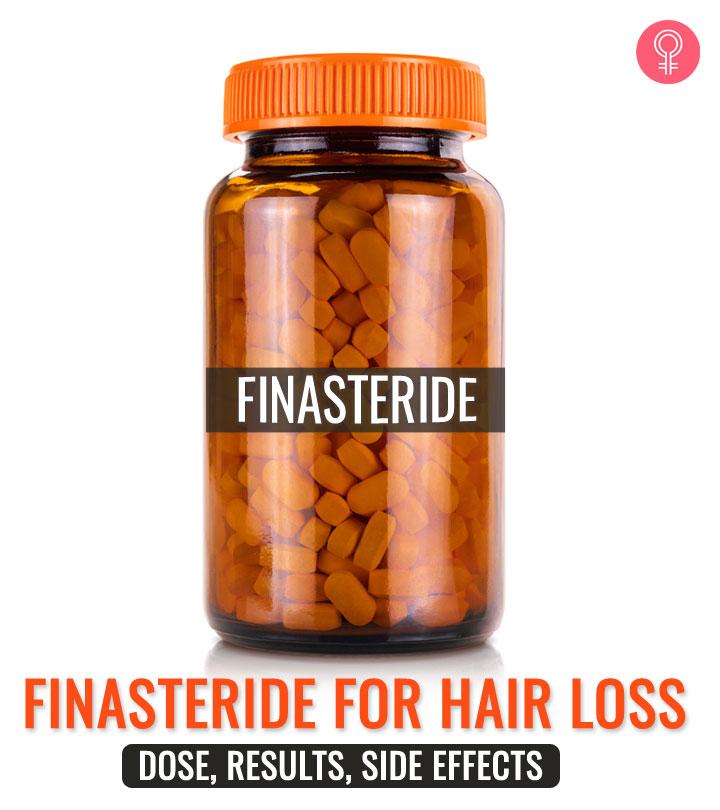 There could be many reasons you are losing hair. Genes, diet, hormones, stress – all have a role to play. A common reason men and women lose hair is androgenic alopecia, which affects 50 million men and 30 million women in the United States alone (1). Finasteride, a prescription drug, is used in small doses for treating androgenic alopecia (2). But is it safe? Does it have any side effects? Can women use it? Here, we answer these questions (and more). Keep reading.
What Is Finasteride And How Does It Work?
Finasteride is an FDA-approved prescription drug used for treating androgenic alopecia. It works by inhibiting the conversion of testosterone, the male sex hormone, to dihydrotestosterone (DHT) (3). High levels of DHT shrink the hair follicles and shorten the hair cell growth cycle, making hair prone to falling (4). The drug may help reduce the risk of female pattern hair loss in women and male pattern hair loss in men.
But is this mechanism backed by any scientific evidence? Read on to know what research has to say about finasteride as a treatment for hair loss.
What Does Research Say About Finasteride For Hair Loss?
Finasteride, in laboratory experiments, has shown to reduce male pattern baldness ('M-shaped' balding) in men and female pattern baldness (thinning of hair throughout the scalp) in women. Let us have a quick glance at those studies.
Japanese scientists tested the effect of 1 mg Finasteride on 2,561 Japanese men with androgenic alopecia (male pattern baldness). Hair count increased greatly in 11% men, moderately in 36.5% men, and slightly in 39.5% men. Also, the response rate had improved with an increase in the treatment duration (5).
Another study by American scientists found that 1 mg/day of finasteride slowed hair loss and boosted hair growth in men over a 2-year treatment period (6). A review paper in the Journal of Drugs in Dermatology observed that topical application of finasteride decreased plasma DHT in men and women (7).
Sixty-five men with androgenic alopecia were treated with a combination of finasteride 1 mg/day and topical application of 5% Minoxidil. Both the medications could treat mild to severe male pattern baldness (8).
Excessive testosterone production in some women may lead to irregular periods, hirsutism (hair on the face, chest, and back), and androgenic alopecia (9). Finasteride is not effective and possibly dangerous for women of childbearing age. However, a 67-year-old lady without hyperandrogenism (excess body testosterone) showed significant hair growth when treated with finasteride 5 mg for a year (10).
In another study, 37 pre-menopausal women were administered with 2.5 mg finasteride and an oral contraceptive. 62% of the patients showed a reduction in hair loss. Finasteride 5 mg/day administered to 87 pre-menopausal women for a year showed increased hair thickness and density in a separate study (11).
Finasteride, alone or with minoxidil, is an effective drug for treating male pattern baldness. However, more studies on women with larger sample sizes are warranted (considering their menopausal and hyperandrogenism status). But at what optimal dose does finasteride work? Keep reading to find out.
Finasteride Dose To Reduce Hair Loss
1 mg of finasteride is the prescribed dose for androgenic alopecia or hair fall in men and women. Clinical studies have also shown that 1 mg of finasteride per day can promote hair growth and prevent further hair loss in men (12). But how long should you take finasteride to see results? Find out in the next segment.
How Long Does It Take To Work?
According to the studies mentioned above, finasteride may take a year or two to show significant results. Talk to your doctor to chart out a treatment course that is most beneficial for you. Here are a few before-and-after pictures of results from finasteride treatment.
Finasteride Hair Growth Results
While low doses of finasteride may help with hair regrowth and improve hair density, the drug does come with its set of side effects. We have discussed the same in the following section.
Side Effects Of Finasteride
Here are a few side effects finasteride may cause (3), (13), (14):
Erectile dysfunction.
Decreased libido.
Gynecomastia, or swelling of breast tissues in men.
Orthostatic hypotension, or low blood pressure as one stands up.
External genital deformity in male offspring.
Note: The side effects may continue despite the discontinuation of the therapy (also called post-finasteride syndrome) (3).
Can Women Take Finasteride?
Women of childbearing age should avoid taking finasteride as it increases the risk of external genital deformity in male offspring (15). Pre-menopausal and/or post-menopausal women can go for doctor-prescribed finasteride for reducing androgenic alopecia, only if other treatment options are not effective.
Conclusion
Hair loss in women or men can be distressing. It also may affect the quality of life. Finasteride could be preferred if no other hair fall treatment works. However, one must be wary of its adverse effects.
Pregnant or lactating women must avoid the drug. They may instead opt for the PRP treatment that can show good results in about 6 -12 months. More importantly, one must take care of their diet, exercise regularly, sleep well, get on the right supplements, and participate in activities that offer relaxation. These lifestyle changes promote hair health better than any drug.
Frequently Asked Questions
Does finasteride work for hair loss?
Yes, Finasteride 1 mg works for reducing hair loss in men.
How to get finasteride for hair loss?
Finasteride is a prescription drug. You will get it in any pharmacy if you have a licensed dermatologist-prescribed dosage for finasteride.
Can finasteride cause hair loss?
No, finasteride will not cause hair loss. In fact, it reduces hair loss by blocking the conversion of testosterone to dihydrotestosterone (DHT).
How much does finasteride 1 mg cost?
30 tablts of finasteride 1 mg cost $80.99
How to reduce the side effects of finasteride?
Exercising regularly and eating healthy may help reduce the side effects of finasteride. However, more research is warranted in this regard.
Can females use finasteride?
Pregnant women of childbearing age should NOT take finasteride. It causes genital deformity in the male fetus. Certain studies state that finasteride may reduce hair loss in women. However, this does not mean the drug is safe for women. Talk to your doctor and check the best options available. If no other treatments work, your doctor may prescribe a small dosage of finasteride.
What happens if a female touches finasteride?
It is highly unlikely that finasteride is absorbed through the skin through handling. It may not cause fetal exposure or harm this way (16). However, consult your doctor in this regard.
Is finasteride used for female hirsutism?
In a laboratory test, finasteride had shown to be an effective treatment for hirsutism in women with polycystic ovary syndrome (17). However, it has to be prescribed by a licensed physician.
Is there a link between finasteride and breast cancer?
Finasteride may be linked to breast cancer in women. However, more research studies are warranted in this regard.
Sources
Articles on StyleCraze are backed by verified information from peer-reviewed and academic research papers, reputed organizations, research institutions, and medical associations to ensure accuracy and relevance. Check out our
editorial policy
for further details.
Recommended Articles
The following two tabs change content below.