What To Wear On A First Date – Dos And Don'ts
From old-fashioned first meetings to new age Tinder times, the first date is inarguably the most important one. The excitement of going on Date No.1 is a different high altogether — be it a blind set up or going on a coffee date with someone you have known for the longest time. In some people's heads, date night sounds overrated. But, honestly, it is not! It might not even mean too much, don't read too much into it. For me, it's just about looking presentable, being myself, and showing up to have good conversations. Where it takes us is another story altogether.
Excited? Me too — let's get through this, in style! Here are some interesting date night dressing ideas and some don'ts too.
First Date Outfit Rules – Dos And Don'ts
1. Show Up, Be On Time, And Keep Him Posted
Talk about first impressions; there is nothing more attractive than a woman who is sorted, plans, and shows up on time.  And, that's why this tops our list. Yes, we agree that a lot more goes into our dressing than men's, but that's no excuse to turn up late! There's not a thumb rule here, give or take five minutes is acceptable. Anything longer would only make you seem careless. If it's unavoidable, let your date know. That's the least one can expect.
2. A Dress That Doesn't Define You, Or Shows Too Much Skin – A Big NO NO
Slipping into a dress like this is tempting. Sorry ladies, now is not the time. However, do not show up in your mommy pants either. Wearing something that you're not comfortable in ruins it not just for you, but for your partner too. Do a little research on the place you both made reservations for and dress appropriately. A failproof idea that checks off both comfort and ambiance on your list.
3. Footwear – DEAL BREAKER
The first date equaled red pumps to me, since forever. It does not anymore. Period. I've had fiascos and nightmares. But, if you are comfortable in pulling it off — by all means, go ahead. If not, comfort has to take over. Again, the venue makes all the difference. So play along with all the details before you decide because we'd hate it if anything went wrong on a special day!
4. Smell Pleasant – Checkpoint
Smelling pleasant — an essential part of dressing up for both men and women. When we say pleasant, we genuinely mean pleasant. Go with something sweet, refreshing, and long-lasting. Not over the top to a point where you're practically suffocating the other person — TURN OFF ALERT! While at it, have a few mints as well!
5. Heavy MakeUp – The Experts Say NO
Ask the experts, and it's one of their essential tips! And, thus, it's worth mentioning. Ok. Now, close your eyes and choose your favorite look. Go for it! Let's not venture into another YouTube tutorial. Leave that for a date night with your girlfriends or a pajama party. Haven't you see some epic makeup fails? You do not want yours adding to the list. Keep it simple, elegant, and presentable.
6. Hairstyle
Fan of messy buns? Me too! But, NO. That's not for the first time around. Give it a couple of meetings at least before you end up like that. But, it will take some effort before you reach that stage, and it's well worth it. Let your tresses down and let them do the talking! Or, at least, learn to do a cute chignon updo – anything but a messy bun.
10 Best First Date Outfit Ideas
1. What To Wear For A First Coffee Date?
The general rule of thumb on a first date is to wear something that is breathable, airy, and comfortable. Of course, that does not mean you show up in pajamas, but if that's your idea of date dressing, do it in style. Opt for joggers or side striped pants that have taken over the fashion world, tuck in a plain T-shirt, and complete the look with white converse shoes. Put your hair up in a bun if you please, and go with nude lipstick and neutral makeup. Throw on a pair of oversized glasses.
2. What To Wear On A First Drinks Date After Work
Date on a working day? Heading to meet that special someone right after work? Don't you worry! Here's something that will swing both ways. Leave the trousers and carry the shirt as a changeover. You're practically sorted. Power dressing for the empowered woman in you! Even if he suggests that you both stop by the bar for a drink or two — don't say No. Your dress is prepared to handle that too. Just focus on looking beautiful and making intellectual conversations.
3. What To Wear To A First Dinner Date
Movie and dinner? Or the other way round? Either way, this is a keeper. Start with everyday essentials like a white V-neck T-shirt and denim. Then, lift it with color blocking. You could go with a floral blazer or something more neutral; I loved the idea of yellow, not just because it is trending, but because it is one of my favorite colors. Match your bag or go contrast with it, whatever works!
4. What To Wear To A Movie Date?
Maxi means comfort. It is stylish, elegant and polished. You cannot go wrong with a maxi dress, as this is the best dress for the first date and suits everyone. If you guys are meeting at the movies, carry a warm pashmina or stole to keep you warm as it can get pretty cold in there. If you guys are considering a summer lunch, then go with a bohemian or floral maxi. If you're comfortable with decent stilettos, these shimmery ones are ideal and add the much-needed sparkle. Like we discussed before, be doubly sure when it comes to your footwear. With this look, I can already see you earning compliments.
5. What To Wear To A First Date In Winter?
Winter means that your outerwear game should be strong and on point. Wear jeans, trousers, and any top that flatters your figure, and finish with a jacket, shrug or a layer that stands out. If you have one of those overarching faux fur jackets, it's even better. Winters make you dewy and fresh either way, so just do your thing and look pretty.
6. What To Wear To A First Date In Summer?
If you're anything like me, you're all about being minimalistic and classy. Plus, you are all about airy, breathable and comfortable clothing. So, invest in something earthy and handloom, this look might be just for you. A one-piece long or short dress that can be played around with – perfect! In this case, it's the jacket and will be a showstopper. Go with a smokey eyed look, wear a handloom bag, or handmade jewellery — it works like a well-oiled machine. If anything, you will be a proud owner of a head-turning jacket. I assure you there will be zero regrets.
7. What To Wear To A First Dinner Date?
Dinner and drinks are too cliched for your taste? I get it, I really think breakfast and brunch can be quite romantic too. So, choose an outfit that is form-fitting but charming as well. Black denim skirt, an oversized white shirt, and sneakers with this are all the accessories you need, and nothing more. Go for a no-makeup nude look and beachy waves. Your first date is not going to stop at one. Make simple choices and make them work for you. That is the new mantra.
8. What To Wear On A First Date At The Beach?
Are you bawling out your eyes out at the mention of date night at the beach? I'm not saying everyone has the luxury of the bay at their doorstep, but if you do – you should take due advantage. And, what better than sporting an easy breezy off-shoulder? A design that has taken the fashion industry by storm. It's flattering, fashionable, and comfortable. An effortless look of sorts, indeed. The slip on gives an impression of a poised personality and says a lot about your confidence. Gone are the days when red lipstick and red pumps were considered a date night staple. Be yourself and break the stereotype.
9. What To Wear On A First Blind Date?
Blind dates are fun, and there's nothing that can beat the adrenaline rush before you finally meet that person. Even though the expectations will be quite high and we all feel the need to impress the other, remember that it's just an opportunity for you to dress up and put your best foot forward, and be yourself. If it were me, I would go for an LBD because there's nothing like it – it's form fitting elegant and brings out the best in you. If it's in fall or relatively colder weather, throw on a classy trench, black pumps, and some stockings too. Drink some wine and wait for him to melt away.
10. What To Wear On A First Date When You're Over 50
I think there's no better time to go on a date. Women are most sorted in their 40s and 50s, they have clarity and are a lot of fun too. So, if you are at that time in your life, listen up ladies, pull out a one piece that is your go-to dress, and make sure it's classy, comfortable, and sophisticated. Combine this with handmade jewelry, and it can't get better than this. Even if your date extends and you end up in a coffee shop later, you're still well put together. 
These are a few tips to make your preparation for the first date easier. The key is to wear something that defines you, and stay comfortable in your clothes and your skin. With the right attitude, a warm smile, and red pumps, you are surely going to leave a lasting impression the very first time — a good one! Now that you know what to wear on a first date, what are you waiting for? Have fun anyway; you are going to make loads of memories and have some learnings too. Happy shopping!

The following two tabs change content below.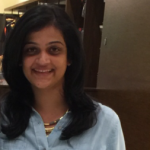 Latest posts by Pratima Ati (see all)