25 Romantic And Unique First Date Ideas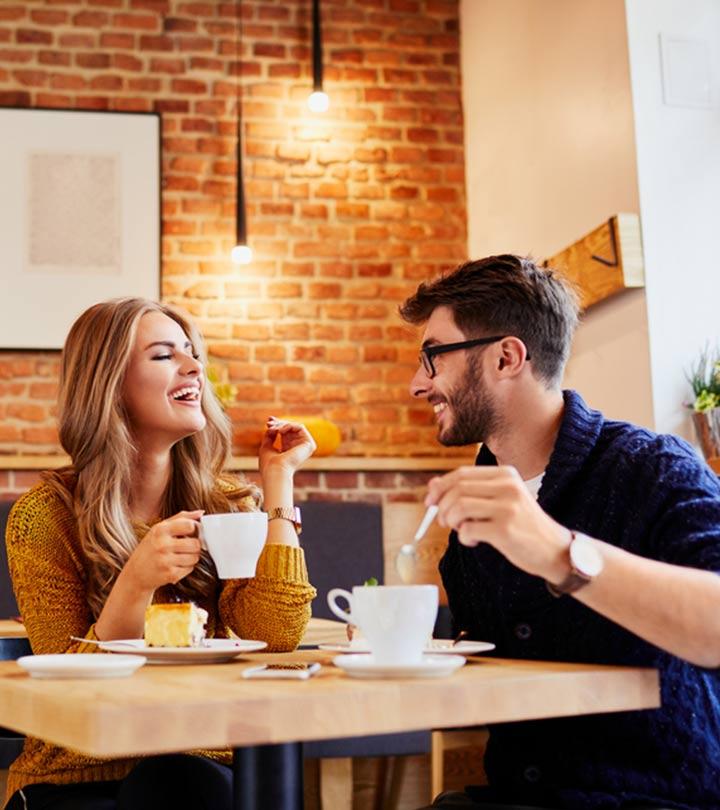 "You never get a second chance to make a first impression" – Will Rogers
True! And that is why you need to get creative to plan your first date. This is when you establish a connection and lay the ground for the second date or course of your relationship. We understand that you may feel nervous and excited about the possibilities that lay ahead, and that is why we are here to help! Scroll down and check out 25 cool, exciting, and creative first-date ideas to impress your date! Take a look.
25 Creative And Unique First Date Ideas
1.Go Rock Climbing
If you are an adventure junkie, get your adrenaline pumping and try rock climbing with your date! This is a unique way to have some fun and form a connection with each other. You will leave a lasting impression on your date with the thrill and excitement they experience with you. However, ensure that your date is comfortable with this activity and does not have any associated phobias.
2.Visit an Art Gallery
If your date is an art aficionado, then an art gallery date is going to be a hit. Check the art galleries in your city and choose the one that piques the interest of your date. Get an idea about their favorite artists and see if there is an ongoing exhibition. To create a lasting impression, look up some information if you are not familiar with their work. Even if you are not an art buff, showing your enthusiasm will help you connect with your date at a creative and intellectual level.
3.Volunteer Locally
Does your date support local causes and is associated with an NGO? Then why not take them to join the noble cause of volunteering at a local shelter or soup kitchen? While this is a great way to give back to society, you will earn some respect in your date's eye. Moreover, you will have common causes to bond over while enjoying each other's company. Also, you can learn about each other and connect at a deeper level.
4.Take A Wine Tasting Tour
Plan a lazy wine tasting tour and enjoy each other's company. You will always learn something new at these sessions, even if you have done them before. It will be an exciting experience for the newbies to learn how to distinguish between different wines. Enjoy a romantic stroll through beautiful vineyards, sipping wine and talking your heart out. Take a lot of pictures to cherish this wonderful experience.
5.Go Ice Skating
Waltzing on an ice-skating rink is the epitome of romance- gracefully gliding through the rink, hand-in-hand calls for a classic romantic date. If you are a beginner, you don't need to worry. The stumbling, tumbling, and plonking is half the fun of this date. Laugh with each other being clumsy and adorable. Helping each other get back on their feet is a great bonding experience. It is fun and playful to ice skate together. You can follow this up by getting cozy over hot chocolate drinks and munching cookies.
6.Go to a Carnival
Carnivals are nostalgic and bring out the inner child in you. Have a fun date filled with rollercoaster rides and endless cotton candies! You can try different carnival games, bet with each other, share the prizes as a keepsake of this memorable experience, and enjoy rides.
7. Attend A Dance Workshop
Dancing, especially slow dancing, brings out the chemistry between two people. It is a great ice breaker, so sign up for a dance workshop. Even if you are both beginners, you can learn something new together. Salsa, Waltz, or Tango are known to evoke passion between the couple. Make eye contact as you dance. You can ask each other questions and get to know each other better or whisper sweet nothings.
8.Walk The Dogs Together
Both are dog parents? Why not bond over your pets? A popular movie trope for meet-cutes is bumping into your romantic interest while walking your dog at the park. Take a hint from the movies and walk your pet together and have intimate conversations. Strolling through the park or the beach, playing fetch with your pups can be relaxing and a fun experience. And later, you can grab some snacks for yourself and puppuccinos for the doggos. This is a casual date perfect for animal lovers.
9.Play Mini Golf
Mini Golf is a fun activity for a first date. You can set the pace for the conversation as you build up intimacy. You can playfully challenge each other and tease them when they lose or mess up their shots. Also, if they are not aware of the sport, you can give them a lesson or two! Playing mini golf is a great way to spend quality time with each other.
10.Take A Cooking Class
There's a weekend cooking workshop in your town, and your date is a budding chef? Grab the opportunity and sign up for that workshop together. Cooking brings out the creative side of our personalities, and you will also learn about each other's food choices and culinary skills. Learn how to cook with each other. End the date by rating and tasting each other's dishes.
11.Browse Through A Bookstore
Browsing through the local bookstore is super romantic! You can discover what books and genres your date likes. You can gift them your favorite book. You can even have impromptu private poetry reading sessions. If that is too mushy for you, you can pick up a thriller or mystery book and guess the plot or killer!
12.Support The Local Art/Artists
You can have a great date attending a local play, open mic, public event, or concert, depending on your date's interest and preferences. You can take it up a notch by trying something for the first time, like a stand-up comedy night or foreign movie night screening.
13.Pack A Picnic
A cute picnic at the closest park or even your backyard is a great way to spend time with your date. Make sure to pack an amazing lunch, blanket, and wine! Take your time to get to know each other and if you get bored, share or swap your playlists. Sing, slow dance, or lie together and cloud gaze!
14.Go Bowling
A classic date idea that never goes out of style. Have a fun competition with each other. Keep tabs on your score, and the loser buys pizza and beer! If you are a little rusty, then you can ask your date to teach you. If both of you are bad, then simply have fun goofing around.
15.Hit Up A Karaoke Bar
There is nothing like singing in a karaoke bar! It brings out the fun side of your personality. Make up the lyrics or the tune as you go. Just go with the flow – channel the inner rock star or singer in you. Sing duets for each other or dedicate songs! Sing cheesy, romantic songs and tease each other- enjoy the company and make memories.
16.Stargaze Together
Set up a date with a telescope on your rooftop, or simply go to a place that offers a magnificent view of a clear starry sky. Lay down on a blanket and explore the stars in the sky together. Try to guess the constellations and name the stars. Bask in the moonlight and have a chilled and relaxed date.
17.Attend An Art Workshop
There is no dearth of art classes you can take together. Choose something that appeals to both of you and set up a date. Learn a new skill or show your creativity by making something for each other. Of course, carry them as keepsakes or souvenirs of the first date.
18. Play Video Games
This is the best first-date idea for tech-savvy or video game enthusiasts. Challenge each other on quests or simulations. It completely depends on each other's preferences and skill levels. So, get your PS5 or Xbox ready, keep some snacks handy, and invite your date for a video game challenge.
19. Visit A Brewery
Take advantage of the ambiance most breweries have! If you both enjoy drinking beer, it is a great idea to take a brewery tour. Sit, relax over a beer, and get to know more about each other. The relaxed and laid-back atmosphere is conducive to flirting and makes for a great first date.
20.Go To The Beach Or Set Up A Pool Date
Another classic first-date idea is to visit the nearby beach, swimming, playing in the sand, and watch the sunset together. You can even enjoy your drive to and fro the beach. If you stay in a landlocked region, you can chill by the poolside, sipping cocktails or playing some water sports. Either way, you get to know each other better. Finally, take advantage of the scenery and natural light by clicking loads of pictures!
21.Take A Ferry Ride
Ferry rides are romantic! Cruising far away from the hustle and bustle of the city, enjoying the gentle breeze, soft sway of the waves, and each other's company feels great. Usually, this is a great way to know each other better, have deep conversations, and enjoy nature.
22.Work On A Puzzle Or Play Boardgames
Try spending a lazy afternoon putting together a puzzle. It might sound a little boring, but this old-fashioned date idea is a perfect way to spend quality time with each other. You can even frame the puzzle to commemorate the time and effort you spent together.
You can play board games or even catch a soccer or baseball match on the television. Make sure that you both are on the same page and there is no lull in the conversation!
23. Visit A Planetarium
If you thought planetariums are for school kids or class trips, you might need to reconsider your opinions. Take your date to the planetarium and enjoy the ambiance of sitting under a million stars, learning about the galaxy and planets, and enjoy shows. It is romantic, and you will come off learning something new.
24. Head To The Aquarium
An aquarium date is another fun way to explore the underwater world. Marine life is fascinating and beautiful. Stroll through the aquarium, hand in hand. You can share anecdotes or stories about your favorite sea creatures or scuba diving experiences.
25. Take Meditation Class
Aim for a soul connection and take a meditation class together. Enjoy the calm atmosphere and use it to introspect. You can have a calm and relaxing conversation with each other as you explore the more spiritual aspects of life.
To Wrap Up
It is important to bring out the best in each other during the first date. So, try our romantic first date ideas to impress your date. Keep in mind that you discuss it with them before, so both of you are on the same page. Plan the day according to their preferences, hobbies, and interests in mind. This will earn you brownie points for being thoughtful and romantic.
The following two tabs change content below.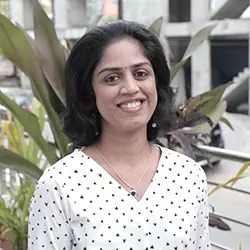 As Chief Editor, Harini sets the tone and editorial direction for StyleCraze to deliver engaging, interesting, and authentic content revolving around women's health, wellness, and beauty. She has over 14 years of experience in content writing and editing for online media. She specializes in the areas of Beauty, Lifestyle, and Health & Wellness and is proficient in Medical Sciences (Biology, Human Anatomy and Physiology, and Biochemistry). Her background in Biomedical Engineering helps her decode and interpret the finer nuances of scientific research for her team. Harini is a certified bibliophile and a closet poet. She also loves dancing and traveling to offbeat destinations.