30 Unforgettable Flapper Hairstyles That Will Make You Wish It Was The '20s
The best retro hairstyles from the mad, golden decade of jazz bars and bawdy flappers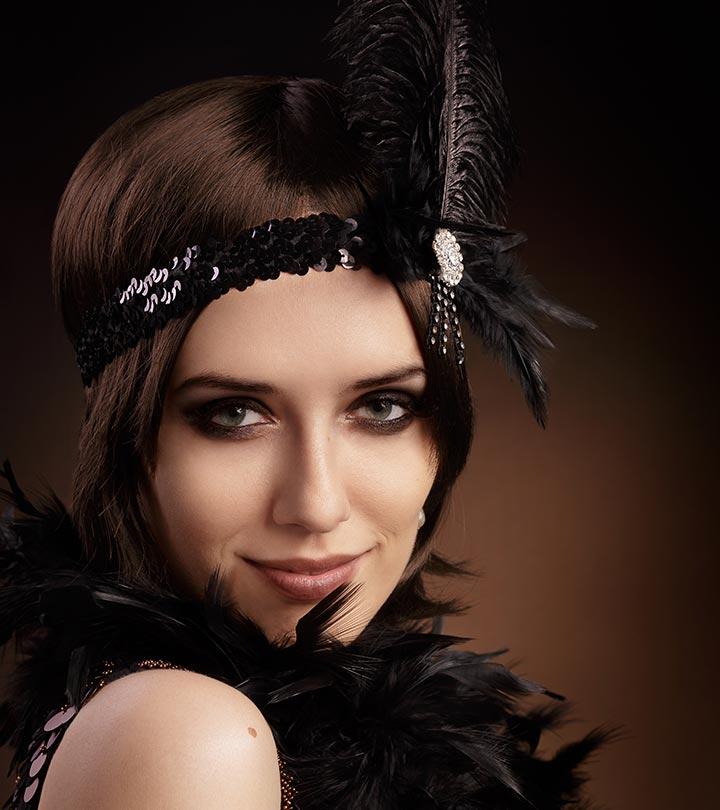 Women carried feathered handbags, held long cigarettes, wore shimmery dresses, earned a salary, and danced away the night in the 1920s.
And along with that freedom came the glorious start of Flapper hairstyles!
These women who sported short shiny dresses and shorter edgier hair were called Flappers. They went against the grain and depended on themselves instead of men. These flappers essentially started a feminist wave that still carries on today.
To make a living, flappers performed in clubs. A sure sign of a flapper was their short hair! In the 20s, most homely women sported long locks while the flappers flaunted their brave short tresses. Thus, the flapper hair became a popular choice among 1920s hairstyles.
Celebrity hair stylist Emilio Uribe says, "Flapper hairstyles may have been created in the '20s, but it's a timeless style I find my clients randomly requesting throughout the years. From my regular clientele popping into the salons to go to a wedding to my celebrity clients hitting the red carpet, I've gotten it all. This timeless style is iconic. The most asked rendition of the '20s classic style is the sculpted fingered curls. It's perfect for short and long hair. We set it, spray it, and flaunt it."
If you want to let your fierce side loose, there is nothing quite like trying a glamorous flapper hairstyle. Keep reading to check out how you can achieve this flawless wavy finger curl hairstyle!

Before You Get Started
You must rely on a significant amount of hair gel and mousse to achieve sculpted finger waves. Work on damp hair to perfect the look.
Hair extensions and clip-on bangs can help you nail the ideal look. Attach them while prepping your hair before styling to ensure they blend seamlessly.
Use a medium-hold spray to set your hair. It allows the flexibility to adjust and style the hair afterward without disturbing the look.
You must let the curls and waves set for 15 minutes before unpinning them. Spray hair oil over hair spray to maintain shine and hydration.
Carry a small bottle of hair spray to touch up the curls if they start drooping.
How To Get The Perfect Flapper Finger Curls
What You Need
Curling iron
Hair mousse
Comb
Hair clips
Bobby pins
Elastic bands
Hairspray
How To Do
Wash your hair and let it air-dry for a bit. You can also use a blow dryer, but use it on a low setting because your hair needs to be damp.
Apply some mousse and comb it through your hair so that it seeps in thoroughly.
Part your hair on one side.
Divide your hair into two sections: top and bottom. Clip up the top section of hair.
Braid the bottom section of hair into a low center braid. Wrap this braid and pin it at the back of your head to keep it flat.
Unclip the top section of hair. Clip up the hair on the side of the parting that has less hair.
On the side of the parting with more hair, curl your hair in small sections. To make it easier, you can divide this section into half and start with the lower section.
Unclip the rest of the sections in the top section of hair and curl them in the same manner.
Insert clips along the curl pattern of the front section of hair to add definition to the curls.
Spritz on some hairspray to set the curls in place.
If your hair is long, backcomb the ends a bit to lift them and make your hair look shorter. If needed, use bobby pins to fold and pin your hair underneath the curls.
Remove the setting hair clips and spritz on a final touch of hairspray. Put on a bejeweled headband and flaunt your flapper look like a queen!
Retro hairstyles are often mistaken to be flapper hairstyles. Well, not anymore, because we've compiled the most stunning flapper hairstyles that you need to check out!
30 Unforgettable Flapper Hairstyles
1. Side Puff Bun
The earphone buns or low puff buns were popular during the 1920s. Women adorned them either on both or single sides of their heads. If you have long or medium-length hair, you can easily give yourself this fab '20s flapper look. Combine the look with bold makeup and stun everyone around you!
2. Finger Wave Low Bun
While bobs were the go-to style for many women in the 1920s, some preferred their long hair. This is another flapper hairstyle for long-haired ladies. The look combines the classic 20s finger waves and a modern low bun, giving it a chic look. The style is easy to carry and will raise your style quotient!
3. The Daisy Buchanan
The Great Gatsby – a tale of love, desperation, and everything in between. The hairdo Carey Mulligan sports is one of the most common and sought-after flapper hairstyles. Just go for silky straight hair with bangs and layers in the front and top it off with a bejeweled headband. You're flapperlicious now!
4. Ear-Length Bob
The ear-length bob is another flapper favorite. The '20s saw the rise of not only feminism but also angled bobbed hair. The thick front fringe in this hairstyle is a sharp and straight one that helps in framing your face and defining specific facial features, like the eyes, cheekbones, and jawline.
5. Rolled-In Curls
This classic hairstyle is also called the faux curled bob. Curl your hair following the tutorial mentioned above. It's the perfect flapper hairstyle for those long-haired ladies who don't want to chop their tresses off.
Robin details her experience at a Halloween party in her blog, where she fully dressed as a 1920s flapper. Describing her hairstyling process, she explains, "So I took some big roller pins (similar to extra-large bobby pins) and pinned my hair under at the nape of my neck. The elastic headband was an extra layer of security, and helped everything stay put (i)." To complete her look, she also added dark eyeliner, eyeshadow with false eyelashes, and bright red lipstick.
6. Flowy Curls
Soft curls were the sophisticated flapper 'do of the wealthy. In most Hollywood movies set in the '20s, you'd see the spoilt rich girl sporting this hairstyle. Christina Aguilera flaunts this hairstyle perfectly!
7. Inward Curl Bob
Curl your hair inwards with a curling iron to give yourself this fab '20s flapper look. The inward hair spirals will make your hair look thick and bouncy. Curl your bangs as well to nail the entire look.
8. Sophisticated Curls
This look was sported by those women who had a classy and suave sense of style. This curled hairdo is all about sophistication. It became a hit in the late '20s, gradually becoming the hairstyle most homemakers would choose.
9. Sculpted Curls
Big perfectly sculpted curls were a huge deal in the '20s. Christina Hendricks looks stunning in this vintage hairdo. It's no wonder they choose her to star in Mad Men. To achieve this look, you'll need to curl the lower half of your hair in big sections.
10. Headband Updo
Christina Hendricks bedazzled us once again with this lovely flapper hairstyle. Wrap your hair in a low side bun. Keep the bun messy to add to its appeal. Accessorize with an eccentric hat or a big hair clip to complete the flapper attire.
11. Chin-Length Bob
Chin-length bob with blunt baby bangs was a big hit with flappers. This hairstyle is great for framing your face. It is also perfect for streamlining a round face.


Trivia
One of the defining features of the Jazz Age and flapper culture was the bob hairstyle, which American actress Louise Brooks contributed to popularizing during her heyday.
12. Silky Straight Bob
This the "It" hairstyle among flappers. While poker straight hair is a big hit now, it was silky straight bobs that wowed women back then. Style it with an over-the-top feather headband to let your inner flapper goddess out.
13. Rope Braid Headband
Rope braided headbands were a big trend among flappers. Paired with those perfect curls held in place with multiple pins, this flapper hairdo is to die for. If you have long hair and want to mimic this hairstyle, simply tuck your hair into the headband or tie it in a low bun.
14. Finger Waves
If you have short hair and want to achieve this flawless finger curls flapper hairdo, you don't need to use a curling iron. I've found an alternative for you. Apply some mousse to your hair and divide your hair into small sections according to the size of curls you want. Take the first section of hair and place it over the round brush near the top. Blow dry this section while adding some pressure to the round brush to keep it in place. After a few seconds, move the brush lower and tuck the hair under it. Add pressure and blow dry your hair. Keep doing this while alternating between outward and inward curls to make your finger waves perfect.


Trivia
Popular singer Demi Lovato sported gorgeous flapper waves at the 2015 American Music Awards Red Carpet.
15. Faux Curled-In Updo
This one's for all the long-haired women out there. This hairstyle is really easy to achieve. Brush your hair and put on a headband around your crown. Start folding and tucking the top section of your hair within the headband, creating big twists as you go along. Wrap the lower half of your hair into a neat bun. Curl the loose strands in the front to add a romantic vibe to the look.
16. Soft Curled Ends
If you have short hair, you're in for a heavenly hair ride. After all, the '20s was THE age for short hair. This is what flappers were about. Curl the ends of your hair and spritz on some hairspray. Wait for your curls to cool down before brushing them out gently.
17. Contrast Updos
The flapper age was a time when curls blossomed. This means if you have long hair and want a flapper look, you'll have to curl your locks. You can opt for stunning updos like this one that showcase your naturally straight locks at the roots as well as your perfect curls at the ends.
18. The Feathered Barrette
As iconic as short curls were in the '20s, so was the feathered barrette. Every flapper sported them, and every woman who was obsessed with American culture had one. They look stunning, don't they? Wouldn't be a mistake to keep one handy!
19. Lifted Bangs
Lifted bangs have to be one of the classiest vintage hairstyles ever. Add lifted bangs to any hairstyle to transform it into a classic hairdo. You can achieve this look with a round brush, a blow dryer, and some hairspray.
20. Curled Bun
Curl your hair and divide it into multiple sections. Roll each section up towards your head to form a bun. Wrap the last section of hair around the bun and pin it underneath to secure the updo in place.
21. The Hairline Bob
Many flapper hairstyles are making a comeback. While all them might not work with today's hair trends, this hairline bob sure does. Make sure your bangs are thick and cut above your eyebrows to complete the flapper visage.
22. Wave Curls
These wavy curls are flawless! Style your long hair in waves, but only halfway down. Use pins to keep the curls in place and spritz on loads of hairspray. Unclip the curls gently and brush them down. Voila! Your hair is magnifique!
23. Big Curls
This hairstyle is big on attitude. You can achieve this look with a mix of rollers and finger curls. I love the matte maroon lip shade that ties the whole look together. Total flapper vibes coming at you!
24. Perfect Finger Waves
This flapper style is definitely for those edgier souls out there. It is perfect for anyone who has a pixie cut. Pair this hair look with an all-black, lacy outfit to look like a badass night queen.
25. The Head Scarf
The boho head scarf is a style statement that will never fade. It's perfect for bad hair days. In the '20s, women tied a head wrap around their finger waves when they went out in the sun. I'm glad this chic hair look is still around!
26. Bejeweled Headband
The bejeweled headband was such a big flapper style statement that it deserves its own spot on this list. You can pair it with a bob, a low bun, or long loose hair. Get ready to be transported to the '20s when flappers danced and jazz ruled!
27. The Classic Low Bun
A low bun paired with vintage side-swept bangs was one of the more laid-back yet stylish hairstyles that flappers flaunted. Curl your hair and wrap the ends in a loose bun. Instead of opting for crisp curls, go for a more brushed-down, wavy look. Finish off with side-swept bangs to complete the look.
28. Party Curls
Party curls inspired by the flapper style exude timeless glamour. Achieved by curling hair into loose, bouncy waves, this vintage look channels the spirit of the Roaring Twenties, perfect for a chic and festive occasion.
29. Ear-Length Bob With Sweeping Fringe
Capturing the bold and rebellious spirit of the 1920s flapper in the present era, this hairstyle is a daring and fashionable option. Its sharp, clean lines exude a distinctive and stylish charm, while the sweeping fringe in the front softens the face for a feminine touch. All of this makes it a trendy choice for those who appreciate vintage fashion and culture.
30. Curly Updo
The curly updo is a sophisticated yet playful hairstyle, deeply inspired by the flapper culture. It involves creating soft, glamorous curls and then pinning them up into an elegant, vintage updo, capturing the charm of the Roaring Twenties. Perfect for a formal event or even a Gatsby-themed party!
Infographic: 7 Amazing Flapper Hairstyles You Should Take A Look At
Flapper hairdos were popular in the 1920s and played a significant role in the decade's unique and distinctly modern appearance. All you need is some inspiration and a few modern tools to recreate these looks at home. Check out the infographic below for seven amazing flapper haircuts.

Wasn't that quite the journey through the roaring 20s! Law flouting flappers were all the rage back then, making their mark in society with glittering, eye-catching accessories and vivacious personalities. Fashion from this time has remained iconic over the decades, and the bold hairstyles have been recreated repeatedly to introduce contemporary trends. This list of 27 classic flapper hairstyles is all about the evergreen styles that keep making a comeback once in a while for their versatility and vintage charm. And trust us, they have the potential to become part of your signature look that gets you identified. Try them to find out which 20s hairstyles suit you the best.
Frequently Asked Questions
Are flapper hairstyles suitable for all hair types and textures?
All hair types can be styled for a flapper look using tools like straighteners, curlers, and products like mousse, texturizing spray, and hair gel.
What are some tips for maintaining a flapper hairstyle?
Use hair mousse before hair styling to make it look shiny. Use setting hairspray to finish off, and use a small quantity of hair gel to keep flyaways in place.
Why did flapper girls cut their hair short?
Flapper girls cut their hair short as it symbolized rebellion against traditional feminine gender roles and societal norms. Short hair was seen as a bold statement of independence and freedom.
What era did flapper hairstyles become popular?
Flapper hairstyles originated in the 1920s and have been very popular since then, commonly sported by celebs at red carpet events, models gracing magazine covers, and people on social media.
What are some common features of flapper hairstyles?
Some common features of flapper hairstyles include curls, waves, finger waves, updos, and hair accessories like headbands, barrettes, and scarves. Many flapper hairstyles also feature short haircuts and bangs. The hairstyles are often glamorous and have a vintage charm.
Can flapper hairstyles be adapted for long hair?
Yes, flapper hairstyles can be adapted for long hair. Updos like the faux curled-in updo, contrast updos, and curled bun give you a faux short hair look.
What accessories can be used to enhance a flapper hairstyle?
Some accessories that can be used to enhance a flapper hairstyle are feathered barrettes, bejeweled headbands, and boho headscarves.
What are some modern twists on flapper hairstyles?
Many bloggers and hairstylists add their own spin to flapper hairstyles to give them a modern twist like styling certain hairdos in various patterns or partitions.
Are flapper hairstyles suitable for everyday wear, or are they more for special occasions?
Flapper hairstyles can be adapted for both everyday wear and special occasions. Many of the styles on this list are effortless to achieve, making them perfect for everyday wear. However, a few more elaborate styles are best reserved for formal occasions. Ultimately, whether or not a flapper hairstyle is suitable for daily wear depends on the specific style and the wearer's preferences.
Step back in time to the glamorous 1920s and master the art of creating a classic flapper hairstyle for long hair. Click on this video tutorial and get ready to wow everyone.
Personal Experience: Source
i. LOVE…INSIDE & OUT
https://loveinsideandout.wordpress.com/tag/flapper/
The following two tabs change content below.